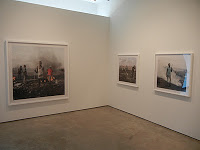 JTF (just the facts):
A total of 17 large scale color photographs, framed in white with no matting, and hung in the single room gallery space and the back viewing alcove. All of the works are digital c-prints, taken in Ghana in 2009 and 2010. The prints come in two sizes: 68×68, in editions of 3+2AP, and 39×39, in editions of 10+2AP; there are 2 large prints and 15 smaller prints in this show. Only the portraits come in the large size; the still lifes and landscapes are only available in the smaller size. A monograph of this body of work was published by Prestel (
here
) in 2011. (Installation shots at right.)
Comments/Context: The South African photographer Pieter Hugo is quietly building a superlative body of unconventional portraiture. From his hyena men and Nollywood actors to his most recent series depicting scavengers of electronic waste, he has routinely documented subjects on the margins and far outside the mainstream, each and every sitter peering straight into the camera with a penetrating, often confrontational gaze. Time and again, regardless of the strangeness of the circumstances (at least to Western eyes), he has captured faces both resolutely human and staggeringly otherworldly.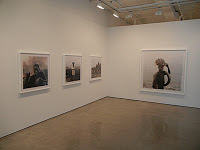 His newest pictures come from the Agbogbloshie Market near Accra, Ghana, where tons of cast off computers and electronics are unloaded daily, left to be broken down and separated from their valuable precious metals by a band of scraggly foragers. The site itself is a hellish, almost post-apocalyptic scene: burning heaps of discarded plastics, billows of toxic smoke, dark scorched earth, and acres of dusty greyness. Amidst this ugliness, small groups of hunters with long sticks dig through the piles and stand unsmiling and serious, covered in sweat and soot, breathing in the fog of noxious fumes.
The extremity of this place makes it seem almost like a fantasy, which of course, it is not. And while others have made successful pictures of trash heap scavengers (Zwelethu Mthethwa and Vik Muniz come to mind), Hugo's portraits have a stronger sense of powerful intensity, of having crossed into a world more shocking and disturbing than normal. The eye to eye connection between viewer and subject packs a memorable emotional wallop, and hidden traces of personality (an iPod tucked in a hat, a pink ribbon on a lacy white dress) peek from underneath the horror to make the subjects more real. While the commentary on our disposable culture and its impact on the environment is obvious, the strength of the photographs is in their human connection. What endures long after you've left the gallery is the hang wringing sense of both sympathy and outrage, felt for those who doggedly toil in dangerous obscurity.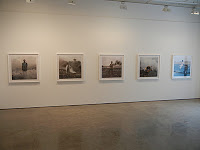 Collector's POV: The prints in this show are priced based on size. The 68×68 prints are marked N/A, while the 39×39 prints are $12000 each. Hugo's work has begun to enter the secondary markets with more regularity in the past year or two, with prices ranging from $4000 to $27000. That said, very few lots have come up for auction, so gallery retail is likely the best option for interested collectors at this point.
.
Rating:
** (two stars) VERY GOOD (rating system described
here
)
.
Transit Hub:
Pieter Hugo, Permanent Error
Through October 29th
525 West 25th Street
New York, NY 10001