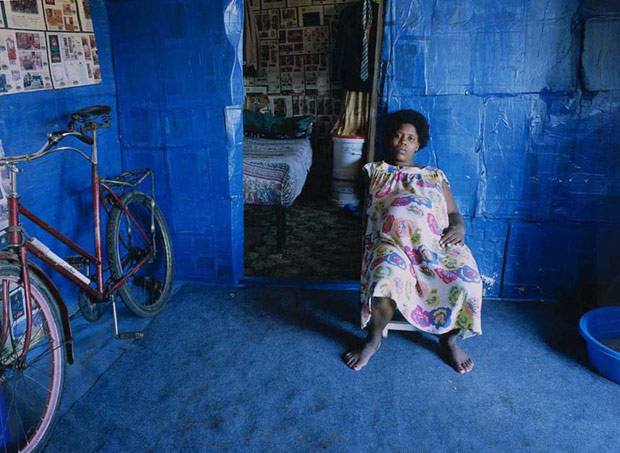 JTF (just the facts): A total of 17 color photographs, hung in the main gallery space on the ground floor and in an adjoining side gallery. All of the works are chromogenic prints, either mounted on plexi and not framed or framed in blond wood; many are printed in large, object quality proportions. The exhibit was organized by Associate Curator Naomi Beckwith. The Studio Museum in Harlem does not allow photography in the galleries, so unfortunately, there are no installation shots for this show; the images that accompany this post were taken from the museum website. The recent Aperture monograph (here) is on sale in the museum shop. (Untitled from Interiors, 1997, at right.)
The exhibit includes work from three different series. These projects are listed below, with the number of photographs on view in parentheses:
Interiors (11, from 1997-2003)
Empty Beds (3, from 2003)
Common Ground (3, from 2008)
A supporting exhibit entitled Inside the Collection: Interiors from the Studio Museum shares the smaller side gallery with the Mthethwa show. It includes photographic works by Adia Millet, Carrie Mae Weems, Mickalene Thomas, Frank Stewart, James VanDerZee, and Malick Sidibé.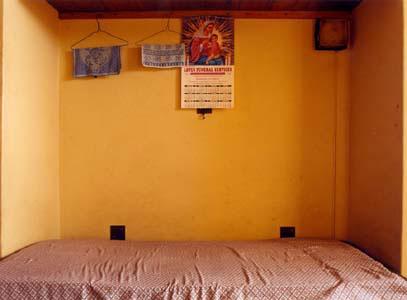 Comments/Context:
South African photographer
Zwelethu
Mthethwa
has been doing a splendid job of building awareness for his work here in New York in the past 18 months or so. Starting with a solid show of new images at Jack
Shainman
last spring (review
here
), he has followed that up with the events and book signings surrounding the release of his terrific
Aperture
monograph earlier this year (review
here
), and with a solo museum show at the Studio Museum in Harlem this summer. It has been a well orchestrated effort in building momentum and name recognition. (
Untitled
from
Empty Beds
series, 2002, at right.)
The Studio Museum exhibition is in many ways a perfect foil for the Shainman gallery show. It covers three photographic projects that focus on interior scenes, while the more recent work was all taken outside – there is no overlap of images on display, so the combination of the two shows provides a decently comprehensive view of Mthethwa's career (except for the excellent but missing Sugar Cane series). At the simplest level, the pictures in this show can be thought of as a contemporary form of social documentary photography. Following in the footsteps of Riis, Evans, Lange and others, Mthethwa has made images of the domestic lives of migrant workers, capturing the unexpected personalization of their single room spaces. He has also documented the aftermath of natural disaster, homes ravaged by Hurricane Katrina in New Orleans or the wild fires of Cape Town, making the destruction interchangeable and universal.
Mthethwa's private spaces are dense with details, low ceilings bearing down on sparse, makeshift furnishings, often cobbled together and scavenged from found materials. In Interiors, the inhabitants pose amidst their surroundings, actively participating in the creation of their portraits, almost as if they were in a formal studio. Simple items (a tricycle, a group of ceramic dogs, a large watch, matching plaid jackets) give us glimpses of individuality and clues to personality, each a tiny narrative of self. In Empty Beds, the rooms are quiet and solemn, the beds neatly made, the washcloths draped over wire hangers, evidence of inhabitants who are trying to make their austere rooms livable. In Common Ground, while the interiors are also empty, they are the opposite of the carefully controlled bedrooms; instead they are filled with wreckage and disorder, lost in mud spackled walls and taped windows.
What makes these pictures explode off the wall is their dramatic use of vibrant, saturated color. Wallpapers made from newspaper advertising supplements, wine labels, or patterned plastic sheeting are layered in chaotic, overlapping combinations. Each setting has its own color highlights and experiments: bright blue paint, green linoleum, red shoes, yellow walls. The painterly color fills the frame with crackling energy and life, in images that might otherwise be sullen or gloomy. In some works, the thickness of the color nearly drowns out the content, making the images almost abstract; in others, the color merely turns up the volume, transforming a simple scene into something more inspiring. When printed at mural sized scale (as a few of the images are), the interiors shimmer with visual stimulation.
All in, even if you saw the earlier Shainman gallery show or have pored over the monograph, this exhibit provides an overdue summary of some of Mthethwa's best projects, shown off the way they were meant to be seen: in large, dynamic, up close color.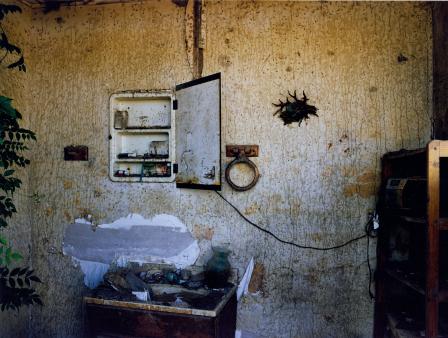 Collector's POV:
Zwelethu
Mthethwa
is represented by Jack
Shainman
Gallery in New York (
here
). His photographs have just begun to enter the secondary markets in the past few years, with a small handful of lots selling between $8000 and $14000. (
Untitled
from
Common Ground
series, 2008, at right.)
Rating:
** (two stars) VERY GOOD (rating system described
here
)
Transit Hub:
Interview with Larissa Leclair (here)
Through October 24th
New York, NY 10027