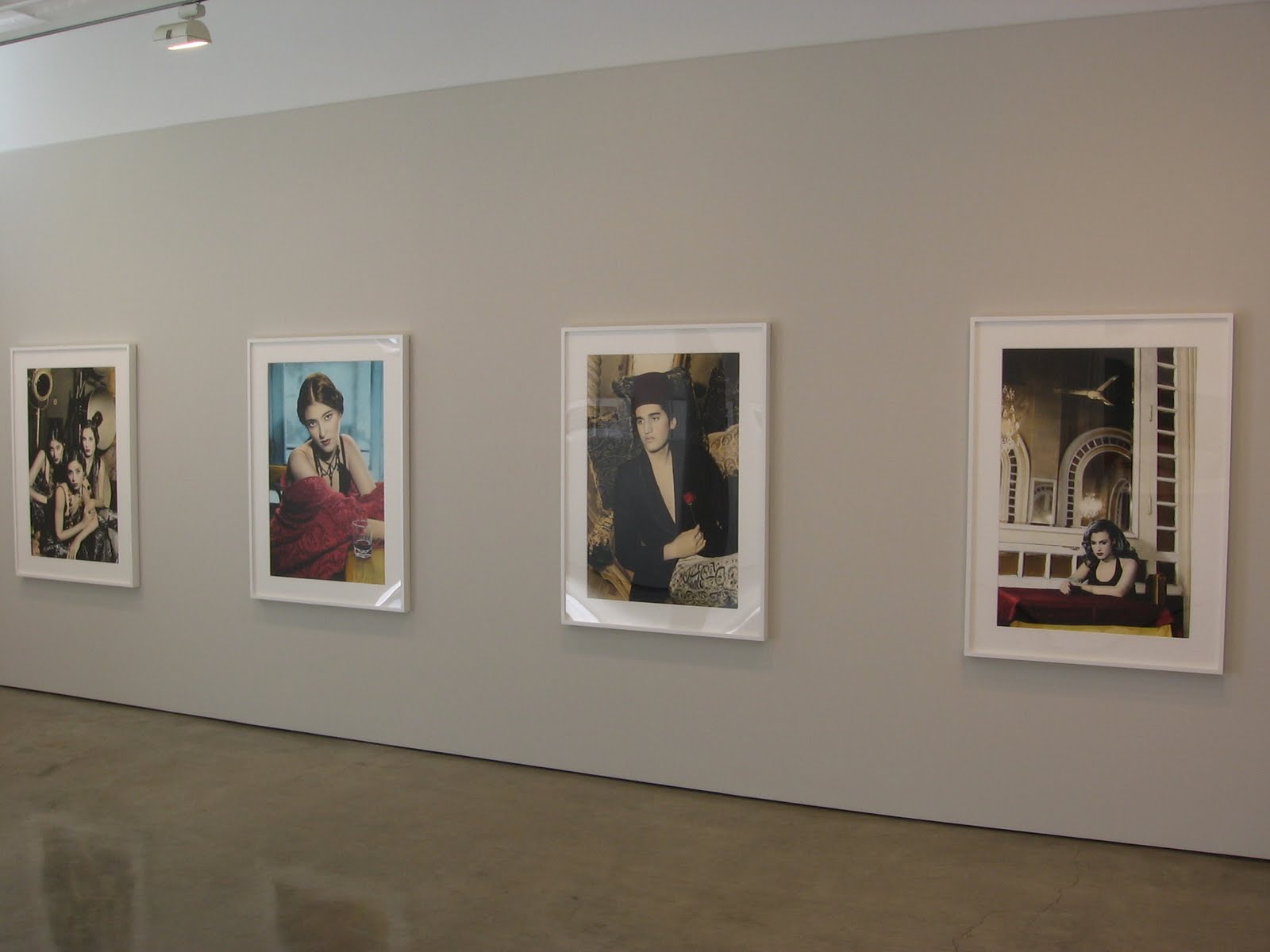 JTF (just the facts): A total of 16 color photographs, framed in white and matted, and hung in the main gallery space and back alcove. All of the works are hand colored gelatin silver prints, made between 1993 and 2010. Sizes range from roughly 15×10 (in editions of 10+2AP), to 20×29 (in editions of 5+1AP), and finally to 45×30 (in editions of 3+1AP). This is Nabil's first solo show in New York. (Installation shots at right.)
Comments/Context: In a time when many contemporary photographs are starting to look strangely alike in their perfect color sharpness, Youssef Nabil's images have a signature aesthetic that is unmistakably original. His black and white pictures have been tinted and cleaned up, hand colored in soft pastel tones that create an idealized air of mystery and nostalgia.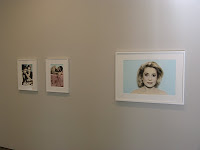 The largest images in this show echo decades old Egyptian movie posters, where glamorous men and women lounge in exotic cinematic elegance. Women with marbled hair and red lips play cards and drink cocktails, a man in fez holds a rose, and a woman lies on the floor next to a ceramic cheetah. The scenes are both dreamily lethargic and highly charged.
Amani by Window
is a beguiling portrait of a young woman in a sparkling red wrap staged against a light blue background, and was my favorite image in the exhibit.
Nabil has also applied this hand crafted mix of photography and painting to head shot portraits of celebrities and artists (like Catherine Deneuve and Rossy de Palma) and to self portraits. Seen from behind as only a bare torso and head, Nabil places himself in front of a pyramid, the beach in Rio, the Hollywood sign, and the sunny shores of Istanbul. These pictures mix an old-fashioned aesthetic with a modern looking man, playing with a sense of romantic, unreal, post-card timelessness.
What I like best here is that Nabil has mixed a discarded process with unexpected subject matter and thereby created something entirely fresh and distinctive. With the renewed interest in artistic voices from the Middle East, Nabil seems well positioned to take us somewhere new.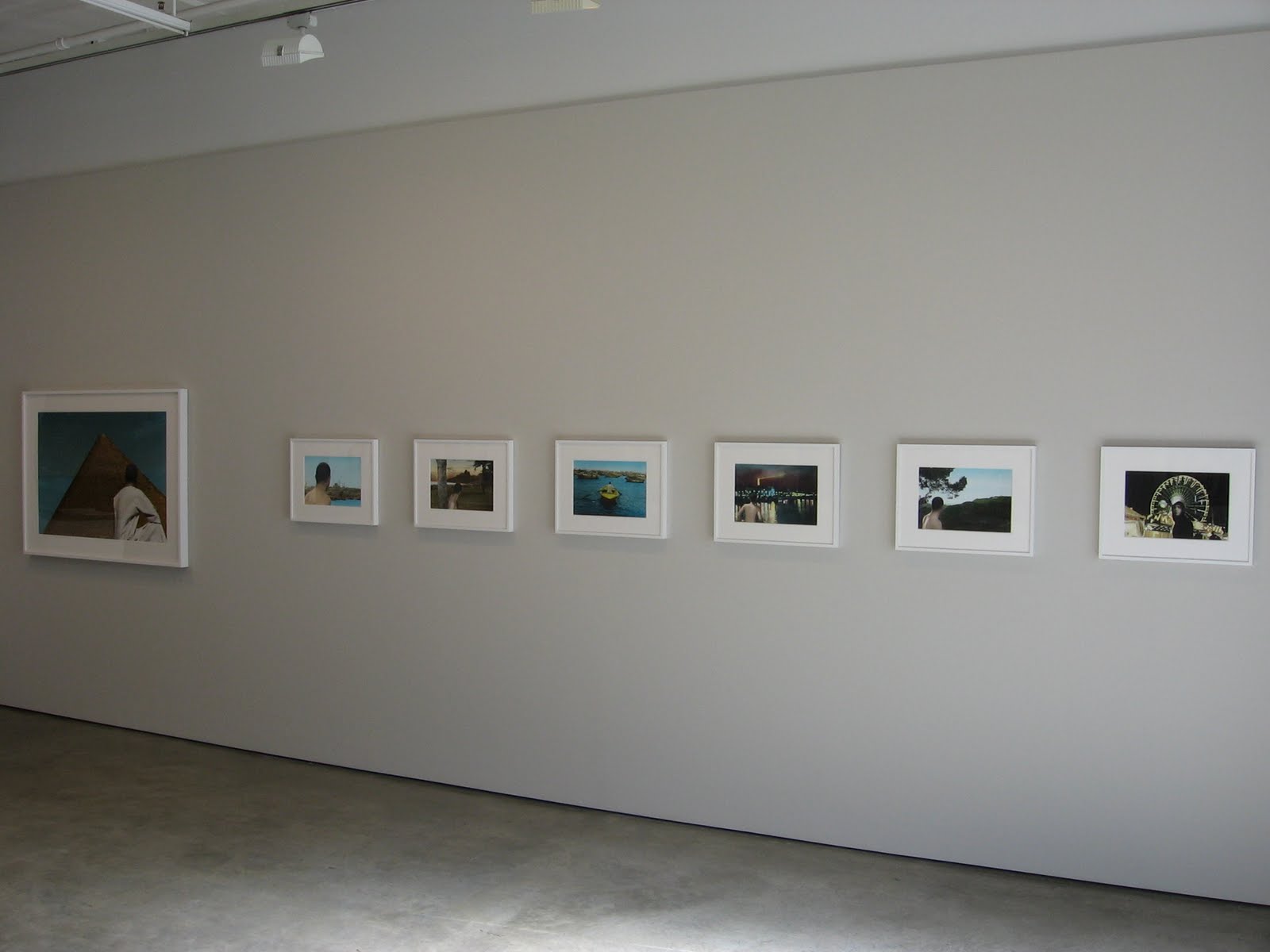 Collector's POV:
The works in this show are priced as follows. The smaller 15×10 prints start at $5400 and extend all the way up to $40400. The 20×29 and 45×30 prints are $32000 each.
Nabil's
work as begun to enter the secondary markets in recent years, both in Photographs auctions as well as in sales of Contemporary Arab Art. Prices have ranged between roughly $5000 and $30000.
Rating:
* (one star) GOOD (rating system described
here
)
Transit Hub:
Artist site (here)
Feature: Photo Booth (here)
Book: I Won't Let You Die, published by Hatje Cantz (here)
Through December 23rd
525 West 25th Street
New York, NY 10001