JTF (just the facts): A total of 11 large scale color photographs, framed in silver and unmatted, and hung against white walls in a divided gallery space and its entry area on the fifth floor. All of the works are pigment prints, taken in 1979 and printed in 2013. Each print is sized 44×60 and is available in an edition of 2. A monograph of this body of work was recently published by Steidl (here). (Installation shots below, ©Eggleston Artistic Trust, courtesy of Gagosian Gallery. Photography by Robert McKeever.)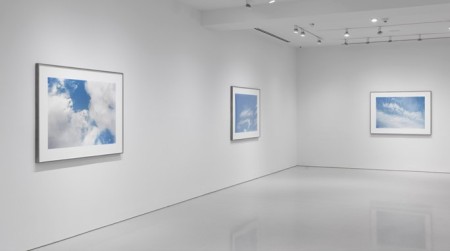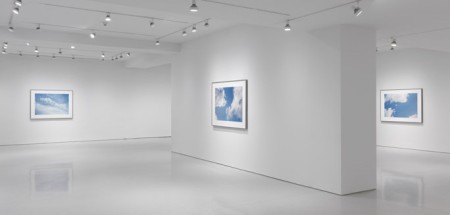 Comments/Context: William Eggleston's newest works are modern reconsiderations of images he took in 1979, inspired by snapshots he took out the window of a car during a 1978 road trip between Georgia and Tennessee. The photographs look straight upward, capturing the billow of white puffy clouds and the nearly uniform cerulean blue of the sky itself. Originally published in a limited edition called Wedgewood Blue, these new interpretations have been reimagined at a much larger scale, in a similar manner as the enlargements of many of Eggleston's most iconic images that came to market a few years ago. Once again, the photographs have been well selected to benefit from the grander size.
Cloud formations and romantic  painterly skies are subjects that have been well traveled by photographers across the history of the medium, from Alfred Stieglitz' Equivalents to the massive pastel expanses of Elger Esser and Richard Misrach. But Eggleston's contributions to the genre are centrally about painterly color, exploring the clarity and purity of the soft rich blue that fills these images. Of course, there are plenty of wisps of cotton candy white clouds in these photographs, but they are window dressing for the main attraction – that enveloping negative space of color. The images function like ceiling frescoes, seeming to open up into an endless, pristine expanse of space, framed by the lightness of the clouds.
As always with Eggleston, his eye for the gloriousness of color is unparalleled; these blues are lush and immaculate. But even as meditations on color, these confections edge into airy weightlessness. While these clouds are pleasingly diverting, they won't be remembered among Eggleston's most innovative or challenging work. So enjoy them for what they are: bright, buoyant experiments in the nuances of radiant sky blue.
Collector's POV: The prints in this show are priced at $185000 each. While Eggleston's prints are ubiquitous in the secondary markets, the only real comparable for these large modern prints can be found in a 2012 sale at Christie's (preview here, results here). Pigment prints offered in that sale (in the same physical dimensions and edition sizes as these works) found buyers at prices between $24000 and $580000.