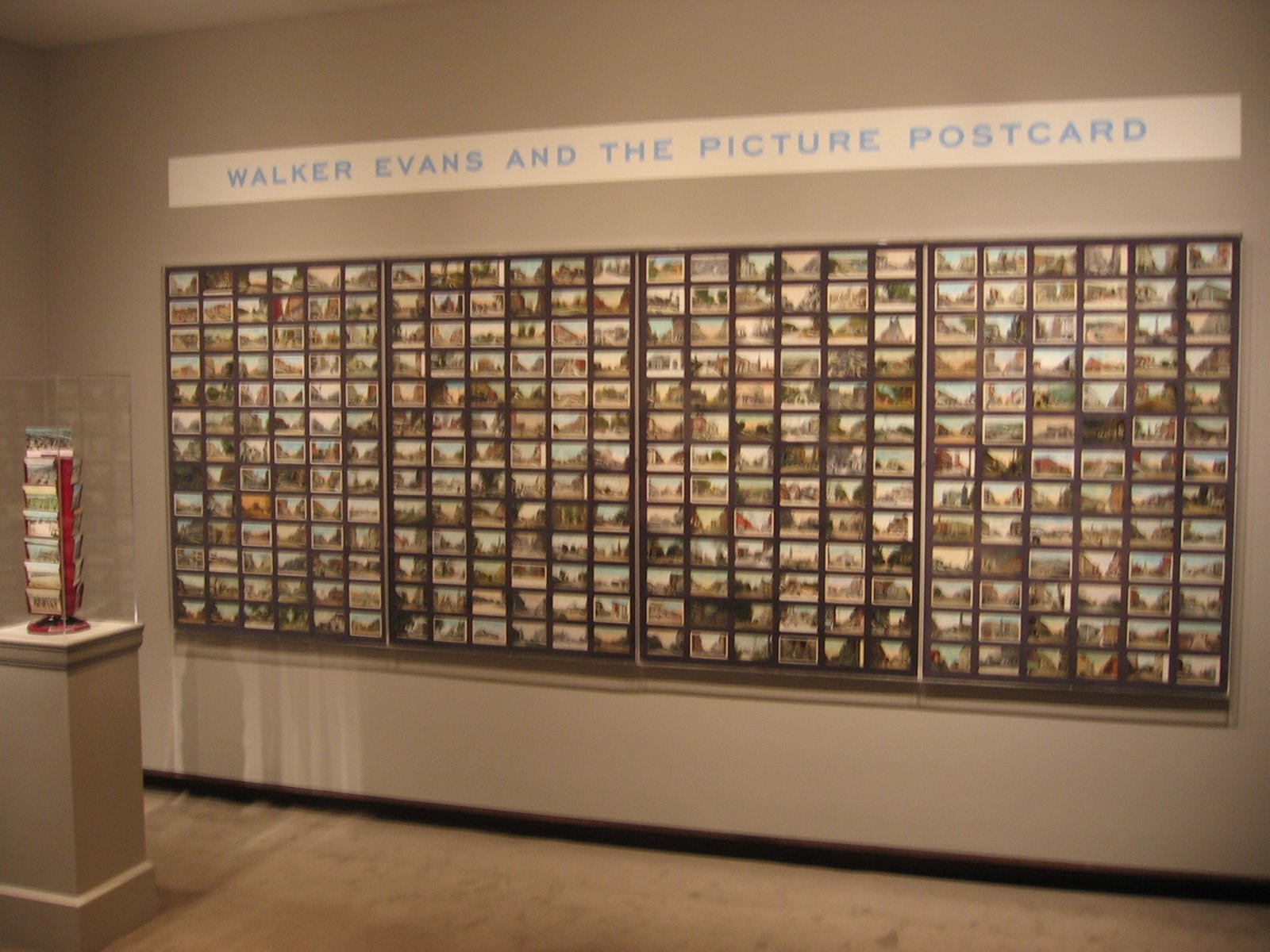 JTF (just the facts): A total of 21 black and white photographs (10 approximately 8×10 or reverse, the other 11 in post card format 3 1/2×5 1/2), all from 1935-1936, displayed in the entry and two small rooms. There are also 10 wall cases of arrayed post cards (1 large case in the entry and 9 smaller one in the other rooms), 4 glass cases of magazines and post cards, an antique post card rack, and one wall case containing leather suitcases, boxes, printed signs, bottle caps, pull tabs and other collectibles. (Installation shots at right.)
Comments/Context: If you were to look in our library at home, or in that of most other photography collectors, you'd be sure to find an armload of books about Walker Evans. You might find American Photographs, or Many Are Called, or any of literally dozens of monographs and exhibition catalogues that have been published over the years. In these volumes, you'd find lengthy discussions of all the periods of his work, from the early New York images, to Cuba, to FSA shots, African still lifes, Fortune commissions, and even his late color Polaroids. The words and pictures weigh down half a shelf at our house. Given Evans' 50 years of taking pictures, and his universal regard as one of the masters of the medium, I wondered to myself what on earth could possibly be said by the new show at the Met that hadn't already been covered at length (ad nauseum) someplace else.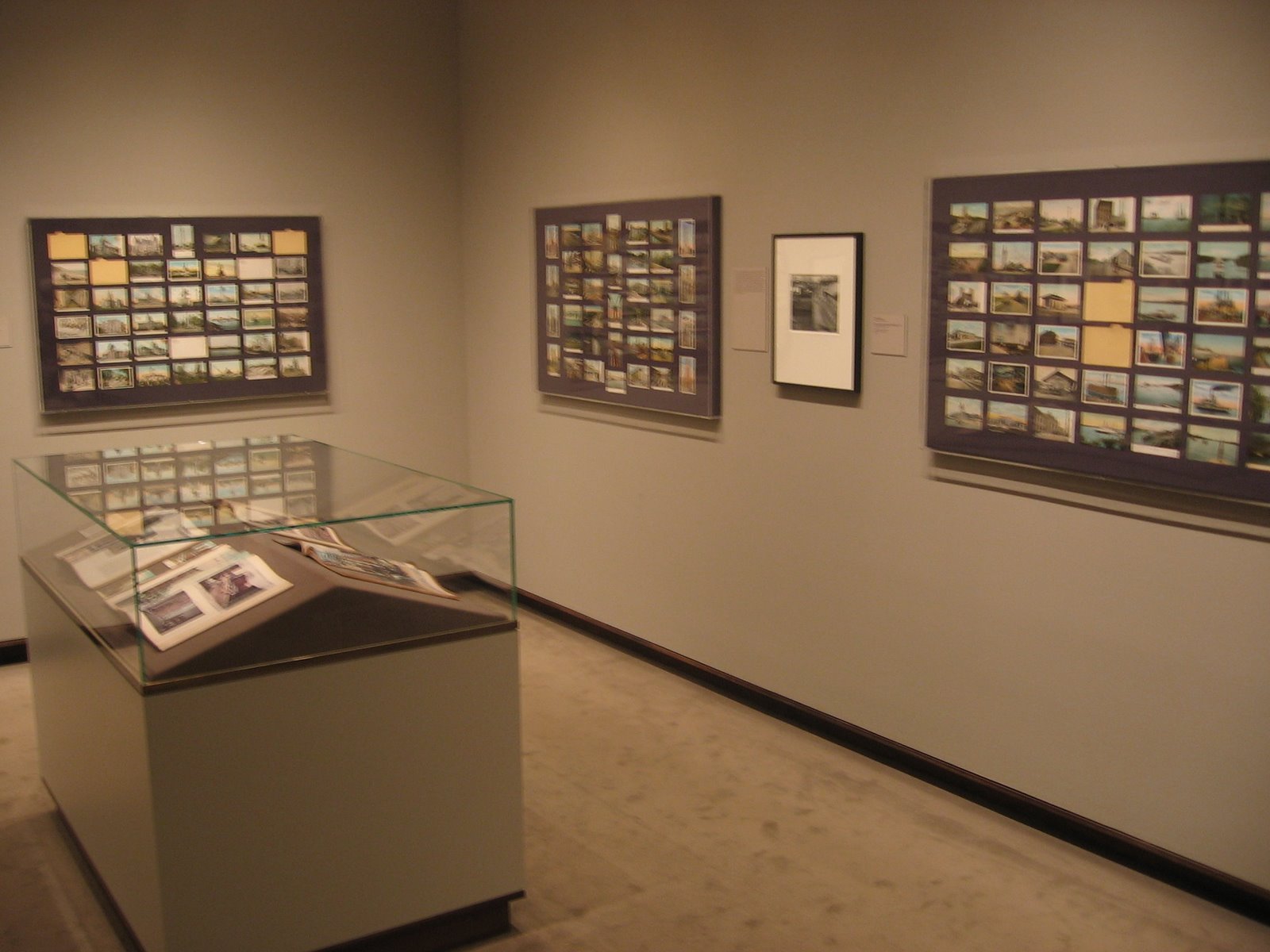 In 1994, the Evans estate gave the Met a treasure trove of material, including Evans' vast collection of American picture post cards and other ephemera, collected over sixty years. Evans was clearly a dedicated and meticulous collector (there are 9000 cards in the collection, carefully and systematically organized and categorized by subject and maker), and the selection of cards on display makes a compelling case that these cards merit attention as a true American folk art, rather than junk gathering dust at flea markets and yard sales across the nation. All of the cards in the show come from the period of 1905-1920, and most are color lithographs that have an antique, hand colored feel. The display cases show groups of cards with common subjects: factories, railroad stations, boats, state capitols, lighthouses, hotels, and other city buildings and architecture. All of the pictures have a simple, straightforward style, an anonymous "American realism" stripped of emotion and pretense.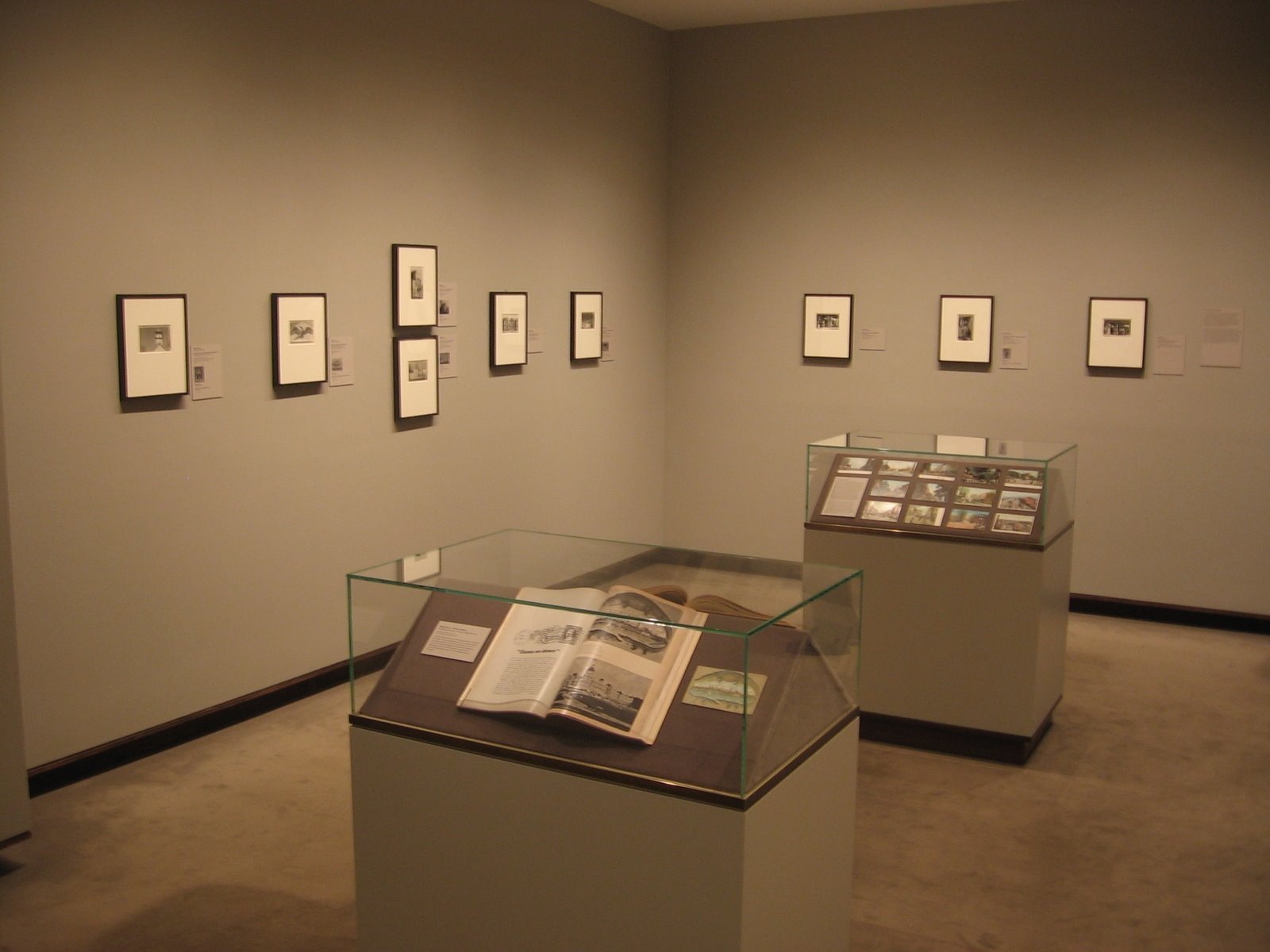 Seeing these post cards intermingled with Evans' own images is nothing short of a revelation. Evans was clearly fascinated by these cards, so much so that he cropped many of his negatives to fit onto post card sized paper. The before and after comparisons of cropped and
uncropped
images
captivatingly
show Evans at work, drawing on the wellspring of ideas found in his collection and applying them to his art. Surprisingly, I found the framing of the smaller post card pictures to be even better than the originals.
Another case shows a group of cards Evans used for a 1963 lecture at Yale which he entitled "Lyric Documentary", a handy moniker for both the overall style of the cards and for his own approach to picture making. While the images have a deadpan compositional style (often pointed straight down the center of the street), there is something aspirational about the cards, and about the ideas behind these buildings and monuments all over the country.
There are also a few other hidden gems buried in the displays. There is one case devoted to cards sent by other photographers to Evans, ranging from Diane Arbus to Lee Friedlander, penned in their own hands and reinforcing a sense of community amongst the artists. There is also one image (a straight city scene from Morgan City, LA) that is dead ringer for one of the cards.
Great shows make us think about important artists in new ways, and this exhibit completely redefined our image of Evans and his work. Met curator Jeff Rosenheim has done a superlative job of building a small, tight show that places Evans in a new and enlightening context. Go out of your way to see this show, as it will meaningfully increase your understanding of Evans' art.
There is also a wrist breaking catalogue of the show available.
Collector's POV: Evans' work is widely available in the secondary market. Prices are all over the lot, based on subject matter and rarity. Later prints (some in large editions) can reliably be found under $10000, while vintage prints generally start at that number and range well into six figures. While we don't have any images by Walker Evans in our collection at the moment, we have been looking for a terrific example from his early New York period (late 1920s/early 1930s) for quite a while. We could also imagine finding a graphic heavy image from the 30s that would fit nicely. And we have always thought a grid of four his late Polaroids would be a fun addition.
Rating:
*** (three stars) EXCELLENT (rating system described
here
)
Through May 25
1000 Fifth Avenue
New York, NY 10028
Another review of the show can be found at
Bint
Photobooks
(
here
).