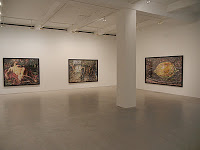 JTF (just the facts): A total of 11 large scale color photographs, framed in black and unmatted, and hung in the entry, the main gallery space, and one of the two back rooms (a group of 6 Muniz sculptures, including a Tupperware sarcophagus and an ivory crowbar, are on display in the other back room). All of the works are digital c-prints made in 2011, from the Pictures of Magazines 2 series. The prints come in two sizes: "large" ranging from roughly 71×87 and 71×120 or reverse, and "small" ranging from roughly 40×42 to 40×50 or reverse; there are 9 large and 2 small prints in the show. Both sizes are available in editions of 6+4AP. (Installation shots at right.)
 
Comments/Context: Vik Muniz has made an astonishingly successful artistic career out of a relatively simple formula: take a famous image from art history (or an appropriated celebrity portrait), match it with one of a dizzying variety of unlikely media, painstakingly recreate it in that physical medium, and make a photograph of the end result. His works have forced us to reconsider these icons, and to see layers of connections, embellishments and ironies based on their transposition from paint into something altogether more unexpected.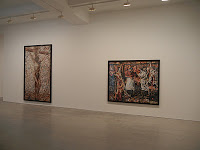 In the past, Muniz has experimented with uniform media (like sugar, diamond dust, and chocolate syrup) and more three dimensional, multi-colored materials (like pigment, toys, and garbage) in his set-ups. And while he has employed fragments of magazines in a previous series, his new works expand beyond small punched discs into much larger torn scraps and strips, often bringing recognizable pop culture objects, faces and words into the mix. The effect is something more akin to a collage or rebus than ever before, with more of an invitation to unpack the swirling component parts and enjoy their underlying relationships, jokes, and allusions at a micro level. The jagged, uneven edges of the scraps also change the nature of Muniz' use of texture; these works feel feathery, as if a soft wind was blowing across the surface of the image, catching the frays and creating a subtle flickering motion. These refinements add a new burst of energy to Muniz' recreations of Friedrich, Van Gogh, Manet, Cezanne, Carracci and others (his re-interpretation of Caillebotte's Floor Scrapers is particularly successful, in the center of the top installation shot), making the up close experience even more dense and complex.
I think it would be entirely possible for Muniz and his studio assistants to continue to crank out a flood of variations on his signature themes that would be happily consumed by the art market, but would fail to push forward in any meaningful way. I was therefore pleasantly surprised to find that these images both leverage his past successes and continue to take challenging risks, edging into territory that is less strictly visual and more layered and media savvy. Compared to his works from a decade ago, these new pictures are far more complicated; the density of recognizable visual clues is much higher, offering the viewer much more than a simple squint of artistic identification.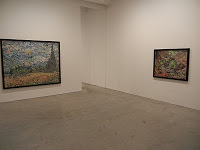 Collector's POV: The prints in this show are priced based on size. The "large" prints are $45000 and the "small" prints are $32000. Muniz' works are ubiquitous in the secondary markets for both photography and contemporary art, with dozens of images available at auction every season. Recent prices have continued to rise, ranging between $5000 and $270000, most finding a buyer in five figures.
Rating: ** (two stars) VERY GOOD (rating system defined here)
Transit Hub:
Vik Muniz
Through October 15th
Sikkema Jenkins & Co.
530 West 22nd Street
New York, NY 10011