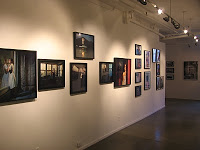 JTF (just the facts): A group show comprised of a total of 63 photographs from 18 different photographers, variously framed and matted, and densely hung (salon style) in the entry and gallery spaces that wrap around to the right. The show was curated by collector/blogger/photographer Ruben Natal-San Miguel. (Installation shots at right.)
The following photographers are included in the exhibit, with the number of images on view in parentheses and detailed specs to follow. Unfortunately, the exhibition checklist is full of typos, mistakes, and omissions; in addition, the images on the website do not entirely match those on the walls (I was told some were sent to LA, so some replacements were hung), so consider the information below to be the best of what was available at the time (please feel free to correct any inaccuracies via the comments):
Jen Davis (3): Chromogenic prints, 20×24, in editions of 10, from 2003/2005.
Amy Elkins (3): C-prints, 20×16 or 24×20, uneditioned, from 2008.
Elizabeth Fleming (3): Giclee prints, 14×21, in editions of 15, from 2007/2008.
Kris Graves (3): Digital chromogenic prints, 16×20, uneditioned, from 2006/2008.
Molly Landreth (4): Digital pigment prints, 16×29, uneditioned, from 2007.
Alex Leme (4): Archival pigment prints, 16×24 or 10×15, uneditioned, from 2009.
Gina LeVay (3): Archival pigment prints, 20×24, in edtions of 10, from 2007/2008.
Ruben Natal-San Miguel (7): C-prints, 16×20 or 24×20, in editions of 6 and 5 respectively, from 2007/2009.
Eric Ogden (3): Archival pigment prints, 30×40 or 20×24, in editions of 4 and 6 respectively, from 2009.
Cara Phillips (3): Gelatin silver prints, 30×24, in editions of 5, from 2008.
Matthew Pillsbury (3): Archival pigment prints, 13×19, uneditioned, from 2008.
Nadine Rovner (4): Archival pigment inkjet prints, 24×30, in editions of 10, from 2009.
Zoe Strauss (4): C-prints, 12×16, uneditioned, from 2000-2010.
Hank Willis Thomas (2): Lightjet prints, 26×60 and 30×40, uneditioned, from 2008.
Mickalene Thomas (4): Mounted c-prints, 30×24 or reverse, in editions of 5, from 2009.
Phillip Toledano (3): Digital c-prints, 12×16, in editions of 6, from 2008/2009.
Brian Ulrich (5): Pigmented ink and chromogenic prints, 14×11 (or reverse) or 40×30, in editions of 5, from 2006, 2008, and 2009.
Michael Wolf (2): Lambda prints, 27×34, in editions of 9, from 2007.
Comments/Context: A generation ago, the support community that a photographer built around him or herself was largely made up of other local photographers and artists, the people who had attended the same art schools or summer workshops, and perhaps a few long distance friendships with like-minded photographers or curators in other citites. With the advent of the Internet and social networking tools, emerging photographers from around the world can now interact with each other much more easily; photographers working to secure their first shows and gallery relationships all have websites displaying their work, and many are active bloggers/writers. Communities of international photographers are springing up all over the place, and a sense of collegial inclusiveness and acceptance is the norm.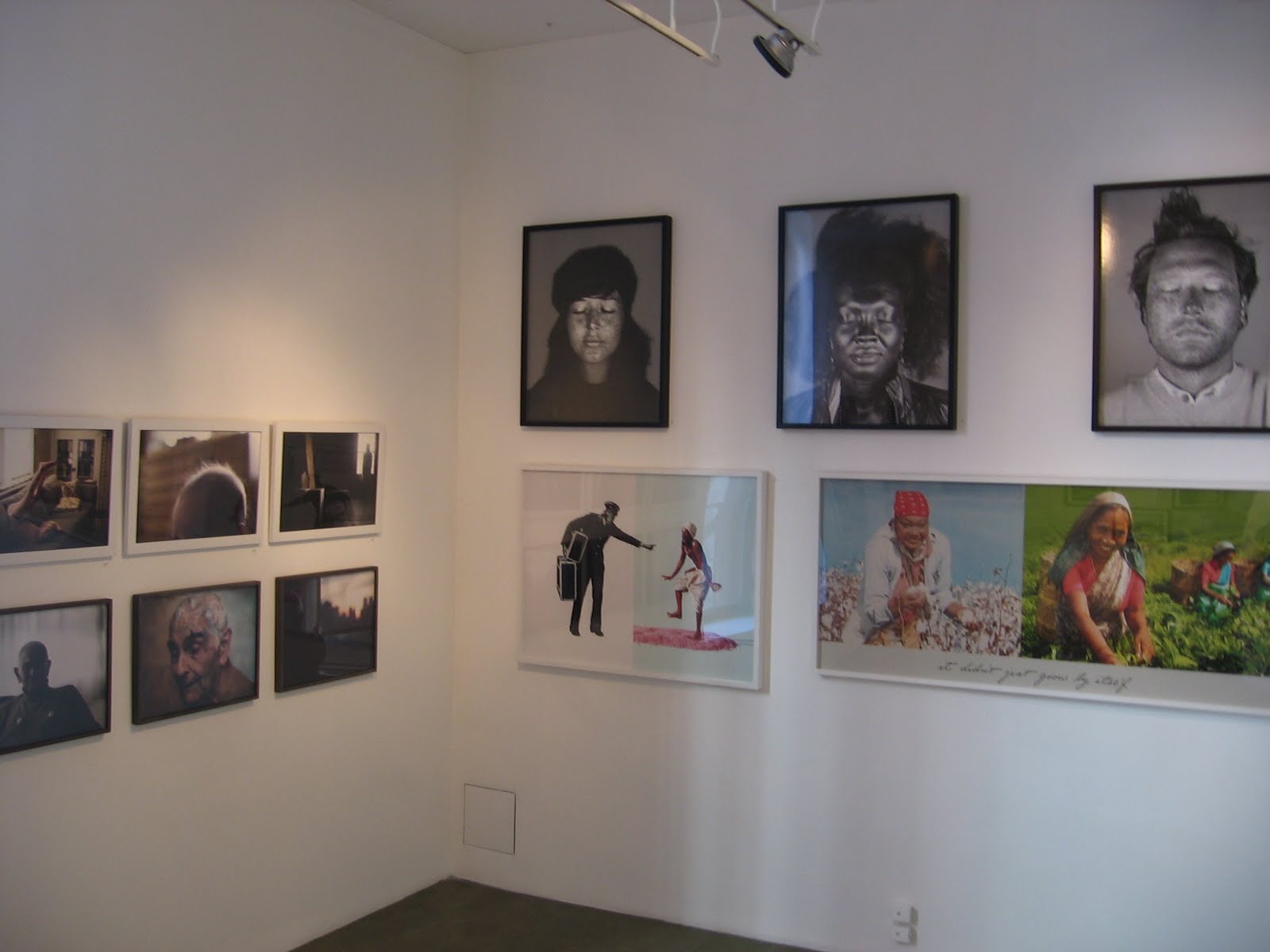 Via his enthusiastic support of emerging photographers on his blog ARTmostfierce (here), active collector and photographer Ruben Natal-San Miguel has become an evangelist and champion for many lesser known photographers. He has curated shows of emerging and established work, collaborated with artists, marketed limited edition prints, and used his bully pulpit to advocate for causes he cares about, all with a relentless energy and positivity that is contagious. He is an example of a collector who has deeply engaged with the contemporary photography community, and along the way, has transformed himself into something quite a bit more than an anonymous acquirer of pictures.
From a collector's perspective, this show is really a sampler of early career photographers that are "on the bubble"; some have recently settled into solid gallery representation, while others are still looking for that elusive first partnership. Much of the work on display will be familiar to those that travel in emerging photography circles (most of it still relatively inexpensive); many of the same names often appear in group shows both in galleries and online, and several are prominent in the active shaping of the virtual photography community. Natal-San Miguel has built this exhibit by pairing works by sets of photographers, creating juxtapositions, echoes and opposites of style, subject matter, and mood.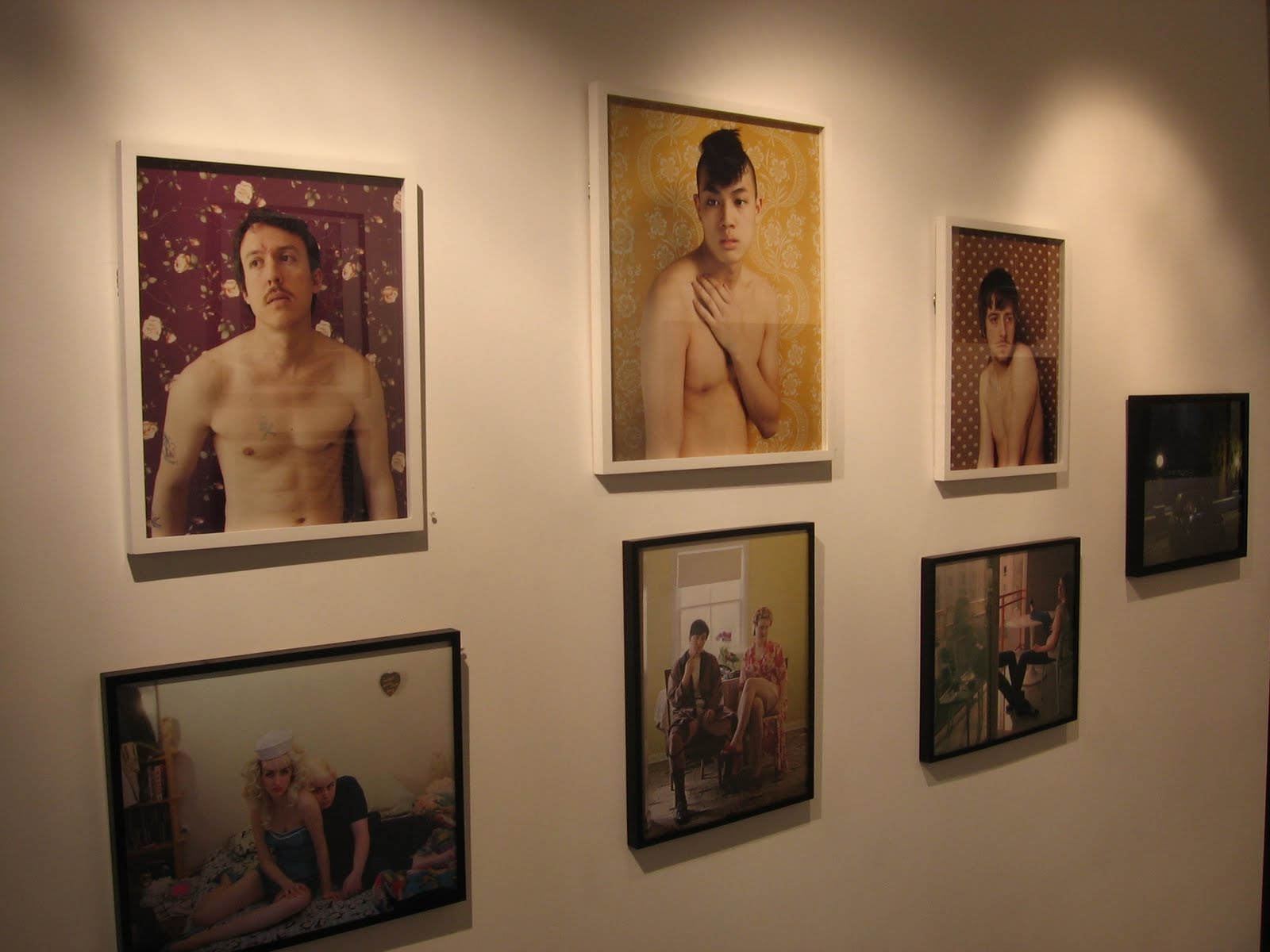 If there is a common theme to this diverse collection of work, I think it is a rejection of the cool conceptualism and global scale of the Dusseldorf school in favor of a more intimate, sensitive brand of photography, much of it emotional portraiture and story telling on an inward or personal level. In these images, the photographers explore vulnerabilities and stereotypes, inadequacies and surface imperfections, hopes and dreams (not all realized). The challenge with this approach is that it's tricky to find the right balance between compelling human-sized narratives and overly precious self-consciousness; many of these artists are still so early in their careers that they're still discovering and refining their voices, so what we see here is clearly just the beginning.
Given the wide mix of photographers included in the show, it's not hugely surprising that the results are a bit uneven. While I won't go through each of the bodies of work on display, here are three that I found to be the most successful:
Phillip Toledano: Toledano's pictures of his aging father are very nuanced, so much so that it is easy to walk right by and not see them for what they are (which is exactly what I did in my first turn around the gallery). But after a second deeper look, I found these pictures to be the most moving in this exhibit (by a pretty wide margin). The washing of his father's hair and the twilight view of the sunlight over the city are both strongly evocative images.
Amy Elkins: I first saw Amy Elkins' Wallflower series of male portraits against colorful flowered wallpapers in the project room at Yancey Richardson a year or so ago, and as the months have passed and I have encountered them again in other contexts, they are growing on me. Even though we are not portrait collectors, I am liking the mixture of feminity and masculinity they explore more and more, as well as the subtle openness and vulnerability she has deftly captured.
Cara Phillips: Using ultraviolet light, Phillips has made penetrating head shot portraits that reveal the skin imperfections that lie beneath the surface of her subjects' faces. While these images are somewhat reminiscent of Chuck Close's daguerreotypes (that often highlight all kinds of bodily flaws and blemishes), I found these portraits striking and memorable. I'd enjoy seeing one hung next to a 1980s colored background portrait by Thomas Ruff.
Curatorially, I think the show would have benefitted from a tighter edit; there are too many pictures, jammed too close together. I think the same ideas could have been brought forth with much more clarity had the pairings been limited to two pictures each; the images would have had more room to breathe and the juxtapositions would have been sharper. My favorites list would also normally have included both Mickalene Thomas and Brian Ulrich, but the specific images chosen for this show seemed weaker than others I carry around in my head from prior viewings. So while I like the spirit of warm inclusiveness that this show embodies, I think a heavier editing hand might have cut away some distracting flabbiness that wouldn't have been missed.
Overall, this show provides a helpful snapshot of a group of increasingly visible photographers who are working hard to establish themselves (and their point of view) more fully. There's a nugget of something new going on in all of this work; how much of it will evolve into something even more powerful and lasting still very much remains to be seen.
Collector's POV: The photographers included in this show are a mix of represented and unrepresented artists, with little or no secondary market history. In the list below, I have included the prices of the works on display, as well as any gallery representation that I could discern (if I have missed any, please add them in the comments). As I mentioned above, the printed price list was somewhat unreliable as a source of information, so recheck the data with the gallery as appropriate:
Jen Davis: $2100 or $2500 each. Represented by Lee Marks Fine Art (here).
Amy Elkins: $1200 or $1500, based on size. Represented by Yancey Richardson Gallery (here).
Elizabeth Fleming: $450 each.
Kris Graves: $800 each.
Molly Landreth: $400 each.
Alex Leme: $400 or $600, based on size.
Gina LeVay: $1200 each.
Ruben Natal-San Miguel: $500 or $1000, based on size.
Eric Ogden: $800, $1500, or $3000.
Cara Phillips: $2600 each.
Matthew Pillsbury: $1800 or $2200. Represented by Bonni Benrubi Gallery (here).
Nadine Rovner: $1200 each.
Zoe Strauss: $750 each. Represented by Bruce Silverstein Gallery (here).
Hank Willis Thomas: $6500 each. Represented by Jack Shainman Gallery (here).
Mickalene Thomas: $6500 each. Represented by Lehman Maupin Gallery (here).
Phillip Toledano: $1700 each.
Brian Ulrich: $900 or $4000, based on size. Represented by Julie Saul Gallery (here).
Rating: * (one star) GOOD (rating system described here)
Transit Hub:
Each of the photographers in the show has an artist website and/or blog. These sites are linked below:
Versus
Through March 8th
Hous Projects
31 Howard Street
New York, NY 10013