JTF (just the facts): A total of 7 large scale black and white and color works, generally framed in black with no mat, and hung in the back two galleries. The images on view are a mix of pigment and c-prints, ranging in size from 49×39 to 71×71. All of the works were made between 2006 and 2008. (Installation shots at right.)
.
Comments/Context: The work of French photographer Valérie Belin seems to be popping up all over the place recently. A group of her color model portraits was included in Dress Codes at the ICP last year, and one of her black and white mannequin heads is now on display in the Pictures by Women show at MoMA. This small exhibit provides a sampler of her most recent work, covering four different projects, all from the past few years.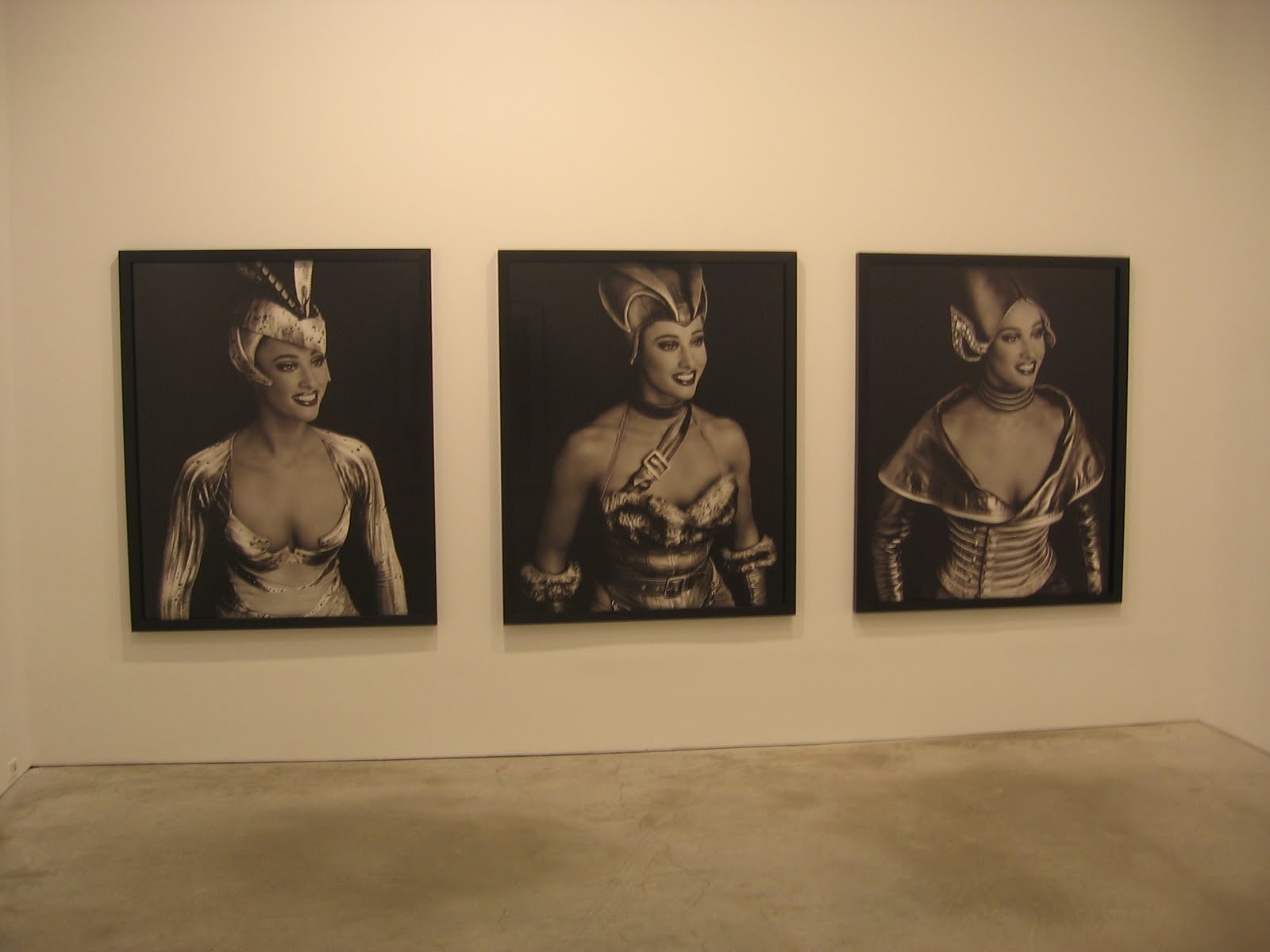 If there is a common theme to
Belin's
photography, it appears to be the exploration of the edge between the artificial and the real. In the past, she has made images of body builders and ballroom dancers, shop
mannequins
and Michael Jackson impersonators, all touching on the human impulse to manufacture identity. This concept is explored further in this show via three recent black and white images of Lido dancers, each wearing an outlandish and ornate costume (complete with leather, fur, or sequins), and punctuated by an identical plastic smile. These women look like stylized characters from a science fiction novel, simultaneously beautiful and altogether weird and unsettling in their perfection.
Belin has also considered the idea of artificiality in the context of the traditional still life. Two massive color images of fruit baskets dominate the first room of the show. These over-saturated pictures were paired with still lifes by Manet in a recent exhibition at the Musée d'Orsay (linked below). In Belin's compositions, the explosion of fruit has become so controlled that it has been transformed into luscious, comical kitsch; real fruits look like decorative imitations, displayed for maximum visual effect. While there are echoes of Baroque still life allegories of prosperity and abundance in these works (there is also a direct link to Roger Fenton's dense, exotic piles of fruit), her images are wonderfully over-the-top, bold and vibrant exaggerations of the importance of surface beauty. A black and white floral still life hangs on the back side of one wall, a dark and shadowy foil to the colorful chaos of the fruit baskets. The artful bouquet hovers in the air disembodied from any context, reminiscent of the delicate 19th century still lifes of Adolphe Braun, but somehow more puzzling and aggressive.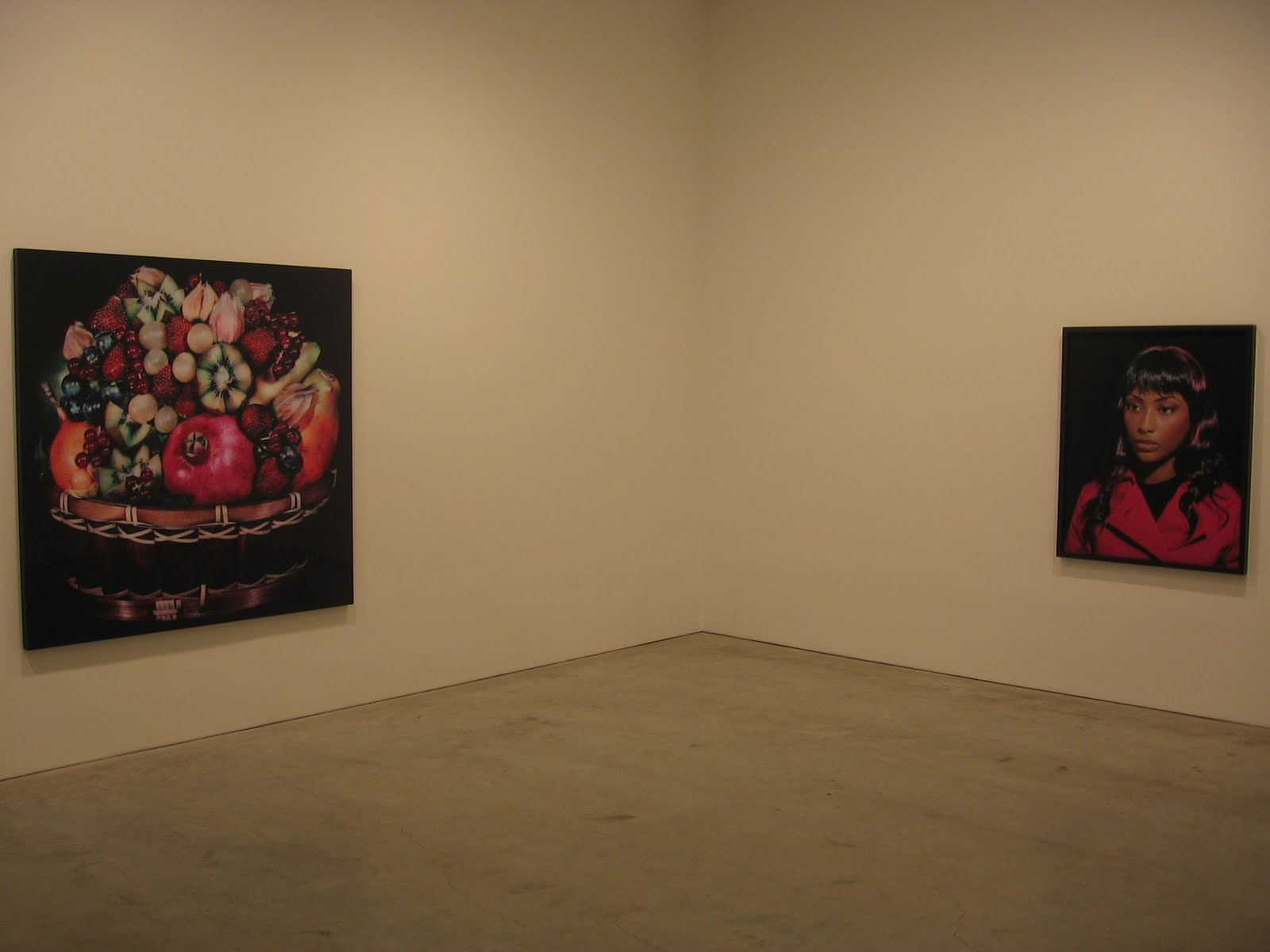 While I might have preferred to dig into any one of these projects more deeply by seeing a wider selection of images from the same series, this one-of-each style exhibit did successfully highlight a variety of her recent ideas. Having not seen a collection of her work in person before, I came away impressed by both the deceptive depth of her thinking and the quality of her execution. There is evidence of an original artistic voice coming into maturity here, building momentum with each successive project.
.
Collector's POV: The works in this exhibit range in price from $20000 to $34000. Belin's work does not have a deep history at auction; only a few of her works have come into the mainstream secondary markets in the past few years. Prices for these works have fallen between $5000 and $9000, but since the sample size is so small, they may not be entirely representative of the actual market reality. I do think that one of Belin's fruit baskets would hold an entire wall with startling ease.
Rating:
* (one star) GOOD (rating system described
here
)
Through July 2nd
53o West 22nd Street
New York, NY 10011