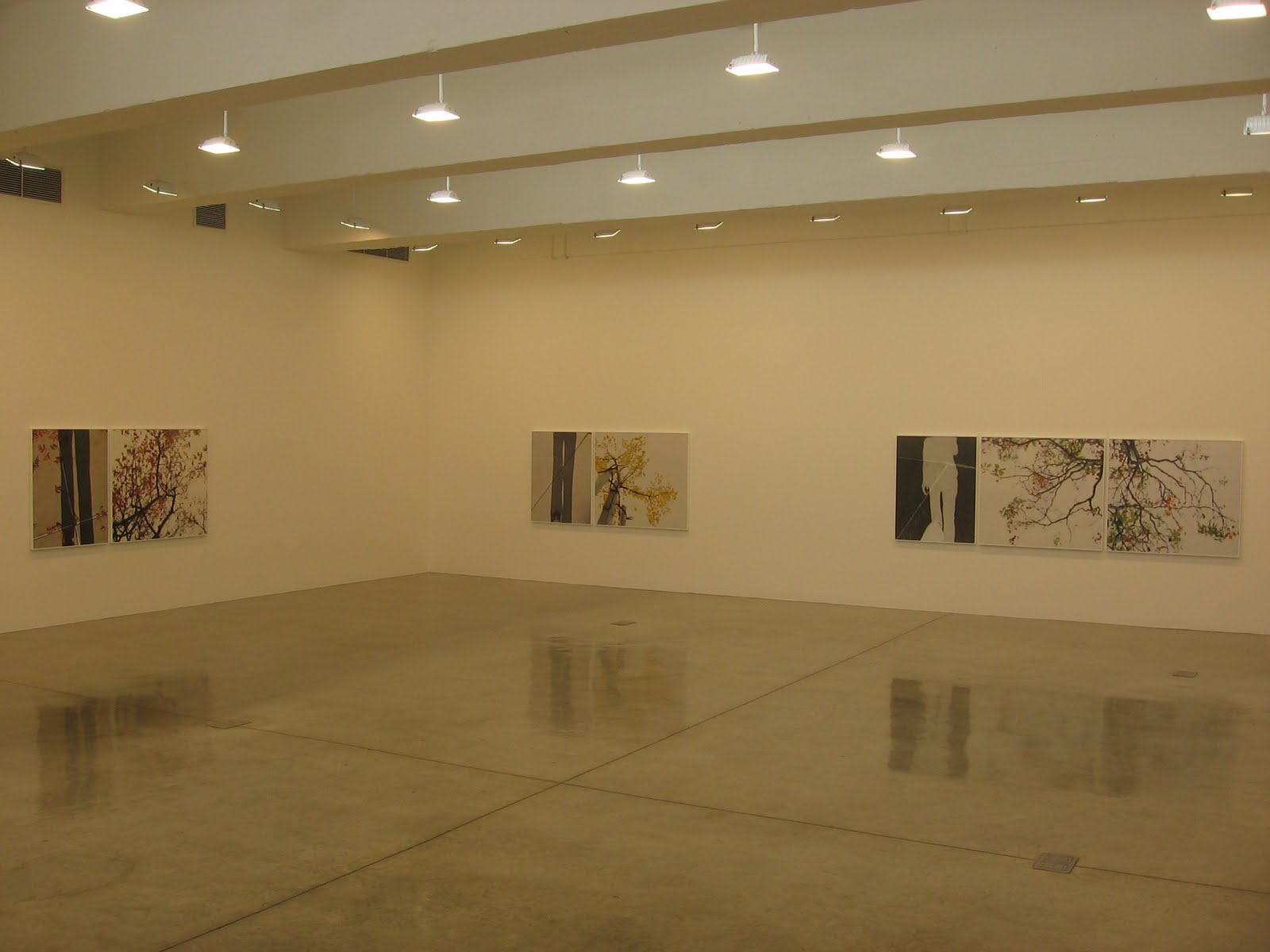 JTF (just the facts): This show contains a combination of current work and reprints of work from decades ago. The main gallery contains 8 color works, all made in 2010, each a diptych or triptych. In these works, the left panel inkjet print is 41×32 and the right panel inkjet print(s) are 41×46. The works are printed in editions of 6+2 and framed in white with no mat. The rear gallery contains 7 works (ranging from 1 to 16 series prints each), made in 1979-1982 and printed in 2010. The black and white inkjet prints (framed in white with no mat) are all roughly 11×9, and are also made in editions of 6+2. A new monograph of the artist's work, The Long Now, was recently published by Gregory Miller and is available from the gallery. A companion exhibit of the same bodies of work is now on display at 1301PE Gallery in Los Angeles (here). (Installation shots at right.)
Comments/Context:
I've recently been reading a book called
Vision and Art: The Biology of Seeing
, by Margaret Livingstone (
here
). As you might imagine from the title, it covers the technical underpinnings of how our human vision system works (rods and cones etc.), how the eye and brain connect and interact, how luminance and color are processed, and how central and peripheral vision work. It then goes on to show how various artists across the history of art have used color mixing, contrast and other optical techniques to achieve different effects. The reason I have been reading this book is that I have, of late, become more interested in the underpinnings of visual perception, as it relates to how we interact with and understand photography. Given this background study, you could say I was fully primed to enjoy Uta Barth's excellent new show, as her work has always thoughtfully explored the boundaries and ambiguities of seeing.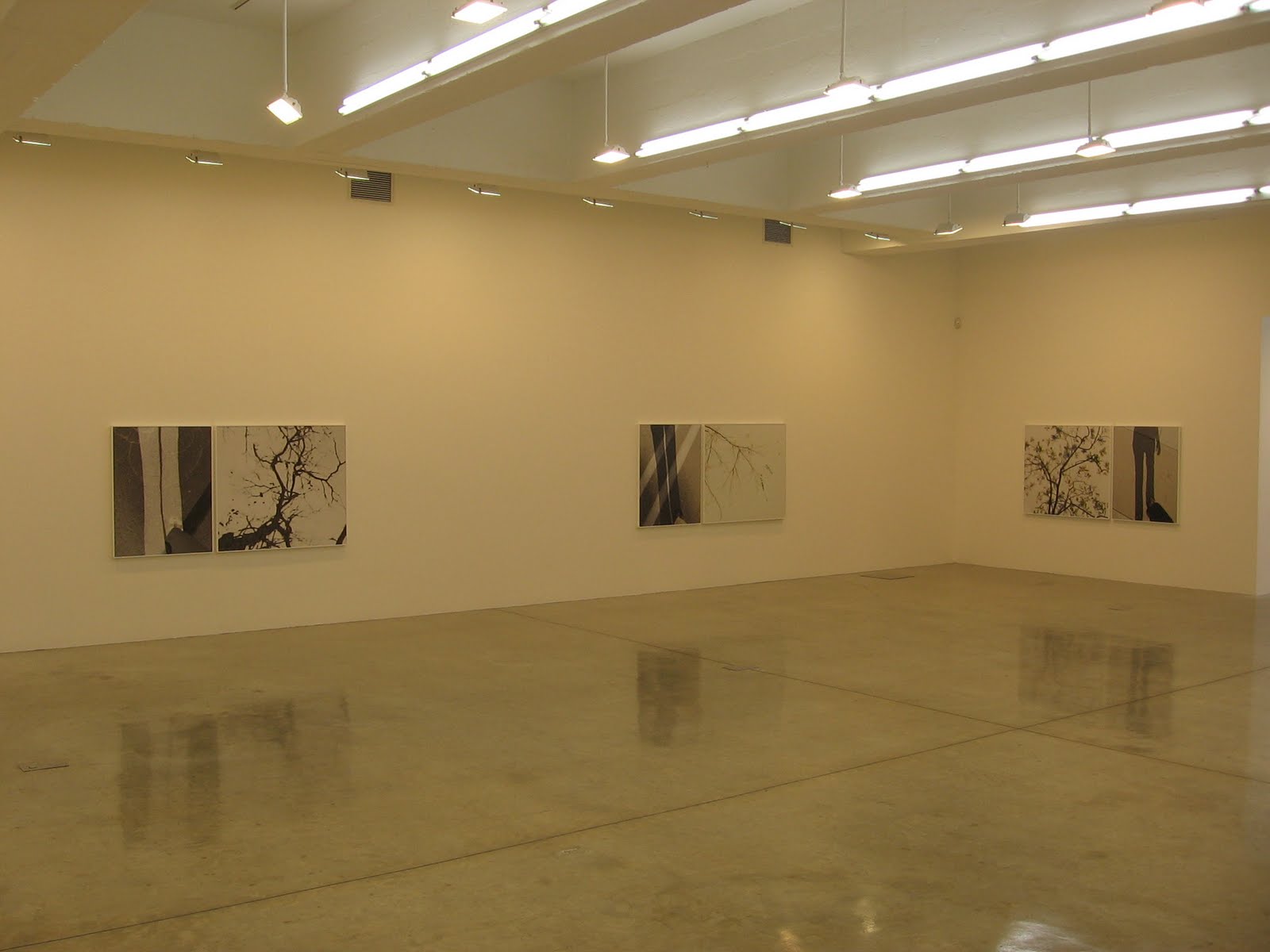 The large main gallery space is filled with diptychs and triptychs that have a common structure. In one panel, we look down at the sidewalk from the photographer's point of view, casting shadows across the field of vision that become two thick parallel lines. In the other panel or panels, we look up into the sky, where the blurs of hallucinatory trees hover overhead. In the downward looking shots, we often see the trace of a shoe or foot, the cracks and lines of the sidewalk, or stray leaves that dapple the greyness, giving us a hint to the perspective, but it is the strong vertical shadows that run edge to edge from top to
bottom
that seem strange and illusory, especially in the images that have been reversed as negatives. The upward shots have a calligraphic elegance in their shifting fogginess. Branches, leaves, berries and flowers have been abstracted into thin black lines and splashes of color – red, or yellow, or green, or blue, flashed against a blinding white sky. These upward glances seem to oscillate and vibrate, as if we were catching them out of the corner of our eye, out of focus, but still entirely identifiable. When the up and down views are juxtaposed together, there is movement, and wonder, and lyrical simplicity.
The smaller, black and white images in the back rewind thirty years, when Barth was just beginning her explorations of light, space, and time: light streams in through curtains and doorways, chairs are moved around a studio, and shadows divide a wall. Compositionally, the photographs are often consciously unbalanced, with large expanses of emptiness (floor, snow, wall) punctuated by the fragment of an object. It is easy to see where her conceptual ideas began, and then to walk back into the main gallery and see where those same motifs have evolved over her career.
I must admit that as I stood in the middle of the main gallery and let the new works wash over me, I had that uncommon rush of positive feeling, the nodding head, that giddy "aha" that said these pictures were tuned just right. Maybe it was my recent biology diversion that made me acutely aware of Barth's controlled use of my vision, but regardless, I came away enchanted by the proof that simplicity can still be thrillingly new.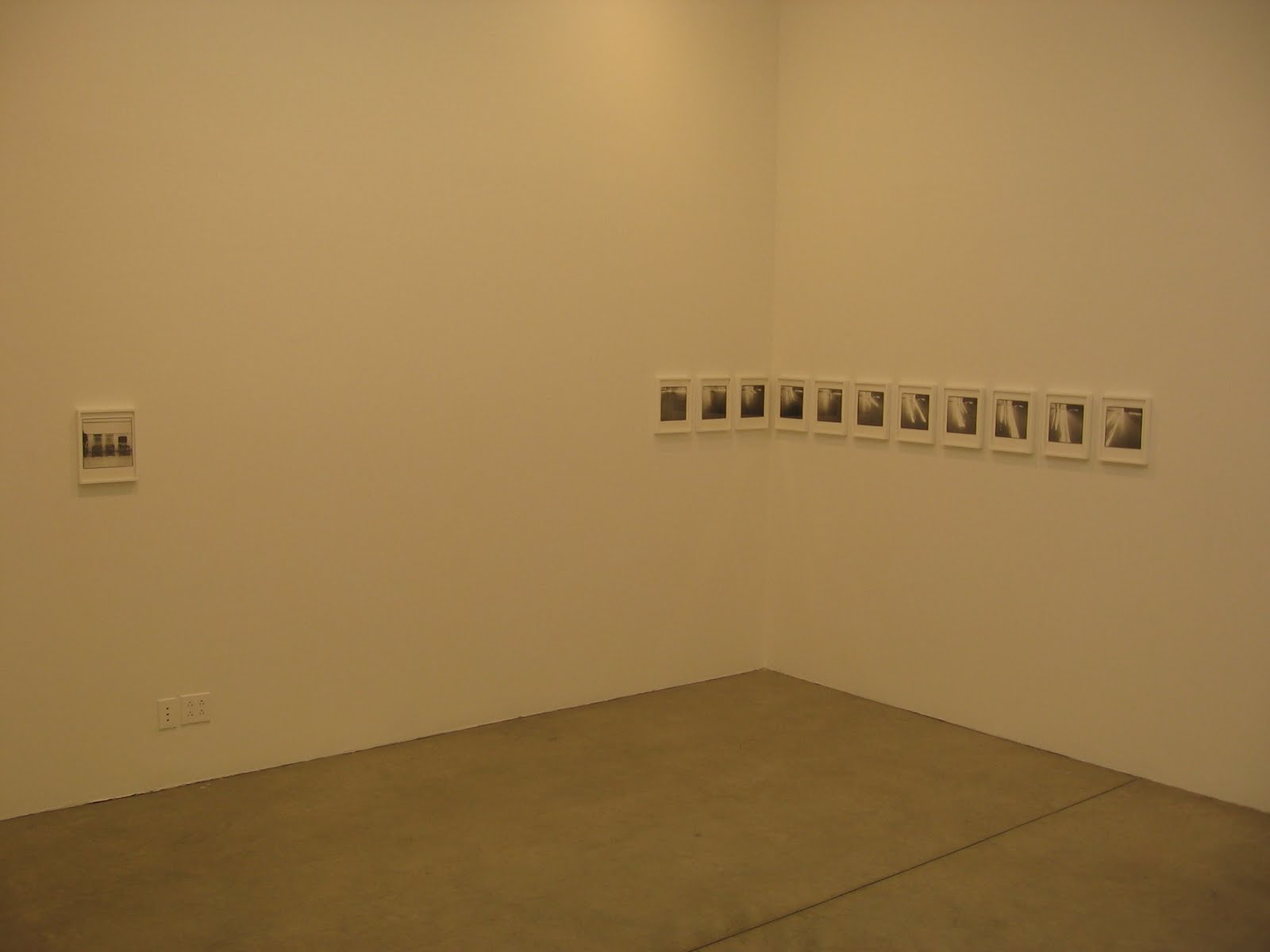 Collector's POV: The color diptychs and triptychs in the show are priced at $30000 each. The smaller black and white works range in price from $5500 to $30000, based on the number of prints in the work. Barth's photographs have recently become available in the secondary markets, with a handful of lots coming up for sale in any given year; prices have ranged between $3000 and $38000.
Rating: ** (two stars) VERY GOOD (rating system described here)
Transit Hub:
UC Riverside faculty page (here)
Review: Frieze, 2008 (here)
Interview: Journal of Contemporary Art, 1996 (here)
Uta Barth: … to walk without destination and to see only to see.
Through June 19th
Tanya Bonakdar Gallery
521 West 21st Street
New York, NY 10011