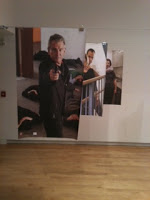 JTF (just the facts):
A mixed media installation of an unknown number of offset printed paper targets, each 35×23, hung unframed from stainless steel aircraft cables running in a grid across the center of the single room gallery space. All of the works were produced by the artists and then became actual commercial gun targets sold by Law Enforcement Targets Inc (
here
); the three images at right were the top sellers for the month of May. The work was made in 2011. (Marginal installation shots at right.)
Comments/Context:
Are you ready for a new piece of photographic jargon? The artistic team of Adam Ames and Andrew Bordwin (together known as Type A) have come up with
interpropriation
: "the act of interjecting themselves and actively participating in cultures outside the art world". While this may sound like egg headed art-speak, this kind of search for the authentic seems to be a strong and growing undercurrent in contemporary photography, likely as a backlash against art that seems too precious, inwardly focused or detached from reality. Participating in the real world as though one was a part of a particular subculture is on the rise; Nikki Lee took a variant of this same idea to new levels of commitment a few years back, and many, many others are now investigating countless social groups from the inside.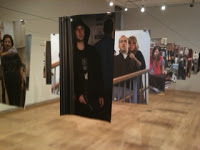 In this case, Type A has immersed themselves in American gun culture by making staged photographs of dramatic moments of home invasion, domestic and workplace violence, and urban robbery (along with a few blood covered zombies for kicks), all executed as actual paper targets designed for practice at the neighborhood shooting range. Styled like advertisements for the next new police show, the artist's friends and colleagues, as well as some museum staff and trustees, found themselves pointing guns at each other's heads and acting out various tense scenes of cruelty and injustice. The result are objects that mix fear and recreation, danger and fantasy in unexpected ways, making the images both disturbing and almost uncomfortably comic at the same time.
By the way, this installation is perhaps the most exciting and innovative physical approach to showing photography I have seen in a very long time. Rather than the tired toilet bowl ring of pictures circumnavigating a white cube in a single line at eye level, the prints hang down from the ceiling in dense rows, untethered to anything except the wires above. The installation forces the viewer to walk back and forth between the hanging prints, brushing up unnervingly close, especially given the violent subject matter depicted here. The portraits are at human scale, so there is something intensely real about the interaction; the man with the gun is right in your face, forcing you to fight or flee.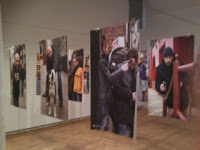 Collector's POV: Since this is a museum show, there are, of course, no relevant prices for the works on display. I could find no gallery representation for Type A. Andrew Bordwin seems to be represented on his own by Julie Saul Gallery (here); I could find no equivalent representation for Adam Ames. The printed targets themselves are available from Law Enforcement Targets, Inc (linked above), apparently for less than $1 a piece.
Rating:
* (one star) GOOD (rating system described
here
)
Transit Hub:
Through December 31
Aldrich Contemporary Art Museum
258 Main Street
Ridgefield, CT 06877