According to our statistics on 67 different auctions across the globe in 2009 (covering both focused photography sales and the photography buried in contemporary art and other compilation sales), these were the top 10 photography lots in terms of overall selling price last year. No works crossed the $1 million dollar mark in public secondary market transactions. Some might argue that Gilbert & George, John Baldessari, and Felix Gonzalez-Torres do not fall under the label of "photography"; they have been included in the list as the works detailed here are all made up of photographic prints. Prices all include the buyer's premium and have been converted to dollars/rounded to the nearest dollar where appropriate (1 Euro = 1.43 Dollars; 1 Pound = 1.59 Dollars).
1.) $902500: Gilbert & George, The Moon, 1978, Lot 45, Sotheby's New York, May 12 (image below, via Sotheby's)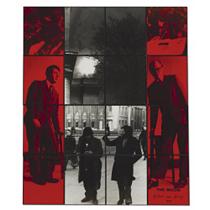 2.) $822428: Andreas Gursky, Monaco, 2006, Lot 12, Sotheby's London, February 5
3.) $775000: Edward Curtis, The North American Indian, Portfolios 1-20 and Text Volumes 1-20, 1907-1930, Lot 719, Christie's New York, October 8 (This lot sold immediately after the auction, but was included as part of the post auction press release by Christie's, so we include it here, even though it technically did not sell during the auction itself.)
4.) $770500: Jeff Wall, Sunken Area, 1996, Lot 10, Sotheby's New York, May 12
5.) $707948: Andreas Gursky, Dubai World II, 2007, Lot 10, Sotheby's London, June 25
6.) $635993: Eugene Atget, Femme, 1925, Lot 15, Sotheby's Paris, November 20
7.) $554500: John Baldessari, Two Compositions (Dynamic/Static; Red/Green), 1990, Lot 303, Sotheby's New York, November 12
8.) $542500: Felix Gonzalez-Torres, Untitled, 1994, Lot 6, Phillips De Pury New York, November 12
8.) $542500: John Baldessari, Life's Balance, 1986, Lot 40, Sotheby's New York, November 11
10.) $517148: Richard Prince, Untitled (four women with hats), 1980, Lot 23, Phillips De Pury London, February 12
It is altogether possible (though not likely) that a photograph could have sold outside our coverage area, in a smaller house or in a secondary market location, but could still have reached the top 10 in terms of price, so please, if we've missed something somewhere, please add it in the comments.