Back in November, Photo-Eye graciously asked me to participate in their annual roundup of Top 10 lists of photobooks. These diverse lists have been published today and can be found here.
My first reaction to the Photo-Eye invitation was that it was a kind of challenge; to be included with such an esteemed group of photobook experts and working photographers was both flattering and somewhat problematic. Regular readers here will know that while I review photobooks quite regularly, I don't limit myself in any way by a book's publication date; I am equally happy to review books from this year or a decade ago, based on any number of quirky collector-driven reasons. I don't really think about photobooks in "vintages", nor have I ever done a "best of" gathering for photobooks. To submit a list I could stand behind, I would have to think hard about what had really risen to the top in the past year, something it had heretofore never once occurred to me to do.
As I have said elsewhere before (here), as a photography collector (which is something entirely different than being a photobook collector by the way), I primarily measure photobooks by their use as reference and by their ability to provide meaningful and lasting ideas and education. In my view, the best books of the year are those that will get used, that will be pulled down from the shelves over and over again, for repeated reviewing and rereading. As such, most of my choices for 2010 are meaty monographs, retrospectives, or exhibition catalogues, with insightful essays and detailed background material. They are anchor books for any photography library, and I expect to wear them thin in the coming years.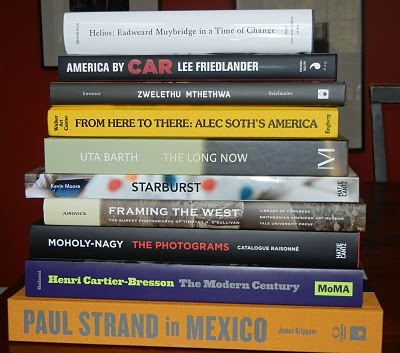 I've listed below the details of each of these books (in alphabetical order by photographer or show title), with links to their publishers. For a short and snappy rationale for why I included each book, please visit (and patronize) Photo-Eye (here). I've also included links to my previous more in-depth reviews of these books or the related exhibits, as appropriate.
Uta Barth, The Long Now, Gregory R. Miller & Co. . Henri Cartier-Bresson, The Modern Century, Peter Galassi, Museum of Modern Art (exhibit review here)
Lee Friedlander, America By Car, Fraenkel Gallery/DAP (exhibit review here)
Moholy-Nagy, The Photograms, Catalogue Raisonne, Renate Heyne, Hatje Cantz
Zwelethu Mthethwa, Aperture (book review here)
Helios: Eadweard Muybridge in a Time of Change, Philip Brookman, Steidl/Corcoran Gallery of Art
Framing the West: The Survey Photographs of Timothy O'Sullivan, Toby Jurovics, Library of Congress and Smithsonian American Art Museum
From Here to There: Alec Soth's America, Siri Engberg, Walker Art Center (book review here)
Starburst: Color Photography in America 1970-1980, Kevin Moore, Hatje Cantz (exhibit review here)
Paul Strand in Mexico, James Krippner, Aperture (exhibit review here)
Since I provided this list long before the overall results were gathered and posted, I haven't had the chance to see whether my choices as a collector have any correlation to those of the other experts polled; my guess is that my list won't overlap much with those of the rest of the judges. What I can say with conviction is that each and every one of these books took me deeper into a thoughtful exploration of the work at hand, inspired and instigated new seeing and thinking, and richly rewarded the investment of my time.