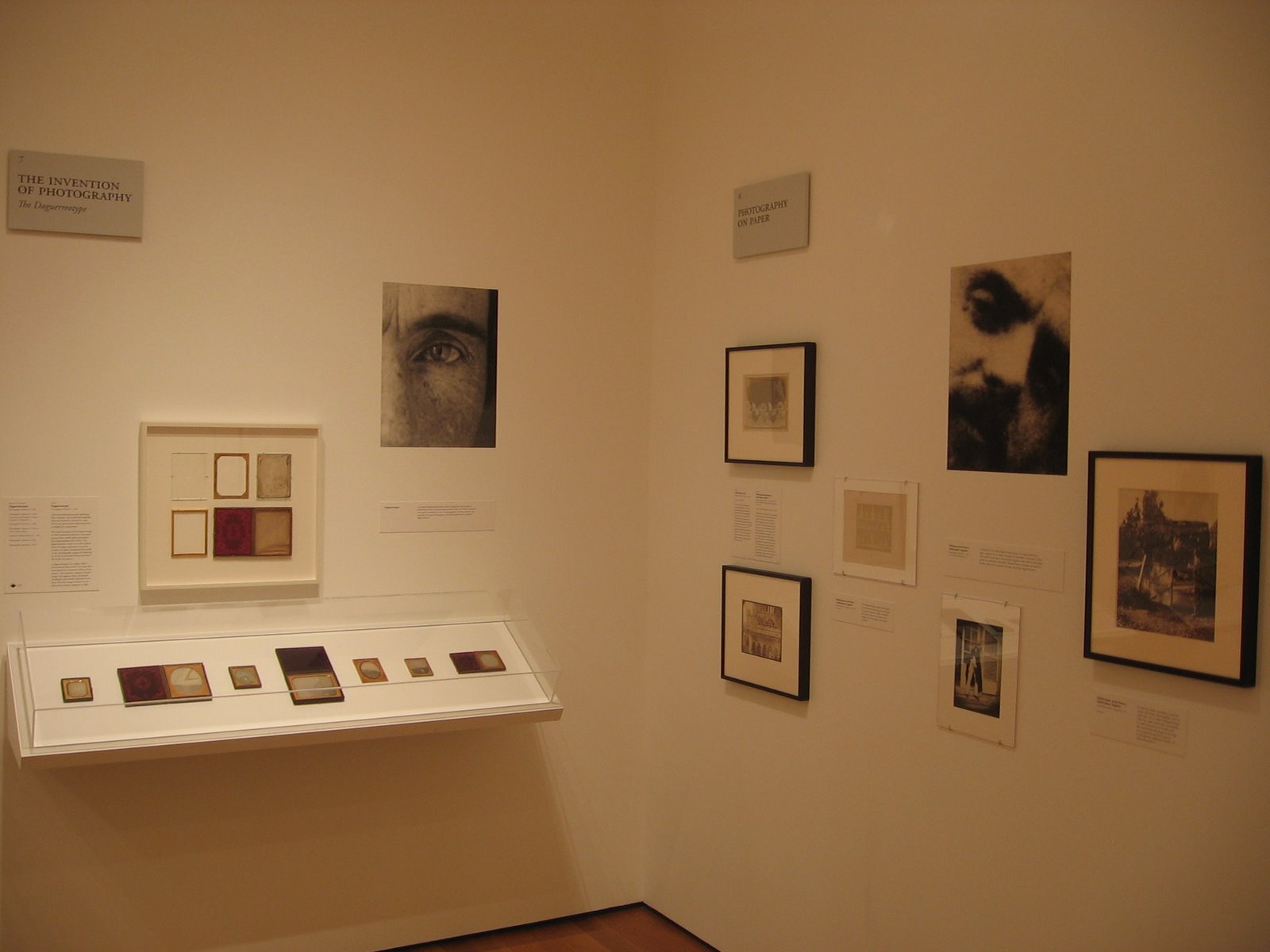 JTF (just the facts): Several hundred objects, including framed and unframed works, fragments, color separations, and magnifications, displayed in multiple layers floor to ceiling in 5 rooms (with two partitions) on the third floor of the museum. The exhibit is organized chronologically, with each printing process explained via wall text and a handful of images. A reference volume, also entitled The Printed Picture, has been published in conjunction with the show. (Installation shots at right.)
Comments/Context: When I was a kid, from time to time, I would get it into my head that it would be a good idea to read our encyclopedia. So I would pull down a volume at random (say M) and start to read the entries. While the text itself was generally friendly and approachable in tone, it was so densely packed with information that I would soon be unable to absorb much more. I would then begin to skim the entries, working faster and catching only the high points. This too would eventually run out of momentum, and I would be reduced to flipping the pages and looking at the pictures, not internalizing much of anything. Finally, I would just give up and put the book back on the shelf until the next time.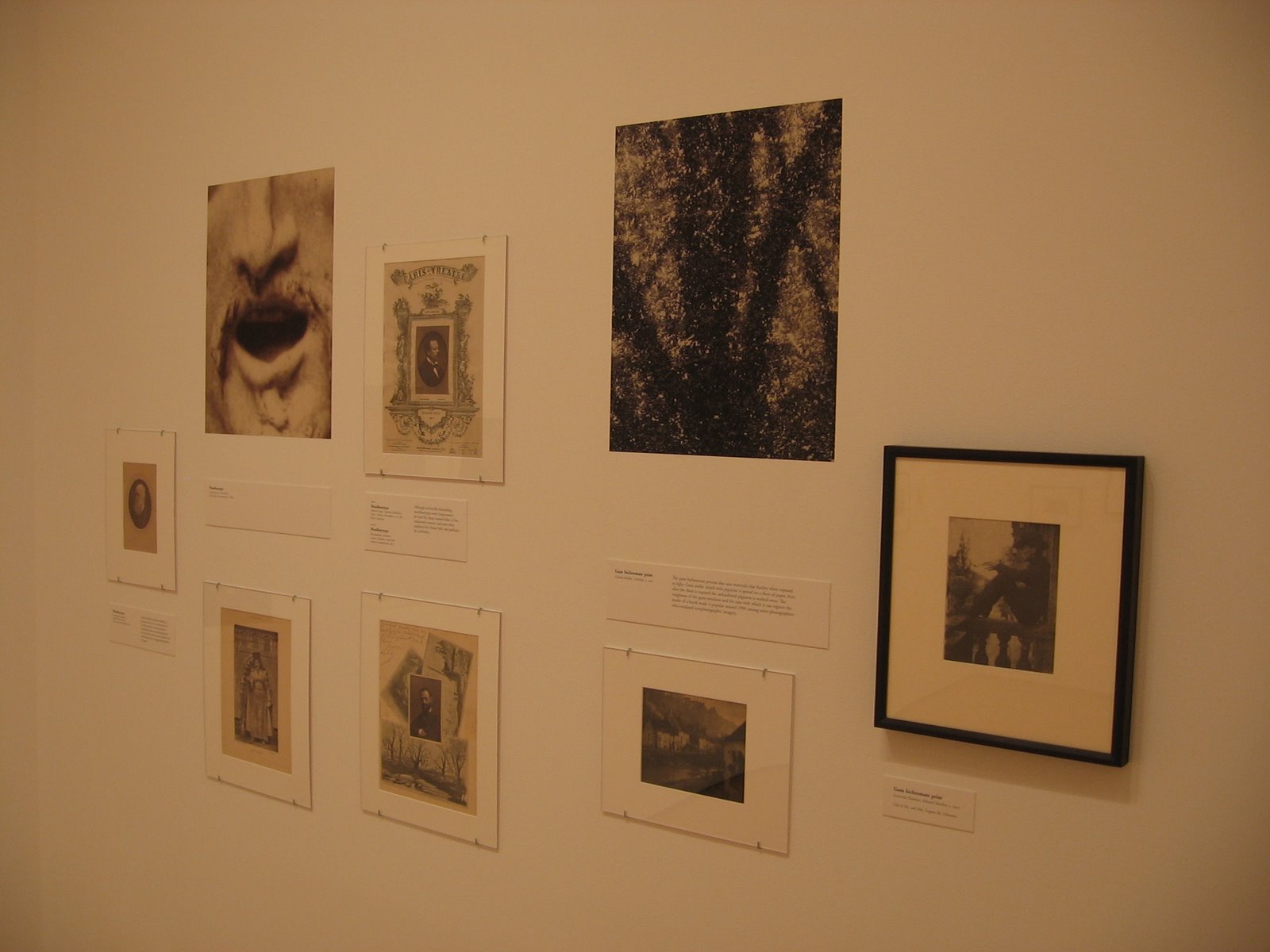 This progression is an exact replica of my experience visiting
The Printed Picture
exhibit at the
MoMA
. The exhibit and accompanying book were conceived of and designed by Richard Benson, former Dean of the Yale University School of Art, and represent a lifetime of meticulous work documenting the changing technology and processes of printing. In many ways, this show is more like the kind you might find in a natural history or science & technology museum; it is unabashedly educational, the information delivered in an objective and practical manner, well ordered and comprehensive. Academically speaking, it is certainly one of the finest reviews of the process of printing across the ages that has ever been put forth.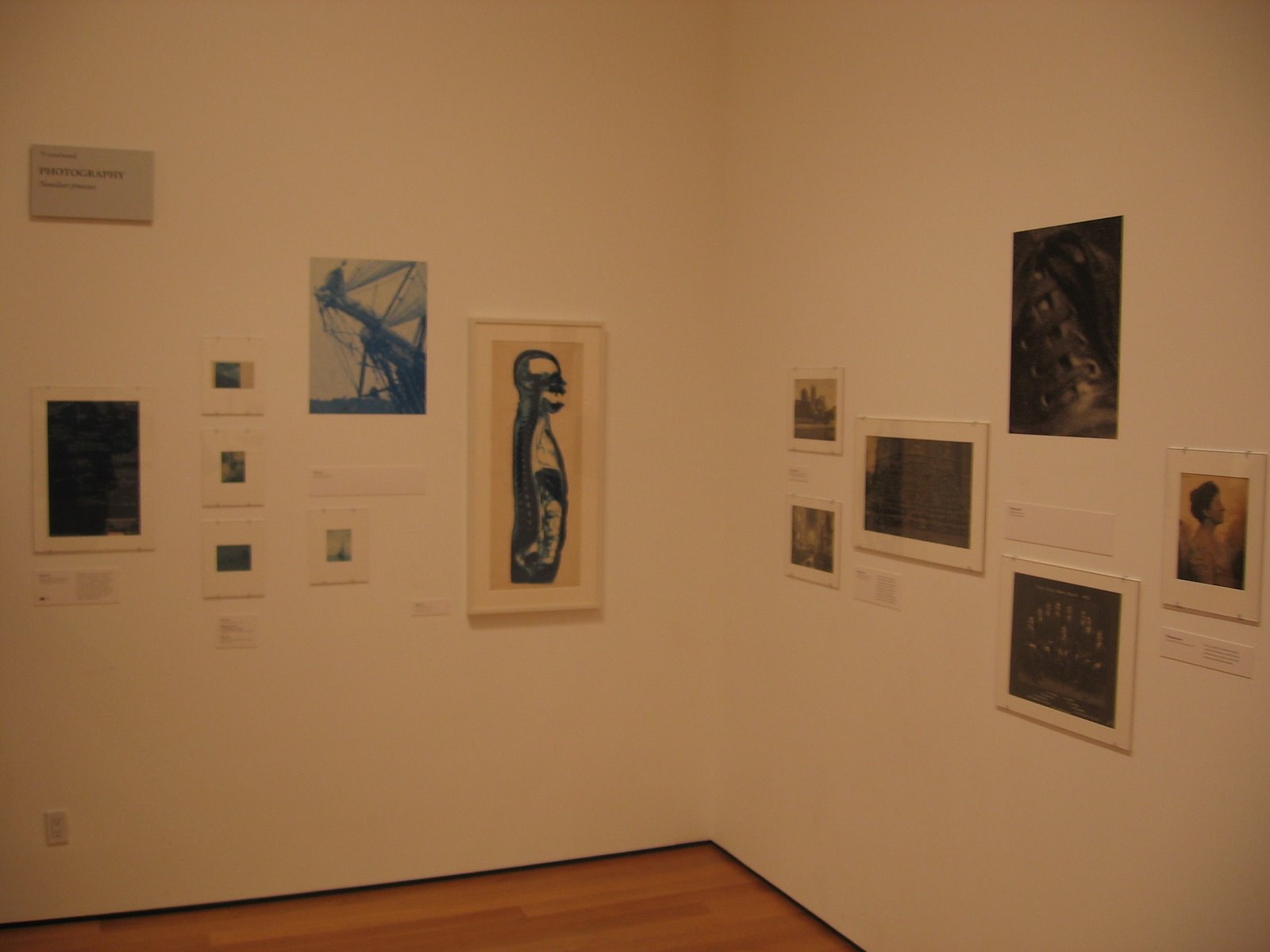 The problem is that as an exhibition it is completely overwhelming. As a collector, I am particularly interested in the minutiae of various photographic processes, and I came into the exhibit especially focused on getting some answers to questions I have about recent color processes (digital
inkjet
prints) and their relationship to better known color methods of the 1970s (c-prints and dye transfer prints). But I started in the first room with my old
encyclopedia
reading method and was soon bogged down in too much information. By the time I got through daguerreotype, tintype, salt paper,
woodburytype
, gum
bichromate
, carbon, and albumen prints, my eyes were already starting to glass over, and I had just gotten started. On through blueprint (somehow not called
cyanotype
for some reason), gelatin silver, platinum, palladium, and Polaroid and over to the realms of color:
autochrome
,
carbo
, color carbon,
chromogenic
, dye transfer,
Kodacolor
, and early
inkjet
. After this group, I had reached my full point and had to sit down.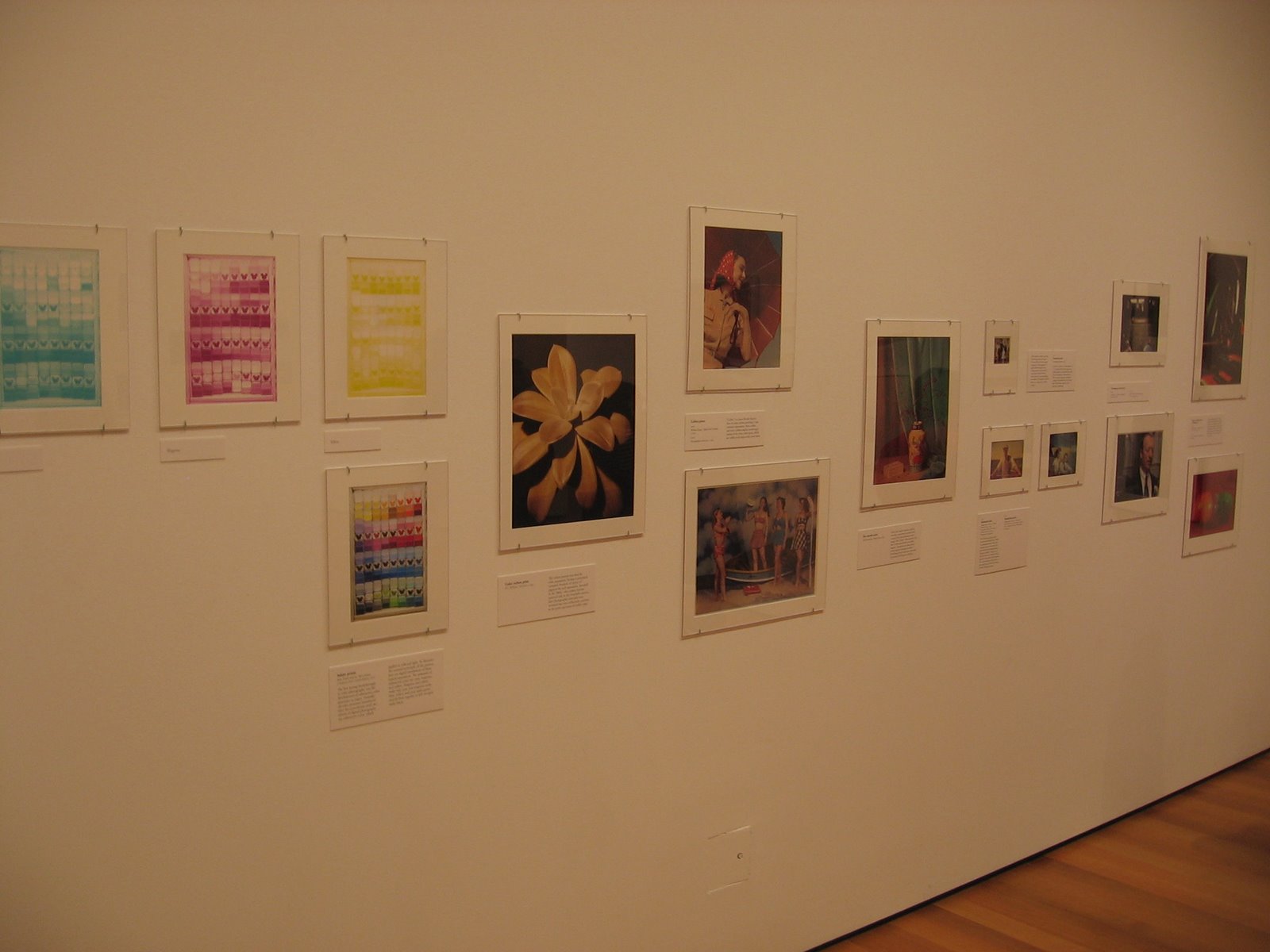 Unfortunately, the rest of the exhibit was a complete blur; I had moved on past skimming to outright page flipping, unable to absorb any more information. There is whole room devoted to magazine and book printing processes, including
photogravure
, etching, halftone,
duotone
,
collotype
, and offset lithography. The last room was the one I actually had come to see, but was too exhausted to enjoy by the time I got there; this was the room with the in depth discussion of digital
chromogenic
, pigmented
inkjet
, iris, dye sublimation, and laser writer color prints (among many others).
Benson has done an admirable job of making what could be a pretty dry subject more engaging, particularly through the use of the large magnifications, which show how the different technologies and approaches were used to generate tonal range. He shows relationships between current technologies and their predecessors, and presents each process in an even handed, matter of fact way. My conclusion is that this show is not much about art, but more about printing; the art objects used as examples are taken out of their context as art and placed into a more academic view of the processes, where the prints are examined for their grains and dots, not their composition or emotional quality. The nuances of printing have been explored in full here, and those who have a deep interest will likely revel in the exhaustive detail presented.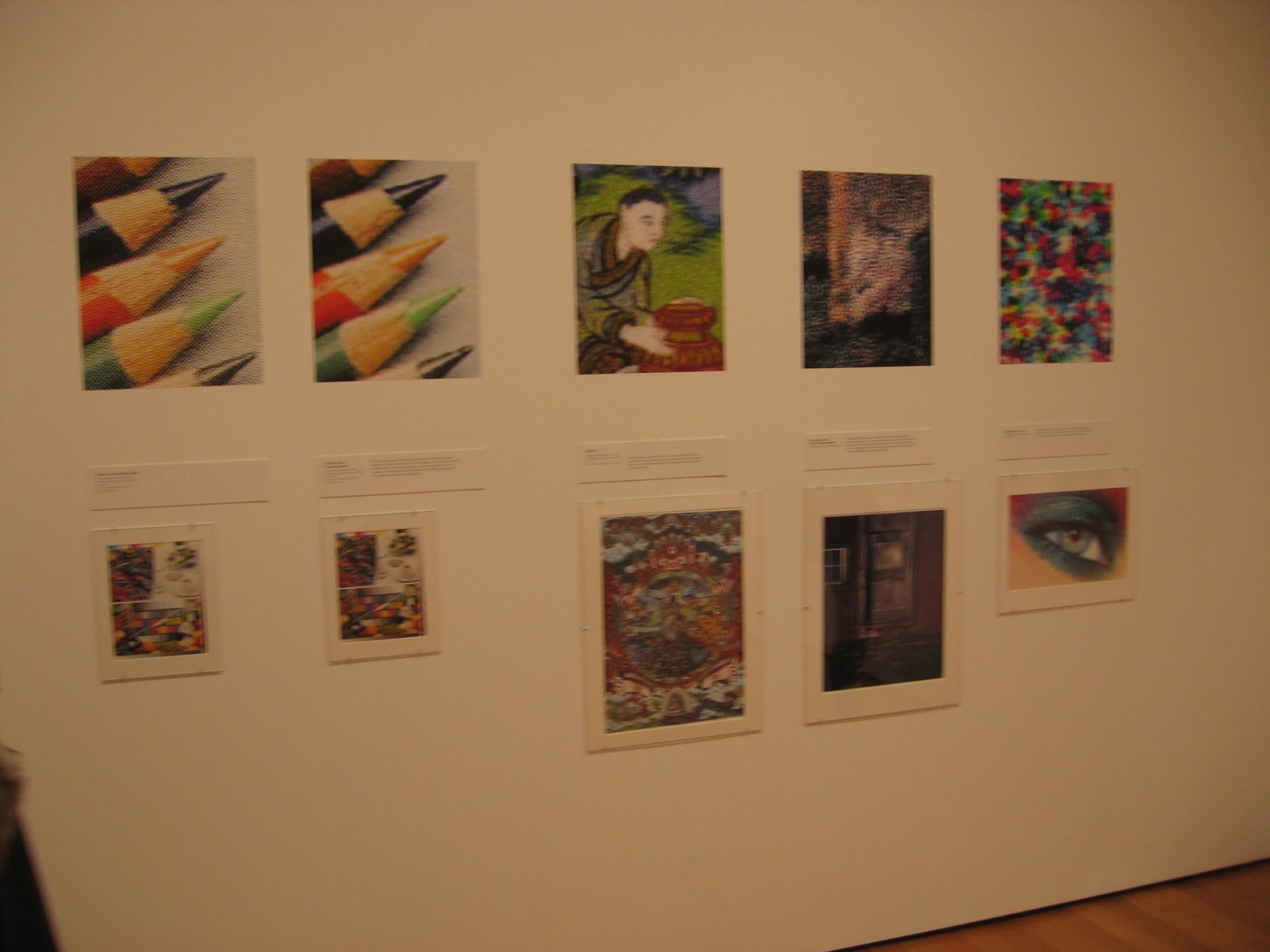 Collector's POV:
In my view, great exhibits are exciting and thought provoking, so much so that your brain sizzles for quite a while after your visit, replaying the wonders that were found there. Unfortunately, this exhibit, while utterly comprehensive and impressive, didn't make my mind tingle; in fact, it was just the opposite – I was left worn, weary, and utterly defeated. So while the content of this show clearly deserves our highest rating, the show itself merits a lower grade in my subjective view, as the overall experience left me a walking zombie. I think the answer is to buy the book, and enjoy it for the well researched, useful reference tool that it is.
Rating:
* (one star) GOOD (rating system described
here
)
Through July 13th
11 West 53rd Street
New York, NY 10019