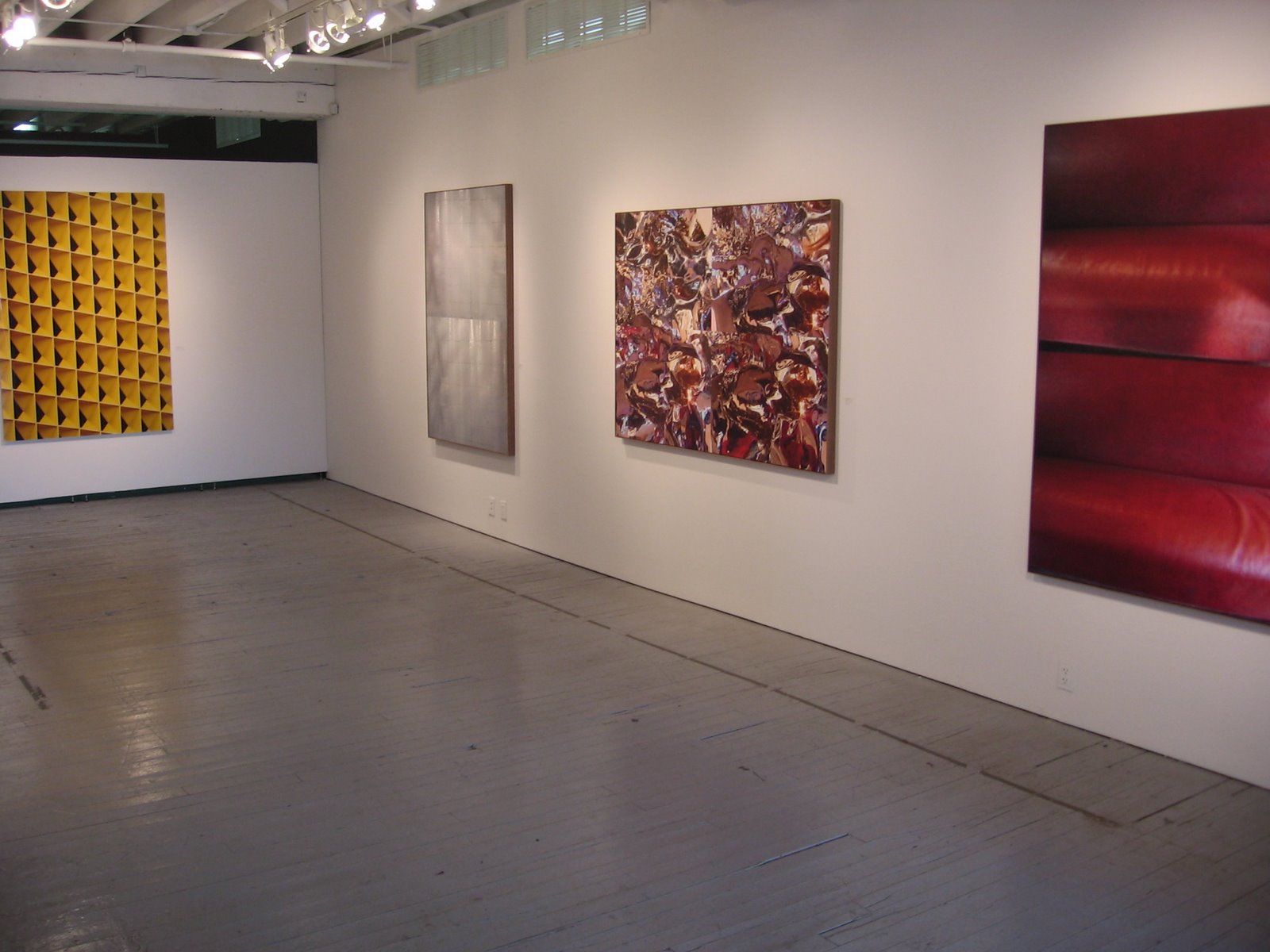 JTF (just the facts): A total of 71 photographs (it is often difficult to count "works" versus individual images, given multi-image installations), 1 sculpture, and 4 videos from a total of 20 different artists, on view in the main gallery area, which has been divided into four distinct spaces, plus the video room. All of the work comes from the 1990s and 2000s, and is variously framed/matted. (Installation shots at right.) The photographers included in the exhibit are:
Bill Armstrong
Carel Balth
Adam Broomberg and Oliver Chanarin
Ellen Carey
Roland Fischer
Michael Flomen
Manuel Geerinck
Shirine Gill
Barbara Kasten
Seth Lambert
Charles Lindsay
Edward Mapplethorpe
Chris McCaw
Roger Newton
Jack Sal
Penelope Umbrico
Randy West
Silvio Wolf
Ilan Wolff
Comments/Context: The group survey show now on view at Aperture takes an inclusive look at the diversity of photographic abstraction (broadly defined) now being practiced by contemporary photographers. While this approach has produced an exhibit with lots of different work to see, the narrative connecting the pieces together seems to have been muddied along the way.
The unifying idea is that all of this work is contemporary abstraction. Fair enough. As such, the show is neither a smaller slice of the larger current whole (like the effective natural abstraction show now on view at Michael
Mazzeo
, reviewed
here
), nor is it a comprehensive historical view of abstraction across the history of the medium (which incidentally is what the accompanying book actually covers). Thus we are left with an uneven group of contemporary images that lack a context that brings them together.
Along one wall, many of the smaller single images have been hung in one long row and entitled "Propositions", at once offering an assortment of the exciting variety of work being produced using myriad processes and approaches, while at the same time leaving the viewer with the conclusion that it is all just a grab bag. Process is of course a key theme that runs throughout abstract photography and this idea is often front and center here as well, asking questions about the nature of surfaces and about unexpected ways of conceiving and making pictures.
.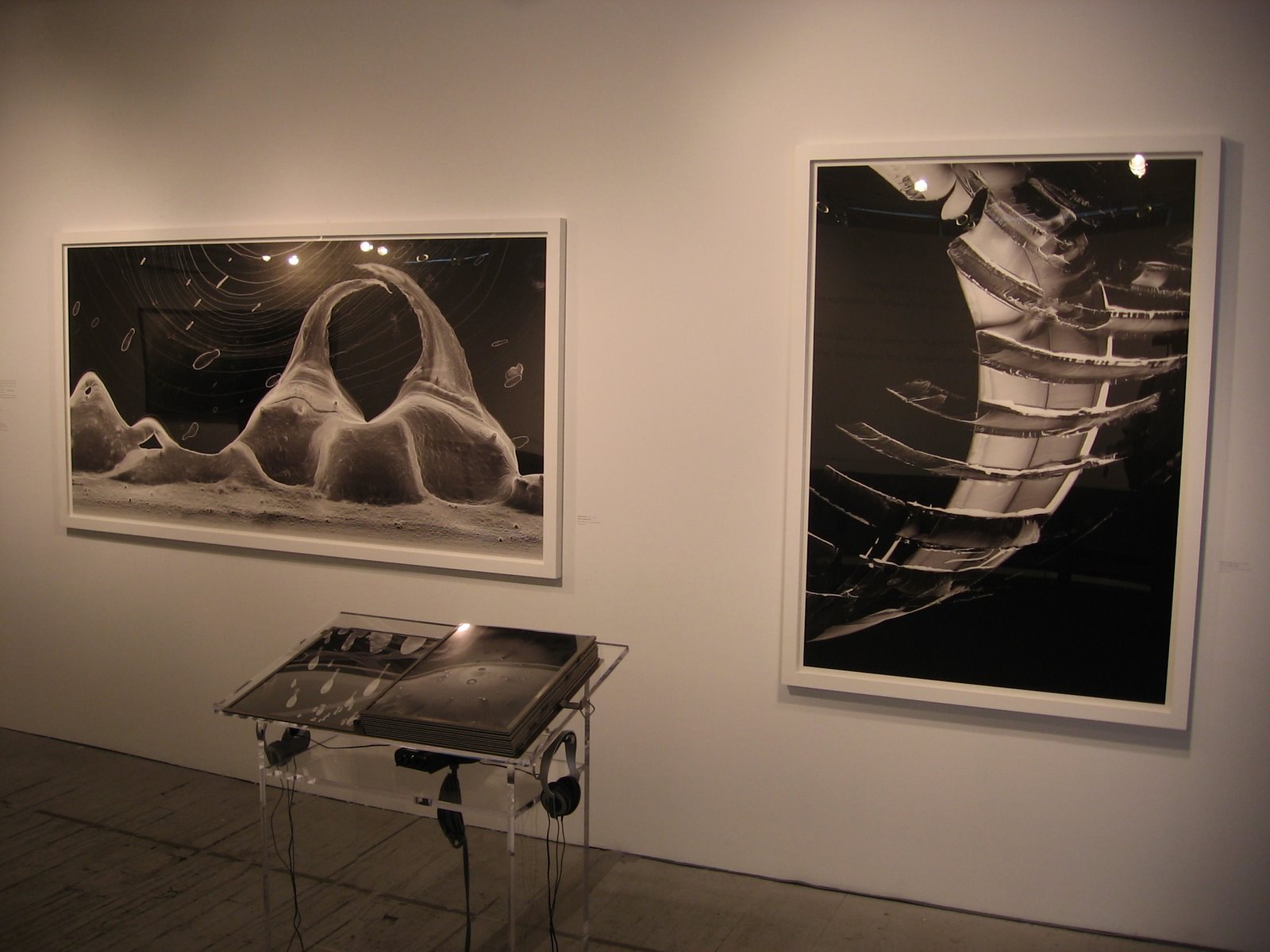 I found the works by Charles Lindsay to be the most intriguing in the show (installation shot at right, middle). These carbon based images have a scientific feel, as though taken by an electron
microscope
or appropriated out of a scholarly article in
Science
or
Nature
. What I like about them is that they explore a more three dimensional type of abstraction, in contrast to most work in the show which is predicated on the flat two
dimensionality
of typical photography. The images have depth, and roundness, and edges, in addition to eye catching patterns.
.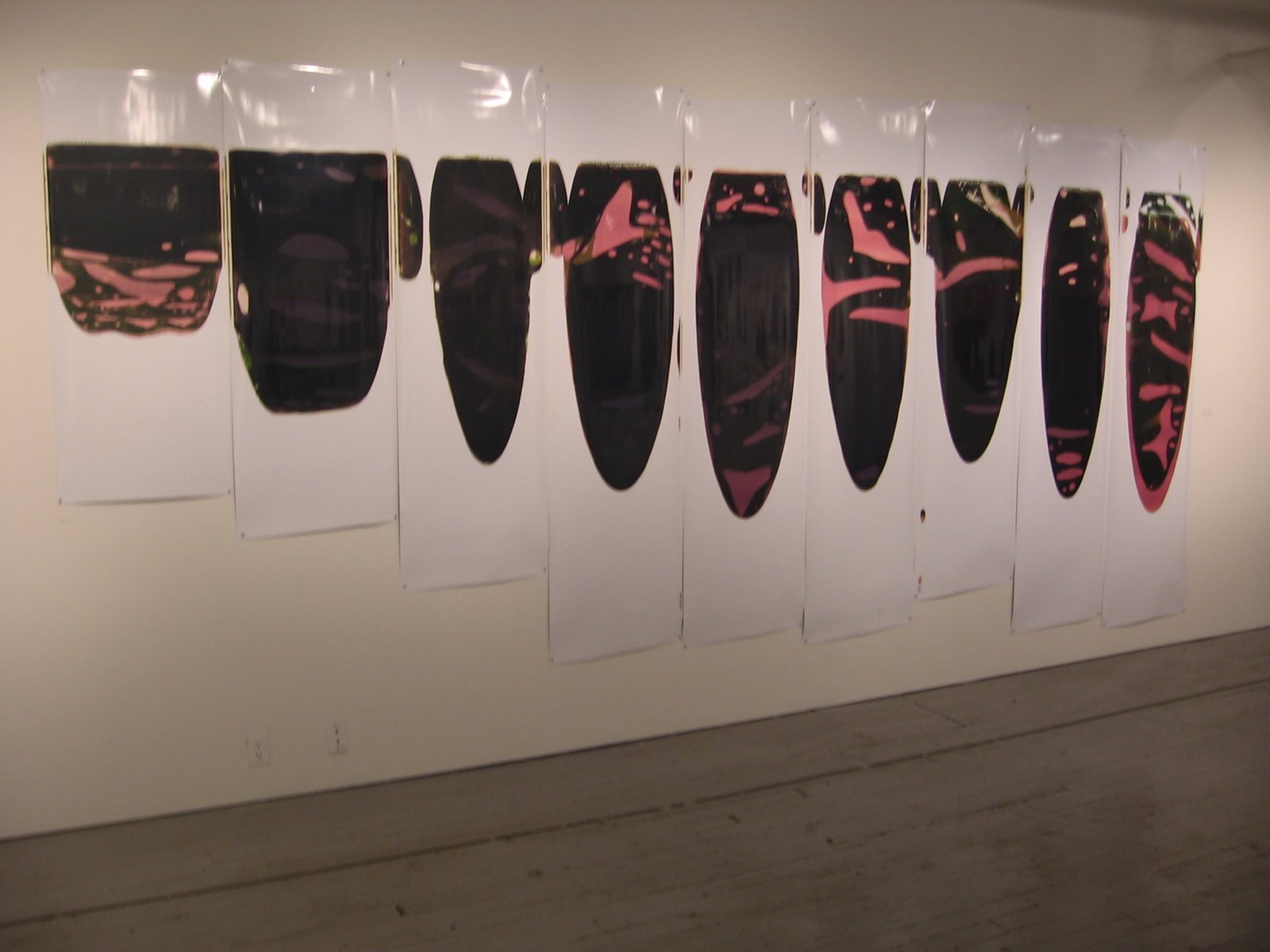 Ellen Carey's "pulls" were also a memorable discovery. Using a 20×24 Polaroid camera, the artist makes abstract cones of color drawn from the photographic dyes. These works challenge the notion of what a photograph really is, and have affinities to a variety of color field and Minimalist painters.
Overall, there is some terrific work here, mixed in with a group of more forgettable images, leaving me feeling like a chance was missed to tell a larger, more distinct story. But perhaps the point was to expose the audience to the multiplicity of ways abstraction is being used by contemporary photographers, rather than to follow specific narrative vectors or draw definitive conclusions. If that was the goal, than perhaps this show should be thought of as a sampler, where each viewer will resonate with some, but not all, of what is offered.
Collector's POV: None of these images were for sale (at least I saw no price list), so interested collectors will need to track down galleries on their own to follow up on any particular artists. The abstraction that we have in our collection is less thoroughly unidentifiable (in terms of subject matter) than the work exhibited here; our collection includes city walls, window frames, and even nudes that have been abstracted into compositions of line and form, but are still somewhat recognizable as the original objects.
Rating:
* (one star) GOOD (rating system described
here
)
Transit Hub:
Through July 9th
547 West 27th Street
New York, NY 10001