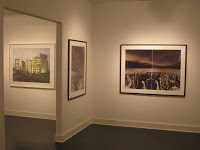 JTF (just the facts): A total of 19 black and white and color works, variously framed and matted, hung in the entry and main gallery space. This a group show of four gallery artists: Peter Bialobrzeski, Stephane Couturier, DoDo Jin Ming, and Toshio Shibata. (Installation shots at right.) The details for each artist's works are below:
Peter Bialobrzeski: 2 c-prints, 60×50 each, in editions of 10, from 2005; 6 c-prints, 11×14, in editions of 9, from 2008; and 1 c-print, 51×65, in an edition of 5, from 2003
Stephane Couturier: 1 c-print, 26×48, AP, from 1991; 1 c-print, 52×44, in an edition of 8, from 2005; and 1 digital c-print, 50×88, in an edition of 5, from 2004
DoDo Jin Ming: 12 gelatin silver prints, hung as a single work, 55×60, in editions of 10, from 1996; 1 gelatin silver print, 30×40, in an edition of 10, from 2002; 1 digital c-print, 51×41, in an edition of 10, from 2004; and 1 digital c-print in two parts, overall 63×49, in an edition of 10, from 2004
Toshio Shibata: 1 gelatin silver print, 20×24, in an edition of 25, from 1990; 1 gelatin silver print, 50×40, AP, from 1996; and 1 c-print, 50×40, in an edition of 10, from 2005
Comments/Context: This exhibit is a thematic group show of gallery artists, where images have been selected based on a broadly common handling of landscape elements. And while the show is entitled The Abstracted Landscape, none of the works on view is completely abstract in the traditional sense (i.e. non-figurative); rather these images are all landscapes that turn on compositional fragments of form and line, pattern and shape.
Peter Bialobrzeski is represented by two twilight building scenes from his series Lost in Transition (book reviewed here), a typology of shacks, and a massive hillside view from Heimat that dwarfs the people down to ant-like dots. Stephane Couturier's prints take the abstraction a bit further, where a roadway flanked by spindly trees and sculpted land becomes an exercise in blocks of color and texture; another image shows a terraced ground in an unreal shade of green, using the contrasts of the land to create juxtapositions of wild and controlled areas.
Three waterfalls by Toshio Shibata transform rushing water into cottony white curves; the most abstract image in the show peers straight down the face of a waterfall, turning the perspective upside down. (A recent Shibata book review can be found here.) And DoDo Jin Ming's negative prints of a faded sunflower field become a post-apocalyptic nightmare, complete with dark shadowy figures; her typology of pyramids plays with size as well as color, all variations on the simple triangular form.
Overall, this is a solid group show that highlights relevant work by each of the photographers included; the thematic construct is a bit thin, but the work itself is consistently well crafted.
(As an aside, for those of you who are familiar with the gallery space, the overall size of the display space has recently been reduced. What was once the second gallery room is now a private viewing space, and a door on the far side of the entry has now been closed off.)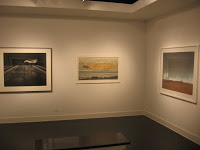 Collector's POV: The prices for each of the four photographers in the show are as follows:
Peter Bialobrzeski: $1500 for the small prints, $7500 for the Lost in Transition prints, and $15000 for the Heimat print
Stephane Couturier: the prices were $7500, $15000, and $35000, based on ascending size
DoDo Jin Ming: the group of 12 prints is priced at $10000 total, the Free Element print is $16000, and the two images from Behind My Eyes are $15000 and $10000
Toshio Shibata: the small black and white print is $6000, the larger black and white is $25000, and the color image is $10000
There has been very little secondary market activity for any of these artists, so gallery retail is likely the best option for collectors in the short term. While none of these works is a great fit for our collection, I particularly enjoyed Shibata's look down the steep face of a waterfall (black and white) and Couturier's view through a crumbling light blue building (reminiscent of Gordon Matta-Clark).
Rating: * (one star) GOOD (rating system described here)
Transit Hub:
The Abstracted Landscape
Through November 14th
Laurence Miller Gallery
20 West 57th Street
New York, NY 10019