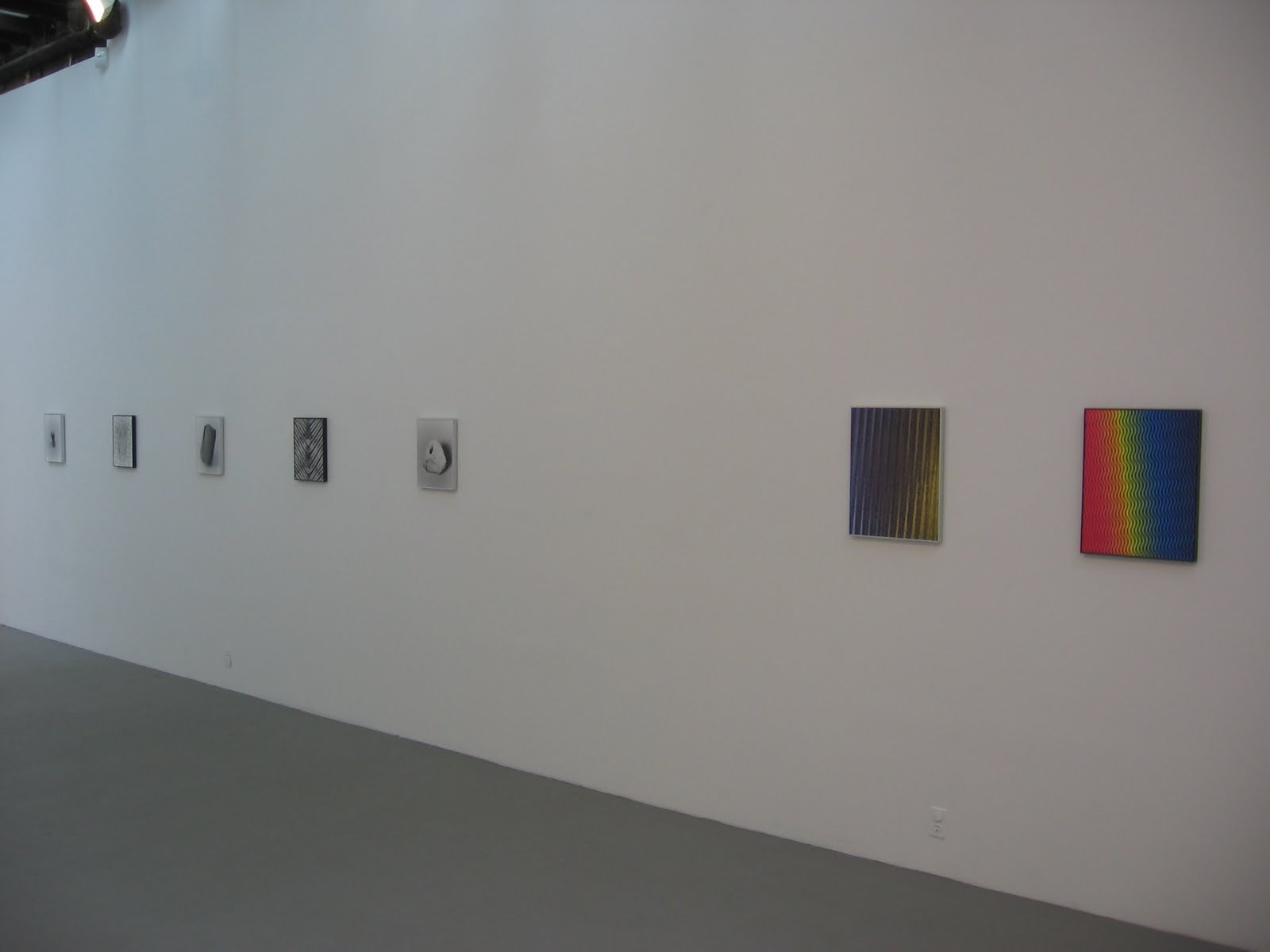 JTF (just the facts): A total of 20 black and white and color images, framed in thin black/white frames with no mats, and hung in the main gallery space and back office. All of the works were made in 2008 or 2009. There are 7 c-prints (all 20×16, in editions of 4+1), 1 inkjet print (20×16, in an edition of 4+1), and 12 gelatin silver prints (5 prints at 14×11, 3 prints at 20×16, and 4 photograms at 14×11, editions are either 4+1 or 3+1, depending on whether unique process steps are being used). (Installation shots at right.)
Comments/Context: Talia Chetrit's first solo show places her firmly in the process camp of contemporary photography, exploring the boundaries and meanings of the medium via experiments with light and color. I first came across her work in the After Color show at Bose Pacia last summer (review here); she had contributed some camera-less Photoshop gradients that were crisp exercises in monochrome abstraction. In this exhibit of new work, she covers a much broader array of techniques and approaches to studio-based picture making.
Several of the images on view are formal still lifes that have a vaguely Bauhaus feel to them; the wavy glass vase set against a graph paper grid seems straight out of the 1920s. Other pictures have a Surreal touch, merging playfulness and mystery – a plaster cast of a face, a fist and glove, and a photogram of a hand covered by undulating lines all have avant–garde sensibilities. Still others bear resemblance to traditional art school assignments (the abstract cut paper sculpture and the darkroom strobe lights in primary colors against black velvet), where the effects of light are tested and analyzed. Optical distortions, graphical elements, color patterns, chemical aberrations, they're all here.
Overall, what is on display is an eclectic group of experiments; having seen the output of these methods, I can now easily imagine Chetrit working in her studio, taking chances and trying out different things, some working, some not, moving from tangent to tangent, trying to grab hold of the elusive edges of the creative process. I was left feeling that this is an artist who is actively and aggressively searching, looking for new ways into a medium that is in the midst of wholesale transformation. I'd be willing to bet that the best of the ideas that emerge out of this creative stew will form the basis of a tighter body of process-based work going forward.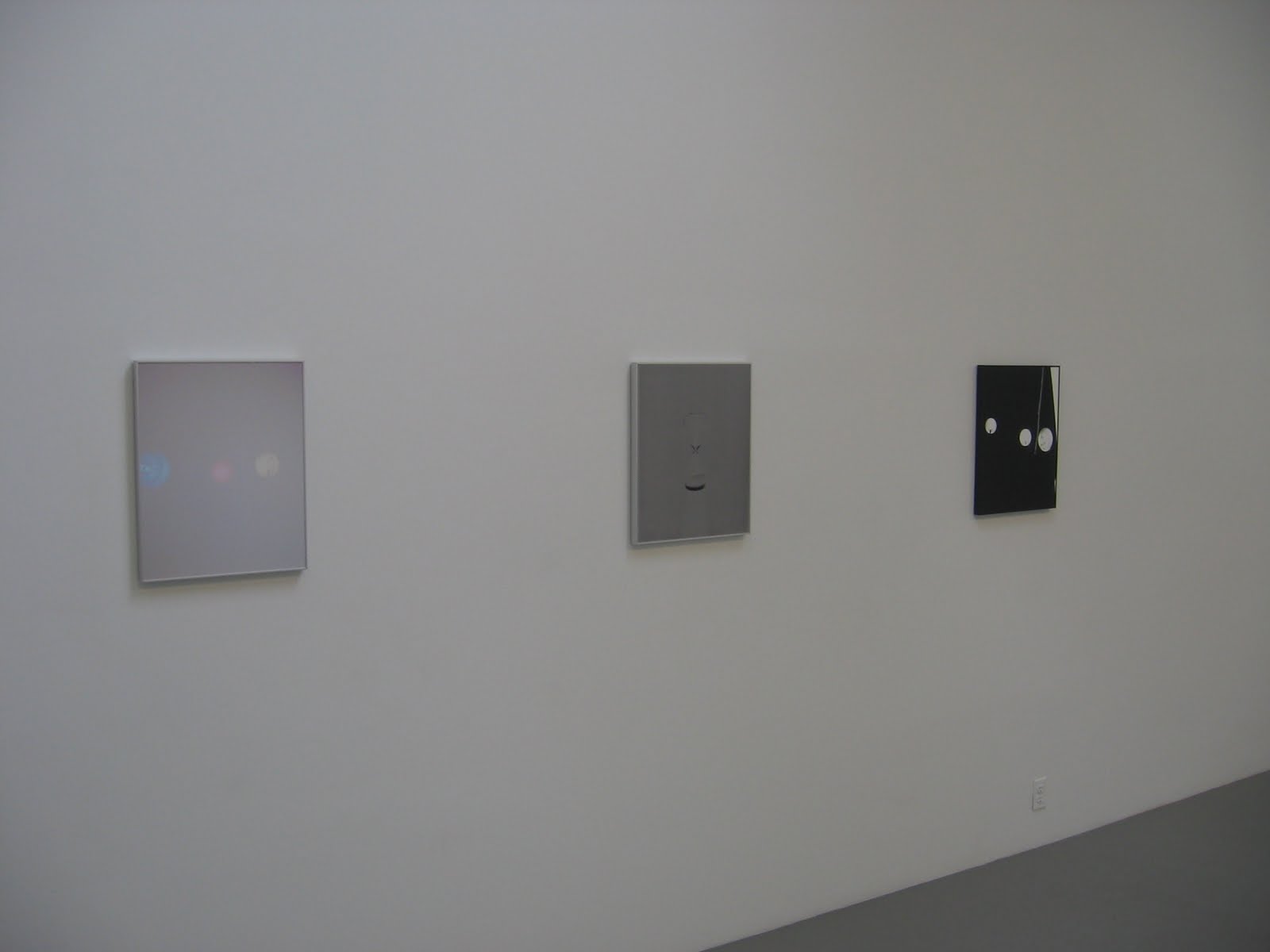 Collector's POV: The images in the show are priced as follows: the small prints are $1600, the large prints are $2000, the photograms in the back are $1800, and the images that include a unique process step are $2300. Chetrit's work has not yet entered the secondary markets, so gallery retail is really the only option for interested collectors at this point.
Rating: * (one star) GOOD (rating system described here)
Transit Hub:
Talia Chetrit, Reading
Through October 17th
Renwick Gallery
45 Renwick Street
New York, NY 10013