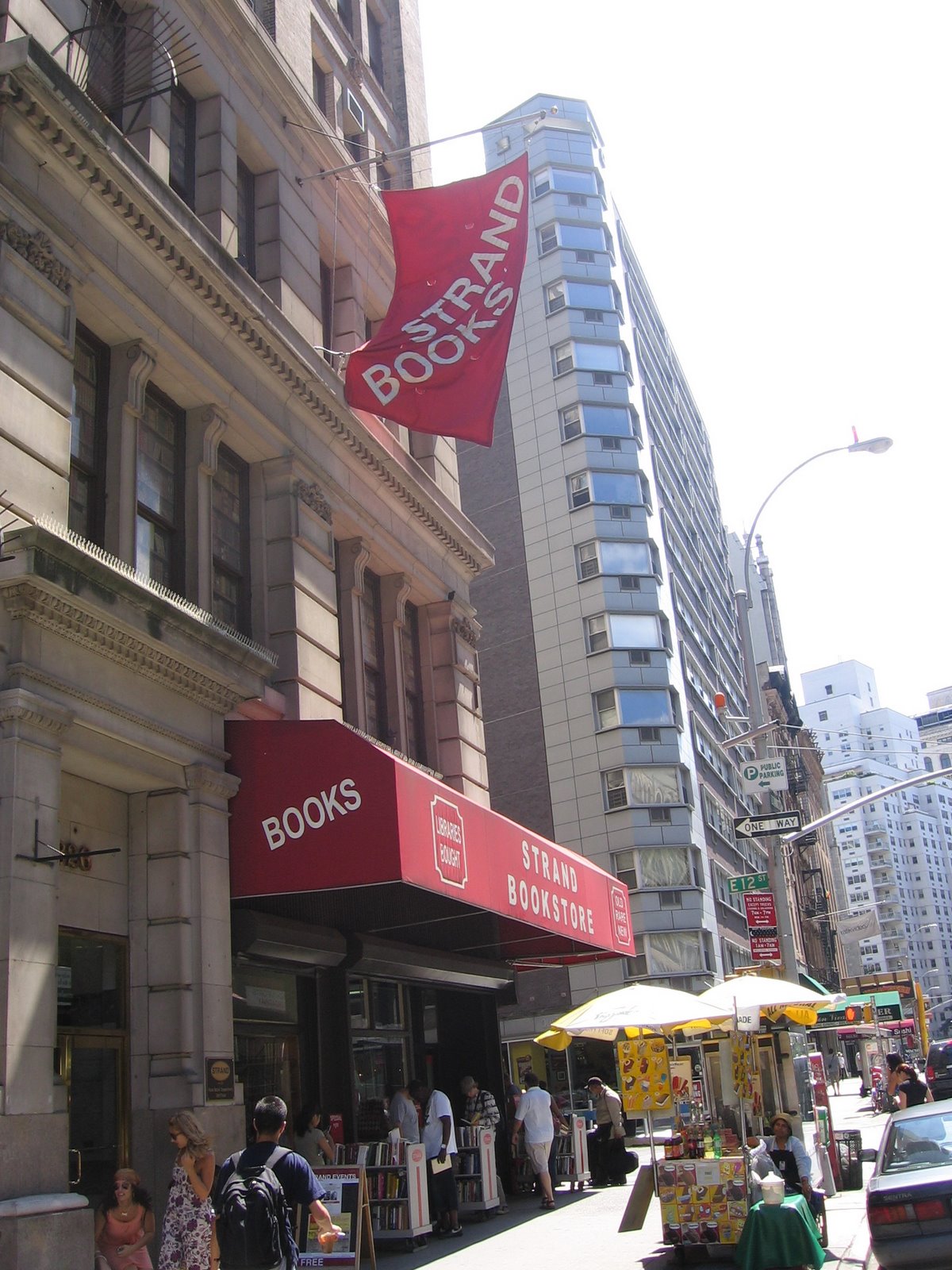 The Strand Bookstore near Union Square in New York is a truly spectacular place if you love books. The key to their sustained success is volume: there are simply more books available in one place (new, used and out of print) than nearly anywhere else I have ever been. I remember when their slogan was "8 miles of books"; it's now "18 miles of books". They are constantly buying libraries, collections, and review/remainder books, so there is always something new to find. The books are piled high, bursting from 10 foot high bookshelves that you need a ladder to reach (luckily, there are hardware store ladders everywhere). Spending an hour or two browsing at the Strand is like going on a treasure hunt; you just never know what you're going to uncover.
The Strand is a particularly good place to buy art books, especially photography books. In addition to the extensive selection, the prices are the best you're going to find, sometimes as much as half (or more) off that $75.00 monograph price that made you gulp in the museum book store, for a book still in the shrink wrap.
After a hour or two on Sunday, picking through the photography aisles and tables, here's the crazy group of books I came home with for the library:
Vera Lutter, published by Gagosian Gallery for an exhibit of her work in the spring of 2007. This small catalogue shows her work from Venice, Rheinbraun, New York, London, and Philadelphia. We think Vera Lutter is one of the most exciting contemporary photographers working today. We have one piece of hers in our collection (see here), and would be interested in more if they weren't so huge (most are wall/mural sized images) – they really belong someplace like the DIA Beacon where they can breathe a bit more. This is one book on her work that we didn't own, so I was glad to find it.
Robert Adams, The New West, originally printed in 1974, reissued by Aperture in 2008. We had been looking for this book for a long time, searching places like Abebooks or the Photo-Eye book auctions, to see if we could find an original copy that was reasonably priced. We're not mylar covered book fanatics: we're not interested in whether a book is a first edition, or has a mint dust jacket, is signed, or was owned by someone famous. We use photography books for reference, and we fill them with post-it notes and strips of paper, marking images we like. So we weren't ready to pay $300-400 for The New West, even though we knew it was a great book. So thanks go out to Aperture for reissuing this, so we can have a perfect copy for a lot less.
Nino Migliori, Crossroads – Via Emila, 2006. We like Migliori's work from the 1950s of walls and signs. This book brings together recent city/highway images that Migliori took along the Via Emila, which traverses Italy.
Nicholas Nixon, no date (although clearly recent), published by Tf. Editores (Spain). Everyone knows Nixon's iconic series, The Brown Sisters. We had been looking for a monograph on all of his work, as we have an interest in his city scenes of Boston and his nudes of couples. This is just what we had been looking for.
In Plain Sight, The Photographs of Beaumont Newhall, 1983. Newhall was of course a well respected photography historian and curator. We have seen a few of his images at auction from time to time, and felt like it was time to have a monograph on his work in the library so we can better understand his entire career as an artist.
Peter Henry Emerson and American Naturalistic Photography, 2008, published by the Minneapolis Institute of Arts, in conjunction with a traveling exhibit. This a well produced volume and a good looking exhibition (which I doubt we'll see in person unfortunately). Since we are collectors of floral/botanical images, we are interested in how this catalog helps to trace the origins of American nature photography. We are fans of the work of Edwin Hale Lincoln (we have a couple of his images in our collection, here), and his work is included in this exhibit.
Modernist Photographs from the National Gallery of Canada, published 2007. We are suckers for books on collections. The process of collection building is endlessly interesting to us, so seeing other collections is always intriguing. Why did they choose a particular image by a particular artist (is it one of the "greatest hits" or an image more unknown)? Why this artist we have never heard of, versus one who is so obviously (to us) omitted? Why the focus on a certain period or group of artists? Did they go for breadth or depth? Always fascinating.
And there were half a dozen more that lost the final triage and were put back on the shelves for another time. It's nearly impossible to walk out of the Strand without buying something. If this place isn't already on your list, get down there and check it out.
Strand Books
828 Broadway
New York, NY 10003