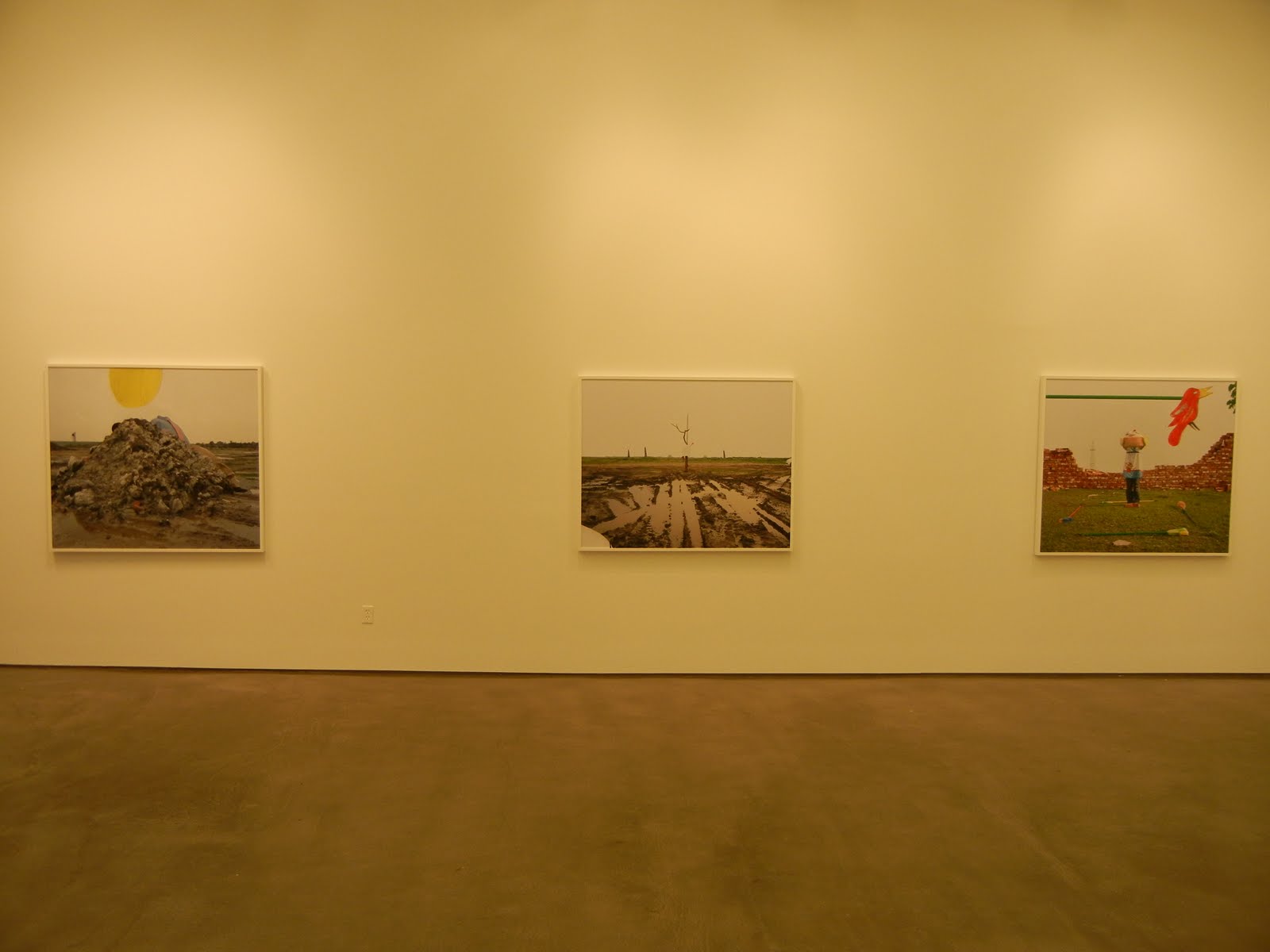 JTF (just the facts): A total of 9 large scale color photographs, famed in white with no mats, and hung in the entry and main gallery spaces. All of the works are c-prints made in 2010, sized either 44×55 or 46×52, and printed in editions of 5. The show also includes one fiberglass sculpture (in the center of the main room) and one video (running roughly 10 minutes). (Installation shots at right.)
Comments/Context:
Stuart Hawkins' playful photographs of an abandoned planned community near Rajarhat, India, explore the competing mix of aspirational optimism and empty failure that haunts unfinished developments all over the world. Starting with the rawness of exposed concrete slabs, vacant muddy lots, and unmanned cranes, she introduces an element of preschool dramatic play, where a yellow cardboard circle becomes the sun and four plastic brooms arranged in a square become a laundry room. Her staged scenes "finish" the unfinished buildings, bringing back a sense of the hopeful anticipation that had been lost when the workers walked away.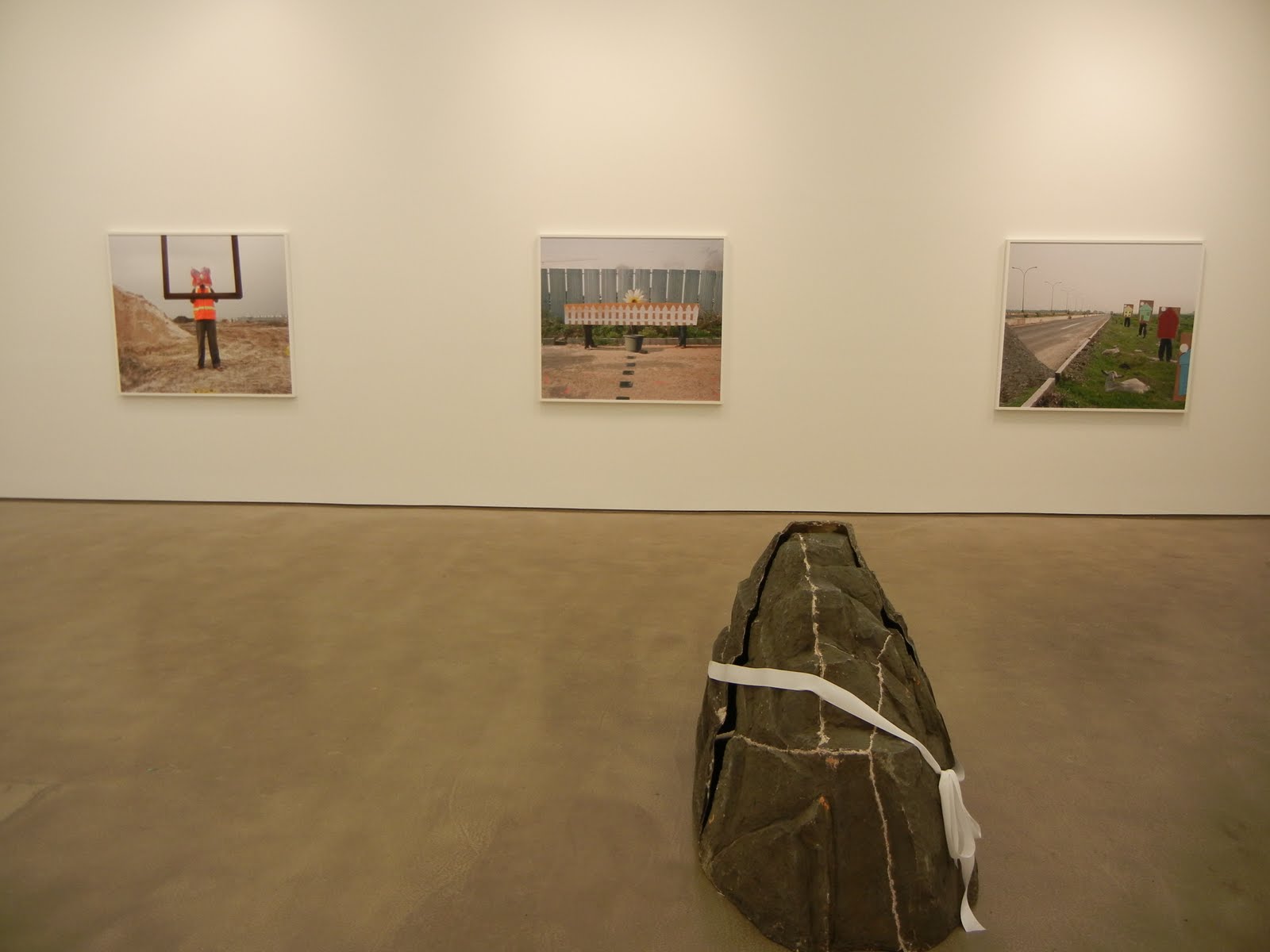 Hawkins' cheerful humor softens the blow of her satire: a jaunty paper mailbox with a bright red flag sits on a pole above some muddy ruts, a white picket fence painted on brown paper is held up in front of an ugly corrugated tin barrier, and sunny houses on cardboard are held up alongside a weedy highway recolonized by local cows. She tells idealistic stories, based on light-hearted and unpretentious dreams of a better future. The sculpture in the center of the gallery reinforces the imperfect reality: a massive carved stone with the word WELCOME prominently engraved, deeply cracked right down the middle with a white ribbon holding the pieces together. There is a palpable feeling of failed delusional expansion, dashed hopes, and leftover wreckage.
In a sea of photography of boarded-up houses, unbuilt foundations, and forlorn empty streets, her works come back to the commonality of human striving for something more. They remind us of how powerful the dream of a picture window with curtains can really be, and how quickly that magic can disappear into the nothingness of construction debris.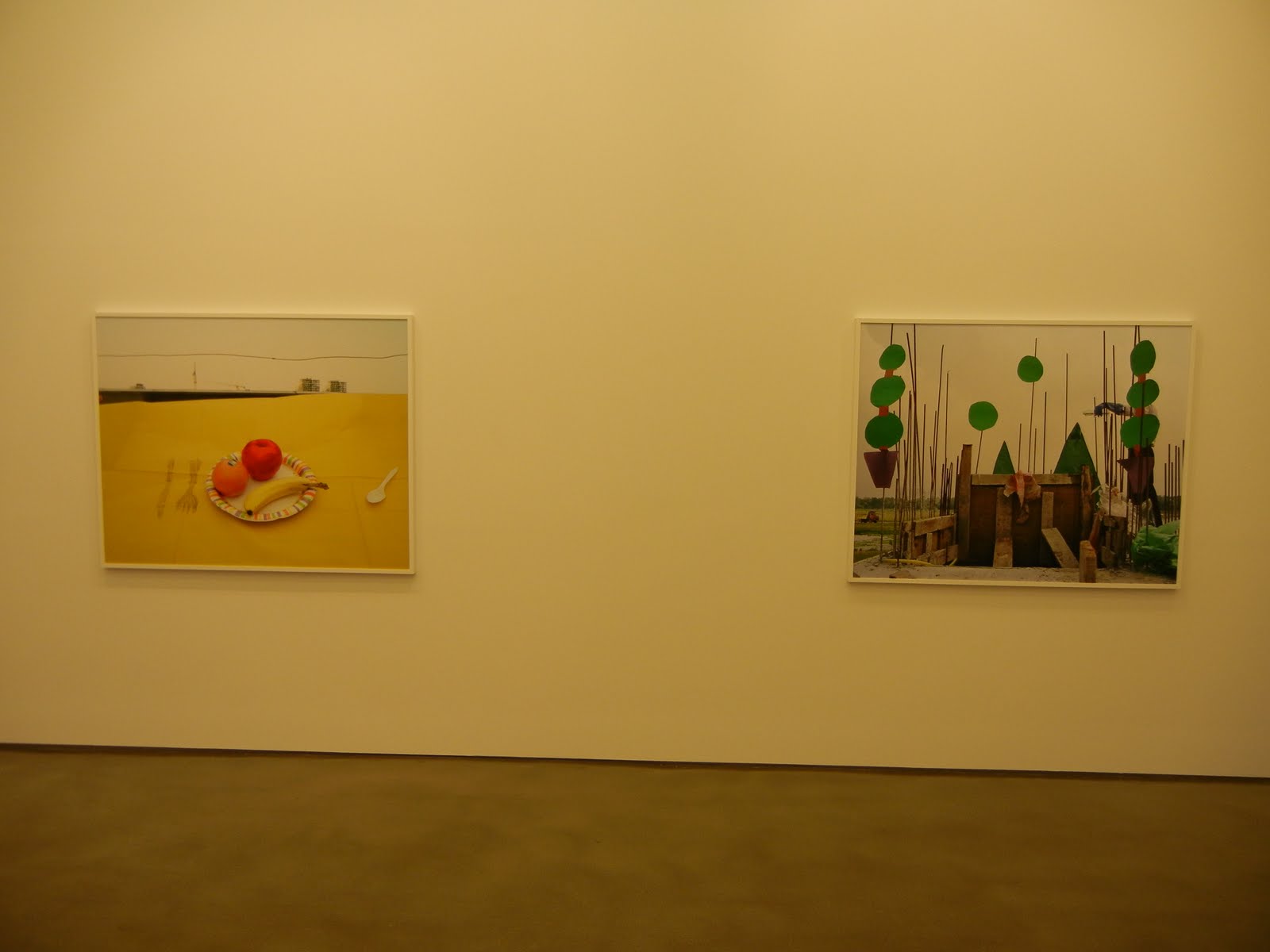 Collector's POV:
The photographs in this show are priced at $7500 each. Hawkins' work has not yet appeared in the secondary markets, so gallery retail is likely the only option for interested collectors at this point.
My favorite image in this show was Rooftop Garden, 2010; it's the image on the right in the bottom installation shot. I like the way the simple green circles and triangles are placed on the unfinished exposed rebar poles and transformed into imaginary potted topiaries and carefully pruned evergreens.
Rating:
* (one star) GOOD (rating system described
here
)
Transit Hub:
Through February 19th
New York, NY 10011