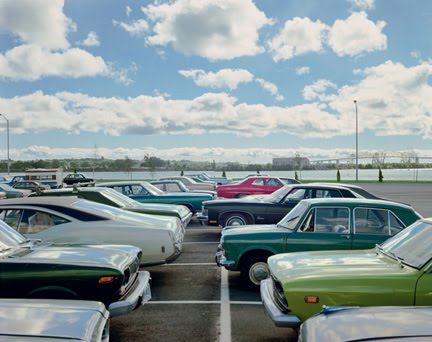 JTF (just the facts): A large group show, containing a total of 581 images/works by 36 photographers, variously framed and matted, and hung in an open lobby area and a series of densely packed, winding rooms. All of the works (except those in the prologue and legacy addendum sections) were made by American photographers between 1970 and 1980. The exhibit was curated by Kevin Moore and was shown first at the Cincinnati Art Museum earlier this year (here). A detailed catalogue, containing 304 images, with essays by Kevin Moore, James Crump, and Leo Rubinfien, has been published by Hatje Cantz (here) and is available in the museum shop. Unfortunately, no photography was allowed in the galleries, so there are no installation shots of the show; the images at right come from the exhibition website. (Stephen Shore, Sault Ste. Marie, Ontario, August 13, 1974, at right.)
The following photographers are included in the main exhibit, with the number of photographs or other works on view in parentheses:
Harry Callahan (12)
William Christenberry (15)
John Divola (10)
William Eggleston (17)
Mitch Epstein (10)
Jan Groover (8)
Robert Heinecken (18 lithographs on magazine pages, 1 video, 1 case containing 5 reconfigured magazine spreads)
Barbara Kasten (8, 2 cyanotypes)
Les Krims (9)
Helen Levitt (40 color slides, projected onto gallery wall)
Joel Meyerowitz (14 photographs from two different projects)
Richard Misrach (12)
John Pfahl (9)
Leo Rubinfien (12)
Stephen Shore (312 images from American Surfaces in lobby, 10 commercial post cards, 10 photographs)
Neal Slavin (6)
Eve Sonneman (6 diptychs)
Joel Sternfeld (16 photographs from two different projects)
plus a glass case containing press releases, invitation cards, news articles and related ephemera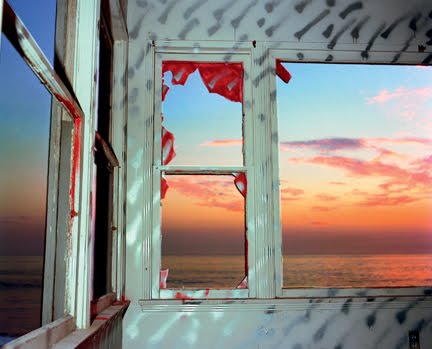 Two additional sections bracket the main body of the exhibit, and are not included in the catalogue; most if not all of the images seem to be drawn from the permanent collection of the PUAM. The photographers with work on view in these sections are listed below (John Divola, Zuma #21, 1977, at right):
Prologue
Diane Arbus (1)
Harry Callahan (1)
Harold Edgerton (1)
Robert Frank (1)
Ernst Haas (1)
Dorothea Lange (1)
Eliot Porter (1)
Aaron Siskind (1)
Edward Weston (1)
Minor White (1)
Garry Winogrand (1)
Legacy
Tina Barney (1)
Uta Barth (1)
Philip-Lorca DiCorcia (1)
Rineke Dijkstra (1)
Nan Goldin (1)
Candida Höfer (1)
Thomas Ruff (1)
Cindy Sherman (1)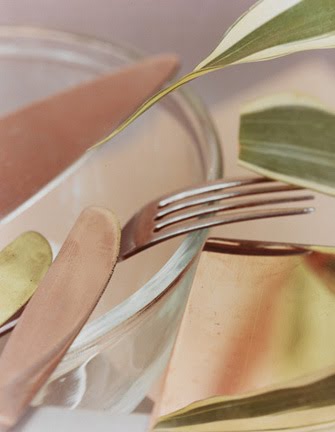 Comments/Context: The well-known story of American color photography is often spun as a simplified tale of three misunderstood protagonists (Eggleston, Shore, and Sternfeld), fighting the black and white establishment and paving the way for an entire generation of colorists. Simple is easy to remember, so many of us mindlessly spit out these three names whenever the color conversation comes around. The fact is, while these three were undeniably important and massively influential, the actual history is much more complicated, with many more meaningful figures participating in the 1970s melting pot of photographic ideas. (Jan Groover, Untitled, 1978, at right.)
This excellent show does several smart things. First, it limits the playing field to a manageable size: we're only discussing Americans (no one else), color photography (not anything concurrently happening in the world of black and white), and the fixed decade of 1970-1980 (nothing before or after). These boundaries force us to focus on those artists who were really part of the active dialogue around the growth of color photography, without getting distracted and sidetracked by tangentially related themes and activities. Second, it grounds the imagery in the social and political history of the time and the current events of the 1970s, including Vietnam, Nixon, economic crisis, and the general mood of confusion and indifference. And third, it broadens the discussion far beyond the best known names to consider the contributions of many who didn't achieve a permanently meteoric rise.
The result of this set of curatorial framing decisions is an exhibit that isn't a linear, "this came first" kind of argument about the mainstream emergence of color in American photography, but more a snapshot of the diversity of color approaches that were being explored during those specific years, with plenty of opportunities to see connections and exchanges between different modes of experimentation. The story is much less straight and obvious than we have been led to believe – while Eggleston's show at MoMA in 1976 was clearly a watershed, his work didn't just arrive from an alien spacecraft to enlighten the world; many related ideas were percolating around in the artistic community (and in society at large), manifesting themselves in differing forms.
The exciting opportunity this exhibit provides is the ability to compare the work of a variety of contemporaneous artists and to stand in front of each display and ask two critical questions: how did this particular photographer use the newness of color, and most importantly, why?
The answers to these two questions are tremendously varied and utterly fascinating:
Callahan and Levitt add color like a top layer over an existing black and white aesthetic. Callahan's approach created planes of color from the volumes and voids of Providence houses. Levitt's color allowed her to explore pattern and contrast (in fabrics, clothing, and street architecture), giving her another tool around which to coalesce a composition. Both of their color work can be seen as an extension of their earlier imagery, with color creating new opportunities within the existing framework.
Christenberry matches his use of color with the sense of Southern vernacular history he is trying to document. His color is derived from a specific, drugstore print patina, layering a sense of everyday faded memory across the locations he has visited repeatedly over time.
Epstein, Shore, Meyerowitz, Sternfeld, and Rubinfein all use color as a way to get at new kinds of relevant subject matter. Whether employing a snapshot aesthetic or a more formal view camera sense of control, these photographers were closely looking at the world of the 1970s, with its mass culture, its suburbia, its new ironies and unexpected vibrant garishness. Epstein uncovers a riot of patterned dresses, a woman with a snake, and a man sleeping on a cot near the West Side Highway. Shore documents hotel rooms, weird roadside interiors, and a parade of top down still life meals, and later turns his camera toward parking lots, piles of oranges, and empty streets. Meyerowitz grabs shots from passing cars, and captures the colored lights of gas stations, fast food joints, and Cape Cod cottages. Sternfeld finds blurred heads flashing by, and more formal views of beached whales, aquatic theme parks, and a basketball hoop in the desert. And Rubinfein sees the beginnings of empty globalization found in airports, taxicabs, ferries, and trains. In each case, color is an enabler, a method for making a new kind of picture that touched on the realities of 1970s life, without seeming stuck in the purity of black and white.
Heinecken and Slavin are particularly interested in the colors of rampant commercialism. Heinecken boldly juxtaposes a Vietnamese soldier holding two severed heads with women's fashion ads, and collages provocative nudes into otherwise normal magazine spreads. Slavin uses the vocabulary of commercial portraiture to get at the wackiness of our subculutres, from Star Trek fans to rod and gun club members. Both are leveraging the ideas of advertising, of serial imagery, and of biting cultural commentary.
Kasten, Groover, Krims, Pfahl, Divola and Sonneman are all using color in much more conceptual ways, getting beyond the found documentary moment to constructions, performances, and new ways of seeing. Kasten builds intricate sculptures made to be photographed, where color combines with geometric lines and forms to create complex abstractions. Groover makes elegant still lifes of fragmented kitchen utensils, carefully arranging forks, egg slicers and pie tins into controlled, formal compositions. Krims experiments with colorful staged sexuality, adorned with goldfish, pickles and balloons. Pfahl disrupts landscapes with tin foil, colored string, and oranges, playing with our sense of visual perception. Divola combines staged destruction with natural perfection, juxtaposing a destroyed beach house interior (complete with broken windows and spray painted decorations) and the the lilting colors of pink sunsets. And Sonneman plays with the idea of cinematic vision, making diptychs of action taken seconds apart, using color to highlight the changes from moment to moment. In all these cases, color is a subtext to a larger set of ideas, a tool for enhancing the conceptual pay-off. (Barbara Kasten, Construct II-B, 1979, at right.)
I think Eggleston and Misrach are the most radical in their use of color, and this may explain both the initial negative reaction to Eggleston's work and its ultimate rise to stardom. Misrach tries something entirely unexpected – he creates blasting, glare-filled pictures of lush green Hawaiian jungles. The images take the normal landscape and turn it on its head, entirely via a change in the approach to color. Eggleston goes one step further – he takes ordinary fragments of life and pares them down to studies of color. While we've seen many of the images on display here before, the context of the other color photographers exposes just how extreme and unconventional Eggleston was. The stove interior, the red ceiling, the peaches sign are experiments in making the known unknown, in seeing the colors of the world as something wholly divorced from subject matter, even when there is an undercurrent of narrative. This was what upset people the most, and what liberated so many later on.
The exhibit itself suffers from some unfortunate quirks of architecture, where the huge array of Shore prints is divorced from the flow of the show (out in the lobby), and the one-way rabbit warren of narrow galleries makes it hard to double back and explore non-adjacent connections and echoes. Also, the "prologue" and "legacy" groups of pictures that bookend the show are entirely forgettable, and therefore fail to deliver the historical context they were attempting to provide. But these are only minor faults with an otherwise terrific and thought-provoking show.
In the end, the reason to get in your car and make a special drive down to Princeton is that this show doesn't offer any easy answers or a pat summary for cocktail parties. The story of 1970s American color is a mixed bag of experimentation, with artists and photographers going in all kinds of different directions, looking for new doors to open based on their own ideas of what was important in photography. So it isn't just Eggleston, although the show certainly helps clarify why he was ultimately so influential. And it wasn't a "school" so much as a group of artists loosely linked by a confluence of ideas, some inextricably tied to existing approaches to photography and others off on new tangents. The show reminds us that the common thread in this confused insider narrative is the richness of seeing the world in vibrant, chaotic, living color, and in adapting our collective art making to capture the broad diversity of that magnificence.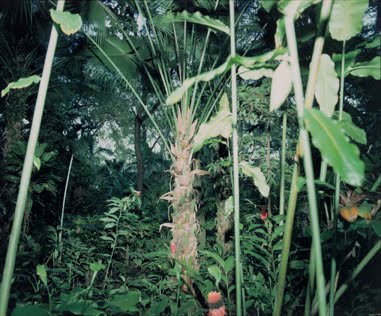 Collector's POV: Given the popularity of many of the photographers included in this show, collectors can easily find representative samples of their work in the secondary markets. In the event a more specific search is required, I've listed the gallery representatives and artist sites below (Richard Misrach, Hawaii V, 1978, at right):
Rating: *** (three stars) EXCELLENT (rating system described here)
Transit Hub:
Starburst: Color Photography in America 1970-1980
Through September 26th
Princeton University Art Museum
Princeton, NJ 08544