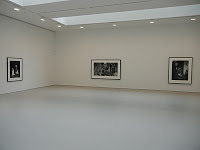 JTF (just the facts): A total of 28 black and white works, framed in black with no mats, and hung in the front and back galleries of both 525 and 533, as well as the hallway between the two spaces. All of the images are digital fiber prints, mounted on Dibond aluminum, made between 2010 and 2011. Physical dimensions range between 18×18 and 43×86, and each image (regardless of size) is printed in an edition of 5+2AP. Each image title includes a fictional date between 1945 and 1951. (Installation shots at right.)
Comments/Context: The press photography of Weegee from the late 1940s is almost like its own singular genre of photojournalism. Combining the visceral grime of the city with a sense for the dramatic, Weegee's flash-lit images of nightime crime scenes, bloody dead bodies, and gangsters headed for the police van have an unadorned mix of film noir glamour and gritty paparazzi reality that made him "Weegee the Famous". In his most recent works, Canadian artist and photographer Stan Douglas has added a conceptual twist to this bygone style of image making, crafting contemporary images that artificially mimic the look and feel of Weegee's world, down to the tiniest of period details.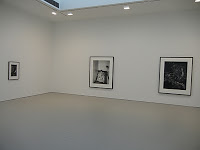 Using authentic equipment and props from the 1950s (his "midcentury studio"), Douglas has meticulously restaged a number of Weegee's usual subjects: dead bodies lying on the floor covered with newspaper or burlap sacking, men in fedoras and suits playing dice, a hidden cache of booze, cash, cards, and plastic chips found behind a wallpaper panel, and a jowly boss in dark sunglasses being taken away by police. The works have a convincing sense of authenticity, foiled only by an over-sharpness up close that gives away their fabrication. Other images in the series have the look and feel of period advertising photography: women's shoes artfully displayed on a mirror, the intricate marbled curls of a woman's hairstyle as seen from behind, close-up shots of a magician's interlocking rings and and fire bursting from his hand, and a how-to demonstration of the right way to steal a watch right off someone's wrist. Taken together, the whole project is a satisfyingly atmospheric portrait of a particular time, albeit with the inherent push and pull of reverence and irony that comes from being a complete fake.
Overall, I think this body of work is a bit uneven: the best of these photographs fully entranced me with their celebratory melodrama and their painstaking attention to detail, while a few of the others left me wondering whether the tremendous effort was worth the somewhat underwhelming payoff. That said, for those of you interested in the latest iterations in the complex canon of contemporary photographic staging, this show is certainly worth a visit.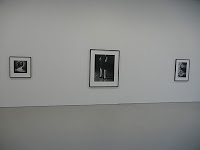 Collector's POV:
The prints in this show are priced at $30000, $45000, $50000, or $70000 each, based on size. Douglas' work has only been intermittently available in the secondary markets in recent years. Single image prices have ranged between $1000 and $7000, while multi-image groups have ranged between $15000 and $35000. That said, none of his recent large scale images have come to auction, so it's hard to say that the prices above are truly representative of his market. As such, gallery retail may be the only real option for interested collectors at this point.
I think that Hockey Fight, 1951, 2010, is one of the best single images I've seen anywhere all year; it's the middle picture in the top installation shot. It's filled with pitch perfect period detail (the haircuts, the clothes, the spilled popcorn) and captures an angry punch frozen in mid-throw. The flash lit cinematic scene is both visually engrossing from edge to edge and a fitting conceptual homage to the mastery of Weegee. To my eye, it's the "don't miss" image of the entire show.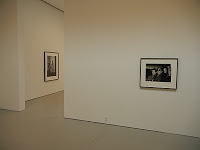 Rating:
* (one star) GOOD (rating system described
here
)
Transit Hub:
Stan Douglas: Midcentury Studio
Through April 23rd
525 West 19th Street
New York, NY 10011