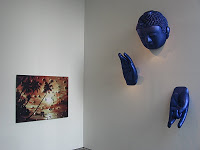 JTF (just the facts): A group show of a total of 18 works from 7 different artists, in a variety of mediums, hung in the entry, hallway, and back gallery spaces. (Installation shots at right.)
The following artists are included in the show, with details of the works on display to follow:
Hu Jieming: 1 c-print, 50×84, in an edition of 5, from 2007/2009
Hsin–Chien Huang: 3 lightboxes filled with printed acetates, in editions of 5, from 2007, and 1 interactive computer simulation, in an edition of 5, from 2009
Miao Xiaochun: 1 3D computer animation, in an edition of 5, from 2007
Noh, Sang-Kyoon: 1 large sculpture, from 2008, and 6 sequin covered records with original jackets in glass cases, from 2009
Junebum Park: 2 color videos (silent), in editions of 5, from 2008
Wang Qingsong: 1 DVD, in an edition of 8, from 2008
Xu Changchang: 2 c-prints mounted to aluminum; 1 is 59×44 in an edition of 10, the other is 96×40 in an edition of 5; both are from 2008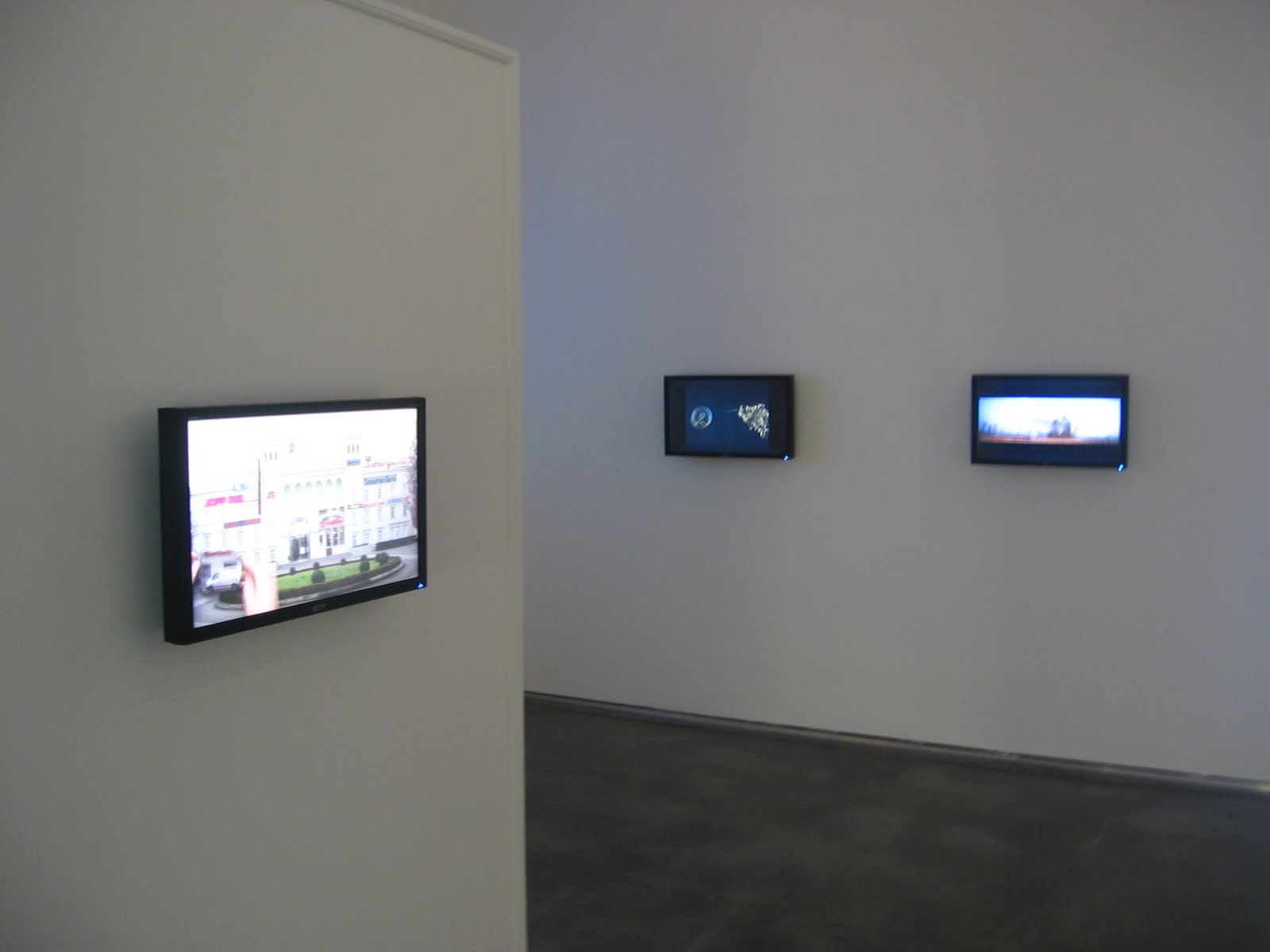 Comments/Context: As a general rule, I think that non-Japanese Asian photography (particularly work from China, Taiwan, Korea and India) is consistently underrepresented in the swirl of art in New York, so I'm always on the look out for shows that include exciting examples of contemporary imagery from these locales. This group show gathers works from a variety of media, with several video and computer generated displays and a few digital photographs. While the technologies may be cutting edge, the underlying ideas and themes being explored will be familiar: the impacts and effects of rapid expansion, globalization, and consumerism, and the clash of old and new ways (including the place of religion).
I have run across the photography of Xu Changchang previously, but the works in this show have a new twist. In earlier works, Xu took a physical photograph (often of an appropriated artwork), crumpled it up and rephotographed the result, complete with all the detailed wrinkles and tiny points of glare from the flash. The works on display in this exhibit start with the same type of image (in this case, pictures of an island sunset and the aftermath of a tsunami), but they are now punctured by bullet holes and rephotographed; the holes are therefore not actual holes but a photograph of a photograph full of holes. I found this layering of appropriation and the multiple levels of physicality in the works conceptually intriguing.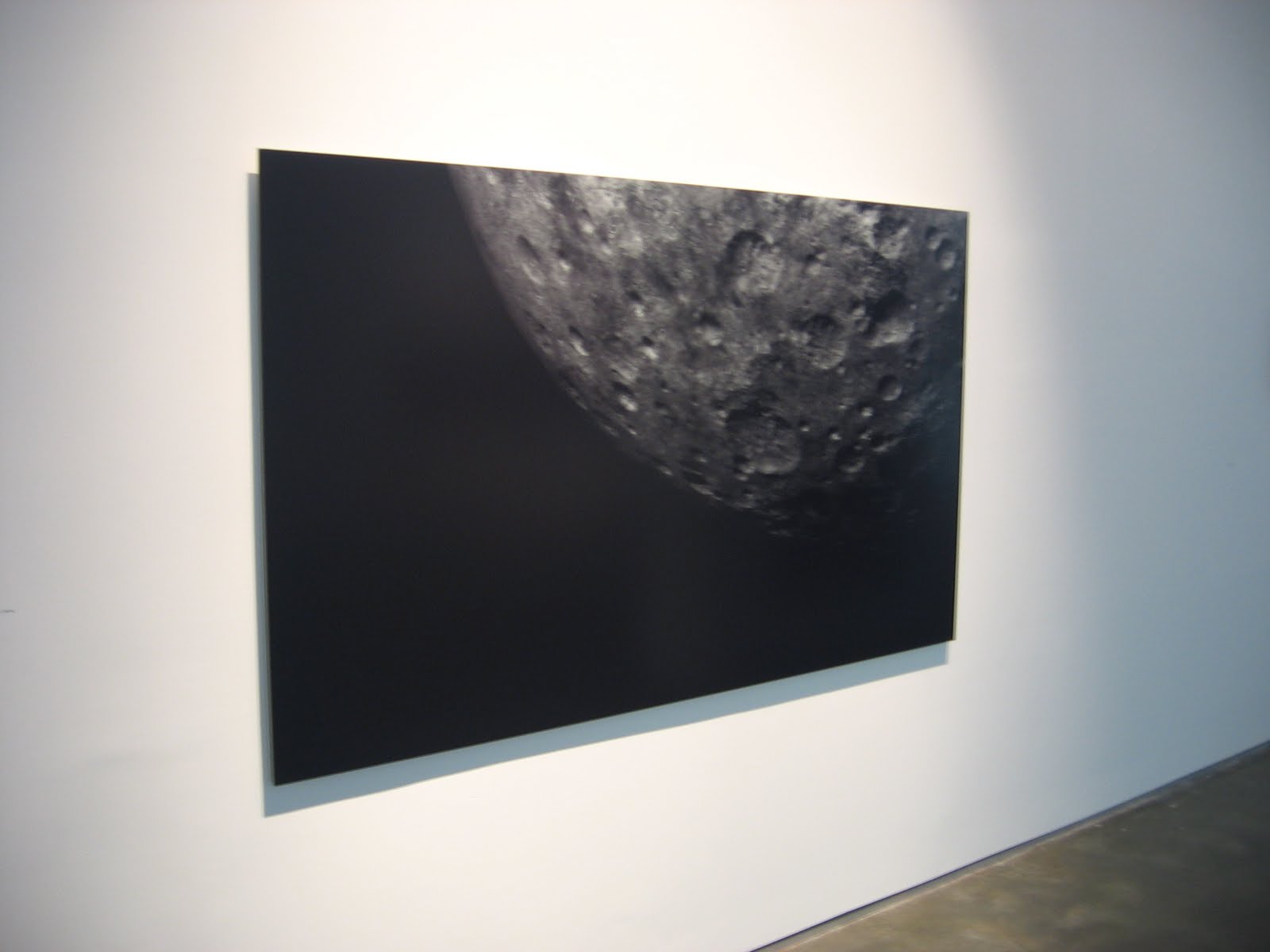 Hu Jieming's moonscape image, complete with a tiny latticework of futuristic settlements, is like something from the cover of a science fiction novel. From afar, it looks like 1960s era NASA footage; up close, the geometric roadways and buildings blanket the crater pocked rock; the effect is unsettling, with a heavy dose of impending doom. As such, it does a successful job of asking questions about the perils of never-ending expansion, without grounding them in the now obvious specifics of contemporary China.
Two artists perhaps best known to collectors for their photography have contributed videos to this exhibit:
Wang Qingsong's photographs have often considered the effects of consumerism on traditional Chinese culture. In this video work, Wang has taken hundreds of still frames of the construction of a yet another skyscraper in suburban Beijing and tied them together, into a fast forward, flip book style view of the building growing into the sky. As the days pass, the scaffolding rises, becoming the tallest structure for miles around; the completion of the tower is celebrated by nighttime fireworks, a thoroughly hollow and ironic endpoint.
Miao Xiaochun's photographs have often been built from appropriations of famous paintings. In this video, Miao reimagines Michelangelo's Sistine Ceiling (including the creation of Man) using clusters of computer generated mannequins floating in space, surrounded by bubbles or transformed into drifting bones.
And while it isn't exactly photography, take a moment to stand in front of Hsin–Chien Huang's interactive display: as you move your arms and body around, large buildings made up of tiny image fragments are quickly built up and taken down, the transience of the region's construction boom effectively skewered.
All in, the title of this show is surprisingly apt: things are changing fast in this slice of the art world, new technologies and ideas are rapidly being incorporated and exploited, and the overall effect is one of cacophony and chaos; I for one could use an updated photography roadmap for the region. While some of the underlying themes are consistent, it's clear that we need to see this art/photography in New York much more often if we ever hope to make sense of it all.
Collector's POV: The prices for the works in this show are as follows:
Hu Jieming: The photograph is $9000.
Hsin–Chien Huang: The 3 lightboxes are $15000 each; the interactive display is $18000.
Miao Xiaochun: The video is $20000.
Noh, Sang-Kyoon: The large blue Buddha sculpture is price on request. The sequined records are $5000 each.
Junebum Park: The two videos are $7750 and $12400.
Wang Qingsong: The video is $15000.
Xu Changchang: The 2 photographs are $8000 and $10000, based on size.
There is little or no auction history in the photography market for most of these artists, so discerning any kind of real price pattern is tricky. While several photographs by Wang Qingsong and Miao Xiaochun have come up for sale in recent years, their works on display here are both videos, and therefore may not be meaningfully representative of or related to their overall bodies of photographic work.
Rating: * (one star) GOOD (rating system described here)
Transit Hub:
Miao Xiaochun interviews/press (here)
Speed & Chaos: Into the Future of Asian Art
Through February 17th
Bryce Wolkowitz Gallery
505 West 24th Street
New York, NY 10001