JTF (just the facts): A total of 90 black and white photographs, framed in black and matted, and double hung in the main gallery space. All of the works are gelatin silver prints prints made between 2007 and 2009. The roughly square format prints are each sized approximately 16×15 and are available in editions of 1+1AP. (Installation shots at right.)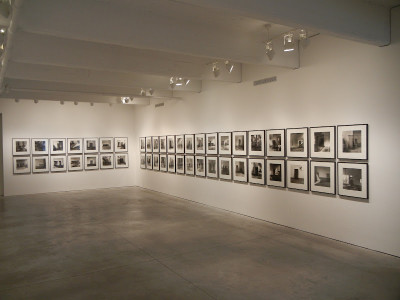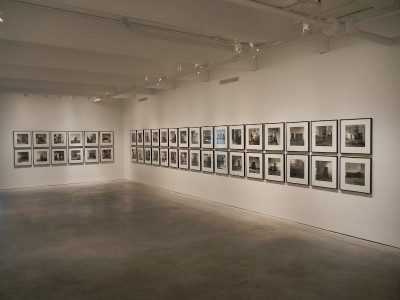 Comments/Context: Simryn Gill's images of a decaying Malaysian housing development combine two artistic approaches that normally don't go together: the shadowy romance of ruined interiors and the formalism of hard edged abstraction. The result is a elusive series of photographs that shift uneasily between these two styles, moving back and forth between ragged beauty and conceptual rigor, never quite eliminating the unexpected dissonance but somehow mixing the elements with quiet grace.
The pictures start with the abandoned, vine covered rooms we've seen before countless times: dingy floors, rubble piles, black mold, invasive greenery climbing in through open windows and cracking walls. Tile, brick, and stucco elegantly crumble in shades of grey, stripped clean of valuable wiring and fixtures, leaving behind ragged holes and scarred openings that flood the rooms with light. Dark rubber window insulation often winds across the floors like a wiggling pile of sinister black snakes.
In their haste to mine out the metal window frames, the scavengers have left behind dozens of long rectangular pieces of glass, which have been haphazardly leaned against available walls. Smoky and partially transparent, the glass panes have been set together in pairs, overlapped in layers, or mixed together vertically and horizontally. Combined with the varying effects of light and shadow, the endless patterns of crisp geometric forms would have kept Josef Albers happily busy. Seen together, the series is a rigid monochrome theme and variation exercise, set against a backdrop of rotting decomposition.
What is surprising about these photographs is the way in which the spooky spirituality of the empty rooms (think Woodman, Meatyard etc.) has become a venue for abstraction. There is a lush, silent softness to these installations that makes the abstraction seem muted and natural, even when it is at its most cerebral. Gill has successfully merged opposing impulses in each frame, creating visual balance between chaos and order.
Collector's POV: The prints in this show are priced at $7000 each. Gill's work has not yet reached the secondary markets for photography, so gallery retail is likely the best option for those collectors interested in following up.