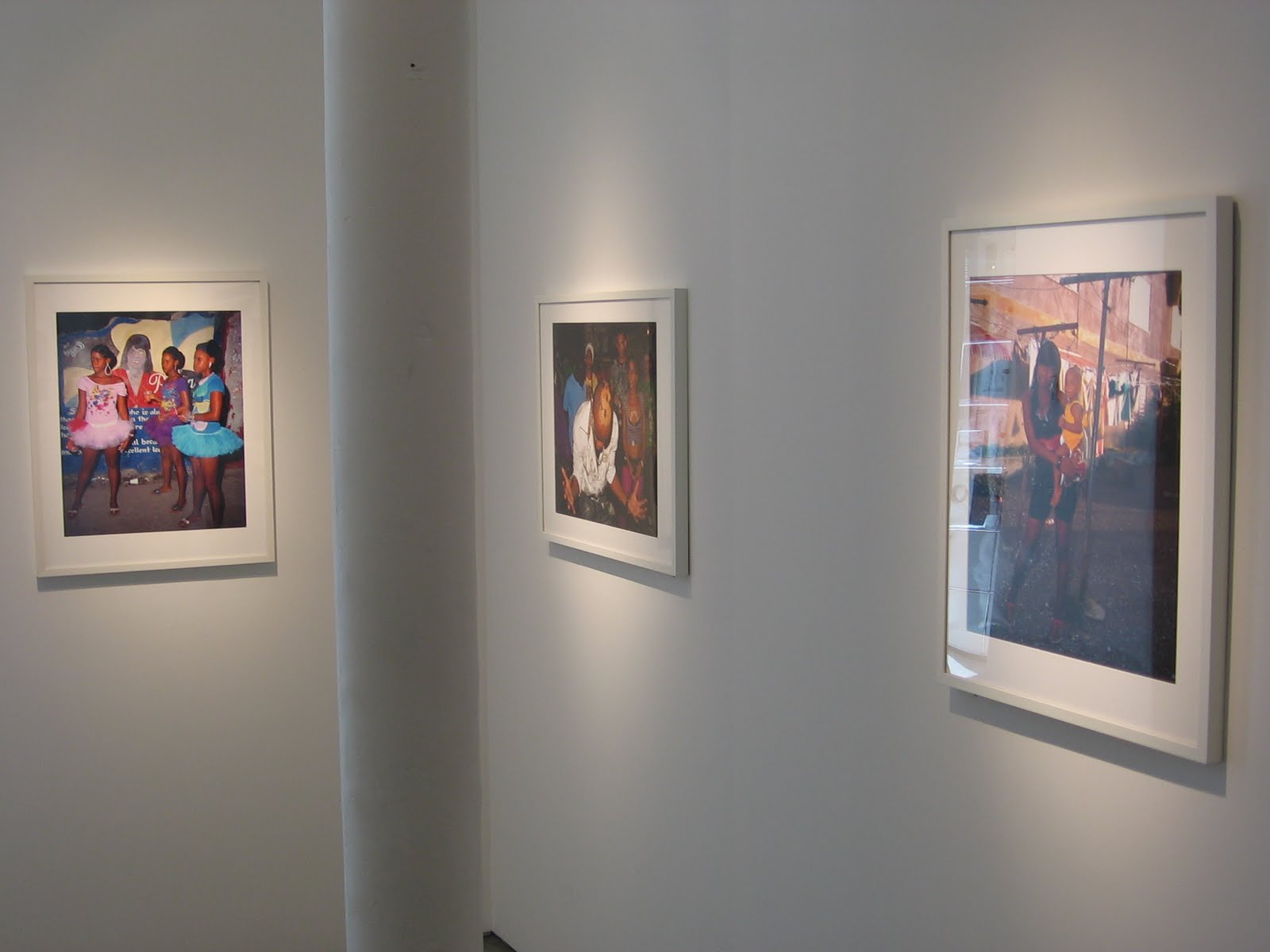 JTF (just the facts): A group show of 10 emerging photographers, with a single photographer chosen by each of 10 local NY curators. The works are variously framed and matted, and hung in the entry gallery, the main gallery space, and the back gallery. (Installation shots at right.)
.
The following photographers are included in the exhibit. Details of the works on view are below:
Bahar Behbahani: 1 triptych (3 chromogenic prints), each print 72×48, in an edition of 6, from 2007
Rob Carter: 2 digital c-prints, 48×35 or 40×51, in editions of 5, from 2009
Juliane Eirich: 3 chromogenic prints, each 39×39, in editions of 5, from 2007-2008
Ben Gest: 3 archival inkjet prints, 67×40, 59×40, or 532×40, in editions of 8, from 2005 or 2006
Charlotte Haslund-Christensen: 3 diptychs and 1 single archival inkjet print, each individual print 20×20, in editions of 5+2AP, from 2007
Dana Miller: 5 chromogenic prints, each 20×24, in editions of 8+2AP, from 2006 or 2007
Aude Pariset: 6 three dimensional works, made from inkjet or lightjet prints mounted to various materials (wood, aluminum, leather, etc.), various sizes, in editions of 3, from 2008 or 2009
Radcliffe Roye: 6 chromogenic prints, each 20×24 or reverse, in editions of 10, from 2009
Glenn Rudolph: 3 archival inkjet prints and 1 color carbon transfer print, each 30×30, in editions of 7, from 1976, 2002, 2004, or 2008
Nodeth Vang: 2 digital c-prints and 3 instant film diffusion transfers, 30×24 or 4×3, in editions of 5 or 1, from 2008 or 2009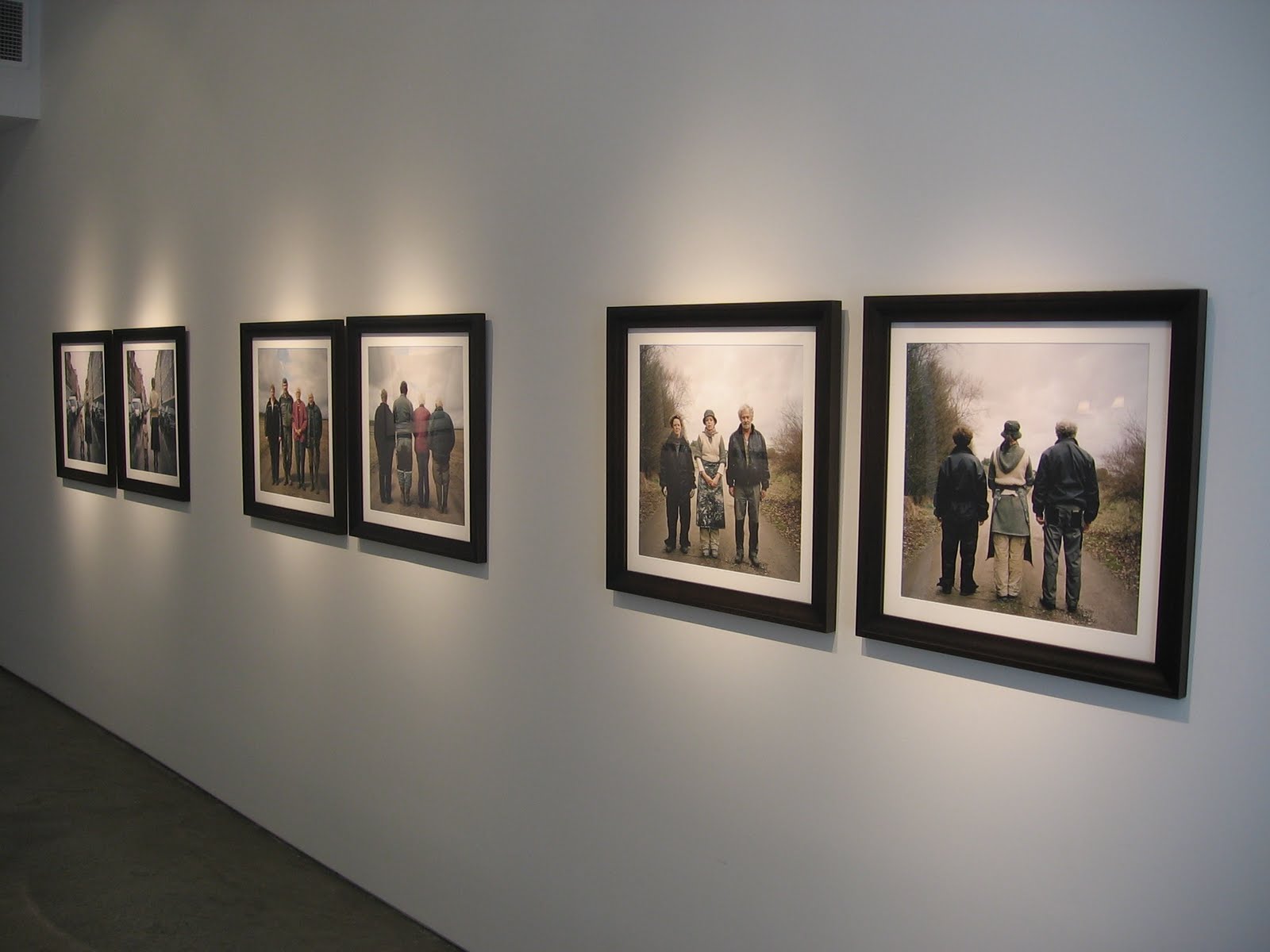 The following 10 curators selected the photographers for inclusion in the show:
Patrick Amsellem, Brooklyn Museum
Sean Corcoran, Museum of the City of New York
David Harper, Brooklyn Academy of Music
Matthew Higgs, White Columns
Mara Hoberman, Hunter College Art Galleries
Mason Klein, The Jewish Museum
Beatrix Reinhardt, College of Staten Island, CUNY
Edwin Ramoran, Aljira, a Center for Contemporary Art
Carrie Springer, Independent Curator
Deborah Willis, NYU Tisch School of the Arts
Comments/Context: Since we haven't had a Silverstein Photography Annual since 2008, it would be easy to have forgotten its simple but elegant premise: choose 10 photography curators and let them each select one exciting photographer for inclusion in a group show of new/emerging work. This year's collection is a more recession-respecting local affair than prior years, with curators chosen from smaller New York metro area institutions rather than from far flung museums across the globe. These are the kind of photo curators who are likely down in the messy trenches of new photography, doing endless portfolio reviews and sifting through piles of fresh submissions, looking for new and original voices to champion; in many respects, they therefore represent a good cross section of what many institutions might be looking for (or finding of interest) right now.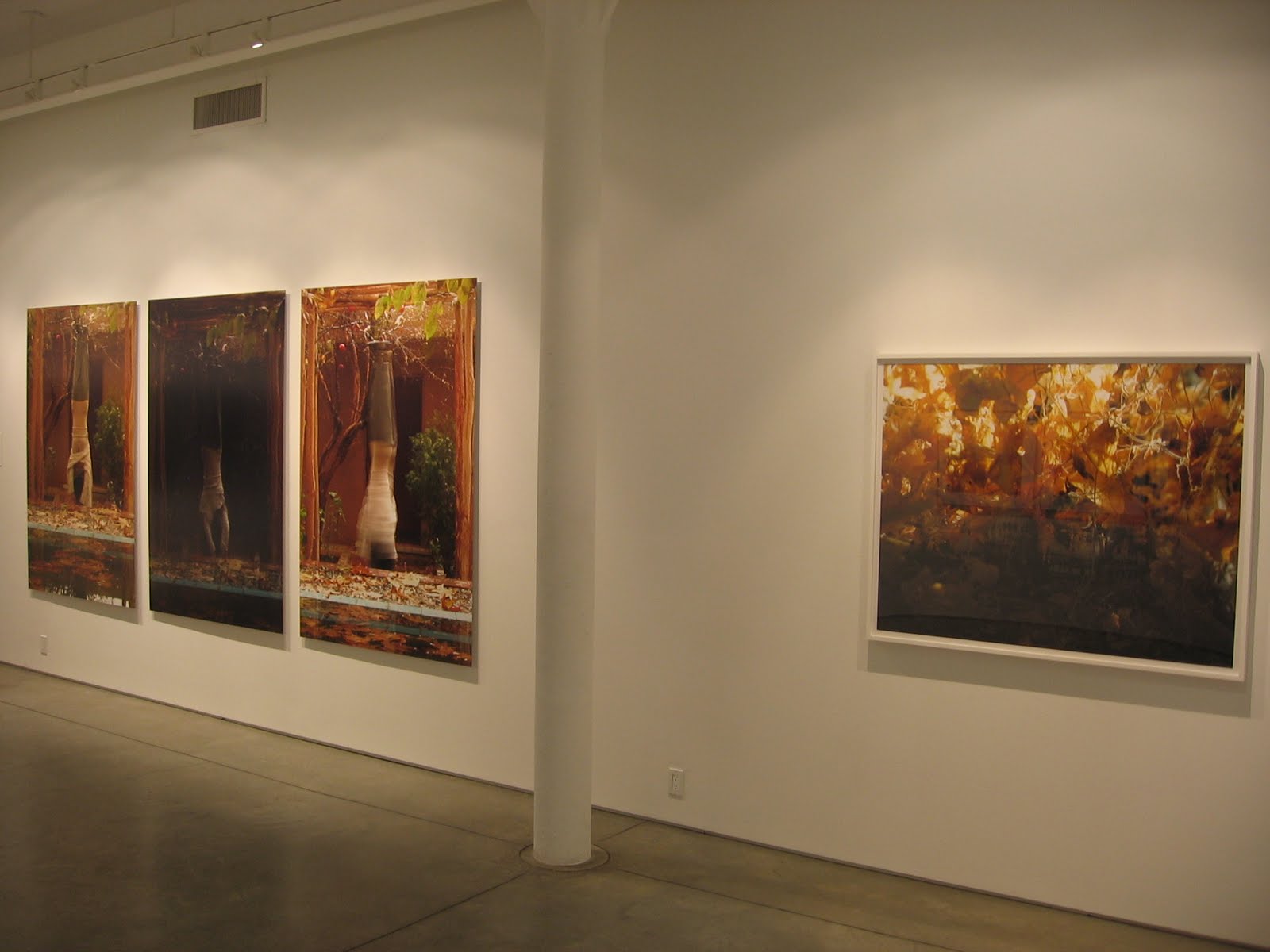 Radcliffe Roye's sweaty images from Jamaican clubs were my favorites in the show, particularly the image Ballerinas, of three young women done up in short skirts and colorful makeup; the pictures have echoes of Malick Sidibe's images of the youth clubs in 1960s Mali, but with a more modern feel. The colors are eye-popping and the dancehall poses are lively and outrageous.
Bahar Behbahani's photographs really fall into the category of documents of performance art; the artist hangs upside down from an apple tree, with leaves strewn across the patio underneath, and the pictures capture the blurs of her struggle at various times during the day. While the premise is pretty straightforward, I found the work surprisingly unsettling and metaphorically memorable.
Dana Miller's images are so quiet and understated that it is easy to underestimate them in a quick pass through the gallery. Tennis balls trapped in a park fence, a grocery cart partially submerged in the water, these are not subjects that shout out from the walls. But there is a clarity and authenticity to these images, without a trace of self-conscious artifice, that makes these mundane scenes softly refreshing.
While I also found things to enjoy in Ben Gest's disaffected images of upper class boredom and Charlotte Haslund-Christensen's conceptual front and back portraits of Danish families, overall, the show itself felt a bit flat, with plenty of less remarkable work to go along with the few standouts. Intellectually, I can understand the logic for why each of these artists/bodies of work was selected, but that doesn't mean that they all pass the test of being thrilling or significant. As such, this is the kind of show that you can wander through without being jarred out of your comfort zone; all of it is good, but unfortunately not enough of it is striking or sensational.
Bahar Behbahani: $12000
Rob Carter: $5500 or $6000
Juliane Eirich: $3500 or $3950
Ben Gest: $5800 or $8800
Charlotte Haslund-Christensen: $1650 or $3500
Dana Miller: $2000 each
Aude Pariset: $1750, $2000, or $2200
Radcliffe Roye: $1500, $1800 or $2300
Glenn Rudolph: $3500 or $5000
Nodeth Vang: $1000 or $2000
Rating:
* (one star) GOOD (rating system described
here
)
Bahar Behbahani artist site (here)
Rob Carter artist site (here)
Juliane Eirich artist site (here)
Ben Gest artist site (here)
Charlotte Haslund-Christensen artist site (here)
Dana Miller artist site (here)
Aude Pariset artist site (here)
Radcliffe Roye artist site (here)
Glenn Rudolph artist site (here)
Nodeth Vang artist site (unknown)
Through May 8th
535 West 24th Street
New York, NY 10011