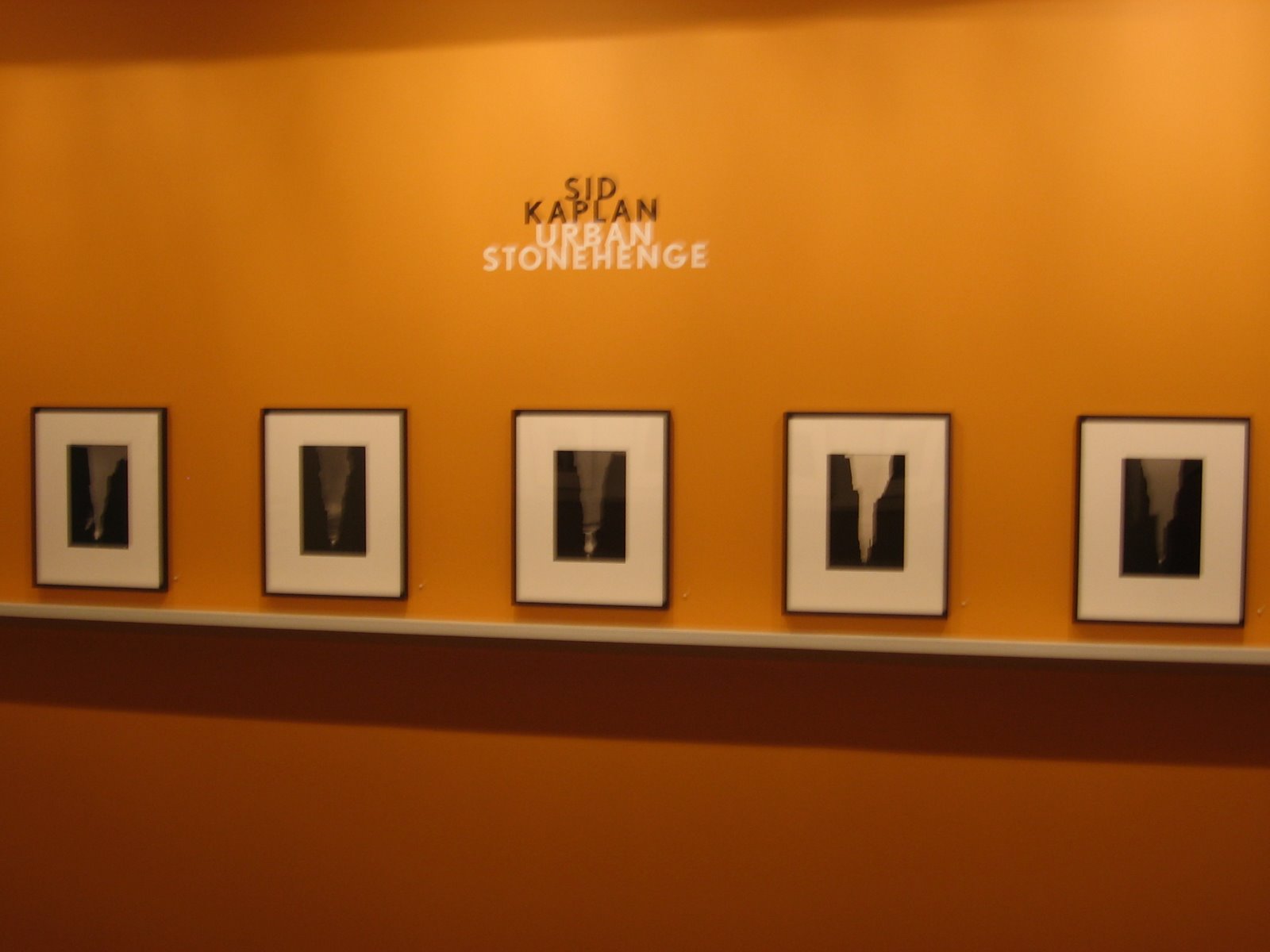 JTF (just the facts): A total of 22 gelatin silver prints, framed in black and matted, hung in the single room gallery space, against a mix of white and yellow walls. The vintage images were taken between 1990 and 2008, and all have been printed 14×11. (Installation shots at right.)
Comments/Context: Sid Kaplan is probably best known as a master printer and teacher, a man who has printed for Weegee, Robert Frank, Eugene Smith and many, many other famous photographers over his long career in the darkroom. The current show on at Deborah Bell shows a series of his own images of New York, made over the past two decades.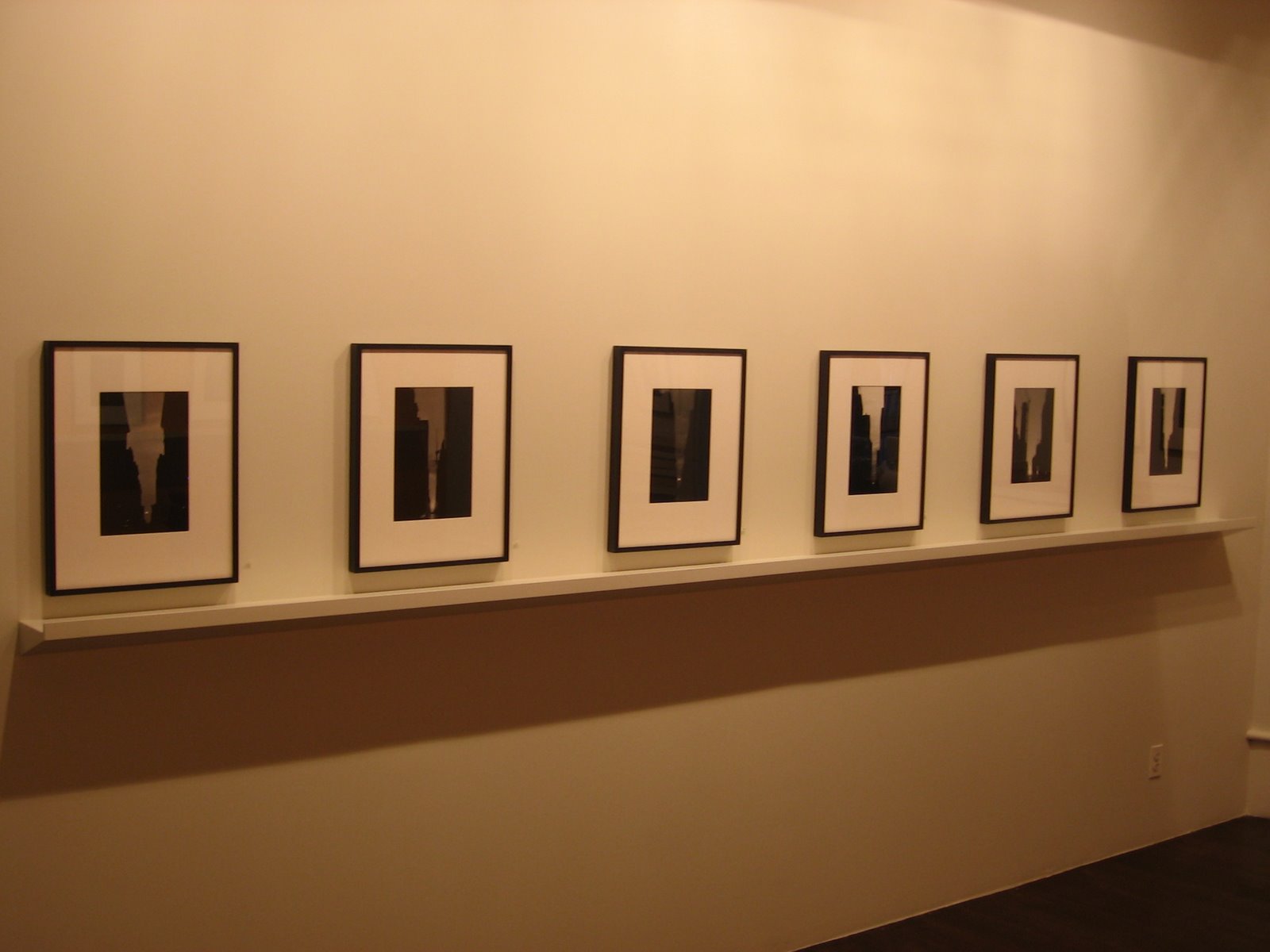 Taken at sunset amidst the tall buildings and urban canyons of the city, the images all have a similar composition: a jagged V shape of dark silhouetted building forms, with the sun as either a flash of light or a muted circle situated down at the apex of the triangle. The formal composition draws the viewer's eye down from the contrasting edges of dark black and lighter sky to the sun in the center at the bottom, near the street.
Seen together, the images of the series perform a fugue of theme and variation, with each image having the same general arrangement but highlighted by different details: deep black cornices, scaffolds, warehouses and cranes against subtle changes in the sky, from clear to cloudy and light to dark. Not surprisingly, these are indeed spectacular prints of very difficult negatives, given the preponderance of high contrasts. The blacks are amazingly rich and lush, knife edged against lighter areas of grey.
What I like best about these works is that they are both a new and original vision of the city (even the Chrysler Building makes an appearance and isn't a cliche in this setting), and that they are very evocative of the actual feeling the city has at twilight, as the towering buildings become rugged formless shadows.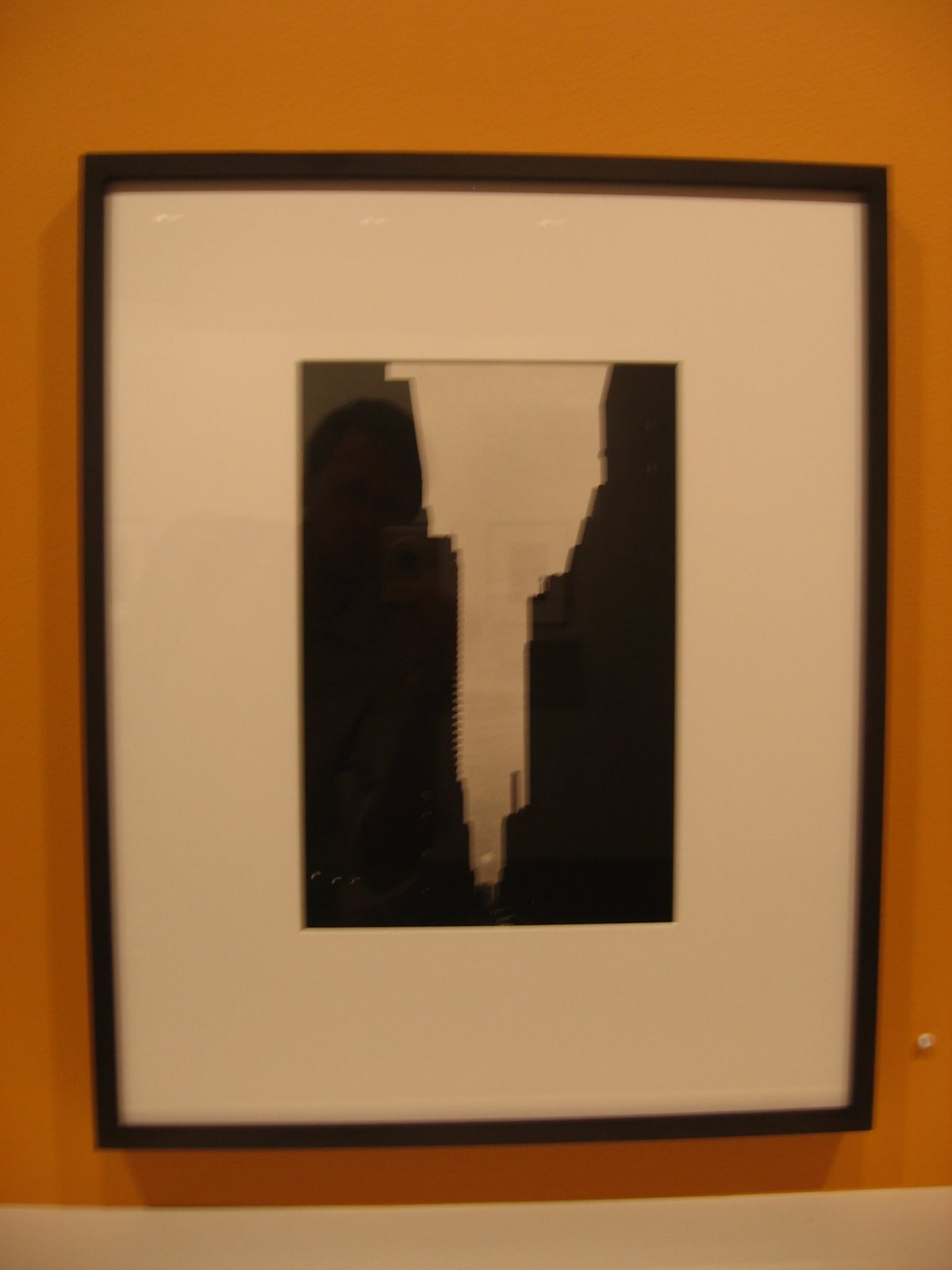 Collector's POV:
All of the prints in this show are priced at $3000 each.
Kaplan's
work is not available in the secondary markets, so interested collectors will need to stick to gallery retail for potential follow ups. These works fit directly into the center of our city/industrial genre, a perfect foil for other views of New York in our collection. I
particularly
liked
Sunset #19
, with its serrated edge of balconies and lone smokestack. (Hard to see in the poor image at right.)
Rating:
** (two stars) VERY GOOD (rating system described
here
)
Transit Hub:
Sid Kaplan: Urban Stonehenge
Through July 11th
511 West 25th Street
Room 703
New York, NY 10001