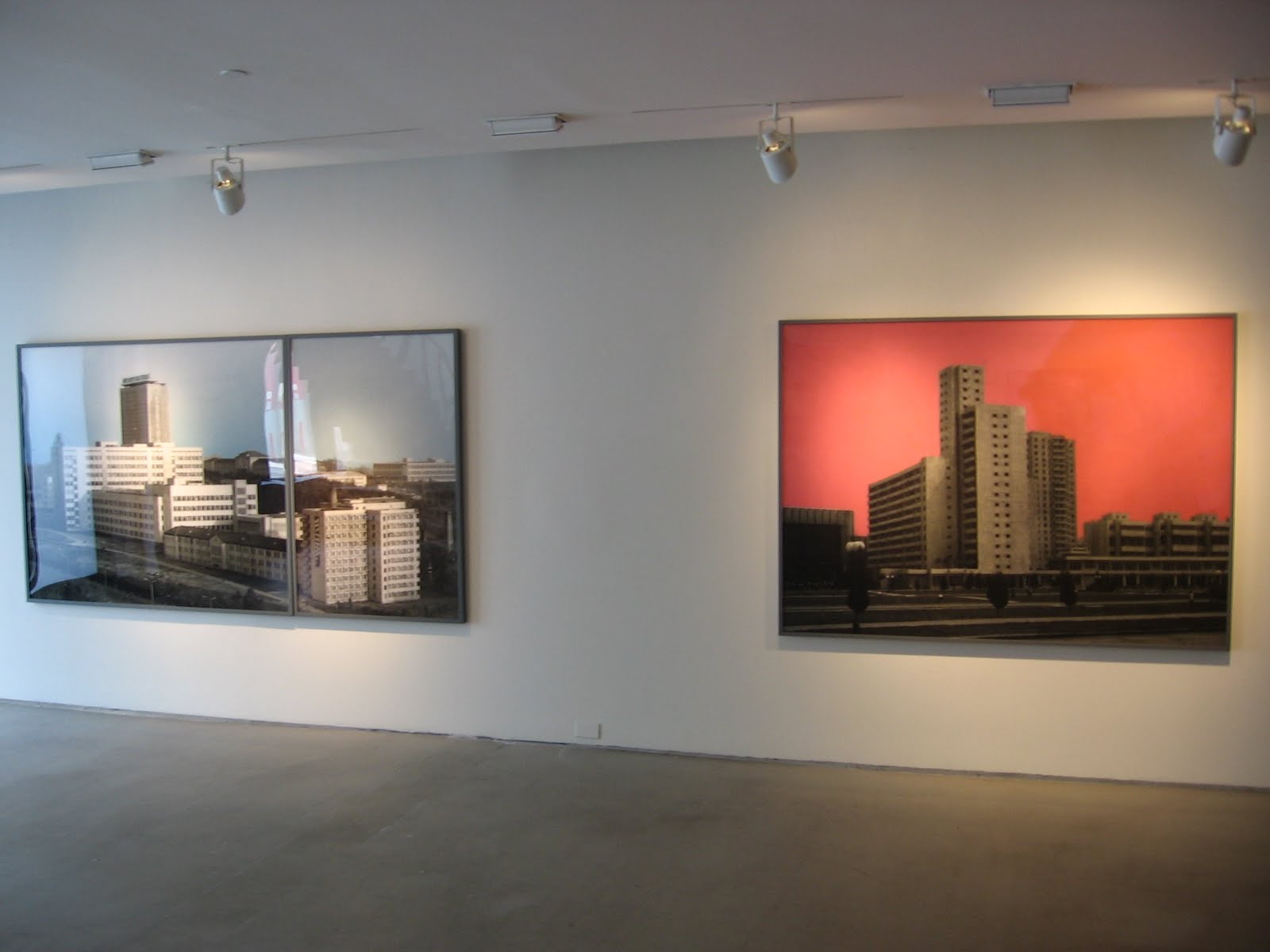 JTF (just the facts): A total of 17 works, from two different series, displayed on separate floors of the dimly lit gallery. On the first floor, 7 images from the Utopia series are displayed, framed in grey with no mat; 5 of these works are diptychs hung edge to edge, while the other 2 are single images. All of the works are digital c-prints, printed in editions of 5, and made in 2008. Sizes range between 50×60 and 71×114. On the second floor, 10 works from the Blow Up series on shown; 9 of these are single images; the last is a grid of 40 images hung together as one unit. Again, the works are digital c-prints, in editions of 5 for the larger prints and 10 for the smaller ones, the larger prints ranging in size from 32×24 to 75×63; the grid is 105×200. The works upstairs were made between 2006 and 2008. (Installation shots at right.)
Comments/Context: Contemporary Korean photography is clearly on the rise, according to our non-scientific hype-o-meter, and Seung-Woo Back is nearly always included when prominent names are thrown around amid the buzz. This show dives a bit deeper into two of his most recent projects, providing a larger sample of his works than is generally available in the current crop of broad survey shows.
The Utopia series is drawn from 1970s era propaganda images from North Korea, complete with shiny science labs, chemical plants, bombers, and soul deadening cinder block architecture. These dated institutional scenes have been digitally manipulated to add in washes of pastel color in the sky and background, much like the "colorization" of old black and white movies. The addition of green, or pink, or orange to these otherwise carefully controlled black and white still images adds an unexpected touch of beauty, which of course makes them all the more unsettling and ironic.
The Blow Up series was constructed via grainy snapshots Back took while in North Korea. Given the strict media censorship there, all of his images were checked before he left the country; this project was therefore built upon the small details of life that he could document with a tourist camera, many of which were otherwise unnoticed portions of mundane shots, later "blown up" to focus on something altogether different than what was in the foreground. The resulting collection offers a surreal glimpse of life in the North: serious police and traffic officers, empty streets with people rushing, school children posing, massive statues in vast open squares, orderly clean up crews, a patriotic pin attached to a shirt. Together, the images have the oppressive feeling of constantly being watched; the resulting mood is both creepy and depressing.
While this show isn't exactly a sunny pick-me-up, it does offer plenty of complicated ideas to consider, particularly about the nature of controlled imagery and how it can be successfully undermined.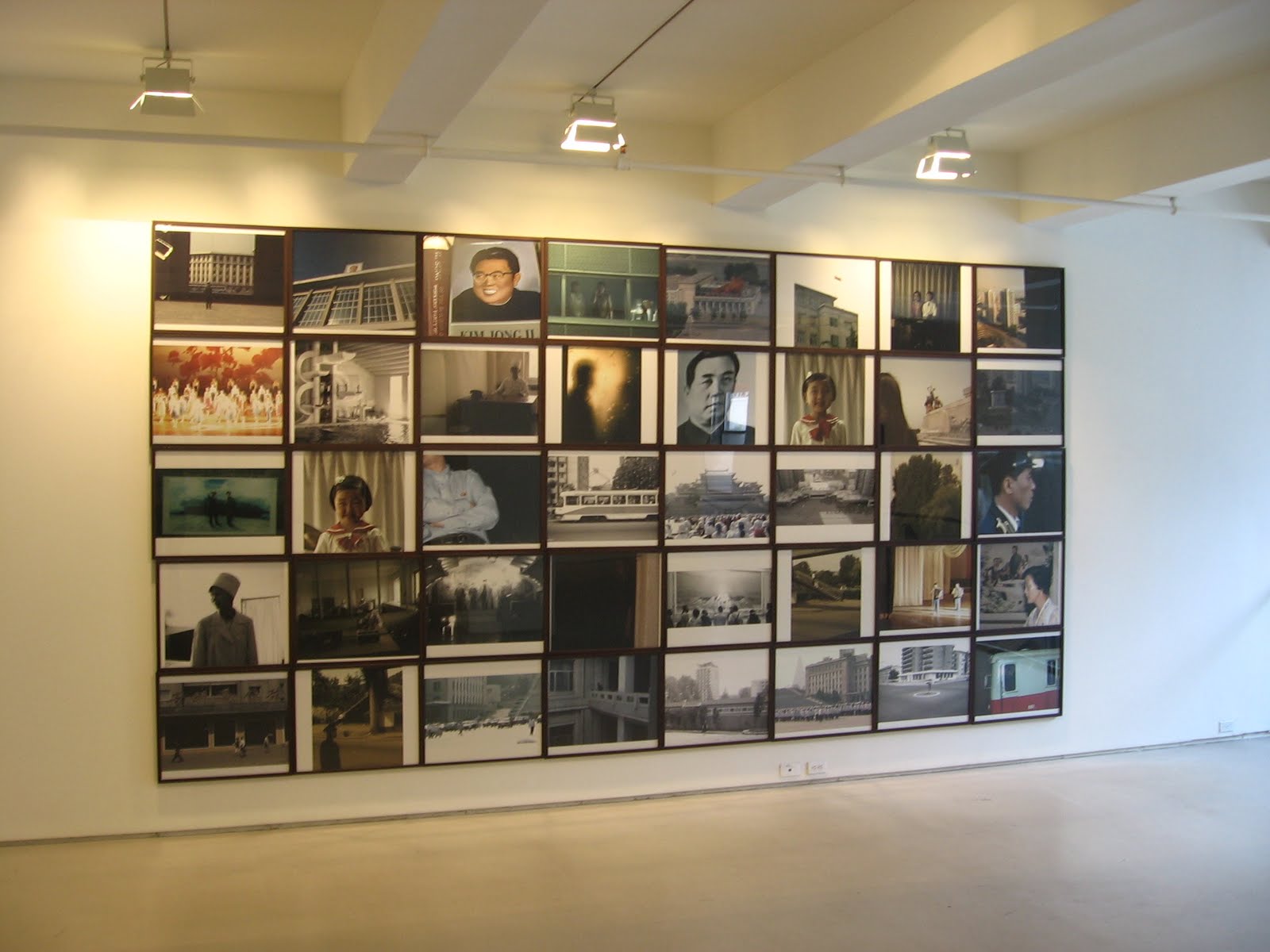 Collector's POV:
The images from the
Utopia
series are priced between $13000 and $16000 for the single prints, $18000 to $23000 for the diptychs. The single larger prints from the
Blow Up
series range in price from $6000 to $18000, seemingly based on size; the grid of 40 images is $160000. For West coast collectors,
Seung
-Woo Back is also represented by Rose Gallery in Santa Monica (
here
).
Rating:
* (one star) GOOD (rating system described
here
)
Transit Hub:
Photography Now @SFMOMA (here)
Chaotic Harmony: Contemporary Korean Photography @MFA Houston (here)
Portfolio 41 (here)