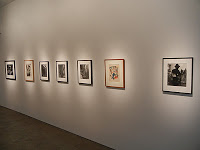 JTF (just the facts): A total of 36 black and white photographs, framed in black and matted, and hung together with 10 works in other media, framed in blond wood and matted, together displayed in the entry area, front room, main gallery space and back room. All of the photographs are vintage or early gelatin silver prints, taken between 1933 and 1961. Physical dimensions range from roughly 13×10 to 34×27 or reverse, with most roughly 14×11 or reverse. (Installation shots at right.)
The following other artists have been included in the show, with number of works on view and image details in parentheses:
Max Beckmann (1 drypoint, 1918)
Otto Dix (2 lithographs, both 1923)
Lyonel Feininger (1 woodcut, 1920)
George Grosz (2 color offset prints on cream Velin paper, 1919 and 1921)
Karl Hubbuch (1 brush and lithograph chalk on wove paper, 1930-1931)
Ernst Kirchner (1 lithograph, 1912)
Jeanne Mammen (1 pen and ink on paper, 1933)
Bruno Voigt (1 watercolor, pencil and ink on paper, 1933)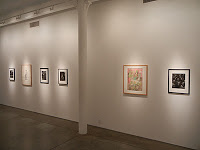 Comments/Context: Bruce Silverstein is quietly making a name for himself as the go-to advocate for the estates of master photographers. After countless others have pawed through the storage boxes and picked out the saleable gems, he has repeatedly come in, brought fresh eyes to the remnants, and made compelling arguments for the importance of what was left behind, in the process doing a respectable job of buffing up the reputations of many who were arguably in danger of being forgotten amidst the ever more frantic search for the new.
Silverstein has recently taken on the estate of Lisette Model, and this show is nothing short of a complete reinterpretation of her place in art history. Many might characterize Model as a classic New York photographer, a friend and contemporary of Abbott, and the respected teacher of Arbus, Hujar, Solomon and others, all of which she certainly was. But this exhibit takes us back to her roots in Vienna, and makes a strong argument for placing her photography in the context of German and Austrian Expressionism. Through a series of side-by-side juxtapositions, the influences of the Expressionist style and mindset on Model's artistic approach come through as real and meaningful.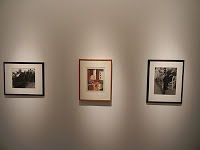 The images in the front rooms gather Model's layered shop window reflections, her shadow silhouettes, and her telescoping pictures of legs at sidewalk-level, which are then smartly paired with Feininger's chaotic black and white buildings, Grosz' mix of street caricatures, and Kirchner's leggy dancers. The main room contains mostly portraits by Model, some verging on the grotesque and the ugly, often with a knack for biting social critique.The visual echoes between these photographs and the works by Dix, Hubbuch, Voight, and Grosz are startling: bulging faces are twisted in similar ways, bodies are distorted and framed with matching poses, and bald heads take on a sinister quality. The back room contains Model's images of cafe life, punctuated by Arnold Schoenberg's Pierrot Lunaire playing in the background. The high pitched squeaks and throaty yells in the music are shrill and dissonant, matching Model's severe camera angles. The pairing of Model's famous Cafe Metropole with Mammen's The Fat Singer is an inspired one, making Model's exuberantly odd image seem not like an outlier in photographic history but more like a direct descendant from the artistic movements of her past.
Given this new context, Model's relationship to Expressionism seems so obvious that it is a wonder that this story hasn't been told more fully before. This is a well researched, carefully sequenced, and thoughtful show, brimming with new ideas and unexpected connections (i.e. should we now link Arbus to German Expressionism more explicitly?) Model's photography seems so much fresher and more innovative when seen through this lens, so don't miss this chance to reconsider your preconceived notions of what her art might mean.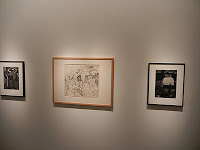 Collector's POV: The prices for the Model prints in this show range from $9500 to $45000, with many intermediate prices. Model's work is generally available in the secondary markets, with roughly a dozen or so lots up for sale in any given year. Recent prices at auction have ranged between $2000 and $62000.
The other artworks in the show are priced as follows:
Max Beckmann: $35000
Otto Dix: $100000 and $25000
Lyonel Feininger: $24000
George Grosz: $3000 each
Karl Hubbuch: NFS
Ernst Kirchner: $50000
Jeanne Mammen: $20000
Bruno Voigt: $8000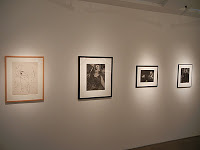 Rating: *** (three stars) EXCELLENT (rating system described here)
.
Transit Hub:
Through November 12th
Bruce Silverstein Gallery
535 West 24th Street
New York, NY 10011