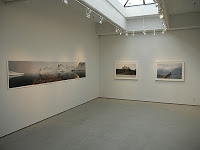 JTF (just the facts):
A total of 15 color photographs, generally framed in white with no mat, and hung in the entry and both gallery spaces. All of the works are chromogenic prints, most of which have been variously photospotted, painted with acrylic inks and gouache, scratched, embossed and screen printed. Physical dimensions range from 16×24 to 30×165, with several images printed in the 28×42 size. Edition sizes are either 3 or 7. The works on display were made on an artist residency trip to the Arctic Circle, and completed between 2010 and 2011. (Installation shots at right.)
Comments/Context: In the past decade, iceberg photography has almost become its own sub genre of the contemporary photographic landscape. Nearly all of these images have had a similar point of view, mixing the otherworldly beauty of the pure, abstract blue and white forms with the harsh, dirty environmental evidence of global warming actually happening. As such, these pictures have often edged toward earnestness, warning us that these natural treasures were indeed melting fast. Sarah Anne Johnson's recent images of the Arctic are something quite different – they take the same vanishing white landscape and instead infuse it with a jolt of whimsy and irony, bringing imagination and folly to the uninhabited ice.
Johnson's works begin with the kind of nearly monochrome land and waterscapes you might expect; snow and dirt intermingled in frosty rock piles, icy glaciers and islands floating in calm waters, huge grey skies reaching to the horizon, and a few intrepid souls in heavy parkas resisting the obvious cold. The conceptual twist here is that Johnson has taken her documentary images of science-based Arctic truth and overpainted them with dreams, visions, and flights of fancy. Geometric solids (triangles, rectangles, and the like) perch like futuristic buildings in previously empty vistas, massive bubbles enclose entire islands and ripple from the surface of the water, impressionistic confetti covers pipelines and rains down on travelers, and watery fireworks explode in the sky and block out the sun. There is a sense of human ridiculousness to it all, the antics being cooly watched by the expansive and indifferent land.
While I will admit that I have never been much of a fan of overpainting in photography, I think Johnson's subtle inclusions of relative absurdity and simple joy give these pictures a lightness that is new and attractive. She has replaced the artful seriousness of the iconic iceberg shots with a "what if" creativity that delivers much the same message about the effects of human intervention in the Arctic ecosystem.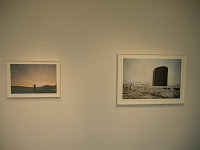 Collector's POV:
The prints on display in this show range in price from $4800 to $30000, with many intermediate prices, most under $15000. Johnson's work has not yet entered the secondary markets, so gallery retail is likely the only option for interested collectors at this point.
.
My favorite image in the show was
Black Box,
2010; it's on the right in the bottom installation shot. I liked the way she has transformed an image of small figures trudging across the bleak, featureless tundra into something unexpected by introducing a massive black monolith like the one from 
2001: A Space Odyssey,
but even bigger in relative scale. It's a science fiction caricature, delivered with just the right mix of apparent truth and clear fakery.
Rating:
* (one star) GOOD (rating system described
here
)
.
Transit Hub:
Through April 9th
535 West 22nd Street
New York, NY 10011