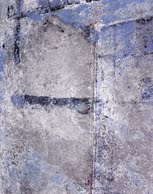 JTF (just the facts): A total of 29 color works, framed in black with no mats, and hung in the single room gallery on the first floor of the museum. All of the works are chromogenic prints, sized 20×16, and made in 2010. This is the photographer's first solo museum show. The Whitney does not allow photography in the galleries, so unfortunately, there are no installation shots of this show. The single images at right are taken from the Whitney website. (Sara VanDerBeek, Foundation, Reynes Street, 2010, at right.)
Comments/Context: Sara VanDerBeek's small solo show at the Whitney is modulated and meditative, an atmospheric exercise in muted color. In a departure from her photographs of carefully constructed conceptual sculptures of appropriated/collaged images, these works rhythmically alternate between images of pitted concrete foundations unearthed in the Lower Ninth Ward of New Orleans, angular, geometric sculptures made in her studio, and details found in her childhood home of Baltimore. The entire project is wrapped in the mantle of Walt Whitman, borrowing its group titles from Leaves of Grass.
.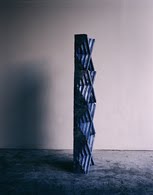 While this exhibit has all the trappings of a deeply personal investigation of time and memory, it somehow falls flat in terms of showing us something new. I found the images of gritty, textured poured concrete to be the most aesthetically interesting, with their all-over abstractions in scratched grey and blue, but it would be hard not to see obvious connections to the explorations of surface by Aaron
Siskind
and Minor White here.
VanDerBeek's
pared down studio sculptures of roughly
hewn
nested rectangles, chevrons, and boxes have been photographed with moody shadows (a little reminiscent of
Brancusi's
photographs), in the same washed out palette as the images of concrete; the effect is subdued and quiet, the works isolated and drained rather than elevated. These two groups of images are then intermingled with a handful of more personal icons (in the same natural light tonalities), and then sequenced into juxtaposed groups that repeat around the room. (Sara
VanDerBeek
,
Blue Caryatid at Dusk
, 2010, at right.)
In general, while these works have a lovely pale serenity, I think the overall experience misses the mark a bit. My enjoyment of the soft, diffused feeling of the photographs was disrupted by an underlying sense of the artist trying too hard, of a self-conscious, conceptual artiness that seemed too contrived. But this same knock could be leveled at any number of inward looking, mystical or symbolic photographers across the decades (Szarkowski's "mirrors"), especially those who have regularly employed abstraction. These new works do successfully create a mood, I'm just not sure it is one that we haven't felt before.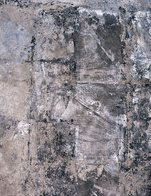 Collector's POV:
None of the images in this museum show are for sale. Van
DerBeek
is represented by Metro Pictures in New York (
here
, with some installation shots) and Altman
Siegel
Gallery in San Francisco (
here
). Her work has not yet reached the secondary markets, so gallery retail is likely the only option for interested collectors at this point. (Sara
VanDerBeek
,
Foundation, Dorgenois Street
, 2010, at right.)
Rating: * (one star) GOOD (rating system described here)
Transit Hub:
Sara VanDerBeek: To Think of Time
Through December 5th
Whitney Museum of American Art
945 Madison Avenue
New York, NY 10021