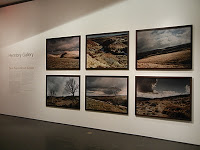 JTF (just the facts):
A total of 10 large scale color photographs, framed in brown wood and not matted, and hung along a single interior wall. All of the works are chromogenic prints, made in 2008. Each print is 43×56. (Installation shots at right.)
Comments/Context:
Ask me to name a famous picture of the Yorkshire Moors and my first reaction would be Bill Brandt's black and white image of Top Withens from 1945 (
here
). British contemporary photographer Sam Taylor-Wood recently made her own series of images of this iconic landscape, recreating once again the gothic drama of
Emily Brontë's Wuthering Heights.
The land itself is rugged and windswept, with tawny grasses covering the hillsides and rocky humps. Scraggly trees stand in isolation against stormy grey skies, and lonely footpaths wind their way across the empty expanse. Taylor-Wood's landscapes heighten the melodrama of this bleak land, bringing a cinematic romance to otherwise desolate views. Her palette is drained, full of dark shadows, interrupted from time to time by a fleeting moment of sunshine which warms the golden stubble. I found these photographs to have a strong sense of theatrical stagecraft, of the artist intentionally enhancing the emotive power of the environment to create something expressive. Just like in the famous book, the land has a distinct personality of its own that influences the course of the narrative, and Taylor-Wood has made photographs that capture and intensify those particular gothic Victorian character traits, without exaggerating them into caricatures.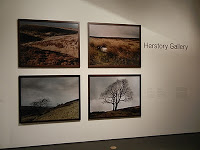 What I found most surprising here is that Taylor-Wood has made landscape photographs infused with film still romance and grand gestures, an approach that seems to react profoundly against a more prevalent contemporary trend toward deadpan sharpness and smaller found detail. In a way, these pictures feel classicly, overflowingly retro, which makes them quite a bit more memorable than you might otherwise expect.
. 
Collector's POV: Since this is a museum show, the prints on view are obviously not for sale. Taylor-Wood's photographs have been intermittently available in the secondary markets in recent years, with prices ranging between roughly $5000 and $140000. The artist is represented by White Cube in London (here).
Rating:
* (one star) GOOD (rating system described
here
)
Transit Hub:
Through August 14th
200 Eastern Parkway
Brooklyn, NY 11238