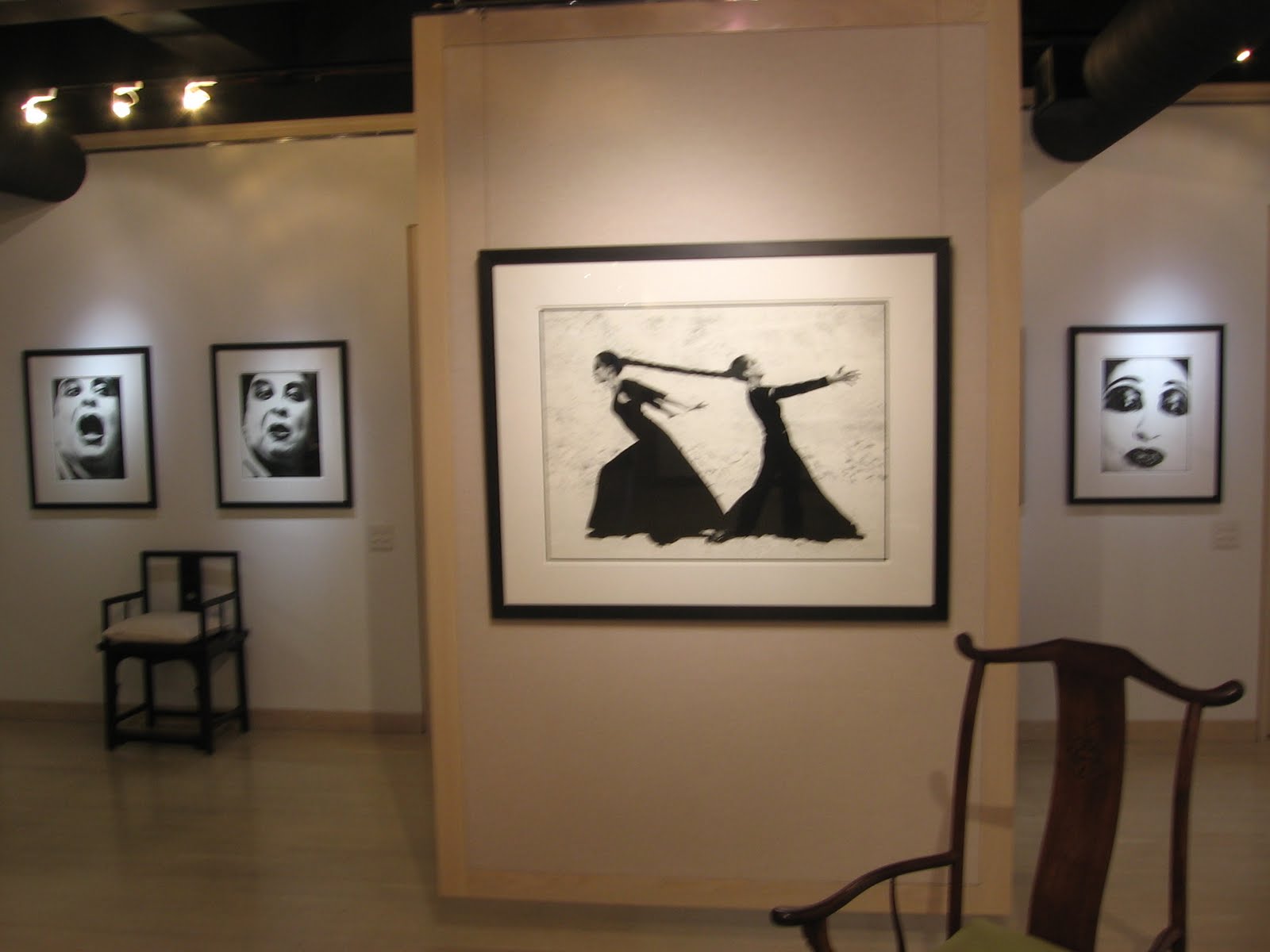 JTF (just the facts): A total of 34 black and white images, framed in black with black borders and white mats, and hung throughout the main gallery space and elevator lobby. All of the prints are selenium toned gelatin silver prints. Most of the negatives were made between 2007 and 2009, although a few reach back to as early as 1990. The images come in three sizes: 20×16, 32×28, and 38×34, and are printed in editions of 25, 10, and 10 respectively. A monograph of this work has recently been published by Rizzoli (here) and is available from the gallery for $75. (Installation shots at right.)
Comments/Context: The fiery, over-the-top passions of Spanish flamenco dancing are legendary: the stamping feet, the clapping, and the flowy dresses swirled and flared with flashes of emotion. Colombian fashion photographer Ruven Afanador has immersed himself in the depths of this stylized world and successfully captured the essence of its intertwined ecstasy and tragedy.
At first glance, it is impossible to miss the extreme contrasts of these images: dancers with long black hair, outfitted in dark black couture dresses, with black eye liner and lipstick, arrayed against blinding white backgrounds of stone and sand; this is a polarized, unreal world we are entering. Some of the most striking images in the show are the up-close images of faces: fleshy older women shout and laugh with fierce exaggerated expressions of agony, anger and joy, their flamboyant features made even more extravagant by their glossy black makeup. Others focus more on the gestures of the dance, with multiple dancers (of all shapes and sizes) moving together, or single dancers caught in an artful pose; in one image, two women strain against one another with their braided hair tied together. The rest of the works on view dig deeper into related themes: more elaborate dresses, unbelievably long hair, wrinkled and flabby nudes, gritty smoking, and plenty of crazed and contorted looks.
Overall, Afanador has done a memorable job of documenting the magical out sized personalities and bodies of flamenco, extending a "fashion" aesthetic beyond obvious shock value and finding outrageous moments of elegance and artistry.

Collector's POV: The prints in the show are priced based on size. The smaller 20×16 prints are $3500 each. The larger 32×28 and 38×34 prints are both priced at $6000 each. Afanador's work has not yet reached the secondary markets, so gallery retail is really the only option for interested collectors at this point. While these works don't fit into any of our collecting genres, I particularly enjoyed Ursula Lopez Lopez, 2009, a dancer with a staggeringly long black dress, and Estudio de Baile Alicia Marquez, Outside Sevilla, Spain, 2007, an intertwined cluster of expressive black hands and forearms.
Rating: * (one star) GOOD (rating system described here)
Transit Hub:
Ruven Afanador, Mil Besos
Through December 12th
Throckmorton Fine Art
145 East 57th Street
New York, NY 10022