JTF (just the facts): A total of 12 large scale color works and 2 sets of bookshelves, framed in white and not matted, and hung in the entry, the main gallery space, and the office area. All of the works are c-prints, ranging in size from roughly 37×25 to 77×52. The photographs were made between 2005 and 2011, and have been printed in editions of 5. The bookshelves are alternately made of stainless steel (1 unit) and pine wood (9 units), from 2011. A monograph of this body of work was recently published by Mack Books (here). (Installation shots at right.)
Comments/Context: It has taken me quite a while to get my head around just what exactly Roe Ethridge is doing in his photography. The first couple of times I saw his work, all I could discover was a sense of impersonal randomness, often executed in a glossy commercial style, mixing appropriated and original work with equal facility. Without any apparent connection or narrative to link the works, I simply couldn't find my way in, and was left mystified by the ordinariness of it all.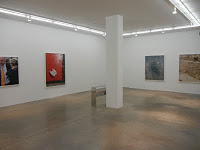 This show of new work was my first experience in seeing a larger group of images actually sequenced by Ethridge, rather than simply catching a glimpse of a picture or two taken out of context. What I found was that I started to understand how this approach operates, especially in the open-endedness of what the pictures taken together might (or might not) imply. It sounds corny I'm sure, but it's almost as if the space between the pictures is what Ethridge is after, rather than the specific images themselves.
What's actually on the walls is a puzzling group of seemingly unrelated subjects and styles: a group of images from a commission by Goldman Sachs to document the building of its new offices (still lifes of wet sand pits and mottled concrete floors, workers installing glass curtain walls), a plastic shopping bag against a glossy red brick wall, a shiny over-pixelated bow, an appropriated Point Break poster with the artist's face superimposed over Patrick Swayze, two aerial views of Tokyo with rainbow lights and glittering gold haze, a grid of women in bikinis, etc. In seeing these all together, I began to see a strong relationship to the work of Wolfgang Tillmans. The similarities between the two are structural I think, not stylistic; Ethridge has substituted an impersonal often commercial view for Tillmans' deadpan observations of small moments, but the effect is the same – it's how the pieces are put together and recontextualized that generates the insights. This idea of the pictures as a scaffolding for the narratives that fall between them is reinforced by the empty bookshelves installed in the gallery. Whether wood or steel, all they do is provide structure; the information is missing, to be supplied by the viewer.
As stand alone images, I continue to have trouble with many of Ethridge's slicker efforts, as I don't think they hold up particularly well on their own. But as an environment (or perhaps as a book I imagine), I finally saw the core of his originality. The ideas are a bit obtuse and reach beyond what we normally think of as the normal boundaries of "self-contained" photography, but as digital images exponentially proliferate, perhaps Ethridge's approach to mash-up and shuffled rework of any and all may signal a new way of thinking about conceptual relationships within photography.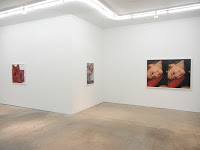 Collector's POV: The prints in this show are priced between $12000 and $28000 (with intermediate prices at $14000, $18000, and $24000), roughly based on size. Ethridge's work is not consistently available in the secondary markets; prices for the few lots that have sold at auction in recent years have ranged between $12000 and $20000. As such, gallery retail is likely the best option for interested collectors at this point.
Rating: * (one star) GOOD (rating system described here)
Transit Hub:
Roe Ethridge, Le Luxe
Through July 2nd
Andrew Kreps Gallery
525 West 22nd Street
New York, NY 10011