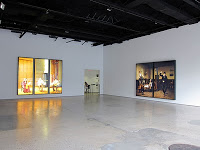 JTF (just the facts): A total of 5 large scale color works hung in the single room gallery space. Each of the works is one or more chromogenic transparencies displayed in painted aluminum lightboxes. (Installation shots at right, via 303 website.)
The image details are as follows:
Lighthouse Keeper with Lighthouse Model, 1955, diptych, each 113×72, in an edition of 4, from 2010
Good Hand Bad Hand, diptych, each 35×29, in an edition of 6, from 2010
Three Musicians (Members of the Early Music group "Renaissance Fare" Performing Matteo of Perugia's Le Greygnour Bien at the Unitarian Church of Vancouver, Late September, 1977), triptych, each 142×62, in an edition of 4, from 2006
Dance!!!!!, diptych, 107×138 overall, in an edition of 4, from 2008
Dead Flowers in My Studio, single image, 52×41, in an edition of 5, from 2009
Comments/Context: Rodney Graham's recent lightbox works are infused with a clever playfulness that is built up in layers of self-referencing, sometimes circular logic. As an actor is his own carefully staged scenes, Graham is often the central character in an elaborate and cinematic reenactment, his witty performances referencing art history and music with a subtle sense of wry comedy and underlying ridiculousness.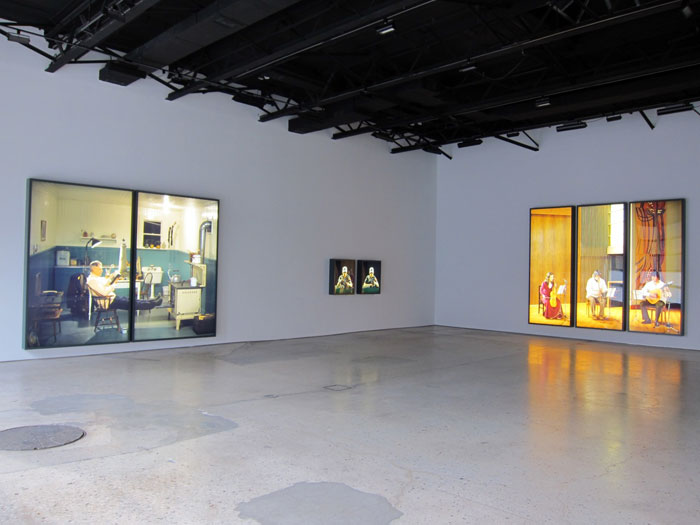 In Three Musicians, Graham portrays an earnest 1970's era musician, playing a period recorder in a Renaissance ensemble, complete with long hair and historically accurate costumes. The over-serious pretentiousness of this group is palpable (and quite amusing as a result), and the layers of time (a recreation of a recreation of the original) sharpen the satire. In other works, Graham is a solitary lighthouse keeper, warming his feet in the stove while reading about lighthouses (his scale model lighthouse project displayed in the background), a poker player in a Hawaiian shirt and sunglasses giving away his "tell", and a sweaty suited man in a top hat forced to dance by jig while being shot at by drunk cowboys in a Wild West saloon. Each vignette is a self-contained almost allegorical narrative, rich in implied humor and irony.
Given the complex stage sets and the presentation in large lightboxes, it would be hard not to draw a connection to the work of fellow Canadian Jeff Wall. I think it is also possible to see conceptual parallels to some of Cindy Sherman's work. By using photography, Graham has given his scenes a sense of hyper-reality or "truth", even though it is clear that they are operating on many levels. But what I saw most in this handful of pictures was an echo of the compositional and story-telling conventions of the masters of painting, of packing dense layers of ideas and allusions into a single controlled frame. When he gets it right, Graham's whimsy can't help but make you smile.
Collector's POV: The works in this show are priced between $100000 and $400000. Graham's photographs have come up for auction from time to time in recent years, with prices ranging from roughly $5000 to $170000. A parallel exhibition of Graham's work is on display this summer in London at Lisson Gallery (here).
Rating: * (one star) GOOD (rating system described here)
Transit Hub:
Interview: Art in America, 2010 (here)
Reviews: NY Times, 2005 (here)
Through July 2nd
547 West 21st Street
New York, NY 10011