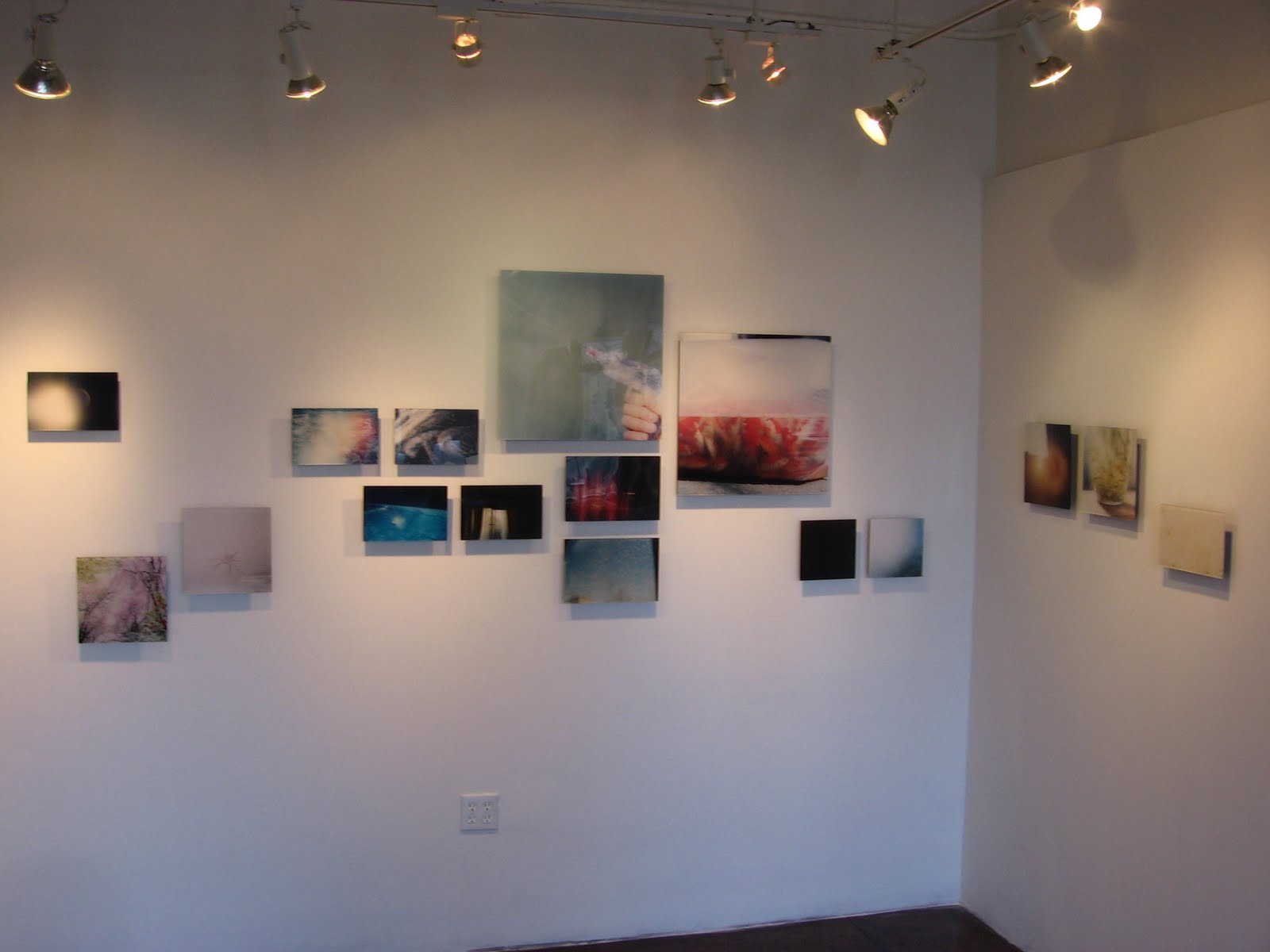 JTF (just the facts): A total of 34 color images and 1 video, displayed in a small, one-room gallery space. 29 of the images (all c-prints, mounted on Plexiglas) have been hung in an uneven installation across several walls, clustered together in varying sizes without frames. The other 5 images are much larger and have been traditionally framed in white with no mat. All of the works are printed in editions of 3, except 2 of the large prints, which are in editions of 6. The images come in three sizes, irrespective of their size in the installation: small (10×10 or 8×12), medium (20×20 or 20×23), and large (40×40 or 30×45). The show is a mix of old and new work, going back to 2006. The color video runs 20 minutes, and is as yet untitled. (Installation shots at right.)
Comments/Context:
Rinko
Kawauchi's
photographs are deceptively simple. At first glance, they are easily mistaken for fleeting snapshots of unassuming moments and everyday objects: a flower in the rain, a tree trunk, a bag of gold fish, a squirt gun, the tail lights of a car, a waterfall, a baby nursing, an empty swing, or a glittering diamond. Seen together in this installation, these modest images take on a different character; they are like a breath of fresh air, a life affirming and wholly original look at the natural cycles around us.
In an age where photography has often become weighed down in conceptual frameworks, depressing realities and ironic commentaries, Kawauchi's work is remarkably guileless; it is light and optimistic, even in moments of melancholy or meditation, with a child-like openness to exploring the world. Many of the images share an enveloping bright glare (not harsh but somehow soft), natural light pouring out of the pictures, obscuring their details. Others have an uncorrupted clarity, an overlooked fragment of life suddenly coming into view. The video takes this same aesthetic and applies it to movement (via snippets of film): ants in a hole, a bubbling hot pot, kids playing soccer, a helicopter taking off, crowds on the street, wind across dunes, a hair band of colored marbles, fans at a stadium, koi being fed in a pond, a child playing with a flashing toy. Perfectly commonplace moments are somehow connected via a surplus of attention; it's as if Kawauchi is noticing the wonders of these things for the very first time.
Not every image in this show is truly able to hold its own as a stand alone object (or deserves to be blown up to 40×40), but when these works are placed together in groups or clusters, they function well in creating an overall mood. Kawauchi has a singular point of view, extraordinary in its simplicity and lightness, a surprisingly refreshing foil to the dominant trends in the medium.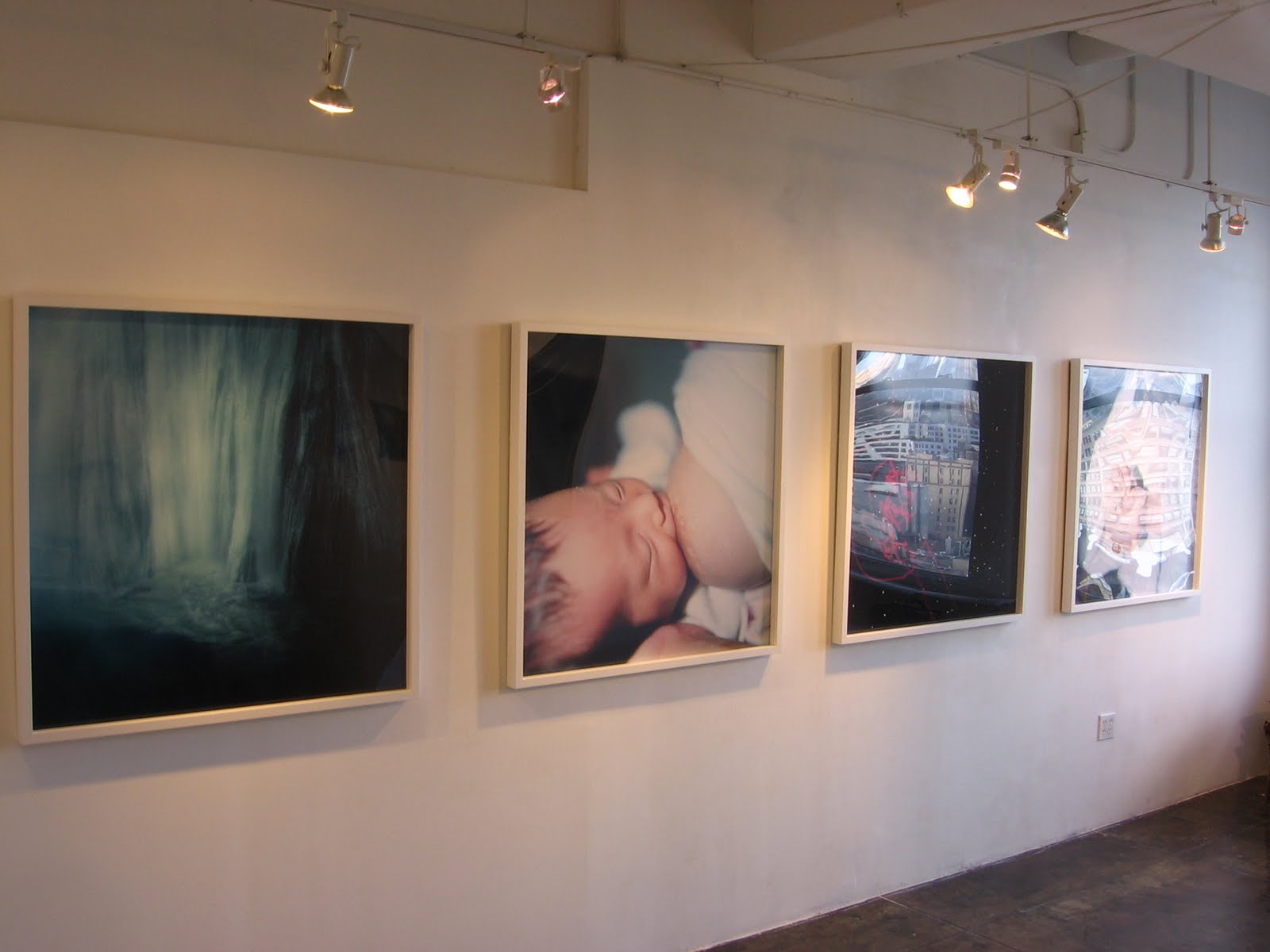 Collector's POV:
Prices in this show are based on size: the smallest prints are $3500, the medium ones are $6500, and the large prints are $10000.
Kawauchi
was previously represented by Cohan and Leslie in New York, which is now closed; I don't believe this show signals a new permanent relationship. Until her representation is re-established in New York, her work can also be found at FOIL Gallery in Tokyo (
here
).
Kawauchi's
work has only recently entered the secondary markets; with just a handful lots sold (in various sizes), it is hard to draw much pricing history from these few data points.
.
Rating:
* (one star) GOOD (rating system described
here
)
Transit Hub:
Through November 28th