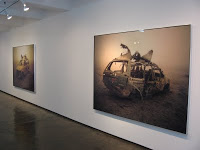 JTF (just the facts): A total of 12 photographs and 1 video, hung in the entry area, large back gallery, and two smaller side rooms. The 10 color images are all digital c-prints face mounted to plexi, framed in thin silver with no mat. The prints come in two general sizes; a large print approximately 72×90 or reverse (with some variation in dimensions from image to image) and a smaller print approximately 40×50 or reverse (again with some small variations); these prints come in editions of 2+1 and 5+1 respectively. The two black and white images are digital silver prints with selenium toning, framed in thicker white frames with no mats. Again, these prints come in large and small sizes, although the specific dimensions are different (one is 50×62 or 29×36, the other 50×85 or 40×50); these are also made in editions of 2+1 and 5+1 based on size. All of the images were taken in 2009. The video is approximately 4 minutes long and is shown in its own darkened room. It has been produced in an edition of 5+1. (Installation shots at right.)
.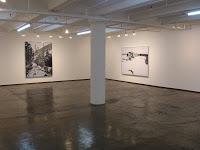 Comments/Context: Richard Mosse's new body of work is aptly called The Fall, as it centers on the quiet aftermath of conflict and the abandoned remnants of battle, specifically in Iraq. In these pictures, memories and symbols mix in unusual ways to commemorate the war-torn past.
.
The best of the images in this show depict anonymous bullet ridden and pock marked cars, stripped of their tires and anything else of value, the sheet metal shredded and twisted in sharp angles. Sitting alone in the thick smoky dust, they are slowly being eaten away by the sand, shadowy sculptural monuments to roadside bombs, gun battles, or innocents caught in the crossfire. The video on view in a side gallery continues this theme: large scraps of unidentifiable metal are circled by the camera, with the endless names of the cities and towns of Iraq recited in alphabetical order in a deadpan voice over; strewn in the desert, they become deformed shrines and markers for events now forgotten.
.
A second group of pictures depicts grounded fighter planes and passenger jets, shot down, partially destroyed, or just left to rot, their tails and empty cockpits jutting up like obelisks, rusting amid weeds, forests, and blankets of snow.
.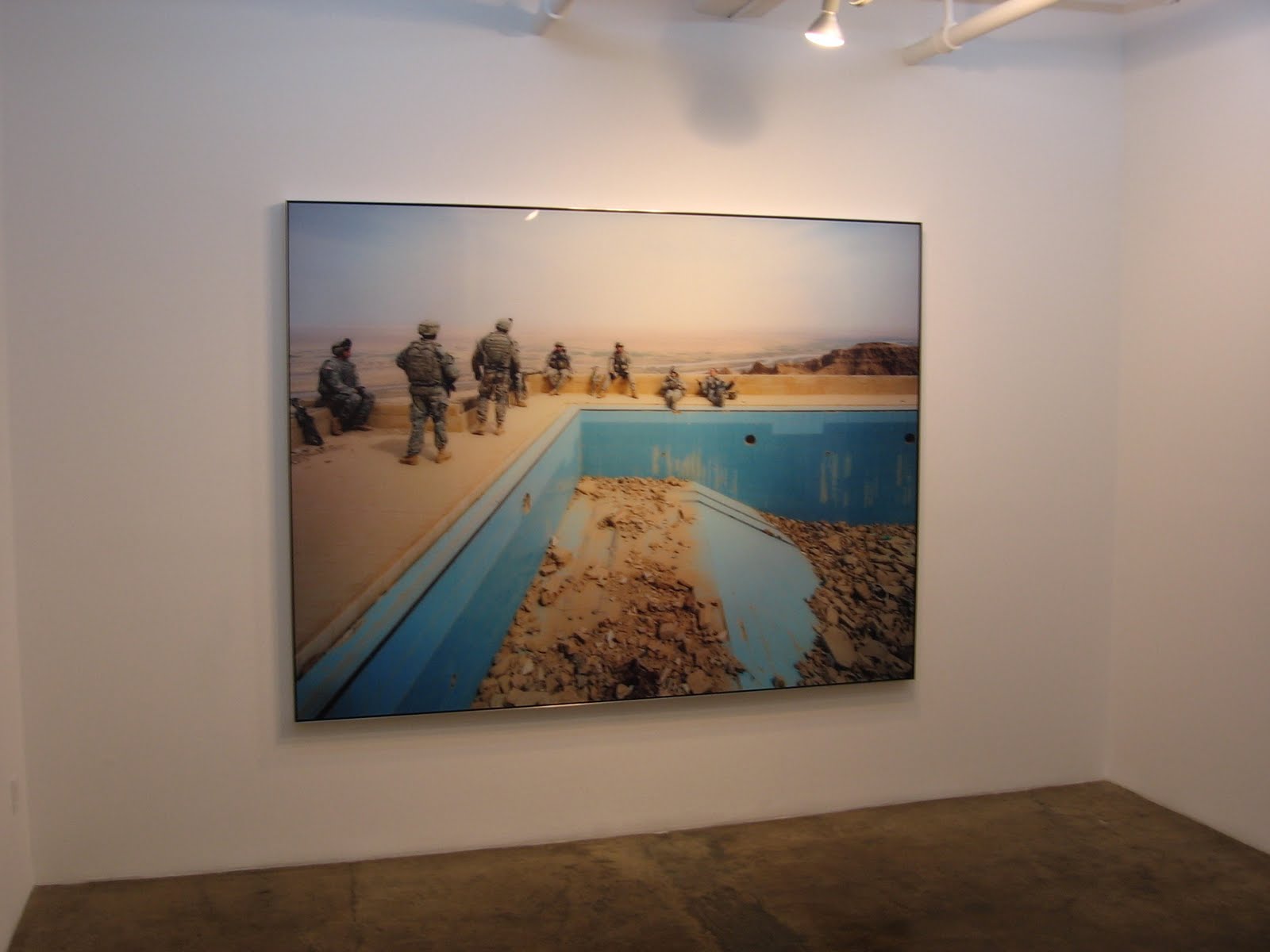 And while much has been made of the grandeur of Saddam Hussein's many palaces in Iraq, Mosse's images of Uday's palace show the ironic reality of these over-the-top royal mansions: the turquoise-tiled swimming pool is dry and full of rubble, the ornate columns are smashed and falling down, and soldiers in full battle dress are lounging on the terrace with their machine guns, the vast empty desertscape in the background.
Mosse's images are a reminder that the most poignant relics of war may not be the heroic statues or elegant tombstones; they may be the discarded fragments of the destruction, neglected and left behind, but evidence just the same.
.
Collector's POV: The prints in this show are priced based on size. Regardless of the printing process or the exact dimensions of the works, the "large" images are $18000 each and the "small" ones are $9500 each; the video is $6000. Mosse's work is not readily available in the secondary markets, so interested collectors will need to follow up at retail.
.
Rating: * (one star) GOOD (rating system described here)
Transit Hub:
Richard Mosse, The Fall
Through December 23rd
Jack Shainman Gallery
513 West 20th Street
New York, NY 10011