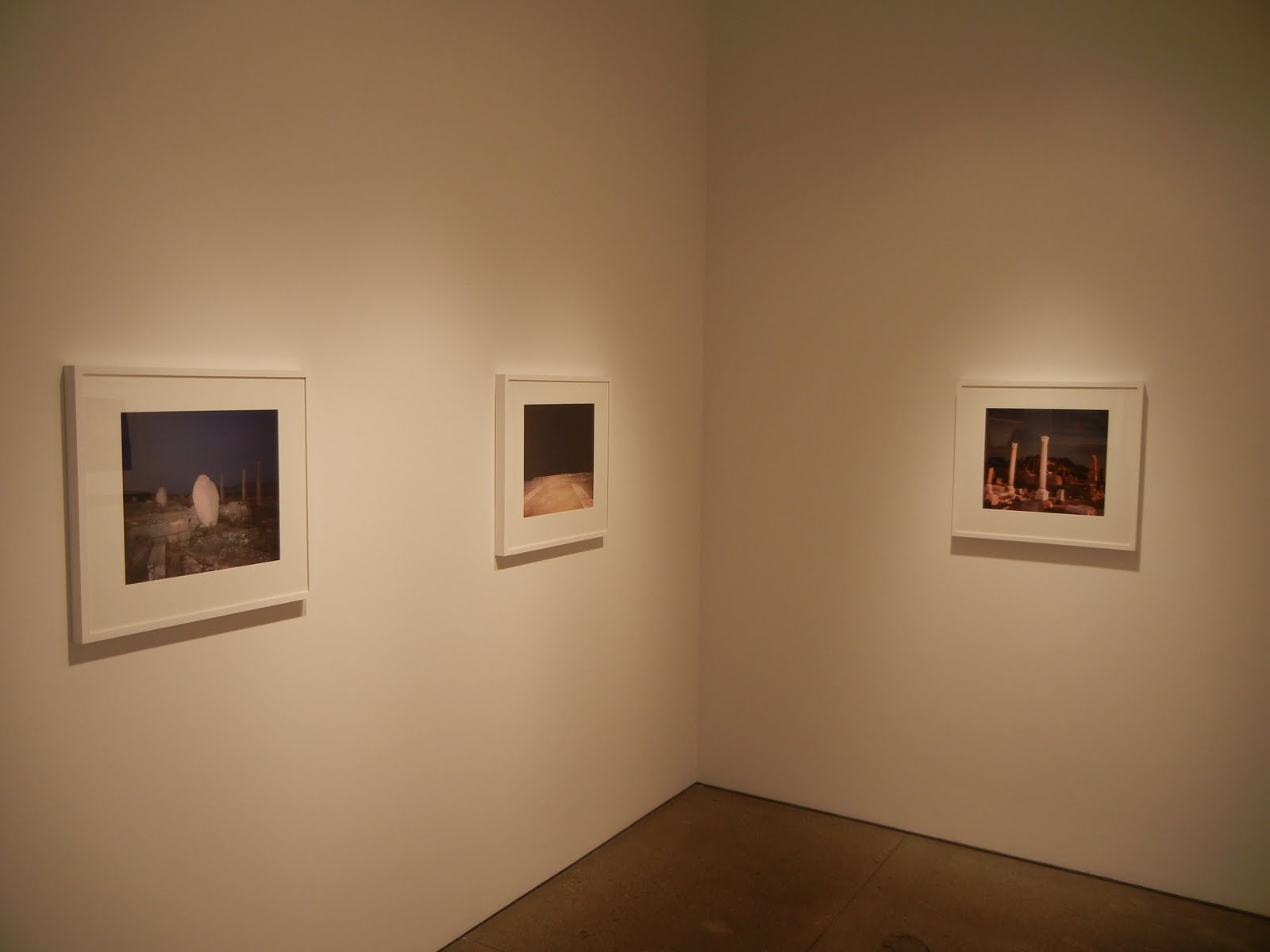 JTF (just the facts): A total of 6 color photographs, framed in white and matted, and hung in the small Project Gallery in the back. All of the prints are vintage dye transfer prints, each roughly 16×20, drawn from a portfolio of 12 images that was published by Grapestake Gallery in an edition of 25. The images were taken between 1978 and 1981. This exhibit supports a larger show of Mars scenes by Kahn & Selesnick on view in the main gallery. (Installation shots at right.)
Comments/Context: Richard Misrach's Graecism portfolio chronologically falls between his flash lit nighttime Hawaiian jungles and his Desert Cantos. Stylistically, the works follow in the footsteps of the jungle pictures, using a similar strobe lighting/long exposure technique to add bright light to the foreground of otherwise dark outdoor scenes, but in this case, his subjects are the ruins of Greece and Rome: temples, columns, and weathered fallen stone.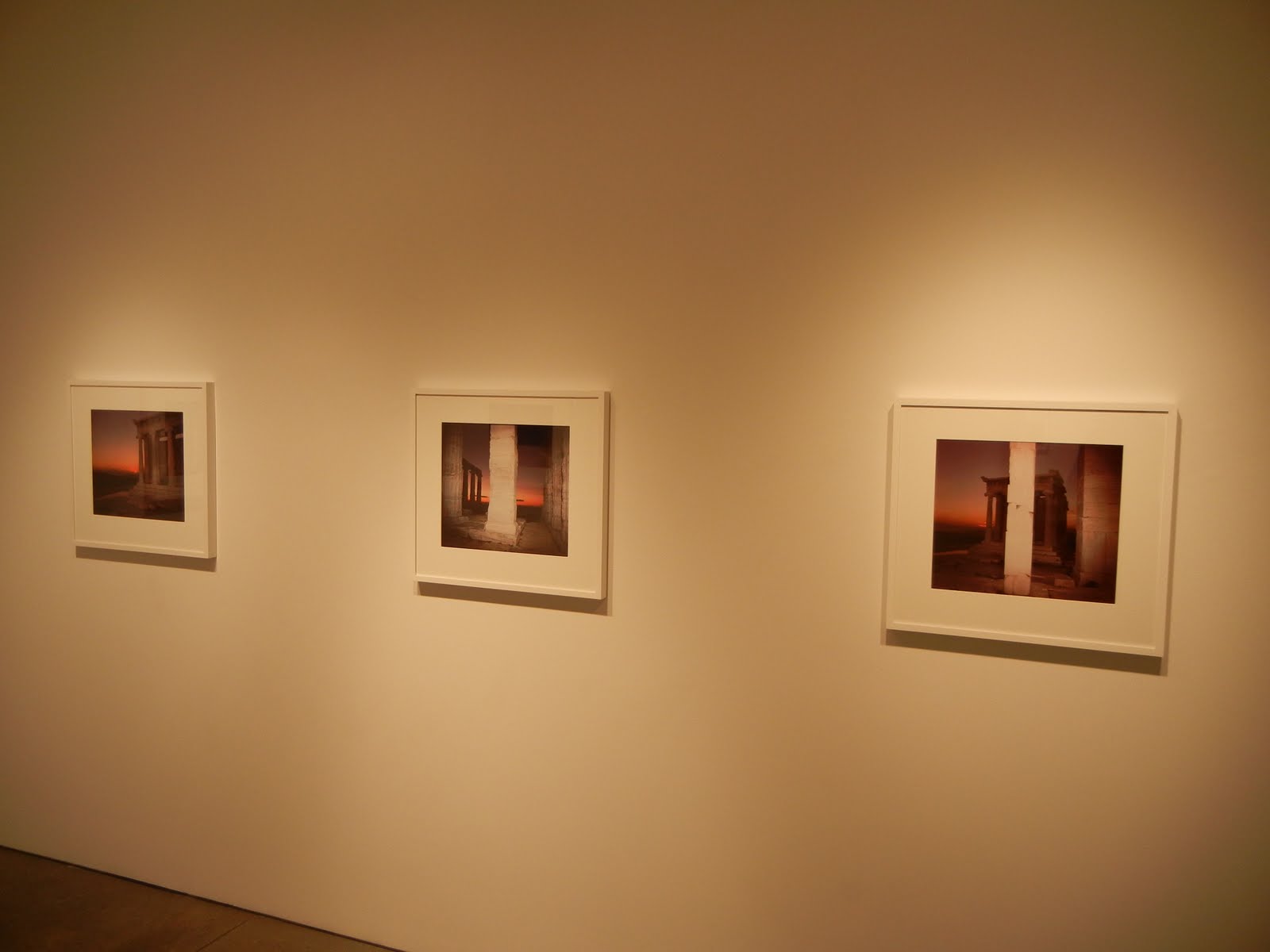 The ideas I found exciting in the Hawaiian landscapes (their departure from traditional rules of landscape) can also be seen in some of these architectural pictures. Instead of taking the obvious postcard views in the serenity of the sunset/twilight, Misrach has broken up the picture plane with columns that have been bleached white by the flash, making them jump out of the surrounding and encroaching shadows. Another image documents the nothingness of a bare dirt patio looking out into blackness. For the most part, he resists the temptation to do what has been done before by tourists across the ages, and instead explores the unexpected and often jarring contrasts of color and light introduced by the strobe.
Prior to seeing this show, I hadn't ever encountered images from this project, so this small exhibit provided a nice gap filler for my understanding of Misrach's history.
Collector's POV:
The six images in this show are being sold separately (rather than as a portfolio), each at $5000.
Misrach
is officially represented in New York by Pace/
MacGill
Gallery (
here
) and in San Francisco by
Fraenkel
Gallery (
here
).
Misrach's
works are generally available in the secondary markets, especially his desert images; these have typically ranged from $2000 to $12000, with a few outliers even higher. His newer works of more significant size have also begun to enter the auction markets; these have generally ranged between $40000 and $80000.
My favorite image in the show was Athena, Nike (column), 1979; it's the image on the far right in the bottom installation shot. I like the way the brightly lit column cuts directly through the center of the frame, breaking up the view of the temple in the background.
.
Rating:
* (one star) GOOD (rating system described
here
)
Recent 2010 show @PaceWildenstein (DLK COLLECTION review here)
Richard Misrach: Graecism Portfolio
Through February 19th
535 West 22nd Street
New York, NY 10011