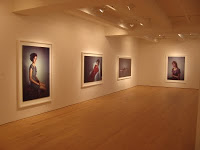 JTF (just the facts): A total of 12 large scale color images, framed in white and mounted with no mat, and hung in a single large gallery space. The works are unique dye destruction prints, ranging in size from 58×48 to 73×48 or reverse. The images were taken between 2007 and 2009. This is Learoyd's first solo show in the US and the first show of photography at McKee. (Installation shots at right.)
Comments/Context: Richard Learoyd's larger than life portraits and still lifes have a distinctly 19th century quality to them, albeit with a modern twist. Using a room-sized camera obscura, the muted color images have a very shallow depth of field: some areas have extremely sharp detail, while others fade into shadowy blurs. Similarly, the light is concentrated on the figure's faces, creating a tunnel vision-like cone of darkness around the central subject, reminiscent of early photography. But these are not hand held dauguerreotype or tintypes to be savored alone; they are massive color images of modern women that cover entire walls.
The best of the pictures are the subtle posed portraits: women gazing into space, sleeping in a chair, or looking directly at us with unsmiling faces; the simplicity of a flowered shirt or a melancholy expression punctuated by dark eyebrows stands out against the utilitarian grey backdrops. Personalities quietly come forth. The still lifes are altogether less enticing: images of mirrors, a deflated shark and a fish heart in a net of black string seem to be trying harder than necessary to grab our attention, and the magic ageless quality of the portraits is somehow lost when applied to the inanimate objects.
Overall, there is something different going on in these understated and unusual portraits, and I would have preferred to have seen a deeper sample of them to wrestle with it further.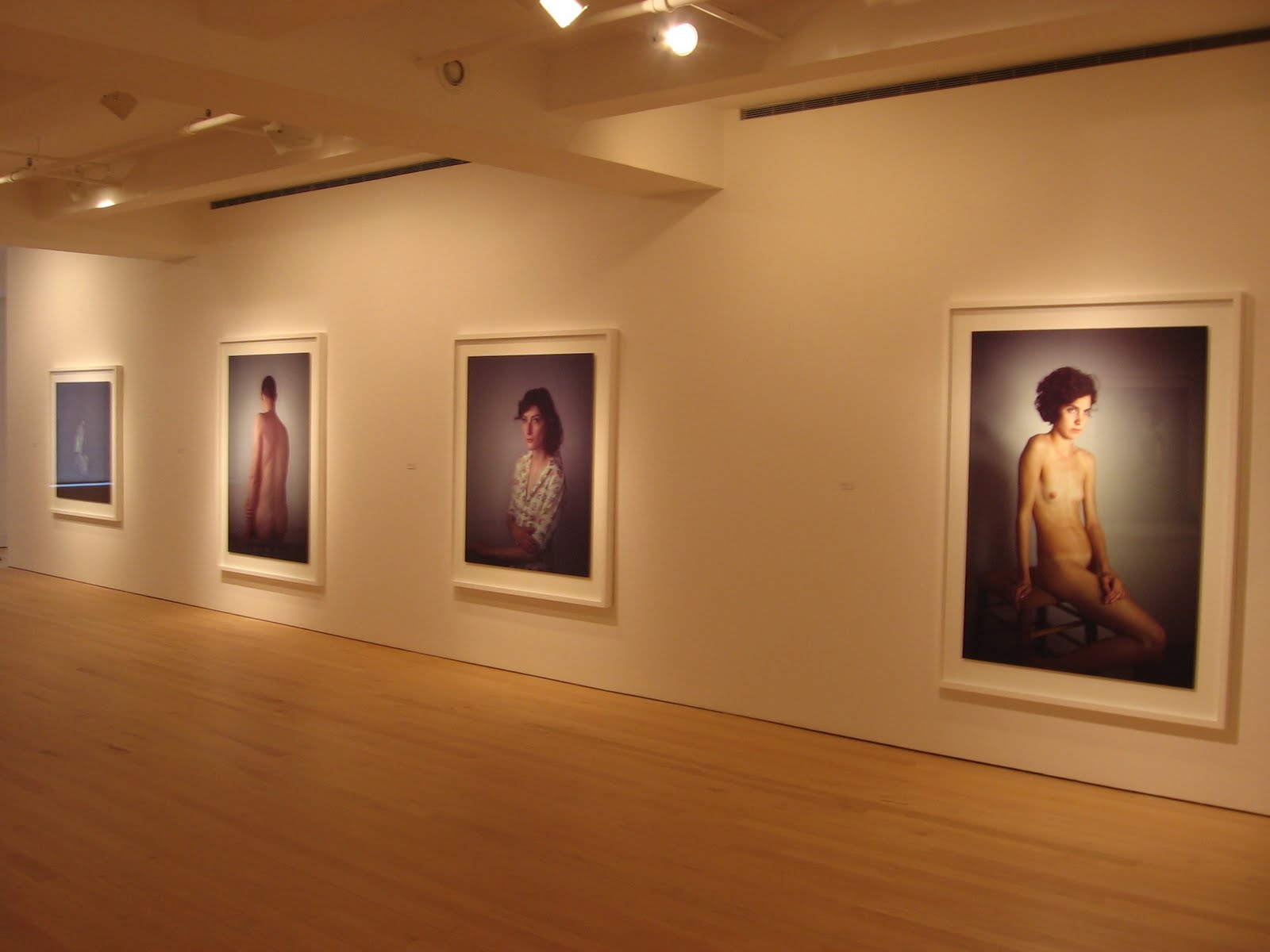 Collector's POV: The works in this show are priced between $35000 and $42000. Learoyd's images have virtually no secondary market history, so gallery retail is the only option for interested collectors at this point. While portraits aren't a fit for our collection, I liked the sleeping woman, Agnes in Red Dress on White Chair, 2009, the best. As an aside, there is also a single Learoyd portrait in the current ICP show (review later this week).
Rating: * (one star) GOOD (rating system described here).
Transit Hub:
Richard Learoyd, Unique Photographs
Through October 31st
McKee Gallery
745 Fifth Avenue
New York, NY 10151