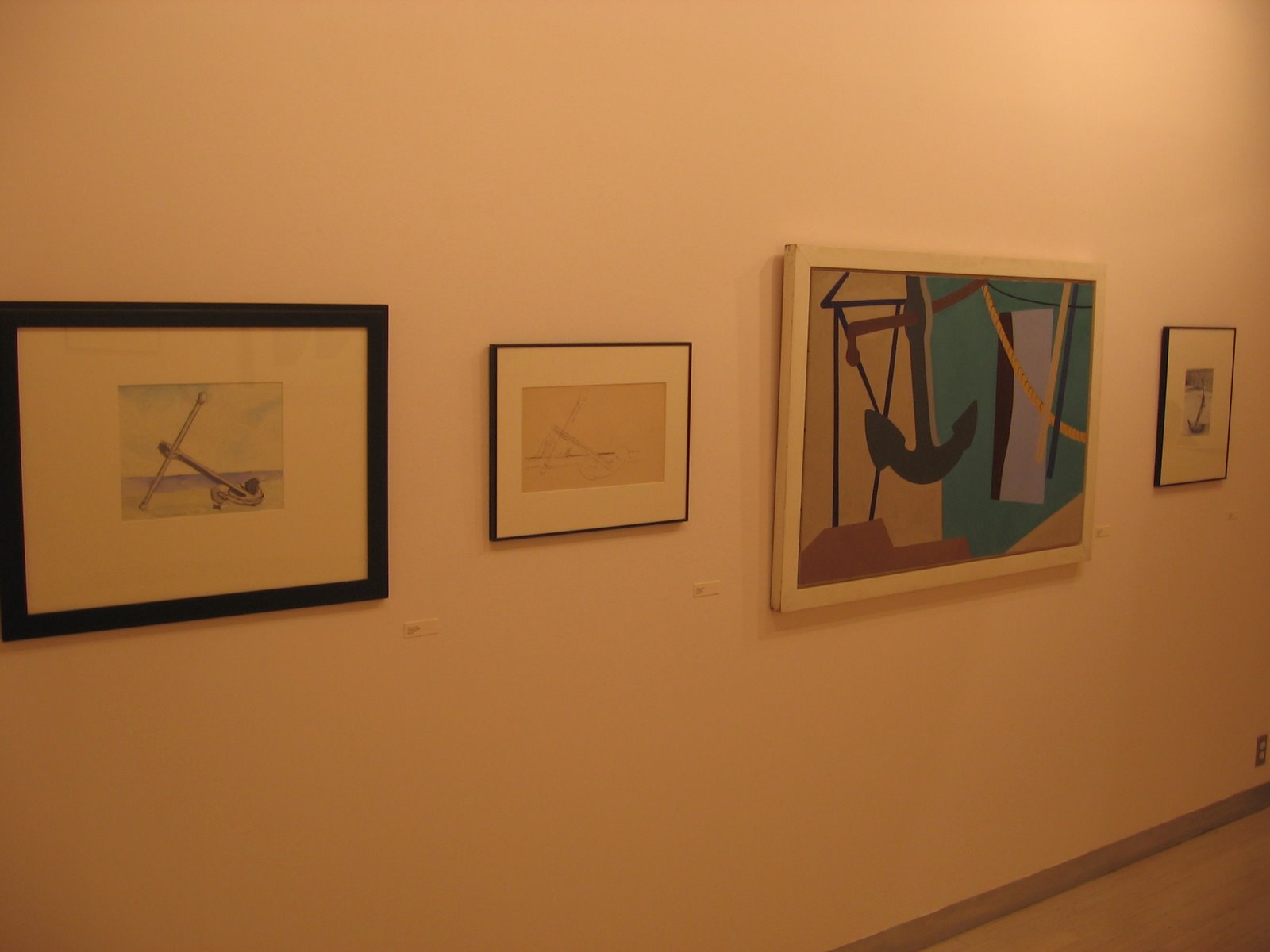 JTF (just the facts): A total of 25 works of art: 4 paintings, 4 drawings/watercolors, and 17 photographs, shown through the main gallery and back room. Crawford died in 1978 and most of the work in this show is from his later life (i.e the 1960s and 1970s) although there are a handful of earlier pieces mixed in as well. (Installation image at right.)
Comments/Context: Ralston Crawford is best known as a 1930s/1940s painter of pared down and often abstracted views of American vernacular architecture: industrial buildings, docks, factories and the like. He is often lumped in with Charles Sheeler and Charles Demuth as a Precisionist, or more loosely associated with artists like Stuart Davis or movements with titles like Geometric Abstraction or Synthetic Cubism. He made crisp, flat, simplified images of recognizable objects, where detail was eliminated and the relationships between form, line, color, and space were carefully selected and balanced. With the arrival of the wild, emotional excesses of Abstract Expressionism in the early 1950s, he was largely marginalized and forgotten.
.
What is less known about Crawford is that he was also a photographer. Starting in the late 1930s, he used a 35mm camera as a kind of sketch pad, where he would capture images he found out in the world, to later be reworked and synthesized down for his paintings. As the years passed, he began to see the some of the photographs not as intermediate steps but as works of art in and of themselves, and in his later life, his activity as a photographer was much more pronounced.
.
One of the neat things about this show is that Crawford's photographs, drawings and oils of the same subject have been hung together, so you can really see how his mind was working through the problems of picture making. The installation shot above (not easy to see I realize) shows 4 different iterations of the same anchor, and how he carefully chose his elements and then amplified and distorted them to get the effects he wanted.
I think Crawford is under appreciated in terms of his place in the history of photography. Prior to the late-1930s, abstraction in photography was still in its infant stages. Many artists both in America and Europe were experimenting with pared down industrial forms and Modernist simplification, but most of the objects are still clearly recognizable. Crawford's early photographs provide an interesting bridge to Callahan and particularly Siskind, who both came along in the late 1940s and 1950s and really started to break things down further. Crawford's later photographs continue along the same path, exploring forms and shapes, light and dark, while still adhering to his consistent and original point of view.
Collector's POV: In the past five years, there have been a total of two (2) Ralston Crawford photographs available in the auction market (one sold for just under $5000 and the other was bought in), so his work is scarce. (There is also one nice, albeit small Crawford available in the upcoming sale at Rago, preview here.) The photographs in this show are priced between $7500 and $15000, and are generally 8×10, 11×14 or slightly larger. The oil paintings are priced between $140000 and $200000, although a few are NFS (not for sale). As collectors of city and industrial imagery, we are absolutely on the look out for a Crawford photograph to add to our collection. Even if you're not in the market for a Crawford, the show is worth seeing, especially to consider the interplay of photography and painting in the history of American Art.
.
By the way, there was a nice retrospective catalog on Crawford put out by the Whitney in 1986, if you are looking for some background on Crawford for your library.
Rating: * (1 star) GOOD (rating system defined here)
Ralston Crawford
Through November 29th
Zabriskie Gallery
41 East 57th Street
New York, NY 10022