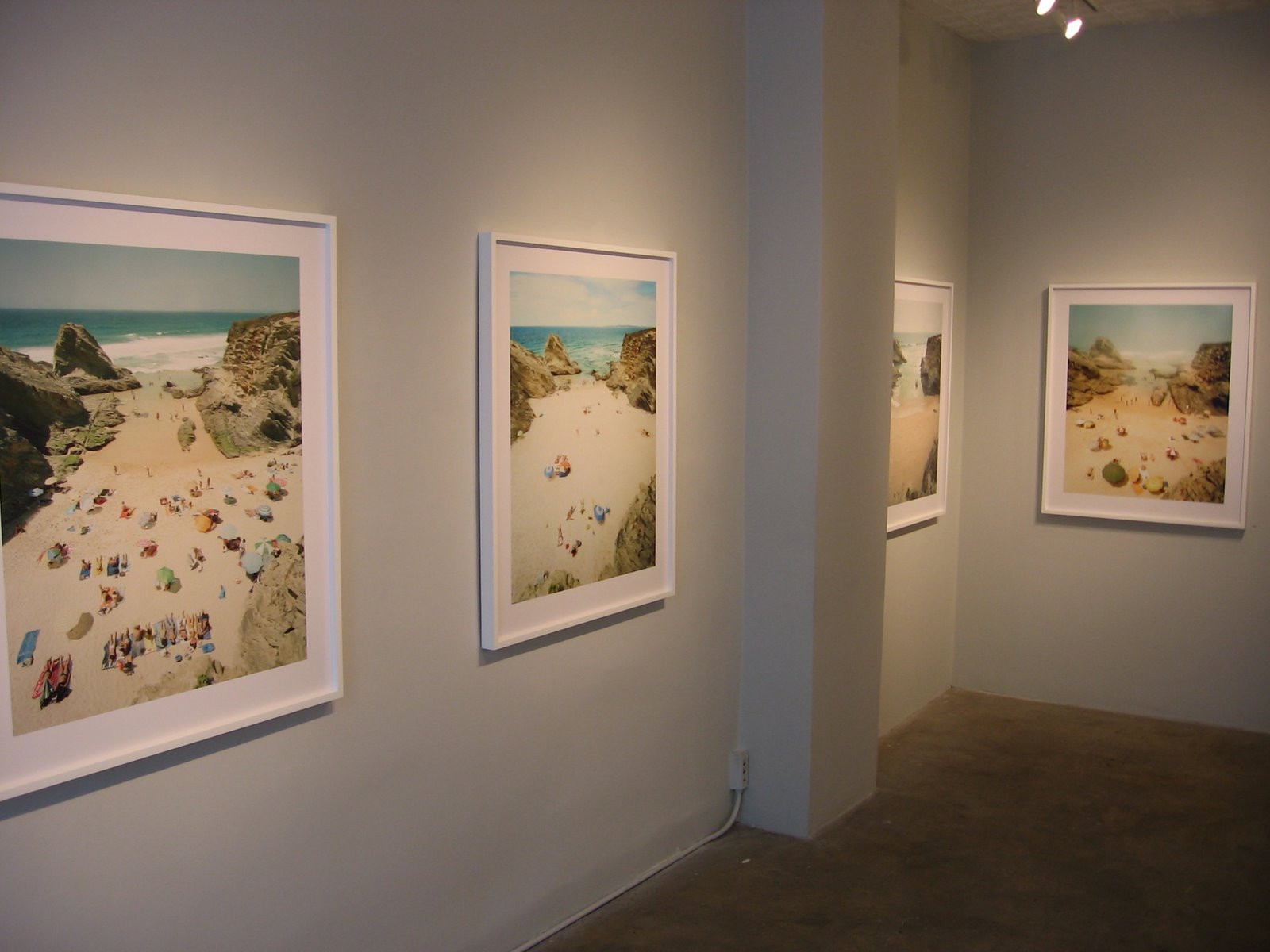 JTF (just the facts): A total of 9 Lambda prints, framed in white, with no mat and no glass, hung in the small single room gallery. All of the images in the exhibit are 44×37, and are printed in editions of 9. The negatives were taken between 2004 and 2008, and each image is titled with its exact date and time. (Installation shot at right.)
Comments/Context: A picture of a beach is perhaps the ultimate cliche in photography: the sun baked sand against the clear blue water, perhaps with an artfully captured windy palm tree or perfect sunset in the distance as an added bonus. And yet, there is a surprisingly long list of great photographers who have tackled the subject of the beach and come away with original results: Weegee, Erwitt, Metzker and Callahan to name a few black and white stand outs, Misrach and Vitali more recently in large scale color. In many cases, these images were less about the beach itself, but about the human spectacle that occurs when a large group of people in bathing suits and accompanying gear invade the pristine sand.
French photographer Christian Chaize has come at the subject of the beach with a slightly more formulaic and conceptual bent in his first solo show, now on at Jen Bekman. Over a period of five years, Chaize made color images of the same beach in Portugal, from the same medium distance, on high vantage point. The rugged rock walls of the secluded cove provide the constant frame for the action, and half a dozen variables change from picture to picture: the position and number of sunbathers and umbrellas, the color of the sky and water, the relative positions of ocean and sand (as determined by the ebb and flow of the tides), the angle of the sun (based on the time of day), and the weather.
Seen together, the body of work is inherently more about the passing of time and the evolution of geography than it is about the beach itself, with echoes of Christenberry's pictures of the same shacks and buildings in the South over decades. While not every image is strong enough to stand on its own, taken as a group, the work provides a fresh view of a subject most would have thought had little room for original ideas.
Collector's POV: The images in this show start at $3500 and range up to $5000, based on the place in the edition. Larger prints (88×68) are also available, in an edition of 6 (I didn't ask the price). Smaller prints are available at 20×200 (linked below), at $50, $500, and $2000 based on size. Given the undercurrent of taxonomy in this work, while the large prints are eye catching, this is another body of work that will perhaps perform best in book form, where more examples can be juxtaposed to get at the subtle changes over time.
Rating: * (one star) GOOD (rating system described here)
Transit Hub:
Praia Piquinia, Photographs by Christian Chaize
Through July 11th
Jen Bekman Gallery
6 Spring Street
New York, NY 10012