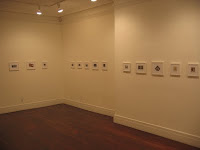 JTF (just the facts): A total of 54 works by three different artists, hung in the two main gallery rooms. (Installation shots at right.) Here are the details on each:
Diana Kingsley: 16 color and black and white Polaroids, framed in black and matted, and hung in the smaller second room. All of the images are approximately 3×4; the images were taken between 1999 and 2009.
Richard Pettibone: 15 color works, framed in white and matted, and hung in the larger first room. Some of the works are framed as diptychs and many have colored acrylic paint lines that cut across the prints. The images were taken between 1979 and 1980.
Mike and Doug Starn: 18 color and black and white works, framed in white and matted, and hung in the larger first room. Some of the works include multiple Polaroids taped together or assembled into single works. Most of the prints are 3×4, several of the assembled pieces are as large as 5×7; none of the prints are dated.
Comments/Context: Polaroids have long been used by artists of all kinds as a visual note taking facility: quick shots made to test lighting or compositions before diving into the final artwork, or pictures taken to be reminders of a fleeting idea or situation. Many were never meant to be shown as finished works, while others were designed from the beginning to be stand alone pieces. This show brings together the Polaroids of three artists not known as "Polaroid photographers" and shows how each has used the medium to further his/her own artistic processes.
Diana Kingsley's Polaroids are mostly preliminary studies, where the arrangement of her rumpled tabletop still lifes are tested and reconfigured. Others (a deflated beach ball, a canoe, and a brightly lit sparkler) seem to have more of a life of their own, perhaps as momentary ideas, archived for some future project.
Mike and Doug Starn have taken their use of Polaroids a step further. Many of the works are repeated studies of objects (globes, snowflakes, raindrops in a puddle), but several have been taped together to form single refracted images, a little reminiscent of David Hockney's photographic assemblages.
Richard Pettibone's Polaroids seem the closest to final artworks. Pettibone has taken photographic monographs by Guy Bourdin, Helmut Newton and Diane Arbus and photographed cropped spreads from the books, a twist on his normal process of appropriation. Thin colored lines of paint have then been applied on top; together with the glamour shots, the works have a 1980s album cover feel.
To my eye, about half of the works on display in this show deserve to be called finished artworks. But for those interested in the experimenting of the artistic process, the others provide intriguing background material.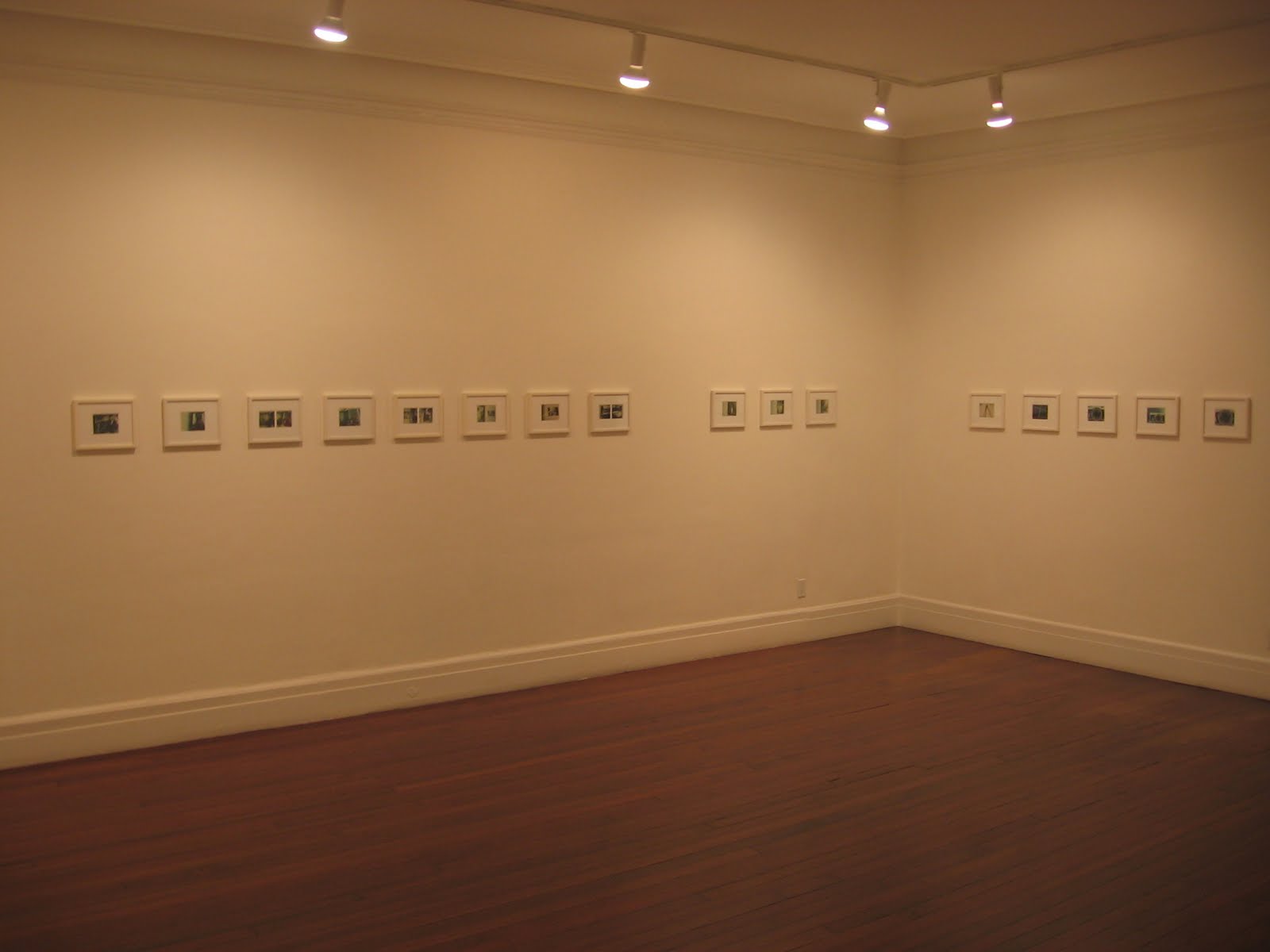 Collector's POV: All of the images in the show are unique and are priced as follows:
Diana Kingsley: $1500 each
Richard Pettibone: between $7000 and $12000 each
Mike and Doug Starn: between $4000 and $6000 each
Neither Kingsley or Pettibone has any auction history in the photography markets; photo work by the Starns can be found from time to time, generally ranging from $2000 to $20000. If we had a collection of 1970s photography by Richard Price and Cindy Sherman, the Pettibone appropriations would be a perfect fit; while none of the works in the show is a match for our specific collection, the Starn snowflakes were my favorites.
Rating: * (one star) GOOD (rating system described here)
Transit Hub:
Diana Kingsley artist site (here)
Richard Pettibone retrospective @ICA Philadelphia, 2005 (here)
Mike and Doug Starn artist site (here)
Polaroids: Diana Kingsley, Richard Pettibone, Mike and Doug Starn
Through October 24th
Leo Castelli Gallery
18 East 77th Street
New York, NY 10075