JTF (just the facts): A group show of a total of 48 color works from three different photographers (William Eggleston, Joel Meyerowitz, and Stephen Shore), all framed in white and matted, and hung in the entry, the main gallery space, and the smaller back gallery. The exhibit coincides with the publication of Starburst: Color Photography in America 1970-1980 by Hatje Cantz (here) and a larger survey at the Cincinnati Art Museum. (Installation shots at right.)
Details on the included works are as follows, with the number of images on display in parentheses:
Stephen Shore (20): Most of the works on view are vintage chromogenic contact prints, made between 1973 and 1979. Nearly all of these prints are 8×10 or reverse (there is one that is 12×15). A few larger c-prints (20×24) have also been included, as well as a pigment print on rag paper of one of Shore's journal pages (18×14).
Joel Meyerowitz (20): The vintage works on display are either 20×24 dye transfers or smaller 8×10 RC prints. Recent pigment prints from the older negatives have been made in three sizes 20×24, 30×40, and 48×60, in editions of 15 or 20, 10, and 5 respectively. All of the images were taken between 1963 and 1983.
William Eggleston (8): Most of the works on display are 16×20 dye transfers from the Dust Bells 2 portfolio (taken between 1970 and 1974, published in 2004). Others are similar in size or slightly smaller (12×18).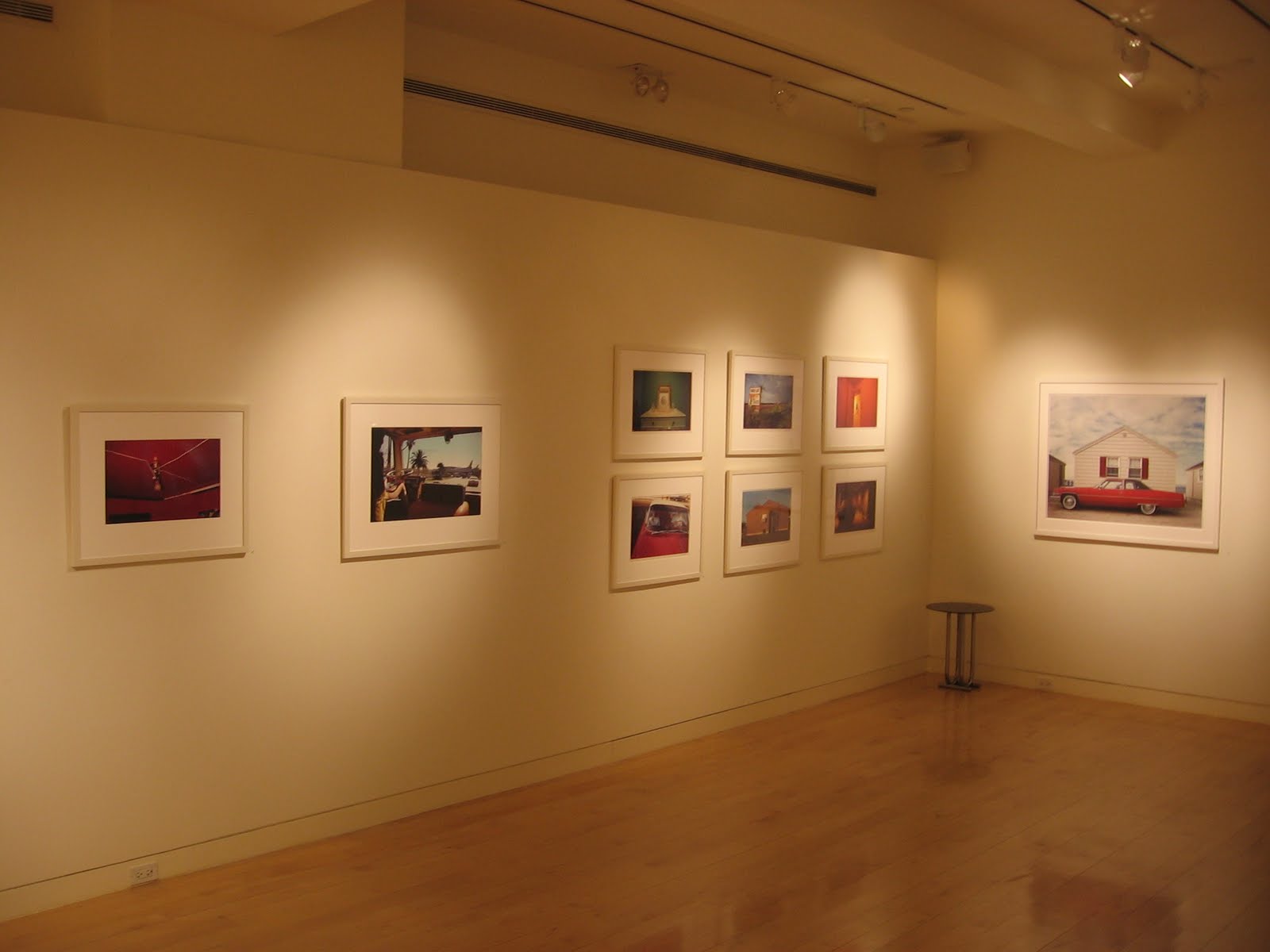 Comments/Context: Even though the main thread of the 1970s color story is now well known, this vein of photography continues to be an active area for exploration and (re)discovery. Likely due to the predominance of color in today's contemporary work and the powerful influence of the early color photographers on those working today, there seems to be a consistent interest in going back to the roots of this narrative and revisiting the evolution of the major practitioners. This exhibit focuses on three of the main players (Eggleston, Shore, and Meyerowitz), while the related survey book covers a much broader selection of photographers (by the way, there was also a terrific exhibit at Julie Saul in 2008 here that collected some of these same artists).
While this show is directly making a case for Meyerowitz' rightful inclusion at the top echelon of the 1970s color establishment, I must admit that it was the Egglestons that really made me think. Placed in the side-by-side temporal context with Shore and Meyerowitz, Eggleston's images display a marked difference in photographic style. I found his approach to be significantly more radical: the compositions are skewed and off-kilter and the colors are much stronger and more saturated – I concluded that these works were less about their depicted subjects and much more about color itself. A room becomes orange, a wall is green, a car is red – the colors are purer and the aesthetic is more wholly new, an entire rethinking of photography based on how color really operates.
For Shore and Meyerowitz, these artists seemed to be using more established modes of picture making (drawn from various black and white traditions) and modifying them for the successful inclusion of color, more evolution than revolution. In these cases, the use of color transforms topographical images or motion-filled street shots in new ways; there are new compositional nuances and relationships to explore. Hotel rooms, shop fronts, clusters of people on street corners, TVs and dated furniture, clothing and patterned fabrics, they all present newfound opportunities to build color-oriented pictures. I particularly enjoyed the angles of Shore's striped rug and yellow bedspread at the Harbor View Motel, and Meyerowitz' colorful neon circles on the ceiling of a food stand at the Hartford county fair.
What I like best about this exhibit is that it has just enough depth to tease out the patterns and differences. Instead of just one or two pictures hung together sampler-style (which is often how early color is treated), this show allows for a more thoughtful and deeper comparison of contrasting approaches and experiments.
Stephen Shore: The vintage chromogenic contact prints are either $18500 or $24000. The larger c-prints are $25000, and the pigment print of Shore's journal page is $6000.
Joel Meyerowitz: The vintage dye transfers are either $32000 or $40000; the RC prints range between $14000 and $35000. The later prints are priced based on size, starting at $10000 for the 20x24s, moving to $16000 for the 30x40s, and ending at $24000 for the 48x60s.
William Eggleston: Most of the available images are priced at $20000. Several (including the red ceiling and the drink on the airplane tray table) have been marked SOLD or NFS.
These prices seem generally on the high side (this is gallery retail after all), especially when placed in the context of recent secondary market sales of roughly
equivalent
material.
Rating: * (one star) GOOD (rating system described here)
Through April 24th
New York, NY 10151