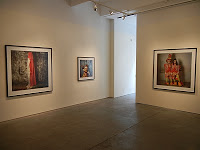 JTF (just the facts):
A total of 16 large scale color photographs, framed in black and unmatted, and hung in the divided gallery spaces. All of the works are Ilfachrome prints, made between 2004 and 2009. The images come in three sizes: 20×20 (in editions of 12), 30×30 (in editions of 5), and 50×50 (in editions of 3). There are 11 medium sized prints and 5 large sized prints in the show. A monograph of this body of work has been published by Chris Boot Ltd. (
here
) and is availble from the gallery for $45. (Installation shots at right.)
Comments/Context: Phyllis Galembo's vibrant images of African and Haitian figures in indigenous masquerade costumes inhabit the convergence point of three rivers of photographic practice: anthropological documentary, fashion photography, and formal portraiture. Each image can be read in all three modes, providing a depth of experience that goes far beyond the eye-catching, fun exoticism of the exuberant bright colors and the hand crafted found materials.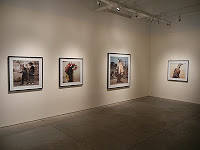 The most straightforward interpretation of these photographs is to see them as simple facts, as evidence of the diverse social and cultural traditions of particular peoples, brought back from afar for our education. In the larger context of rituals, festivals and ceremonies, they show how different groups have approached common human questions of the power of spirituality, the battle of good and evil, and our interconnected relationship to the natural/animal world. As such, these masquerade costumes represent a form of shared experience, even if they seem foreign and even perplexing to our Western eyes.
If we were to take these images out of this obvious anthropological context and place them amidst pictures of haute couture fashion, I think they would take on a different set of meanings; the line between fashion and costume is altogether blurry wherever you live. These costumes were creatively made from a dizzying variety of materials, from shredded bags to intricately woven cloth, with adornments of antlers, feathers, and exaggerated painted headpieces; colors and textures have been carefully placed together for maximum impact. The skill on display is impressive, and the results are often overtly theatrical, the costumes an integral part of a larger cultural framework of story telling and myth making. Like any genre of fashion, they allow the wearer to inhabit an alternate personality, or to symbolize some facet of life applicable to all, while highlighting beauty in its many forms. 
Galembo's photographs are of course more than deadpan images of costumes; they are portraits of individuals, not unlike Irving Penn's portraits of Moroccan guedras or mudmen from New Guinea, or even his images of rock groups, Hell's Angels, and small tradesmen. In each case, we see a formal portrait against a non-descript background, where the attire of the subject informs our understanding of who they are and what they believe. Galembo's portraits are full of respect and genuine curiosity, taken with a sense of honor and trust, rather than an exploitative search for the extremes of wild and weird.
All in, I think these photographs are quite a bit more powerful than just an anthropological catalogue. They merge the documentary and the artistic in complementary ways, allowing the viewer to get beyond the vivid colors and patterns to more durable levels of understanding and empathy.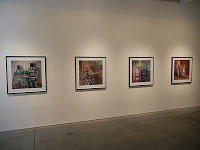 Collector's POV:
The prints in the show are priced as follows. Ratcheting editions are used for the two larger sizes; the 50×50 prints are either $8500 or $10000, and the 30×30 prints are either $5000, $6500, or $7500, depending on the place in the edition. The 20×20 prints are $3000 each. Galembo's work has not yet reached the secondary markets, so gallery retail is likely the only option for interested collectors at this point.
While I liked many of the images in this show, my favorite was Ringo (Big Deer) Masquerade, Kroo Bay, Sierra Leone, 2008; it's the smaller middle image in the top installation shot. I liked the sharp color contrast of the yellow circles that cover the body of the costume and the electric blue wall in the background.
Rating:
**
(two stars) VERY GOOD (rating system described
here
)
Transit Hub:
Through April 2nd
521 West 23rd Street
New York, NY 10011