Part 1 of this post, covering the photography in the galleries at Pier 94 of the Armory Show can be found here. The first post also gives some background on the format I'm using for the booth reports, so it's probably best to start there if you haven't read it already.
This year, the Armory Show added a second area for galleries at Pier 92, and grouped dealers specializing in "Modern and historically significant contemporary art" over in this section. Most of the major photography galleries ended up here, mixed in with dealers showing Calder, Picasso, Miro etc. The ceilings were much lower and the space seemed tighter as a result. Overall, the area had a slightly more tired feel. But on to the photography:
Howard Greenberg Gallery: This booth is packed to the gills with world class images. Frank Gohlke (5) (below first) four small vintage images and one large recent print; these Gohlke grain elevators are tremendous; we have two and would like to own several more; prices have risen to $9000 each for the vintage ones. Edward Steichen (3) including a vintage Gloria Swanson ($375000) which is great to see close up. Diane Arbus (4, priced $38000 to $85000), Saul Leiter (3) color images, Bill Owens (6), William Eggleston (1) the famous "red ceiling", priced at $275000, Helmut Newton (6), Miroslav Tichy (5), William Klein (2), Edward Weston (1, below second, a small print of Tina Modotti, for $95000), Man Ray (1) a vintage rayograph at $265000, Sarah Moon (2), Rudy Burckhardt (1), Annie Liebovitz (1) John and Yoko at $55000, Bruce Davidson (9). The density of superlative imagery in this small booth is spectacular.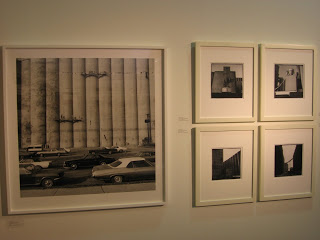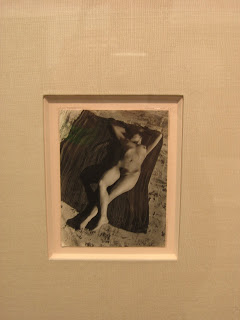 Daniel Templon: Hiroshi Sugimoto (2) mechanical forms.
Leonard Hutton Galleries: Taiji Matsue (4). I liked this array of abstract Matsue landscapes; they reminded me of Sommer's desert studies.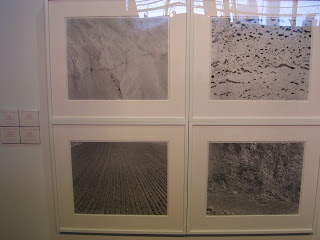 Springer & Winkler Gallery:
Andy Goldsworthy (3 sets of works). We like Goldsworthy, and all of the images here are good ones: ice, snow, and stones.
Laurence Miller Gallery: Stephane Couturier (2), Fan Ho (3), Yasumisa Morimura (8), Burk Uzzle (1), Sanne Sannes (6), Ray Metzker (6, below), Bruce Wrighton (10). This booth has a grab bag of random work, but the Metzkers are definitely worth a look.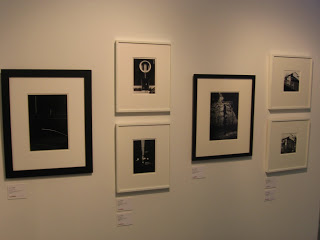 Studio La Citta: Gabriele Basilico (4), Vincenzo Castella (5). The Basilicos are terrific, a pair of black and white abstract cityscapes, and 2 wider shots from his color San Francisco series.
Robert Koch Gallery: Koch has gone for the "one of each" method in this booth: Jaromir Funke (1), Frantisek Drtikol (1, below), Dora Maar (1), Irving Penn (1), Michael Wolf (2), Any Stein (1), Nadav Kander (1), Shai Kremer (1), Florence Henri (1), Aleksandr Rodchenko (3), Josef Koudelka (2), Brothers Bragaglia (1). I very much like the Drtikol; it looks like one he showed us a few years ago. Perhaps it is the same one or another similar print. I like this particular image, as the nude is less Art Deco crazy than many of his other nudes.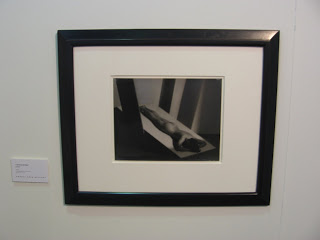 Julie Saul Gallery: I didn't count all the images in Julie Saul's booth, because it is a tiny booth, packed floor to ceiling with images, many from her color show last summer.
Keith De Lellis Gallery: I also didn't count all the images in Keith De Lellis' maze of a booth (below). With all the extra wall surfaces, there are pictures everywhere. A few of the artists represented are: Paul Himmel, Weegee, Nino Migliori, George Platt-Lynes, Louise Dahl-Wolfe, Paul Wolff, Willy Zielke, Hein Gorny, Rudy Burckhardt, Herbert Matter, Marcelo Gepetti, Mottke Weisman.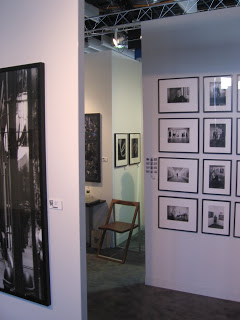 Alan Koppel Gallery: This booth had a small but well edited group of pictures: Vera Lutter (1) Rockefeller Center, Dorothea Lange (2) Migrant Mother, and an oversized Road West, Walker Evans (1) vintage Penny Picture Gallery, Robert Frank (1), Diane Arbus (2), Robert Mapplethorpe (1) black and white flower.
Bruce Silverstein Gallery: This booth had many attractions. First, there was the large wall of John Coplans nudes (below, first). These big works were great to see all in one place together. Second, there was an array of excellent Andre Kertesz color Polaroids (below, second). Other highlights included a small Aaron Siskind room (mostly tar pictures), a wall of Frank Paulin images, and a terrific Andy Warhol stitched photograph. Beyond these, there were: Diane Arbus (1), Robert Frank (5), Shinichi Maruyama (2), Maria Antoinetta Mameli (5), Joel-Peter Witkin (4), Todd Hido (3) and a room of vintage work including Man Ray, Outerbridge, Mapplethorpe, Hoppe, Weston, Doisneau, Lange, Lartigue, Drtikol, Weegee, and Henry Moore.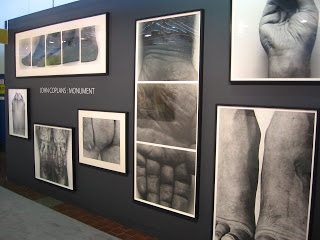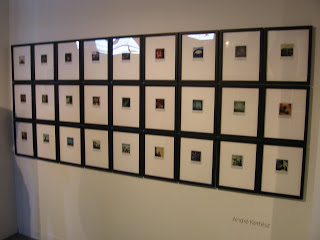 Bonni Benrubi Gallery: Josef Hoflehner (2), Abelardo Morell (2), Simon Norfolk (1), Matthew Pillsbury (3), LeRoy Grannis (2) Massimo Vitali (1) a huge pulsing picture, and a grid of 9 black and white fashion images.
Yancey Richardson Gallery: Sharon Core (3), Kenneth Josephson (7, below), Eve Sussman (1), Andrew Moore (1), Hellen van Meene (3) portraits, Victor Sambymaris (1). It was nice to see a group of solid Josephsons all hung together.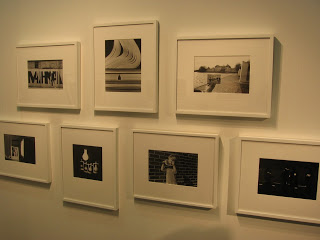 Yossi Milo Gallery: Loretta Lux (2) portraits, Pieter Hugo (1) from Hyena Men, Sze Tsung Leong (3) cities, Simen Johan (1), Kohei Yoshiyuki (6), Myong Ho Lee (3). If you have never seen one of Hugo's massive, startling portraits of men with their hyenas, make a detour to this booth to check this one out.
Ben Brown Fine Arts: Candida Hofer (2), Matthais Schaller (3). Schaller's dark interiors seem closely related to Hofers.
ROSE Gallery: Adam Bartos (2), Chris Killip (2), William Eggleston (7), Tomoko Sawada (3 sets, below), Elger Esser (3), Evelyn Hofer (7), Andrew Bush (2), Mark Cohen (5), Pablo Lopez (1), Todd Hido (2), Steve Galloway (1). The Sawada images are haunting and thought provoking. I liked these even better than the huge class portraits of hers we have seen previously.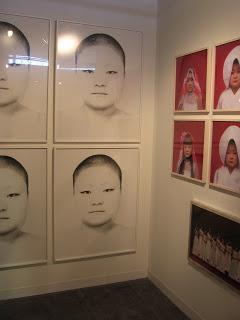 While this adjunct area didn't have the same energy as the main hall, there are some stand out photographs to be seen in this portion of the show. (I'm sure many of them will reappear at AIPAD if they are not sold this weekend.) And with approximately a dozen photography galleries to see on this side, it's a pretty self contained area to leisurely explore.
Again, Part 1 of this review, with the photography found in the galleries at Pier 94 is
here
.