If I have any takeaway from this year's photography scavenger hunt at the Armory Show in New York, it is that this show is evolving away from the heavy hitters and "best of the best" toward more of an international melting pot. As I wandered through the alleys of white booths that cover both Piers 94 and 92 (roughly 275 galleries in all), I saw very few million dollar prints or acknowledged contemporary icons, and instead encountered a satisfying diversity of work, much of it on the fringes or entirely new to me.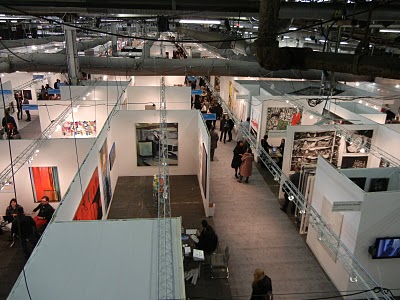 With a few years of doing these reviews under my belt, my approach to this show has now become ruthlessly systematic: back and forth, up and down the aisles, scanning each nook and cranny for photography. All in, I found 96 galleries showing at least one photograph (down from 115 last year); as always, I certainly missed or omitted a few, but I'd like to think I looked at nearly everything that was on view.
I'm going to break my notes into four posts, roughly grouped by their physical location at the fair. Part 1 of this summary covers the booths in the area to the right of the entry at Pier 94 (if you are facing the registers) and continuing up along the far right side of the pier. In general, these reviews will list the photographers on view, with the number of works in parentheses. Additional commentary, price details, and the like will be added for noteworthy discoveries. As always, all of the galleries are linked back to their websites for further investigation and follow-up:
Studio La Città
(
here
): Vincenzo Castella (2), Massimo Vitali (1), Gabriele Basilico (2). The angles and textures in this Basilico from Istanbul are subtly spectacular; it's also big enough to draw you into details. Priced at 10000€.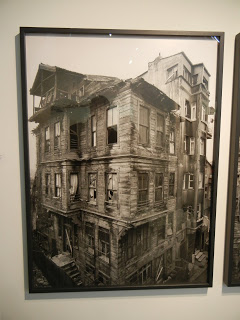 Angles Gallery
(
here
): Augusta Wood (1), Ori Gersht (2), Soo Kim (1)
.
Galleria Raffaella Cortese
(
here
): Kim Sooja (1), Marcelo Maloberti (3)
.
Hales Gallery
(
here
): Sebastiaan Bremer (2)
Filomena Soares Gallery
(
here
): Helena Almeida (2), Vasco Araujo (1 diptych), Pilar Albarracin (1), Joao Penalvia (2)
Corkin Gallery (here): Chad Gerth (22 as one installation), Frank Madler (1+1 diptych), Iain Baxter (2), Barbara Astman (7), NE Thing Co. (2), Andre Kertesz (9), Lazlo Moholy-Nagy (1), Margaret Bourke-White (1), Walker Evans (1), Sophie Taeuber-Arp (1), Brassai (1), Thaddeus Holownia (24). In addition to a wall of vintage work on the outside of the booth, the interior was a single artist installation of Holownia's Walden Pond Revisited, a suite of large scale black and white tree trunks on all four walls. I didn't get a price.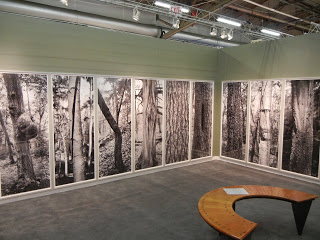 Galerie Grita Insam (here): Candida Hofer (1)
.
Giorgio Persano (here): Michele Zaza (18), Per Barclay (1), Michelangelo Pistoletto (5), Mimmo Paladino (24 in a spiral)
303 Gallery (here): Stephen Shore (1), Rodney Graham (1), Collier Schorr (1), Florian Maier-Aichen (1)
.
Ratio 3 (here): Mitzi Pederson (2), Ryan McGinley (1), Lutz Bacher (1 group), Geof Oppenheimer (1), Miriam Böhm (2). These visual puzzles by Böhm were among my favorites at the show. I liked the layered approach to simple art materials, photographing and rephotographing from slightly different angles to create echoes and spatial depth, while maintaining apparent alignment. There was a terrific article on Böhm in ArtForum a few months back. They are priced at $4500 each.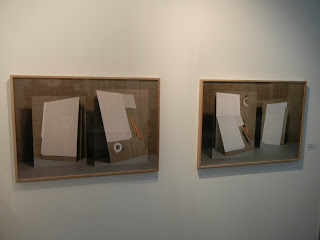 XL Gallery (here): Blouesoup Group (1), Igor Moukhin (1)
.
i8 Gallery (here): Hrafnkell Sigurdsson (6), Olafur Eliasson (16 in grid), Sigurdur Gudmundsson (5). I never seem to tire of Eliasson's grids of images; this one captures windswept green plants in black rocky dirt. I should have also taken a picture of Sigurdsson's series of chucks of ice on the back side wall. There was no one around to get a price for the Eliasson.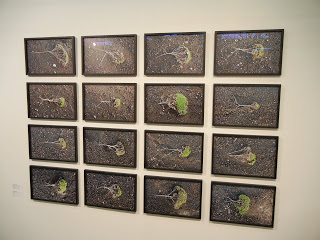 Galerie Barbara Thumm (here): Sabine Hornig (1)
Andrew Kreps Gallery (here): Roe Ethridge (1), Peter Piller (12, pinned to wall), Andrea Bowers (1). I have been a bit of an Ethridge skeptic to date, but I found this double layer image to be more complex and compelling. It's priced at $10000.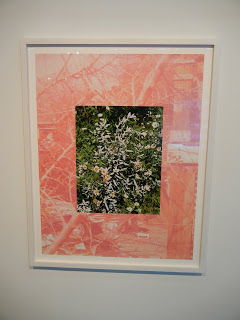 Arndt (here): Vik Muniz (3), Sophie Calle (1)
Kerlin Gallery (here): Paul Seawright (1)
Murray Guy (here): Kota Ezawa (1), Moyra Davey (group of 25)
Rhona Hoffman Gallery (here): Vito Acconci (1), Robert Heinecken (9), Gordon Matta-Clark (1). I've always wanted to find a Matta-Clark photograph with dense layers of geometric cut aways for our own collection, so I was particularly covetous of this multi-image work. The price was $175000.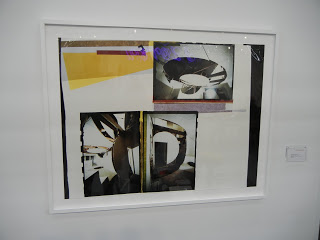 Noga Gallery of Contemporary Art (here): Ori Gersht (1)
Anna Schwartz Gallery (here): AES+F (1)
Galleri Charlotte Lund (here): Maria Friberg (1), Andres Serrano (2), Denise Grünstein (2). I very much liked the mix of performance and lushness in these images by Grünstein. The series uses hair to mask the model's face. I was shown another excellent image (in a monograph) where the model's head is being held by some kind of 19th century model posing contraption, once again, the tactile red hair blown across her face. They were $17000 each.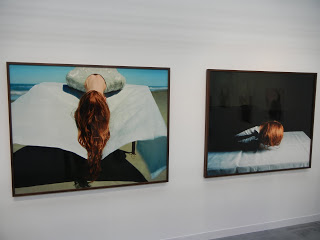 Clark & Faria Gallery (here): Scott McFarland (1), Greg Girard (1)
Part 2 can be found here.