Part 1 of this multi-part Armory review post can be found here. This post refers to the first section of the longest hall of Pier 94.
Lisson Gallery (here): Rodney Graham (1 lightbox)
Victoria Miro (here): Isaac Julien (1 diptych), Francesca Woodman (2), Idris Khan (1), Thomas Demand (1)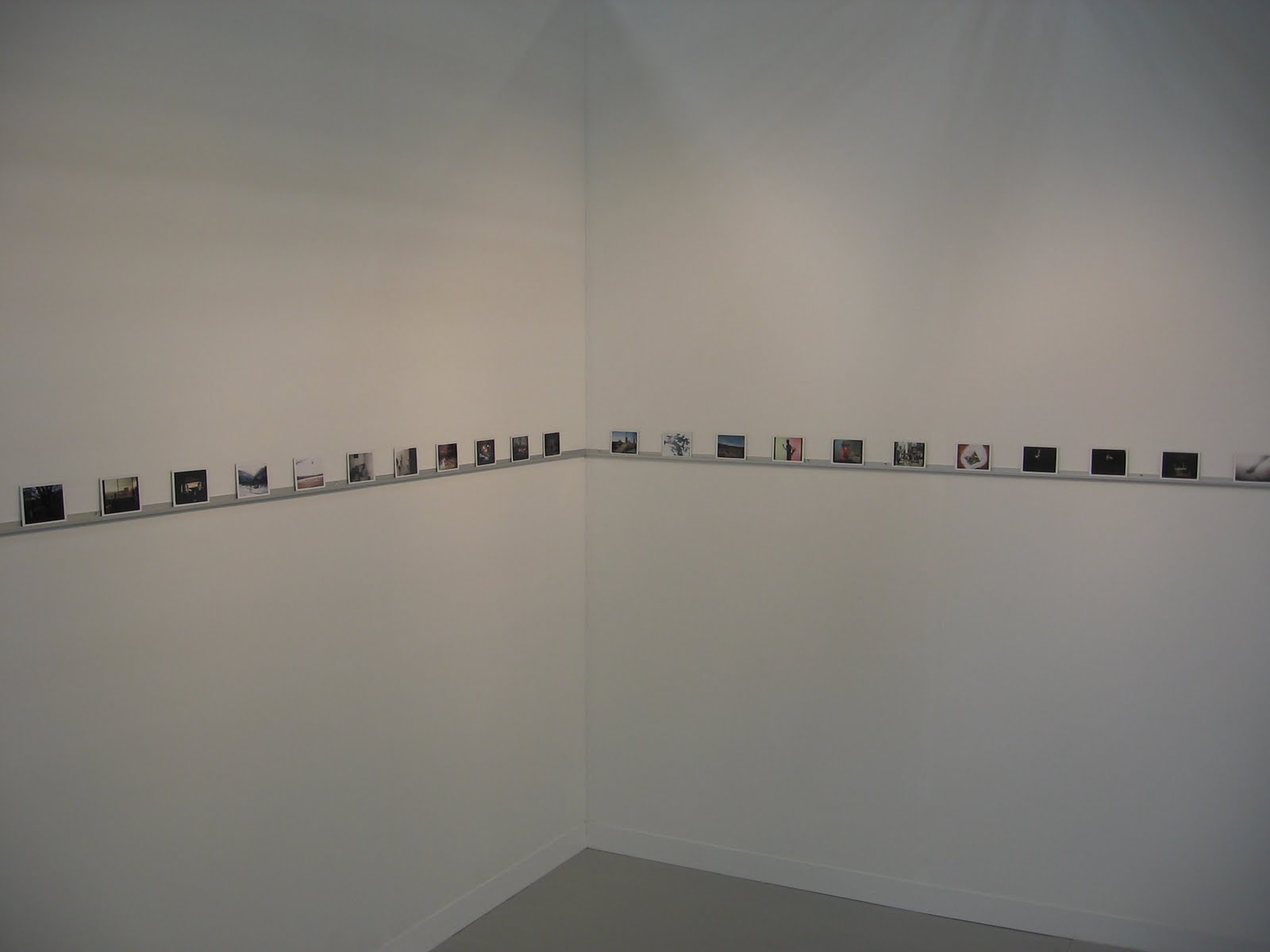 David Zwirner (here): The entire David Zwirner booth is dedicated to the work of Philip-Lorca DiCorcia. There are 8 large images on the exterior of the booth, 7 more images in the back room, and 100 small Polaroids resting on a metal ledge surrounding the interior of the main space. These are different works from images of a similar size and display (Thousand) shown at David Zwirner previously. Unlike that body of work (available only as one set), these images are being sold individually for $4000 each. The larger works are a selection of well known work (strippers, heads, interior portraits etc.), with some newer larger landscapes with small figures.
Murray Guy (here): Moyra Davey (11), Barbara Probst (4)
Galleria Raffaella Cortese (here): Anna Maria Maiolino (2), Marcelllo Maloberti (2)
Alison Jacques Gallery (here): Hannah Wilke (4), Ana Mendieta (1)
Tanya Bonakdar Gallery
(
here
):
Olafur
Eliasson
(1 group of 12 prints), Tomas
Saraceno
(1 group of 6 prints)
Andréhn–Schiptjenko (here): Anna Kleberg (1 group of 9 images)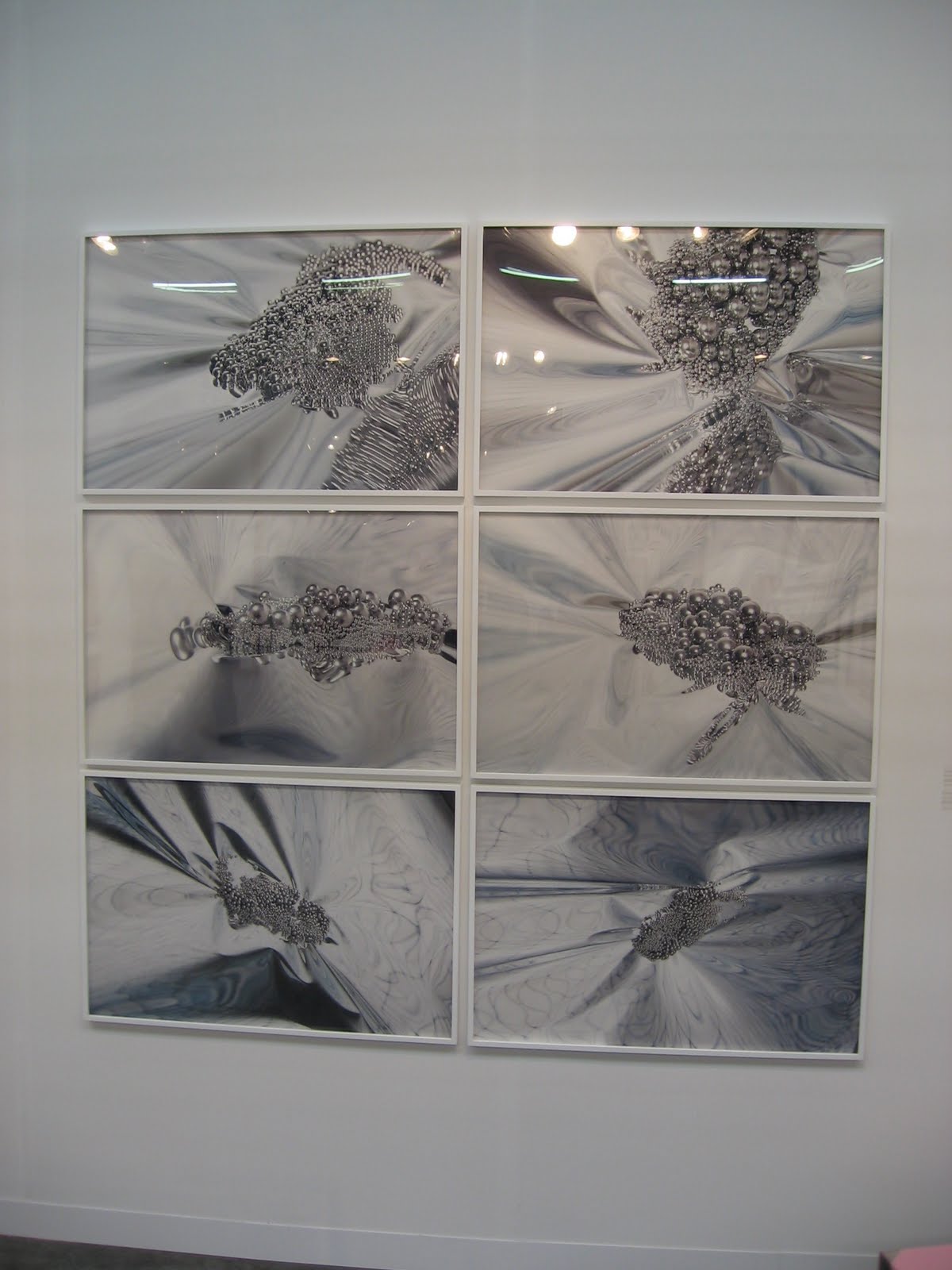 Carolina Nitsch (here): Alyson Shotz (1 set of 6 prints). These works were constructed by taking a group of metallic silver balls of different sizes (the same ones used in Shotz' sculptures), laying them on a film of mylar, and using a strong magnet to draw the metal balls to the center. The result is a collection of reflective objects on a puckered surface, full of abstract refractions and reflections. The group of prints is priced together at $9000.
Rhona Hoffman Gallery (here): Luis Gispert (1)
Galerie Krinzinger (here): Frank Thiel (1), Chris Burden (1), Rudolf Schwartzkogler (2), Hans Op de Beek (2 lightboxes)
White Cube (here): Gilbert & George (1 multipanel work), Darren Almond (2)
Lehmann Maupin (here): Mickalene Thomas (1 image, 1 montage with layers of frames)
Kukje Gallery (here): Hein-Kuhn Oh (2), Yeondoo Jung (1), Kira Kim (1)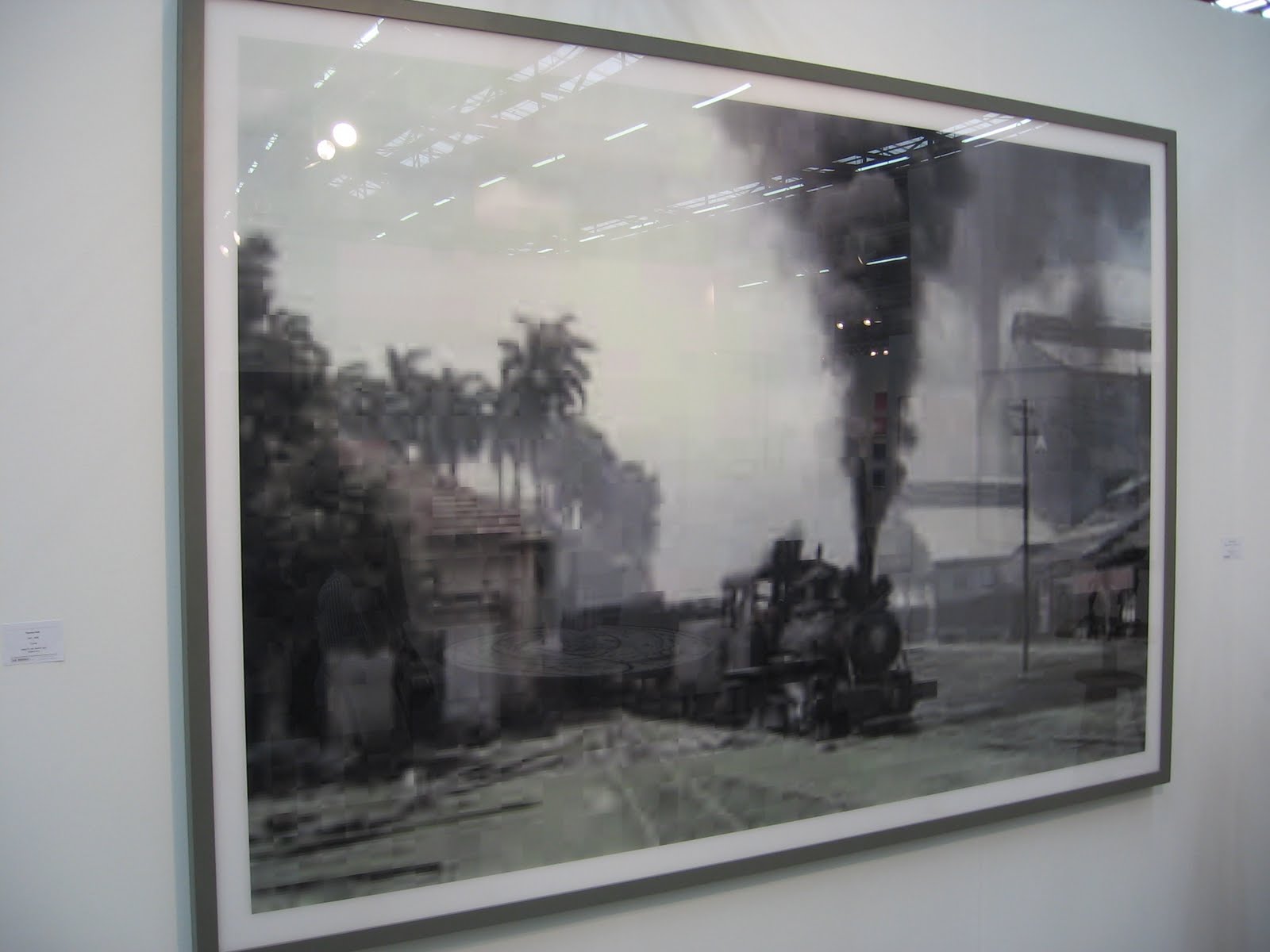 Galleria Lia Rumma (here): Thomas Ruff (3), Mimmo Jodice (1), Vanessa Beecroft (5), Marina Abramovic (1), Alfredo Jaar (1). The image at right is from Thomas Ruff's JPEG series. I enjoyed seeing this up close, as the pixelization is more layered than I imagined; large boxes dissolve into grids of smaller boxes. This is particularly noticeable in this image, given its sharp areas of black and white. The print is priced at 85000€.
Galerie Thaddaeus Ropac (here): Robert Mapplethorpe (6 Lisa Lyon images), Terrence Koh (2)
Galleria Continua (here): Carlos Garaicoa (1 triptych), Shilpa Gupta (3)
Boers-Li Gallery (here): Liang Yuanwei (6 groups of images)
Continue to Part 3 here.