Being a photography collector at the Armory show in New York feels a little like going on a treasure hunt. The warren of white booths covers both Piers 94 and 92, creating a dense market containing 289 galleries; with a heavier crowd than last year, the halls were noticeably tighter, with more bumping and jostling for the best viewing spots.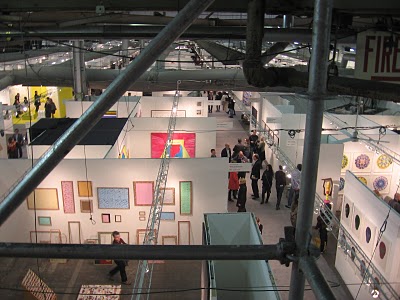 This year, I tried to be a little more systematic, opting for a relentless back and forth, up and down the aisles, rather than a loose serendipitous flow. Finding the photography buried in all this contemporary art requires a sustained scanning of each and every wall surface, as sometimes the images are tucked away in unlikely corners, in back room storage spaces, or on less visible exterior partitions. All in, I found 115 galleries showing at least one photograph; I'm sure I missed a few, but I'd like to think I saw nearly everything that was on view. Beyond the fast fly by that was the norm for many booths, I often spent time talking with gallery directors and sales staff who helped to provide context and detailed information on specific pieces that caught my eye.
After an overfull afternoon wandering through these booths, the feeling of visual overload, worn out feet, and aching shoulders (from carrying my briefcase) brought me to the endless cab line. So rather than present all of the booth notes in one monotonous, droning post, I've decided to break it up into six posts, each detailing the photography in roughly 20 galleries, grouped by their physical location at the fair. In addition, I've tried to focus on work that isn't readily available or often seen in New York, as talking about work we can readily see in the local galleries seems like a wasteful duplication of effort.
Part 1 of this summary covers the booths in the area to the right of the box office at Pier 94 (if you are facing the registers). In general, these reviews will list the photographers on view, with the number of works in parentheses. Additional commentary, editions, prices details, and the like will be added for noteworthy discoveries. All of the galleries are linked back to their websites for further investigation and follow-up:
303 Gallery
(
here
): Florian-
Maier
Aichen
(1), Hans-Peter
Feldmann
(1) Doug
Aitken
(1 diptych), Collier
Schorr
(1),
Ceal
Floyer
(1). The
Aitken
diptych has a wild tilted horizon, repeated in an over and under manner.
.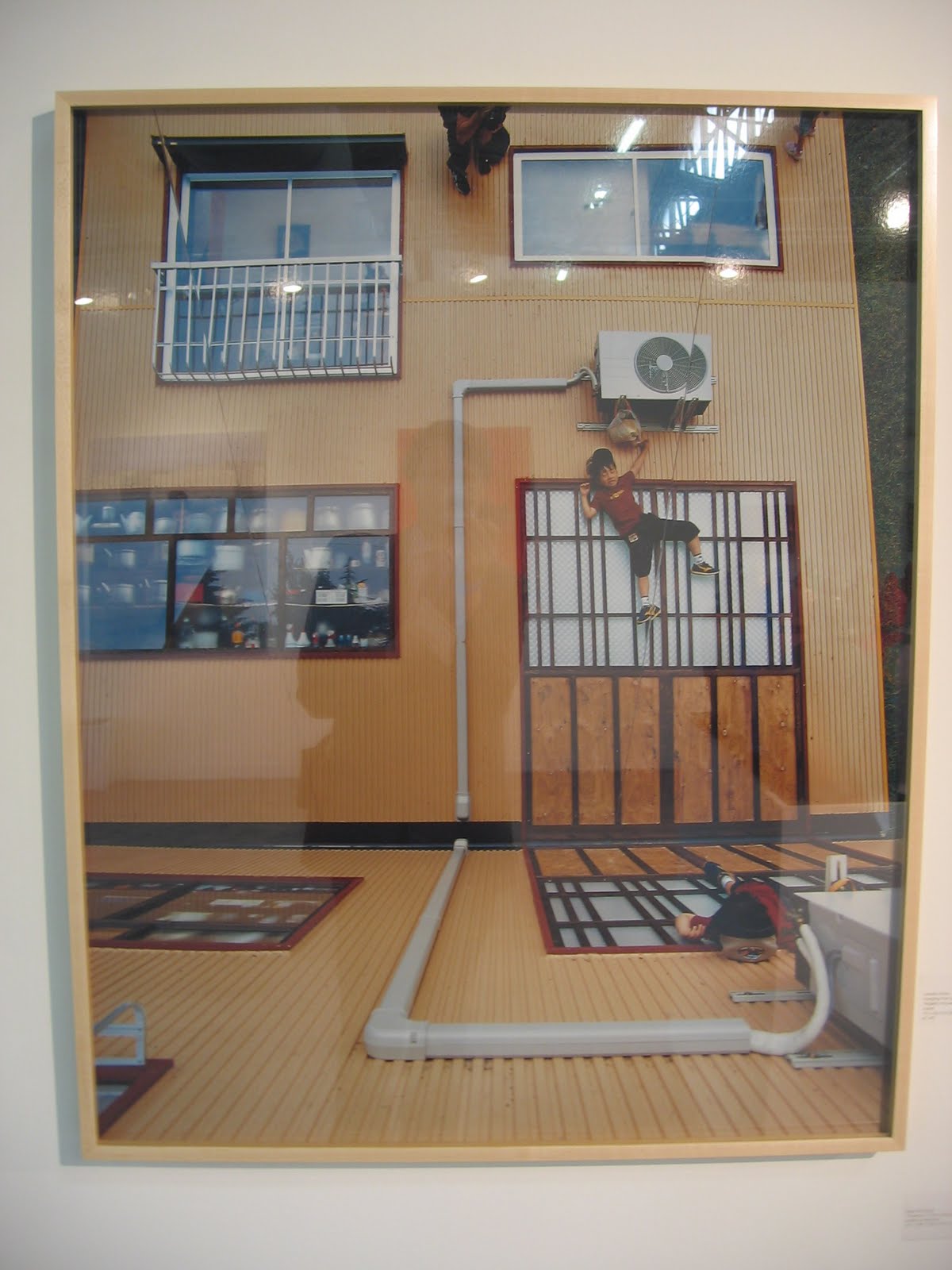 Luciana Brito
(
here
):
Caio
Reisewitz
(1), Marina
Abramovic
(1), Rochelle
Costi
(1), and
Leandro
Erlich
(1).
Erlich's
image of a Japanese child hanging from a bag is an amazing mind bender. The "floor" of the work is where the action actually takes place (so the child is lying not hanging), and the "wall" is actually a massive mirror (to orient yourself, you can see the artist standing at the top of the image on the mirror wall, which actually represents the real vantage point of the viewer). Check out one of the handy catalogues on the table to see the elaborate constructions required to make such an image. The print is $12000.
VSA Arts (here): Allen Bryan (2)
PiST
(
here
): Osman
Bozkurt
(4)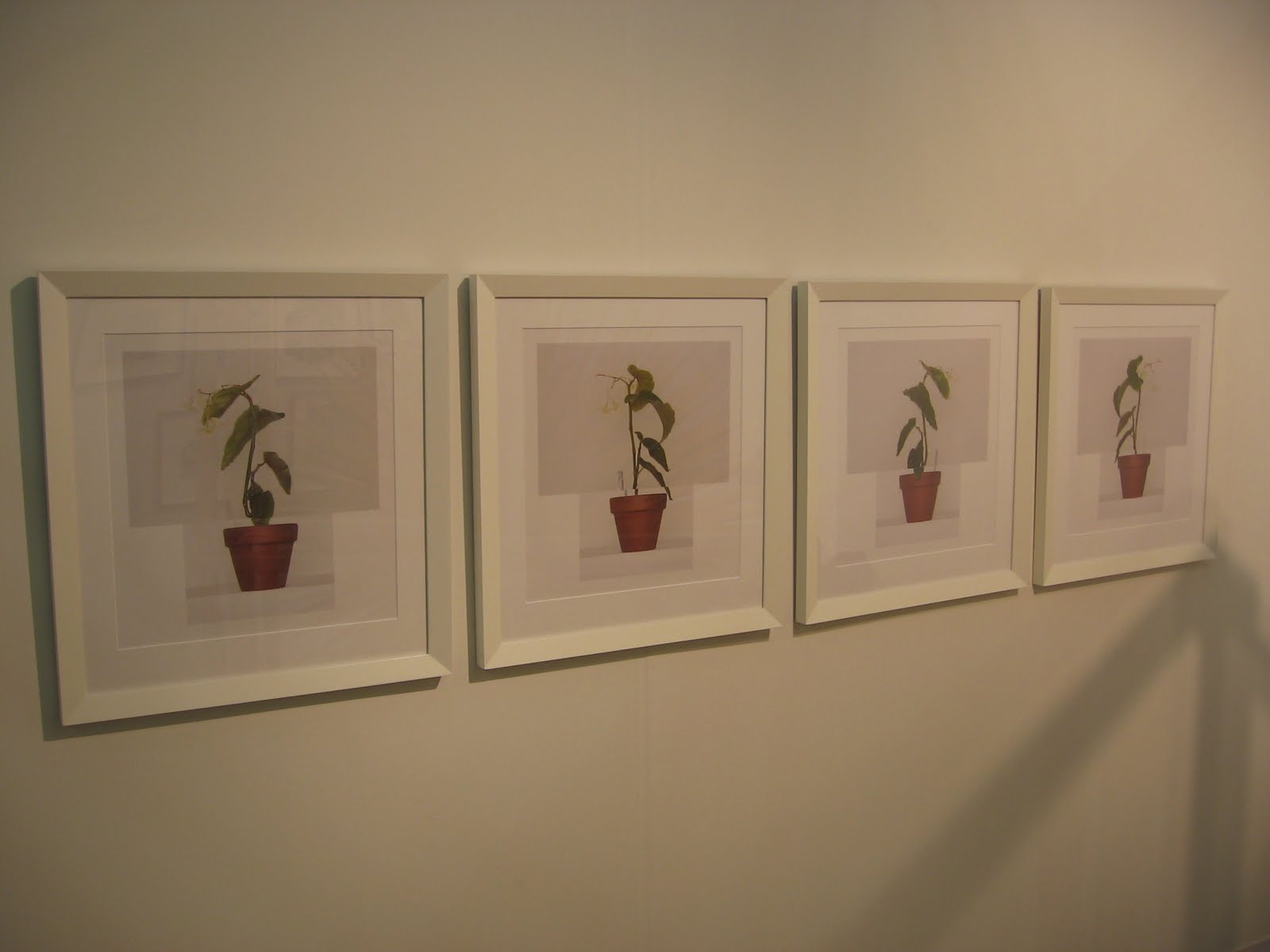 Ambach & Rice (here): Abigail Reynolds (8), multi-dimensional, spliced together tourist images, exploding in geometries; Roy McMakin (2 works, one a set of 4 images, one a set of 6). The two McMakin sets explore the limits of camera-based perception. In one group, an orchid in a pot is observed from four different angles, and in multiple perspectives, all in the attempt to eliminate the effects of the curvature of the lens. (The work at right is an edition of 5, and is $12000 framed.) The other group applies the same technique to an old painting, echoing Vik Muniz' verso series.
International Sculpture Center (here): Andy Goldsworthy (1). A Central Park sculpture of a hole in the canopy of leaves, accompanied by a dried leaf with a similar hole.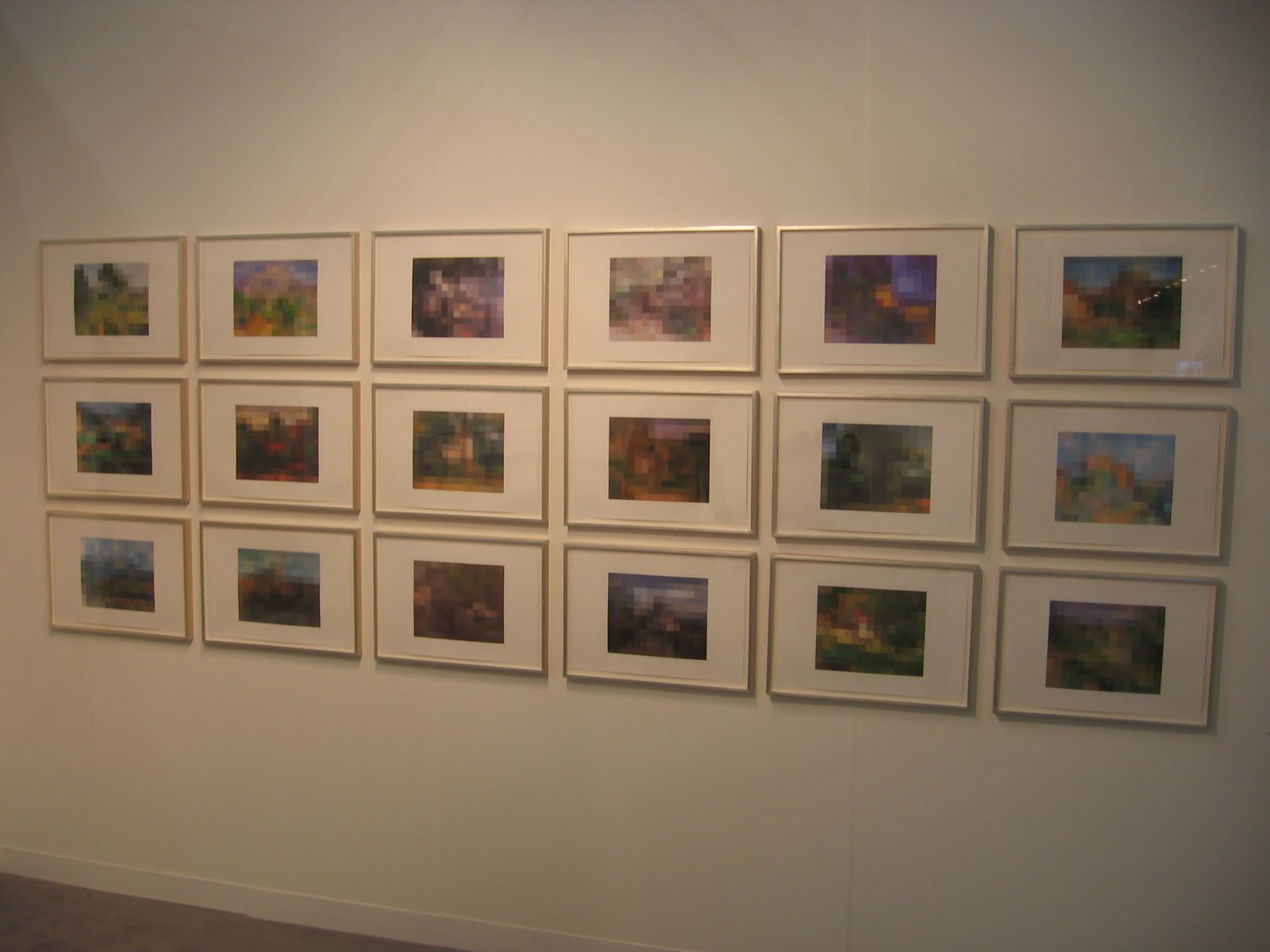 Simon Lee (here): Sherrie Levine (1 work, as a set of 18 prints), Hans-Peter Feldmann (1). While the Levine images in this series are not exactly photography (no more camera, only a computer), given her history as a photographer, they are still very relevant, especially vis a vis what we were discussing in our Ruff review earlier this week. The work is entitled "After Cezanne", and each print is a pixelated, abstracted image of one of Cezanne's Mont St. Victoire paintings. The colors end up being square blocks, reminiscent of Ruff's JPEGs, but more akin to Albers and his color studies. The work is $100000.
Zeno X (here): Dirk Braeckman (2)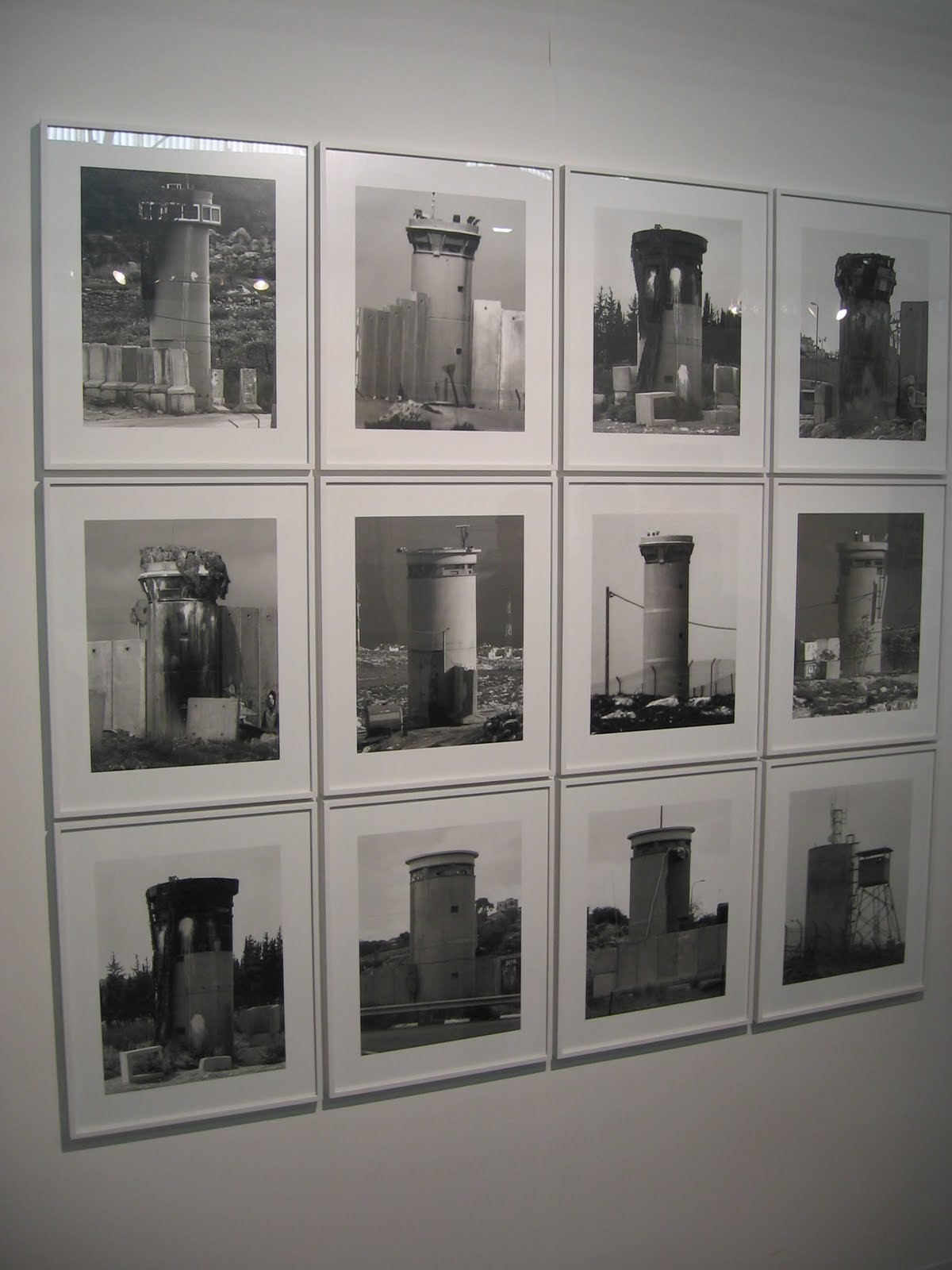 Gallery Sfeir–Semler (here): Taysir Batniji (1 work, set of 12 images), Akram Zaatari (9), Elger Esser (1 heliogravure), Walid Raad (1), Hiroyuki Masuyama (1 lightbox). Batniji's work is a clever riff on a Becher typology. The gas tanks have been replaced by Israeli watchtowers, taken surreptitiously, but in generally the same deadpan style. The set is priced at 18000€.
Galerie Anne de Villepoix (here): Hank Willis Thomas (1)
Galerie Gabrielle Maubrie (here): Dennis Adams (2), Patty Chang (2)
Angles Gallery (here): Judy Fiskin (1), Ori Gersht (1)
Pierogi (here): Nadia Bournonville (2)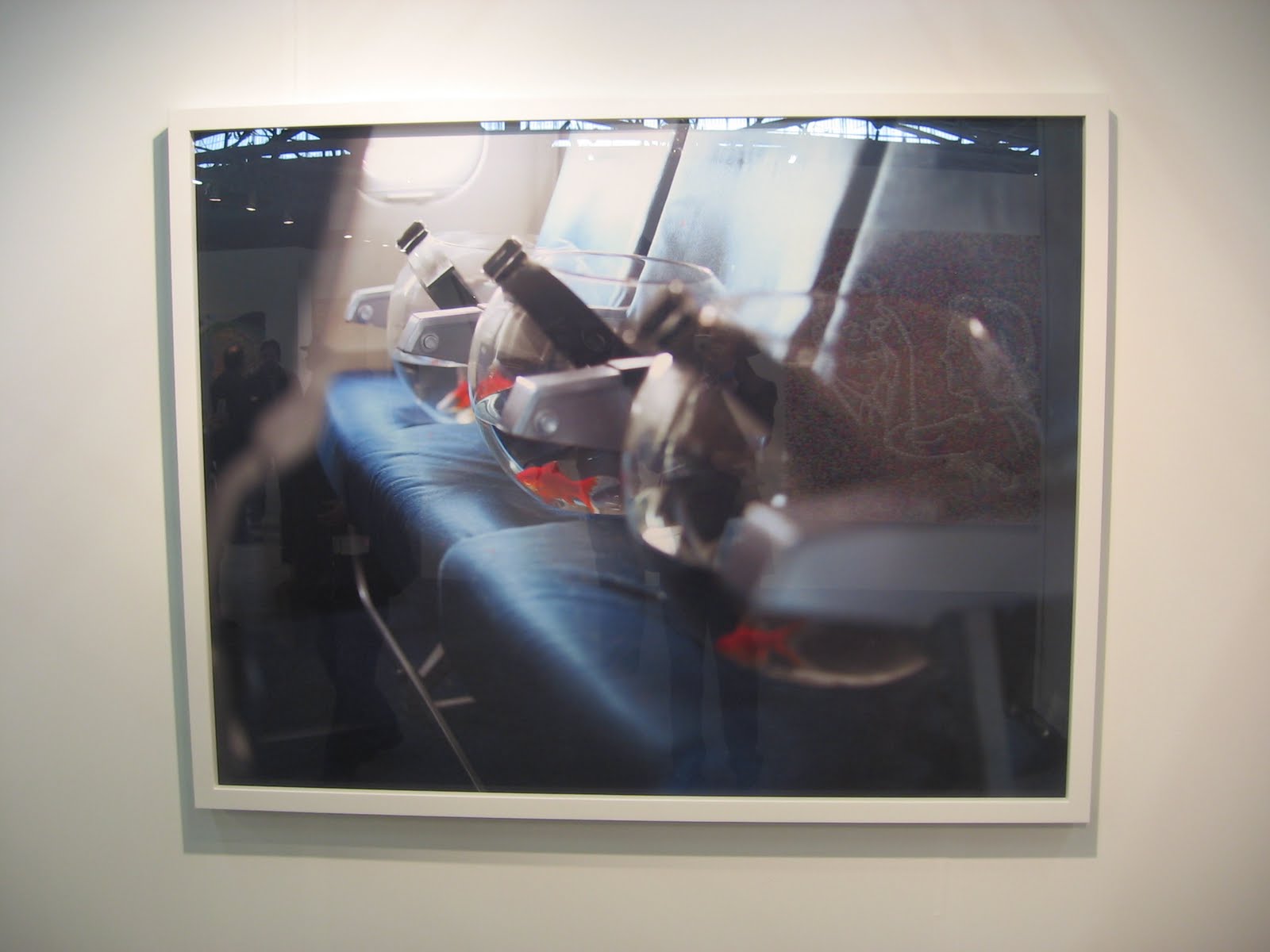 Galerie Emmanuel Perrotin (here): Paola Pivi (1). This image documents a performance work, where fishbowls were strapped into the seats of an airplane and then flown around. There is a wonderful whimsy to this piece; I also liked another I was shown on the gallery's website, where the water is severely tilted as the plane descends. The print at right was made in an edition of 5, and is priced at $30000.
Richard Telles Fine Art (here): Josephine Pryde (3)
Simon Preston Gallery (here): Daniel Joseph Martinez (6)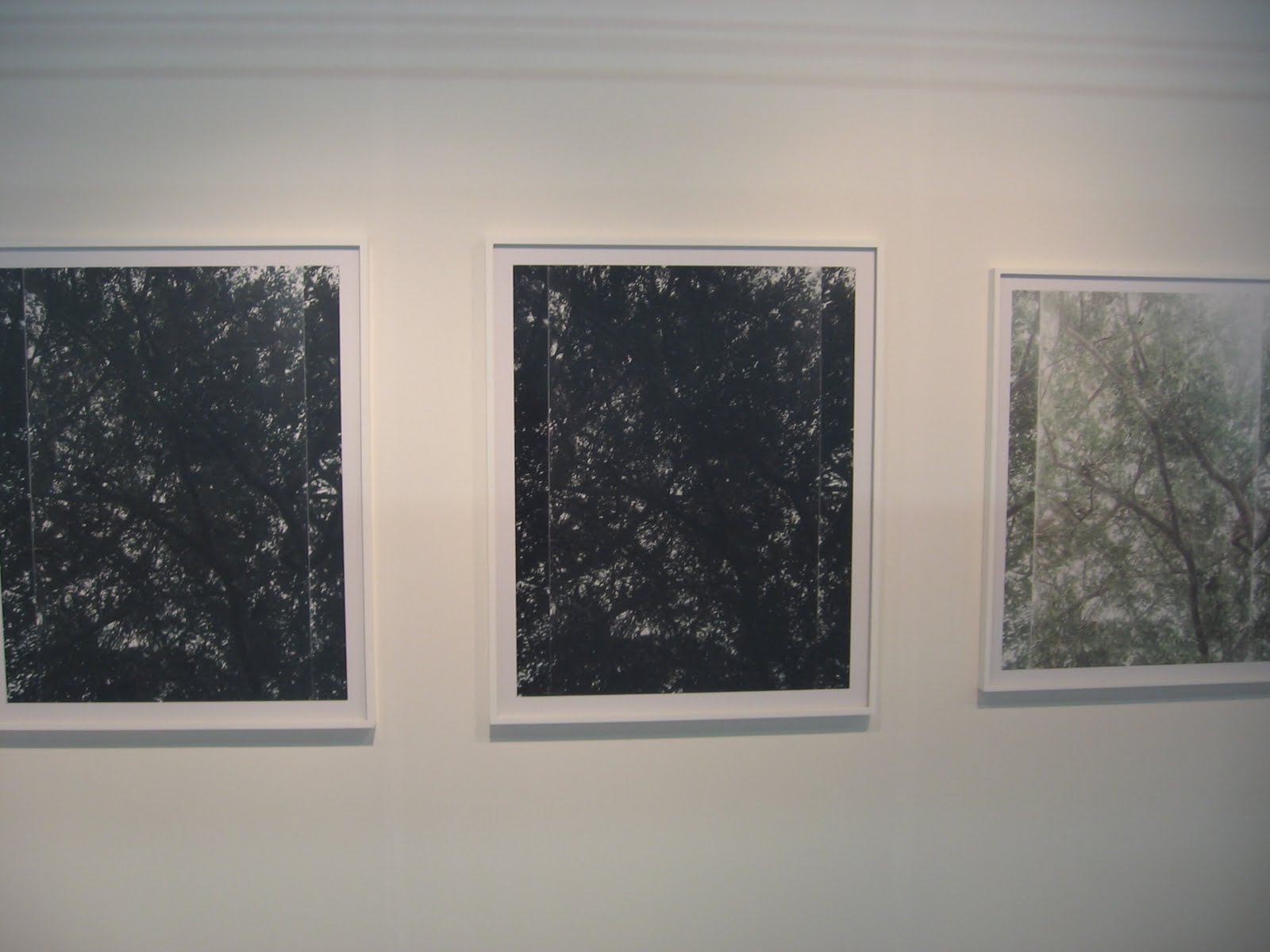 Marc Foxx (here): Luisa Lambri (3), Anne Collier (1). The three works by Luisa Lambri are from a new body of work now on view at the Hammer (here). In these images, a dense view of trees is seen from a glass encased room that is part of a designed by the architect John Lautner. As usual, Lambri explores the differing effects of light (from dark to bright); the effect is quite lyrical. Some of the works I was shown in a brochure are even better than the ones on the wall. Given the blank wall opposite these images, this is a small oasis of meditative space in the bustle of the fair.
Ratio 3 (here): Ari Marcopolous (2), Miriam Böhm (4)
Galerie Anhava (here): Jorma Puranen (5), Hrafnkell Sirugrsson (1), Hreinn Fridfinnsson (1), Hamish Fulton (1). The Puranen images in this booth are another example of Old Masters paintings obscured by flash glare (Tim Davis and Juergen Teller are two others who have also done this).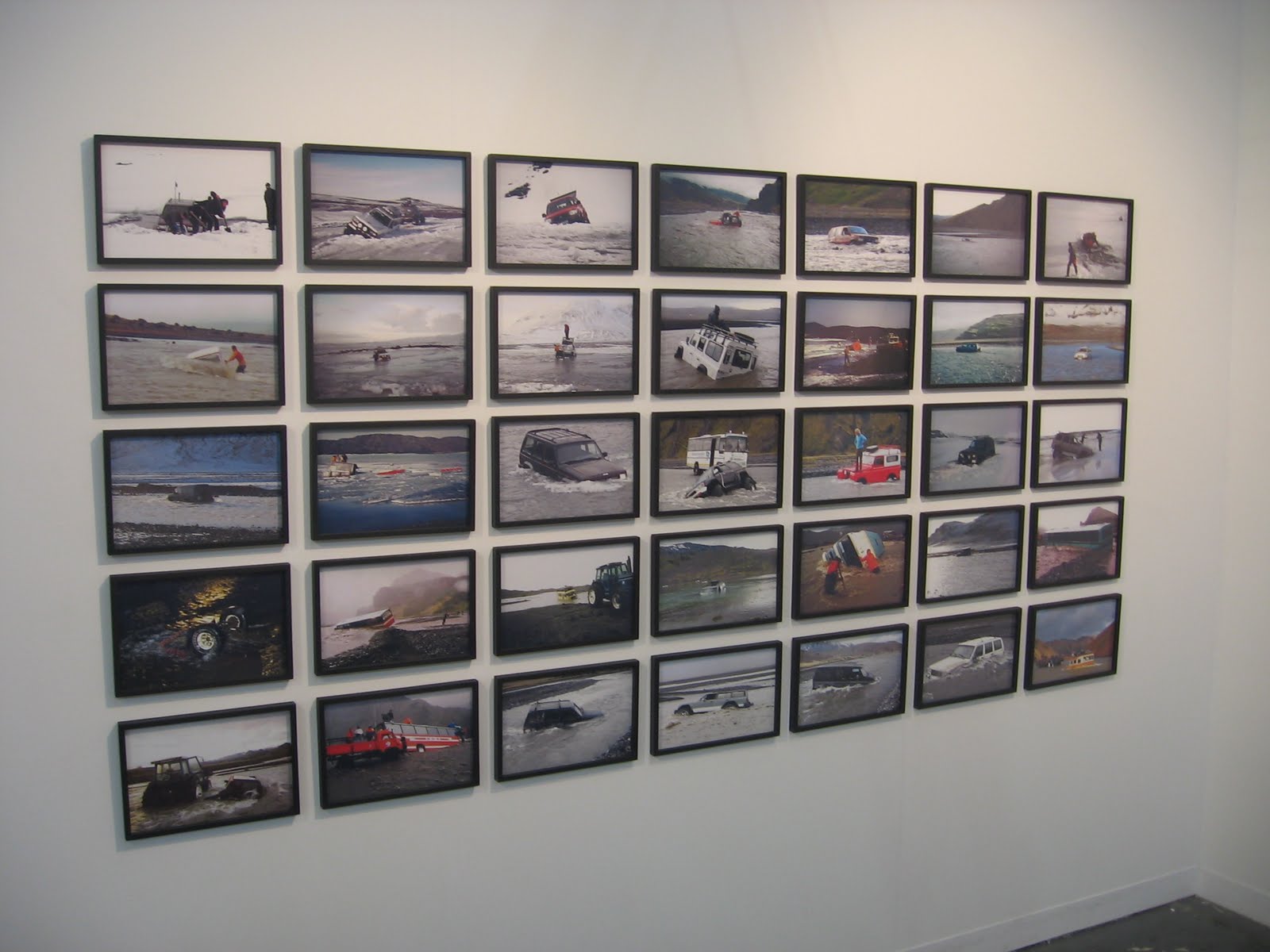 i8 Gallery (here): Olafur Eliasson (1 work of 35 prints), Elin Hansdottir (1). The Eliasson work gathers together a wide variety of contributed images of cars and trucks stuck in Icelandic rivers. Against the stark and often beautiful landscape, the submerged vehicles represent the extremities of both danger and folly (especially those in water obviously too deep to cross). The work is made in an edition of 2, and is priced at 145000€.
Part 2 of this series will continue down the first part of the longest hall in front, and can be found here. Thanks for your patience, as there is a lot to cover and these summary posts will clearly extend into next week.