In contrast to the bustling chaotic supermarket of the Armory, the ADAA Art Show was a decidedly more serene affair. Most of the exhibitors opted for solo shows or tightly edited groups of work, meticulously hung against colored walls or linen wallpaper (no hand scrawled wall labels here). The overall mood was much more urbane and serious, the hushed voices appropriately reverent.
The photography displayed in this controlled environment was generally of very high quality; lots of big prices and top names, with a minimum of secondary clutter and distraction. Like our Armory posts, for each booth, a list of photographers has been provided, with the number of works on display in parentheses. Additional commentary, prices, editions, and pictures of the installation are also included where specific images stood out.
Fraenkel Gallery
(
here
):
Hiroshi
Sugimoto
(12). This booth was a sophisticated solo show of
Sugimoto's
work, with a selection of images from a variety of different projects. There were 5 seascapes (4 small in a grid and 1 large), 2 lightning fields (1 small and 1 large), 2 theaters, 1 mechanical still life, 1 blurry building, and 1 Fox Talbot floral. This was the first time I had seen the lightning fields in person; up close the electricity branches out like the wash of a river, or feathers into delicate traceries. The large lightning field image (see below) was $80000 (and already sold); the small lightning field was $18000.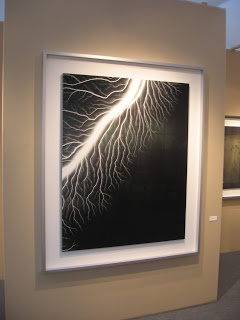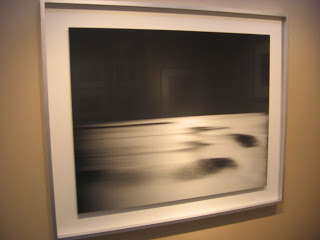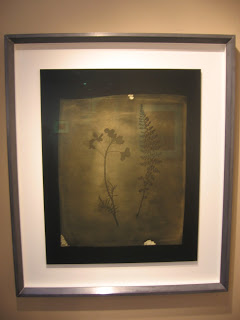 Weinstein Gallery
(
here
): Alec
Soth
(14). This booth was a solo show, displaying
Soth's
Fashion Magazine
work from 2007. I have to say it was a totally unexpected and yet thoroughly pleasant (and appropriate) surprise to find
Soth's
work in this
rarefied
environment. The work held its own with the rest of the art world elite arrayed nearby, and I imagine there were plenty of well heeled collectors in this crowd who had never heard of
Soth
but came away suitably impressed. All of the prints were pigmented ink prints, in editions of 7. There were three sizes on display (36×30, 40×48, and 58×48) with three sets of prices ($9000 or $10000, $13000, and $17500 respectively, helpfully printed right on the wall labels). In
addition
to the fashion project (which included the Chanel runway, Yves Saint Laurent's dog, Sophia Loren, lavish meals and interiors, backstage fussing, and up close portraits), I was also able to see some of
Soth's
mini-projects and recent commissions in a soft portfolio on the table. These included Goth women from the South, the Most Beautiful Woman in Georgia (the country), and the Loneliest Man in Missouri – there is a particularly poignant/sad image from this last project where the man sits in front of a birthday cake, flanked by a woman straight out of a strip club.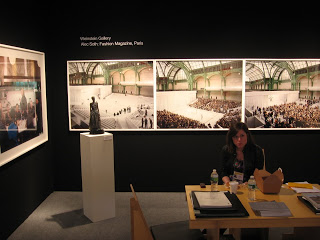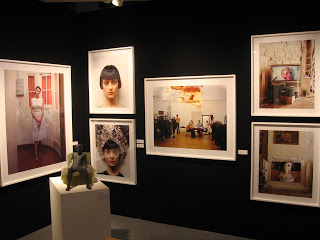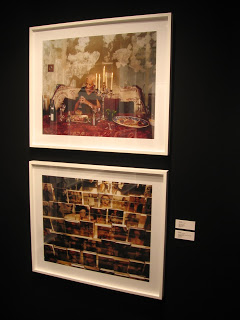 Howard Greenberg Gallery
(
here
): Edward Weston (3), Charles
Sheeler
(1), Jacques-Henri
Lartigue
(1), Man Ray (2
rayographs
),
Laszlo
Moholy
-Nagy (1
photogram
),
Frantisek
Drtikol
(1 nude), Edward
Steichen
(1), Robert Frank (2), Saul
Leiter
(3 color images, 1 painted diptych),
Miroslav
Tichy
(5), William Klein (1). This booth was a carefully selected group of vintage rarities. The stand out image for me among these astonishing treasures was the
Sheeler
stairway (priced at $600000, see below); I could have stood and looked at it all day. The elegant Weston still
lifes
were priced at $475000, $450000, and $190000. The 2 Man Ray
rayographs
were $390000 and $250000 respectively; the
Moholy
-Nagy was also $250000. The
Drtikol
nude was $90000.