Last Friday, we were able to spend some time at the Pulse New York fair at Pier 40. As always, we were focused entirely on the photography on view, and below you'll find a summary of what we saw in the galleries there. We were a bit tighter on time during our visit to Pulse (compared to the Armory), and so our review is a little less comprehensive (capturing perhaps 80% of the photography shown) and our notes a little less detailed (fewer image titles etc.), but I took a few more pictures, so perhaps it all evens out in the end.
One of the things I liked about Pulse was it seemed a lot less prepackaged. Booths were filled with gallery owners and principals (rather than perfectly dressed "handlers") who were eager to talk about the works on display. The casual atmosphere was altogether more lively and authentic (there is something reassuring about artist labels scrawled in pencil directly on the walls). There was also much more quality photography than I had expected going in, and the work had more energy and life (more unexpected Wows) than the work at the Armory.
For those of you who didn't read the Armory posts, this summary is organized by gallery, with lists of photographers found there, numbers of images in parentheses. Often there will be some additional commentary and pictures nearby. So let's get started…
Ru Arts Gallery: Anna and Jeff Bliumis (4, below). These were images of colorful fake books, placed as walls into various different landscapes and environments, called "Language Barrier". Quite a clever title, and generally memorable pictures. Also Slava Filippov (3).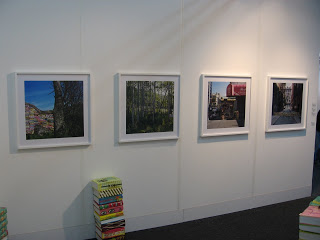 Space: Anetta Mona Chisa and Lucia Tkacova (6). Farcical satires of porn, reenacted by two clothed women.
Silverlens Gallery: Steve Tirona (5, below) Wacky and playful digital collages of Imelda Marcos.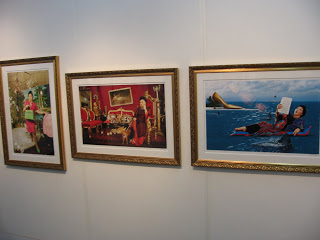 Galerie Senda: Jordi Bernardo (8), Taj Forer (3), Aitor Ortiz (3), Ola Kolehmainen (1).
Kopeikin Gallery: John Bennett Fitts (6, below). These color images of trees stranded in commercial developments reminded me of some of Lewis Baltz' pictures from New Industrial Parks (which I like, so I liked these). Also Chris Jordan (2) and Lisbeth Eva Rossof (6).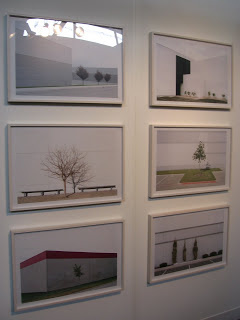 Birch Libralto: Toni Hafkenscheid (4)
Bryce Wolkowitz Gallery: Xu Changchang (3, below). Images of crumpled up and flattened out photographs of famous artworks, taking reappropriation in a different direction.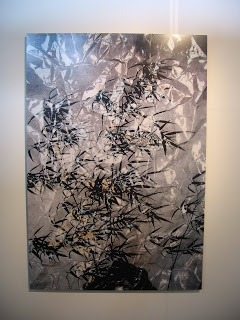 TZR Galerie Kai Bruckner: Jasper de Beijed (8), Ruud van Empel (3)
Jenkins Johnson Gallery: Jeong Mee Yoon (2, below). These are from her Pink and Blue Project, where kids are surrounded by all of their objects of a gender specific color. Since we have a young daughter obsessed with everything pink, these hit home. Also Shelia Pree Bright (4), Lynn Goldsmith (3), and Felicia Meeginson (4).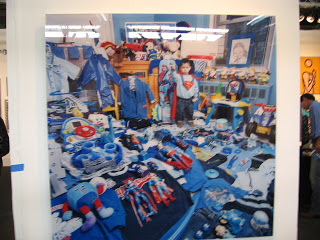 Diana Lowenstein Fine Arts: Carlos Bettancourt (1)
Davidson Contemporary: Neil Hamon (4, below). Black and white reenactments of historical soldiers.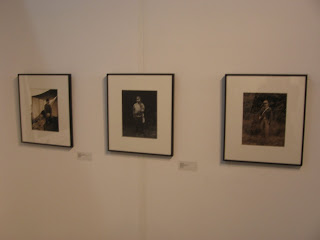 Light & Sie: Wouter de Ruytter (30). A mini retrospective of the artist's work.
Magnan Projects: Ariana Page Russell (2, below). The artist's skin condition allows her to draw elaborate and striking patterns on her body.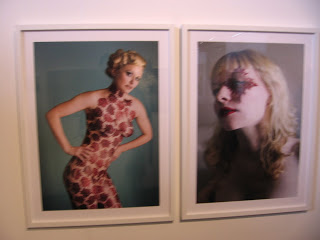 Sollertis: Phillipe Perrin and Pierre Joseph (5). Murder scenes.
Randall Scott Gallery: Julia Fullerton-Batten (10, below first). Teenage girls jumping and flying through various interiors. I thought these images captured the chaos of adolescence quite well. Also, Penelope Umbrico (huge wall array, below second). An eye-catching grid of sunsets.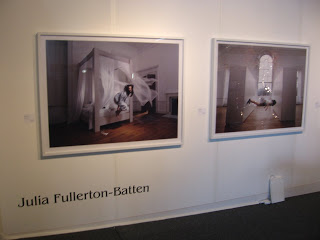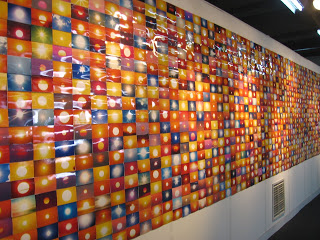 Morgan Lehman: Alix Smith (2)
Rena Bransten Gallery: Uta Barth (4, below). I've always liked Barth's ethereal still lifes. Also Vik Muniz (2).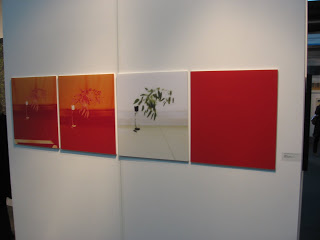 Gaain Gallery: Vik Muniz (1), Kyungwoo Chun (2) Seton Smith (1)
Richard Levy Gallery: Saara Ekstrom (4, below). Complex floral still lifes. Also Scott Peterman (1).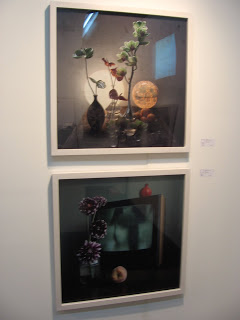 P.P.O.W. Gallery: Carollee Scheeman (4)
DNA: Tatsumi Orimoto (5). Portraits of the artist's mother (suffering from Alzheimer's) in a wide variety of odd poses. Unsettling, but very good.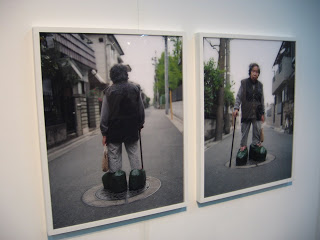 Perugi Artecontemporanea: Daimano Nava (cluster of Polaroids and other photographs), Kensuke Koike (12).
Yancey Richardson Gallery: Sharon Core (3, below). A nice Thiebaud cake study, among others. Also Masao Seto (3), Andrew Moore (1) Pello Irazu (6), and Alex Prager (2).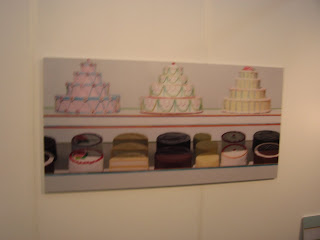 Galerie Ernst Hilger:
Massimo Vitali (2), Anastasia Khoposhilova (2), Spencer Tunick (1)
FTC: Frank Breuer (4, below first). I like Breuer's work, but these seem too similar to images we saw recently by Josef Schulz. Heidi Specker (20, below second). Specker's work focuses on abstract fragments of walls and buildings. Also Sonja Braas (1), Claus Goedicke (1), Dionisio Gonzalez (3), Dunja Evers (3).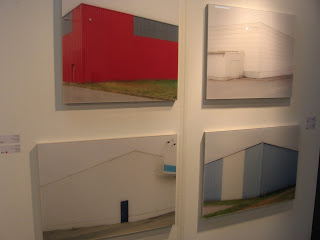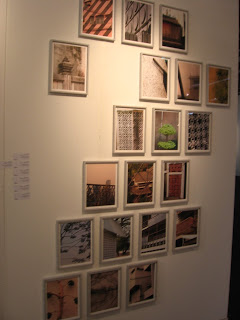 Galerie Anita Beckers: Vee Speers (3). Portraits of children, some toting guns.
Nicholas Metivier Gallery: Edward Burtynsky (2). From his series of Australian minescapes.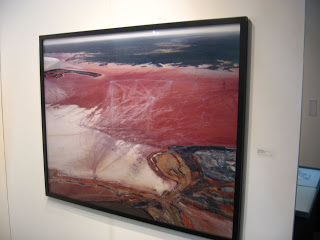 Stefan Roepke: Robert Mapplethorpe (2)
Witzenhausen Gallery: Hendrik Kerstens (6, below). Larger than life size portraits in the tradition of Dutch painting.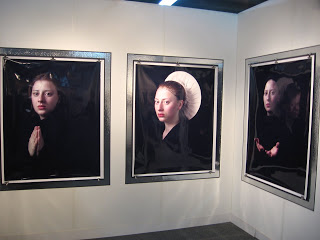 Jen Bekman Gallery: Beth Dow (10). Platinum landscapes.
Curator's Office: Nicholas and Sheila Pye (5, plus 3 video screens, below). Large portraits of women covered in greens. Reminded me of Archimboldo.
Winkleman Gallery: Eve Sussman and Rufus Corporation (installation of stills, video, and work table, below). Sussman is working on a new film, using the failed utpoias in Kazakhstan as a backdrop. Stand alone photographs of Yuri Gagarin's office and an eerie landscape covered with ravens are also available.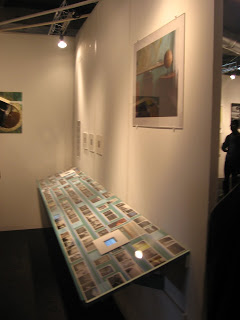 While we didn't find anything for our particular collection at Pulse, I came away impressed with the quality and variety of contemporary photography being supported by galleries and collectors around the world. It was a show well worth a visit, perhaps in the end even more satisfying than the sprawling Armory.