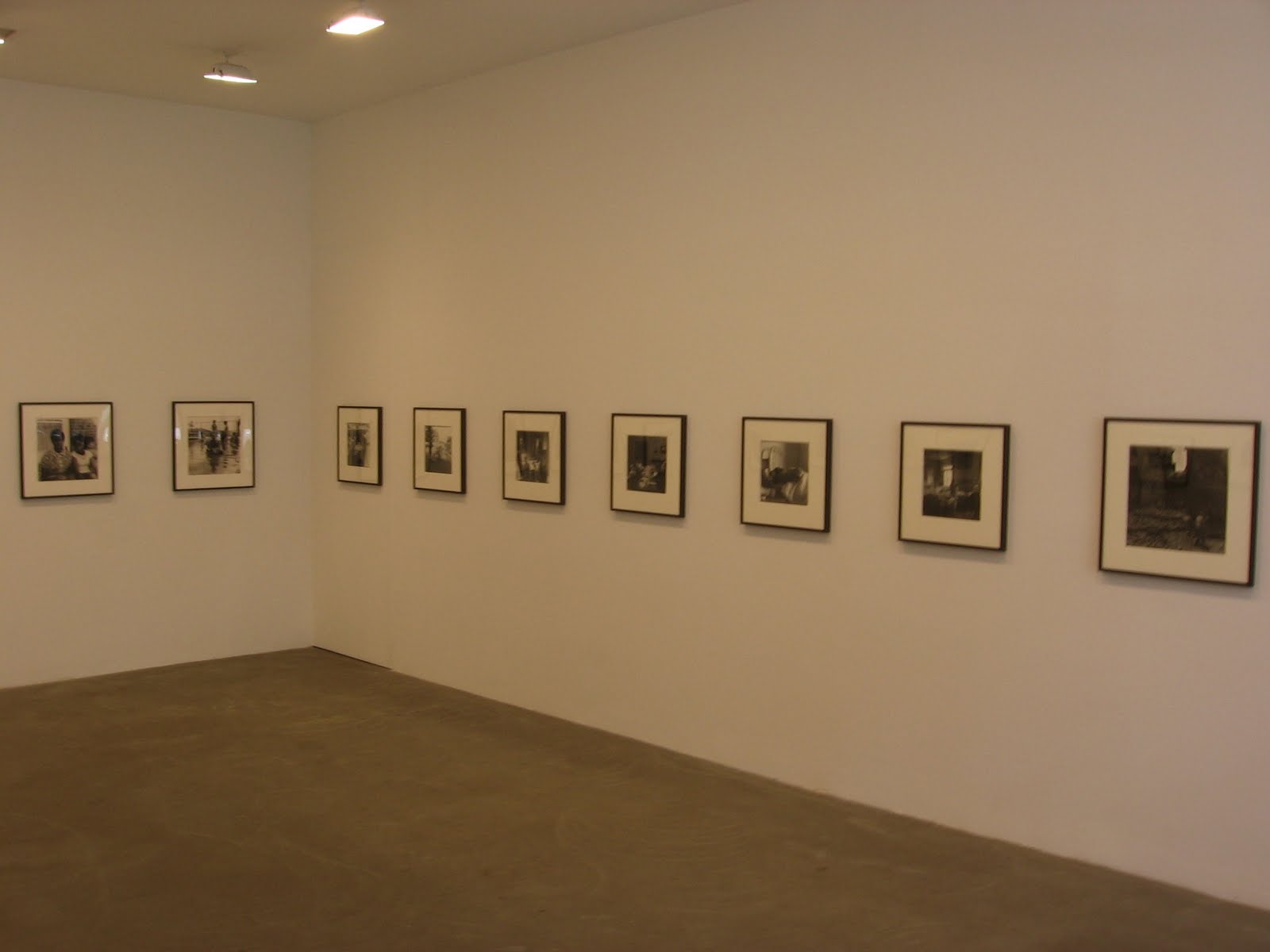 JTF (just the facts): A total of 21 black and white gelatin silver prints, framed in black and matted, and hung in a single room gallery. The works were taken in Southbury, CT, and various locations in Italy between 1956 and 1958. Most of the prints are 10×10; a few are slightly larger at 13×13. (Installation shot at right.)
Comments/Context: Peter Hujar is probably best known for his sensitive portraits and street images chronicling the downtown scene in New York in the 1970s and 1980s and for his downstream influence on photographers like Robert Mapplethorpe and Nan Goldin. This small show takes us back to Hujar's beginnings and the unknown work he made in his early 20s, a kind of precursor to what would come later.
Nearly all of the images on view are of children, some from a home for the developmentally disabled in Connecticut, others from a convent in Florence and the streets of Rome. There are kids playing with a big ball, climbing on a jungle gym, scrambling in the water, and eating at a long dormitory table. These are simple empathetic pictures, gentle and uncritical, capturing small moments of emotion amidst the chaos of active play. They show the same genuine respect for the humanity and individuality of his subjects that would come to be the hallmark of his later work (and that of Diane Arbus).
While not every picture here is a standout, for those who want to get an expanded view of Hujar's work and his development as an artist over time, this small show is worth a quick visit.
Collector's POV: The prints in this show range in price between $12000 and $15000. Hujar's work is not consistently available at auction; the images that have sold in the past few years have ranged between $2000 and $23000; most prints are unique or in small editions, while a few have been printed in groups of 15 or even 50 (Candy Darling). Hujar is represented on the West coast by Fraenkel Gallery (here). While this work doesn't fit into our particular collecting parameters, my favorite image in the exhibit was Girl Sucking Her Thumb, Florence, 1958, where a child lies sideways on a white iron frame bed, peering out from the shadows.
Rating: * (one star) GOOD (rating system described here)
Transit Hub:
Peter Hujar: Photographs 1956-1958
Through October 24th
Matthew Marks Gallery
526 West 22nd Street
New York, NY 10001