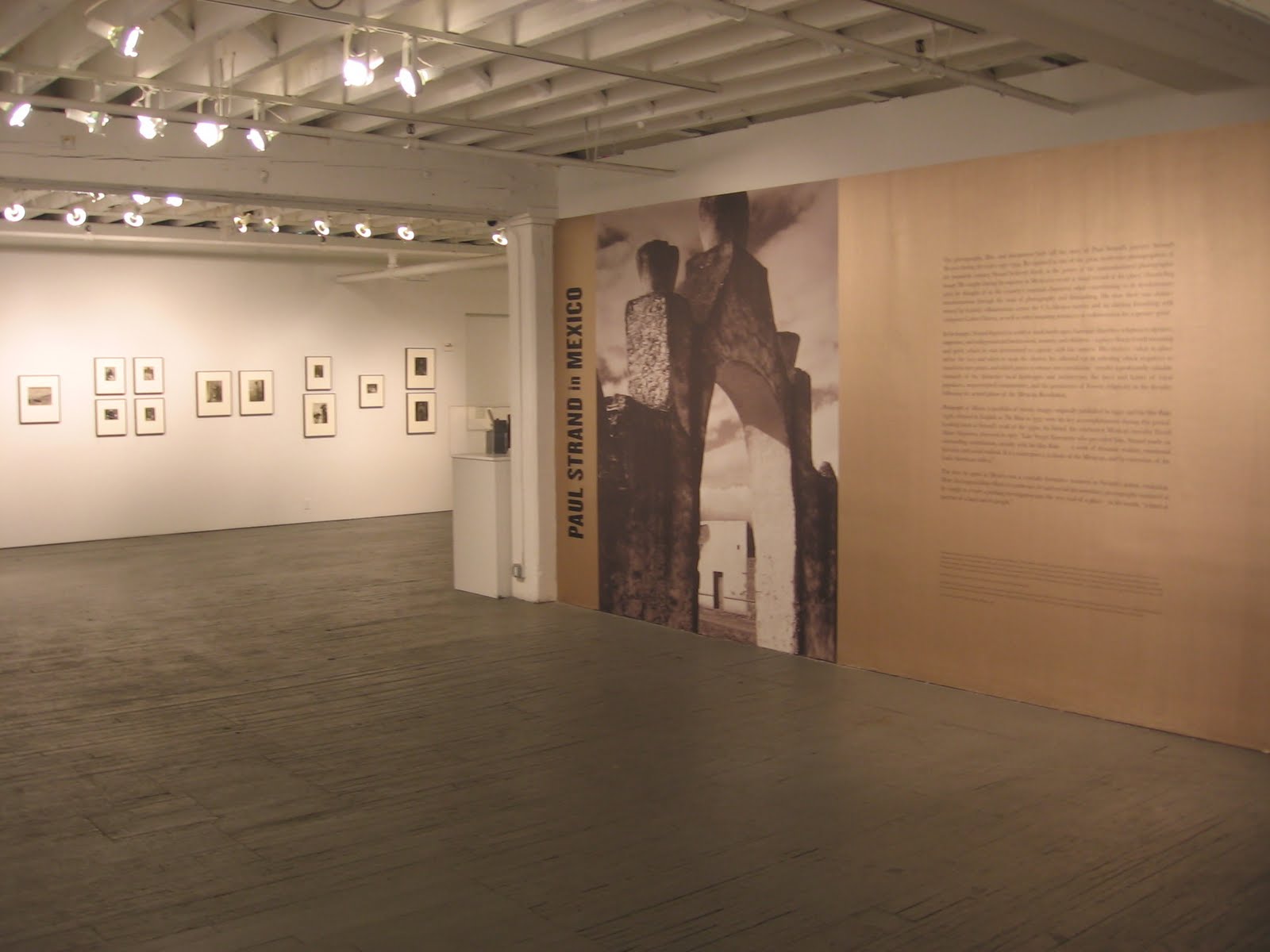 JTF (just the facts): A total of 120 black and white photographs, framed in black and matted and hung throughout the gallery space (which is divided by several interior walls). 99 of the images are by Paul Strand (a mix of vintage and later prints), 22 are film stills by Ned Scott, and there is 1 image by Weegee (of a movie marquee advertising Strand's film). A central room has been created by three internal walls, and it contains a screen displaying Strand's 1936 film Redes, as well as variety of letters and other ephemera. This yellow-walled room also contains examples of Strand's back-to-back mounting technique and paired prints showing different processes and the evolution of his printing style over many decades. A map of Strand's travels in Mexico is near the entrance to the exhibit. Aperture has also recently published a lavish scholarly monograph of this body of work; it can be found (here). (Installation shots at right.)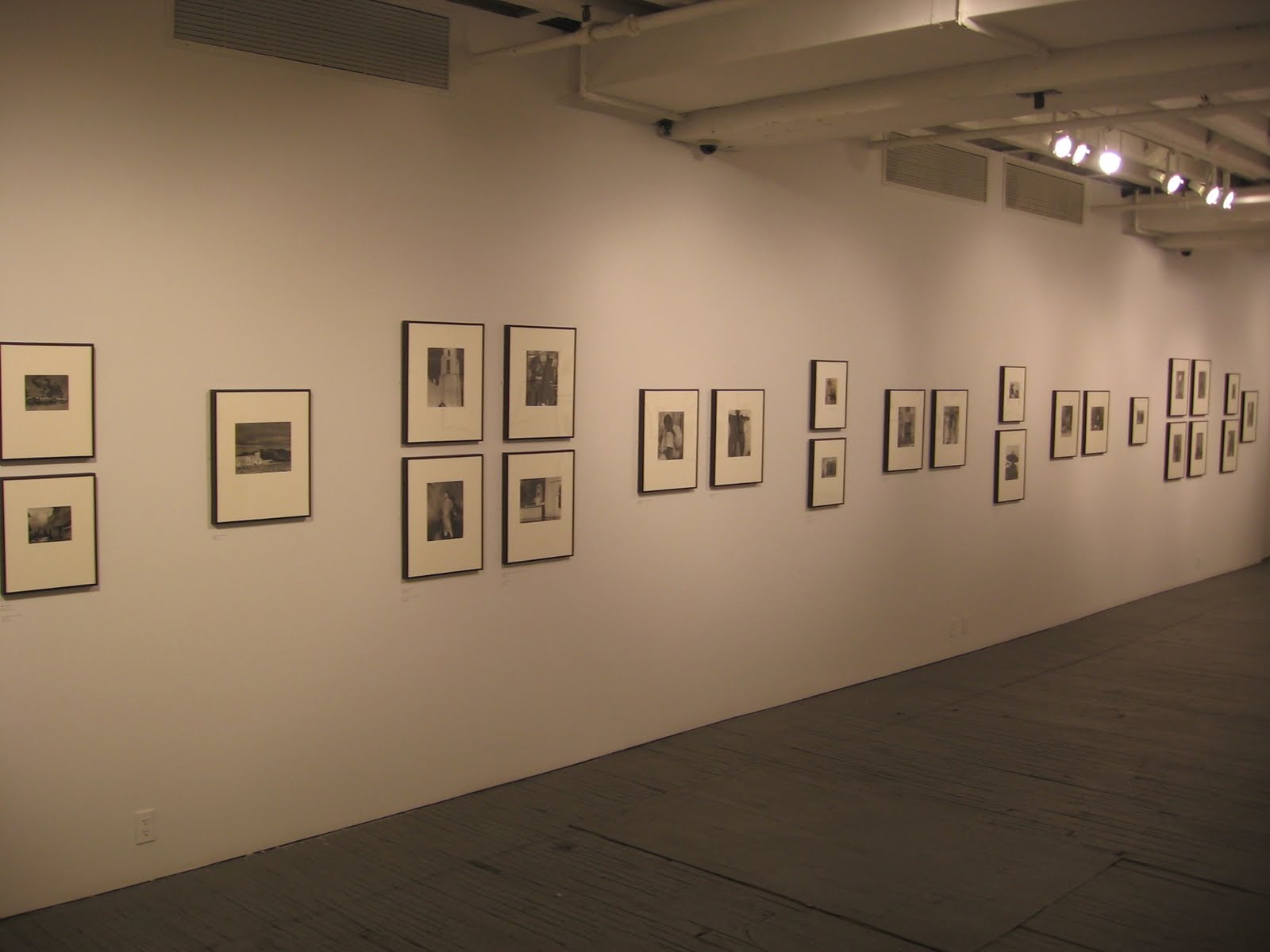 Comments/Context:
Master photographer Paul Strand spent the period between 1932 and 1934 in Mexico, and many collectors will be familiar with
The Mexican Portfolio,
the tightly edited 20 image output from his extended journey there. In this museum quality exhibition, Aperture has extended the academic study of this period in
Strand's
career and unearthed a treasure trove of published and unpublished images from his time in Mexico. Taken together, they provide a much broader context for understanding both the evolution of his artistic approach and the larger social and political forces that were at work during those years.
Strand's
images from Mexico can be roughly grouped into four subject matter genres: portraits of people, landscapes, architectural details, and images of religious folk sculptures and icons. Many of the essays in the accompanying monograph see these images coming together to provide a portrait of the country's character, or as a visual document of a specific place and time, and I think that analysis has some validity; as a whole, when seen in sequence,
Strand's
photographs have clearly captured an interplay of cultural and natural forces that coalesces into a common environmental mood. What I found most striking was the mixing of documentary and artistic sensibilities, where
Strand's
rigorous aesthetic control has been combined with the emotional suffering of the religious artifacts, the severity of the land and its buildings, and a subtle patina of nationalist fervor.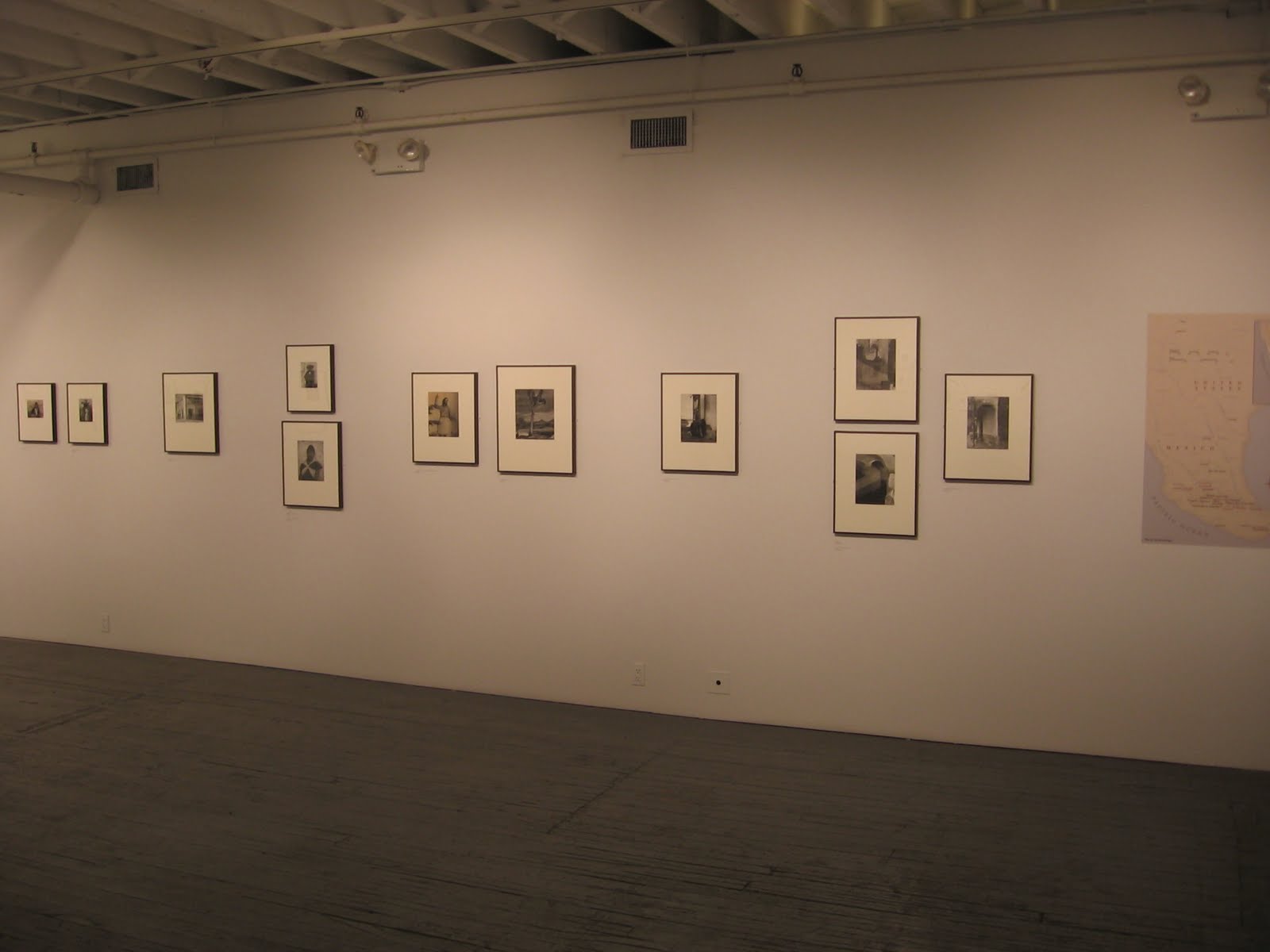 To my eye, the portraits of the people (whether we call them local, indigenous, native, or just the rural poor) are the standout pictures in this project. Men, women and children stand against pock marked brick walls and wooden doors or sit on the ground holding baskets. They wear everyday clothes: hats, capes, ponchos, cotton wraps, covered in dust and full of holes, bare feet sticking out. The images mix textures rich in tonality, and find contrasts of dark and light, with shadows slashing across backgrounds. But is the harsh power in the faces that makes them memorable; there is heroism, grace, patience, and dignity in these portraits, with an undercurrent of steely strength. The consistent dynamic quality and intensity of these photographs is truly astounding.
I am very pleased to see Aperture really pushing the scholarship ball forward here. The monograph is really a catalogue raisonné of Strand's Mexican work, documenting every single image in the Archive and providing further historical context for his relationships, influences, and activities. It is an invaluable reference tool for this specific Mexican work, and provides a surprisingly extensible framework for thinking about Strand's work in other locations around the world. So come for the show and see the unknown back story to The Mexican Portfolio, and then take home the wrist breaking book for further study.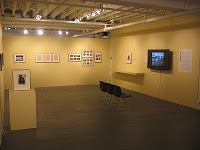 Collector's POV:
Aperture represents the Paul Strand Archive, but this show is more like a museum exhibition than a gallery show; none of the works is readily for sale and no price list is available. Limited edition posthumous prints of some of the images are available directly from Aperture for $450 each (
here
).
Strand's
The Mexican Portfolio
of
photogravures
was originally issued in two different edition sizes: the first in an edition of 250, and the second in an edition of 1000. These portfolios can be found in the secondary markets relatively regularly, with prices for the first edition ranging from $10000 to $45000, and prices for the second edition ranging from $2000 to $10000. Individual prints from his time in Mexico are more scarce, with prices ranging from $3000 to $65000 in recent auction sales.
.
Rating:
** (two stars) VERY GOOD (rating system described
here
)
Transit Hub:
Exhibition: Bronx Museum (here)
Paul Strand in Mexico
Through November 13th