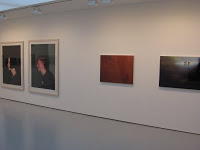 JTF (just the facts): A total of 12 works, 10 single images, and 2 series, variously matted and framed, hung in the entry and main gallery spaces. The images are from the period 1988 to 2007, many from the 1990s. The prints range in size from approximately 16×20 for the small series images, all the way up to wall sized 70×90. (Installation shots at right.)
Comments/Context:
After enjoying Graham's current show on view at the
MoMA
(review
here
) and having quite a few follow-up discussions with various folks who helped educate me a bit further on Graham's work, I was eager to see how
Greenberg
Van
Doren
would present a broader array of his images, mini-retrospective style. The gallery has opted for the "appetizer sampler" approach: two or three images from a handful of different projects, served together, with the assumption that after trying each of them, we'll know what to order next time.
The first room has a grab bag of images: one from Empty Heaven of a Japanese woman about to cover her mouth (1992), one from New Europe of a suited man's knees (1988), and one of an amputated tree painted white (2005), from a shimmer of possibility. Each has its merits, but it's hard to draw much of a pattern from these three as group.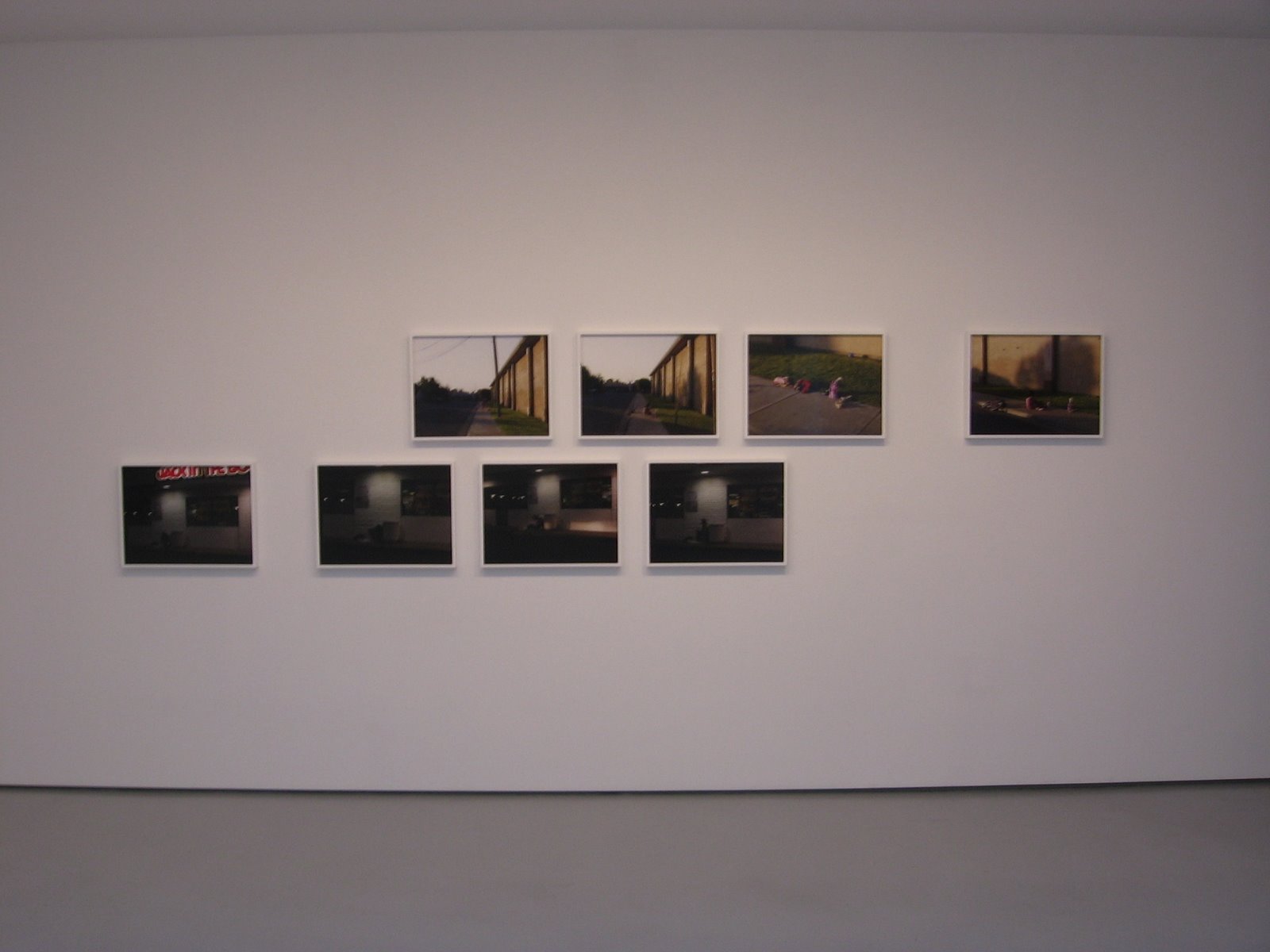 The main gallery has some of the same series from
a shimmer of possibility
that were presented at the
MoMA
clustered on opposite walls, and upon a second viewing, they're still excellent. Also in this room are a pair of large profile mug shot portraits of teenagers (1997) from
End of An Age
. These images are vaguely reminiscent of Thomas Ruff's deadpan frontal portraits from the 1980s, with a bit more adolescent angst thrown in for good measure. Three images from the
Painting
series (1999) share this wall; they are close up, color field like works of graffiti scratched walls, and they reminded me tangentially of Brassäi.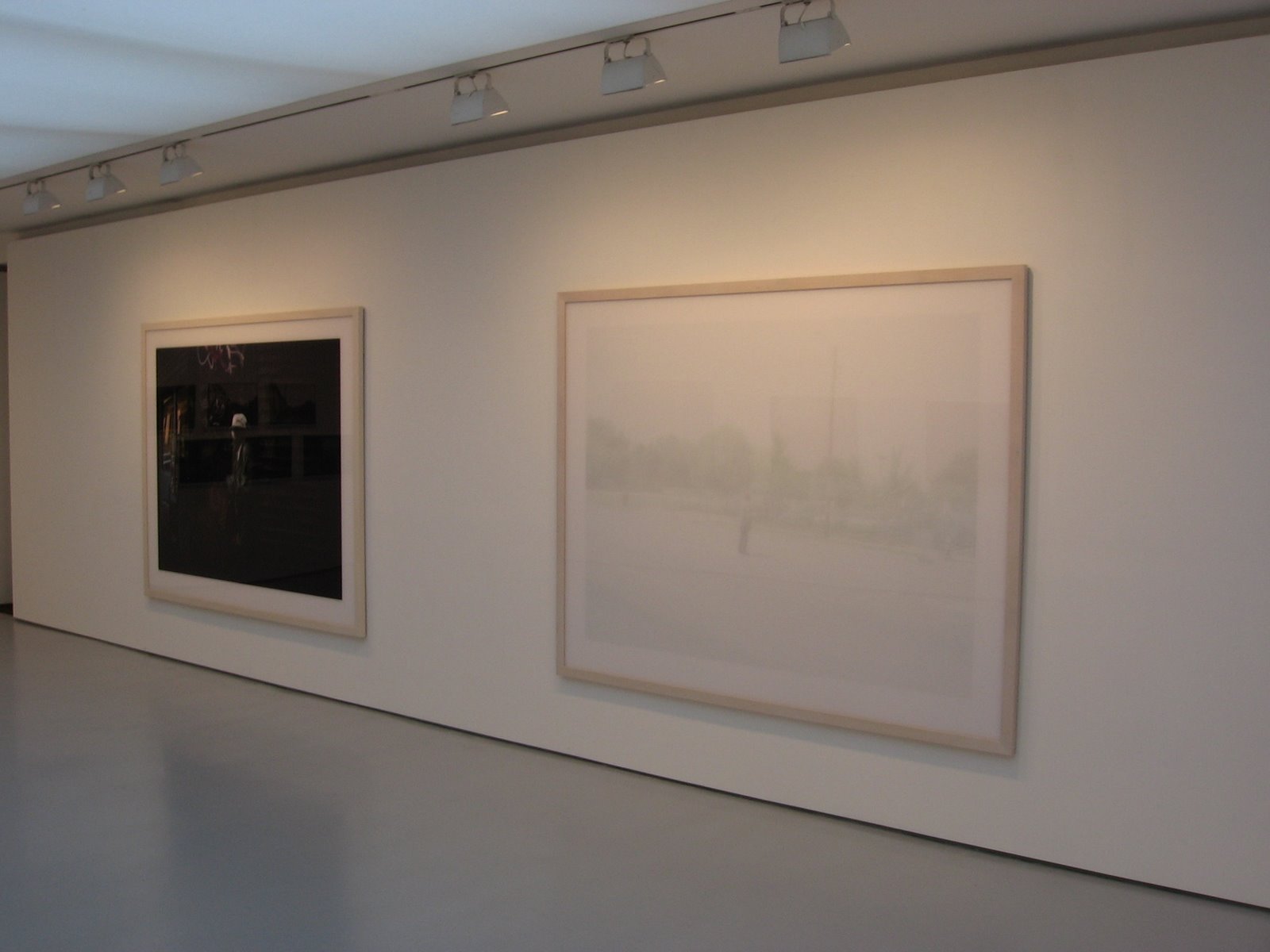 My favorites in the show were the two massive images from American Night (one 1998, one 2002). The first depicts a seemingly downtrodden man with an eye patch, standing in a darkened alley, near a graffiti covered corrugated steel security pull down and an array of gumball machines. The second shows a lone man standing in an empty parking lot in a pupil-dilating field of white brightness. Both of these works take what at first glance is a simple documentary image and make it something altogether more powerful. We'll certainly go in search of more images from this particular project to get a wider view of the whole effort.
Overall, this show is a bit uneven, but it certainly worth a visit as further background on the evolution of Graham's career.
Collector's POV: The series images from a shimmer of possibility are $35000 and $40000. The pictures from the Painting series are $17500 or $25000. The American Night images are priced at $40000, while the various images in the entry gallery are between $15000 and $20000. The two portraits from End of An Age are not for sale. All the prints are made in editions of 3, 5, or 6. Paul Graham's photographs have been virtually unavailable at auction, although the MoMA show will likely shake some loose in the coming seasons I would imagine. As a collector, I came away from this show with a deeper appreciation for both the American Night works, as well as those from a shimmer of possibility.
Rating:
* (1 star) GOOD (rating system described
here
)
Transit Hub:
Paul Graham Archive (here)
2009 Deutsche Borse Prize (here)
2009 Interview with PDN (here)
American Night (here)
Paul Graham, Photographs 1981-2006
Through May 2nd
730 5th Avenue
New York, NY 10019